Message to the Monster
A headless man chased me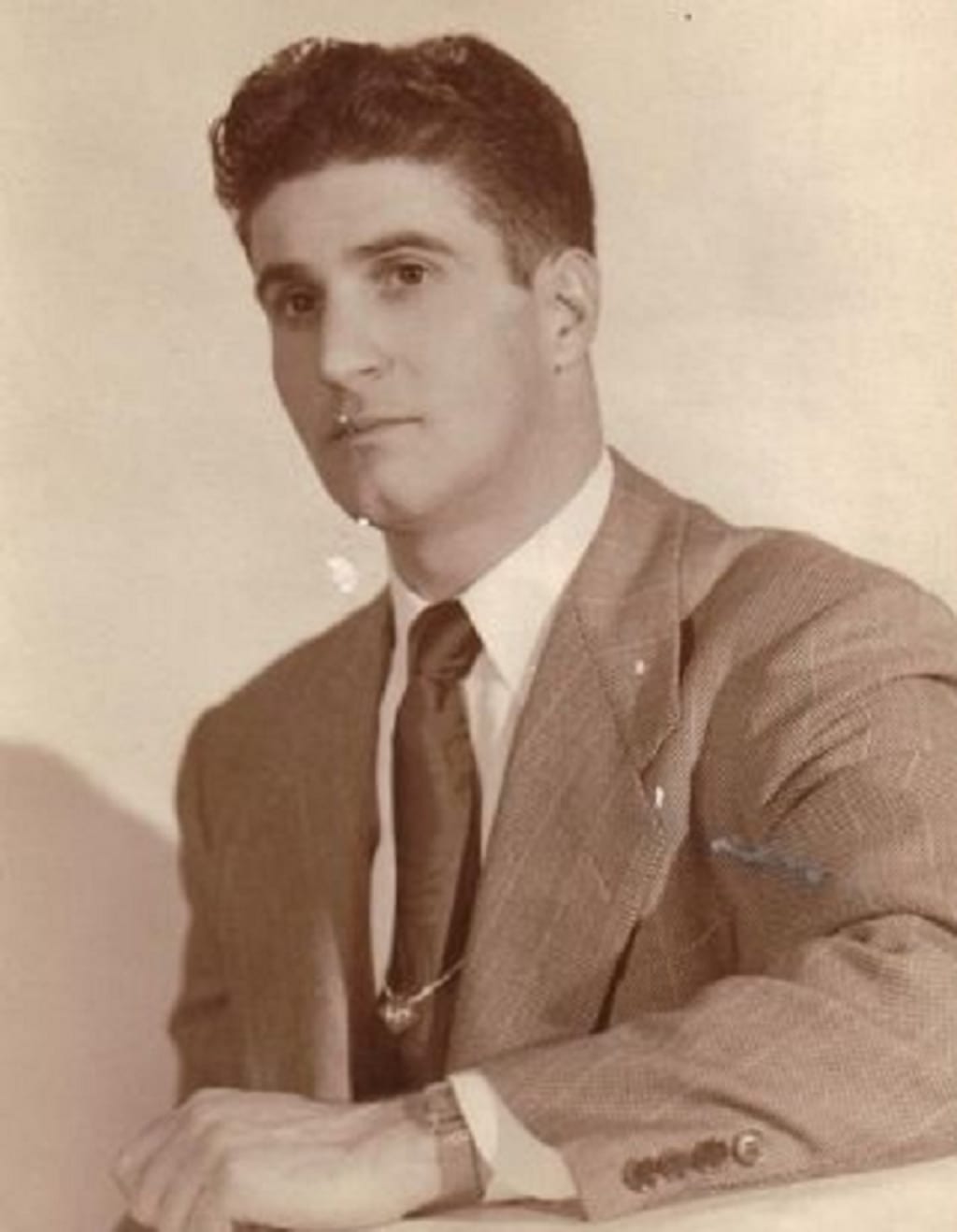 My Dad, Joe, after returning from WWII
Dear Headless man,
How long had you been hiding beneath my bed? Didn't you know that I was already afraid to fall asleep in the dark? Couldn't you hear me crying out to my daddy almost every night that I couldn't sleep. He would come to my room and give me half a baby aspirin and tell me it was a 'sleeping pill', smooth my ringlets and say, 'It's all right, Dolly, go to sleep.'?
I am almost 70 years old and I still remember the scream that came from my mouth when I saw you standing next to my bed when I was 6 years old. All I saw was a body with no head and you were standing between me and the door. What were you thinking? I was just a scared, skinny little girl.
My baby sister, had also added her newborn shrieking into the air after I screamed while trying to run through your apparition. My father was the first to arrive and was so convinced by my terror and description of the intruder that he took his flashlight and a pistol from his collection and searched all around the outside of the house to make sure no one was still there. He searched the basement and the garage. But, he believed me.
My mother, on the other hand, was convinced it was my troublesome imagination and made me sit up with her as she fed the baby and settled her back to sleep. I didn't mind, because it kept me from facing my dark bedroom alone for a while. My younger sister doesn't know this, nor does anyone else in the family. From that night on, if I got scared I would crawl into her crib and hang onto her for dear life. As if an infant was going to chase a bogeyman away. Hey, if nothing else I could toss baby turds at you, right?
You terrorized my entire family that night and continued to scare me every time my busy mind could not close down at the end of the day. Over and over again I dreamt that you were chasing me. Maybe you just wanted my head to replace the one you lost. Years went by before I made the connection between you and me.
My mother worked 11-7 shifts at the hospital on weekends. After she left for work my father would visit his workshop in the garage and come back in feeling very good. My older sister avoided him in this state. I didn't know better, I was six years old, and he liked to talk to me when he smelled "funny". I loved Daddy, so any attention from him was welcomed by me. I remember sitting on the sofa while he sat on 'his' chair, sharing memories from WWII. He was in Patton's 3rd Army and arrived in Europe after D-Day, coming in through Italy.
He told me that the Italians welcomed the Americans with open arms and lots of wine. When they saw the name tag on his uniform, 'D'Angelo', they treated him like a king. Already fond of drinking, my father acquired a strong love of anything alcoholic from that point on. He described the journey from Italy to the Ardennes forest, where his unit was stalled out by the German counter attack.
He told me how scared he was and how miserable and cold they all were. The fox holes would fill in with frozen water during thaws and the cold water would seep into their bones. His feet were always cold. He hated that. When my mother cleared out his clothing after the funeral he must have had over 100 pairs of socks- most of them expensive thermal socks. Those were the things he never got over. That, and being away from home for six years and never hearing from his family during that time.
Something else he never forgot was when he and his best buddy had gotten done repairing a jeep with frozen brakes. They were taking a cigarette break and the friend he was just joking around with was no longer there. His entire head had been blown off and my father found his friend's body lying lifeless on the crimson snow. They never found the soldier's head. Sitting stock still, listening to my father crying over his long lost friend with no head must have rattled me to the core. Probably not a thing to be sharing with an already anxious six year old. But, he had no one else to talk to about those memories. I guess I was it and now, looking back on it, I wouldn't have wanted it any other way.
So, headless man from under my bed, you were my father's best friend in the army. You worked on jeeps, tanks and trucks together. You kept each other company during the long, lonely hours of hiding from enemy fire and trying to stay warm in water-logged foxholes. You shared wine, laughter and cigarettes together, and probably stories about women, which, thankfully, my father never repeated to me.
I'm so sorry you lost your life so soon. I'm sorry your family had to get a visit from the officers telling them you would not be returning. I'm also sorry that I was so terrified of you and that I thought you were a monster. You were looking for Joe D'Angelo, not Tina. You just had the wrong room. Rest in peace, soldier and thank you for your sacrifice.
Tina D'Angelo, her father's daughter
About the Creator
My first book, G-Is for String, is now available on Amazon! Set in the 1970s, the story follows Tina's first years of learning the ropes of dancing in strip clubs and X-rated theaters. There is never a problem that she can't make worse!
Reader insights
Outstanding
Excellent work. Looking forward to reading more!
Add your insights