Meet 10 Surreal Artists Who Are Bringing Your Nightmares To Life
Painted Dreamscapes and Nightmarish Creatures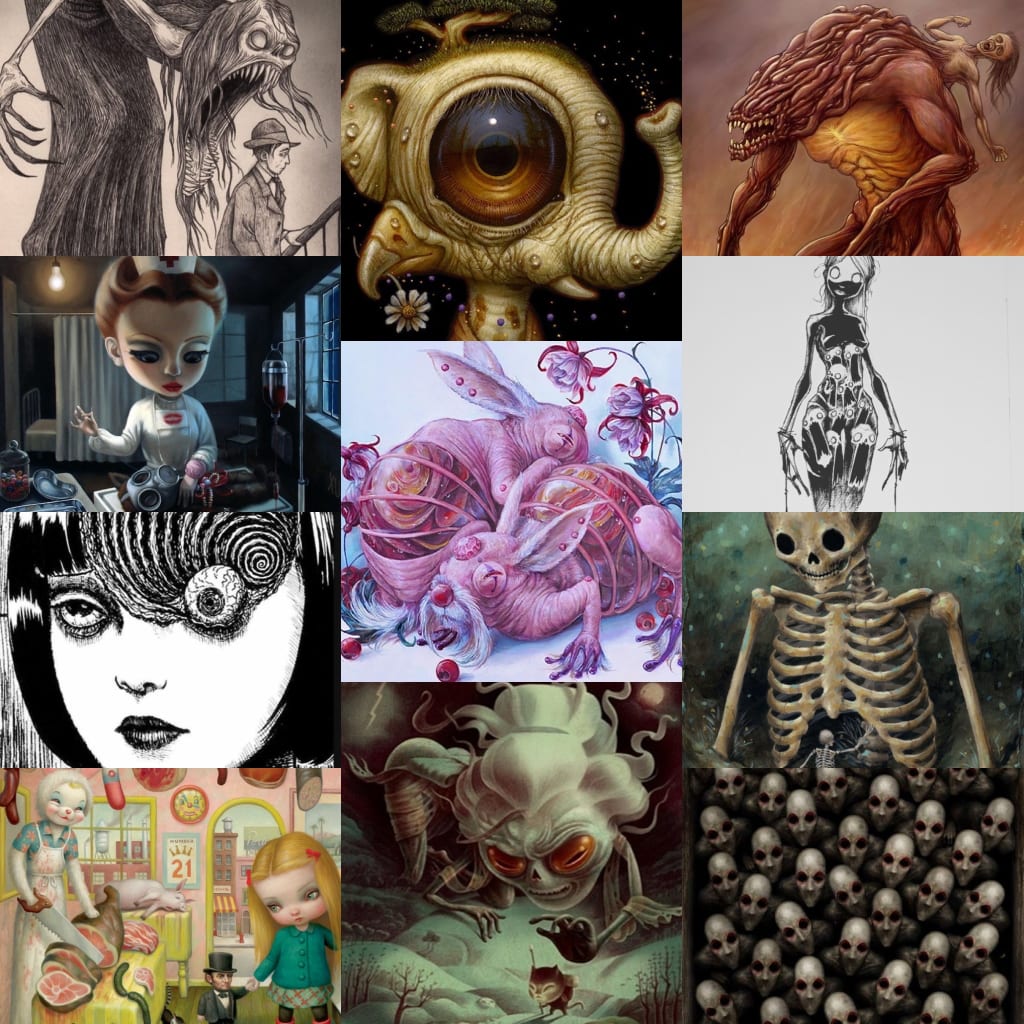 Terror aficionados across the globe know that true horror is about so much more than the obvious dark, gore-laden atmosphere that you've come to expect from the genre. It can be conveyed through many different mediums, such as light and colour; so that a bright scene with one minute but glaringly askew detail can suddenly change and take on a more sinister tone.
Below are some of the very best horror artists that specialise in drawing and painting unsettling pieces that creep into your brain and camp out there on dark, quiet nights. Some of these artists create scenes that could be considered classicly horror, whilst others peek into tainted multicoloured wonderlands that hide dark secrets.
If you love imaginative horror art then this is the post for you!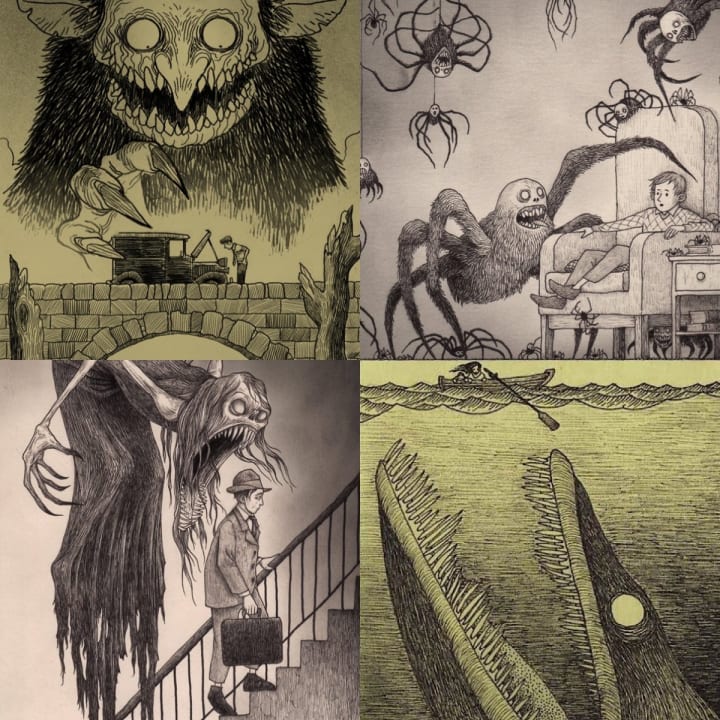 If you've been on the internet for more than a year, it's likely you'll have spotted one of John Kenn Mortensen's chilling, dead-eyed creatures being shared on social media.
Mortensen has a very distinct style, partially due to the fact that he almost exclusively uses 'Post-it notes' and black pen to draw his monstrous creations.
Mortensen is a Danish artist who by day creates children's TV shows and is a busy parent to twins. But by night (or whenever he has spare time) he explores the darker side of childhood, bringing to life the monsters we all believed in as kids.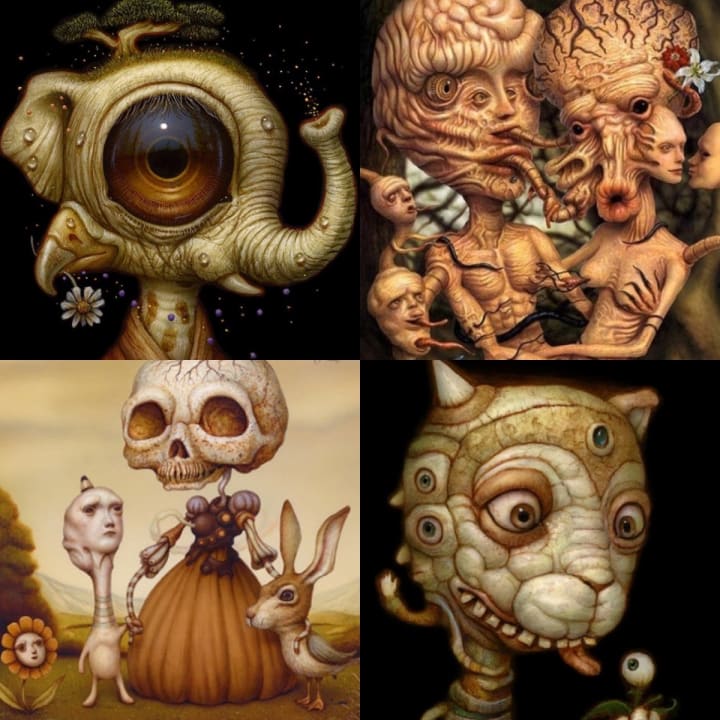 Naoto Hattori is an award-winning artist best known for his surreal, dream-like style filled with beautiful and grotesquely misshapen characters.
When describing his work, Hattori said:
"My vision is like a dream, whether it's a sweet dream, a nightmare, or just a weird dream. I try to see what's really going on in my mind, and that's a practice to increase my awareness in stream-of-consciousness creativity. I try not to label or think about what is supposed to be, just take it in as it is and paint whatever I see in my mind with no compromise. That way, I create my own vision."
Check out his gallery and store here.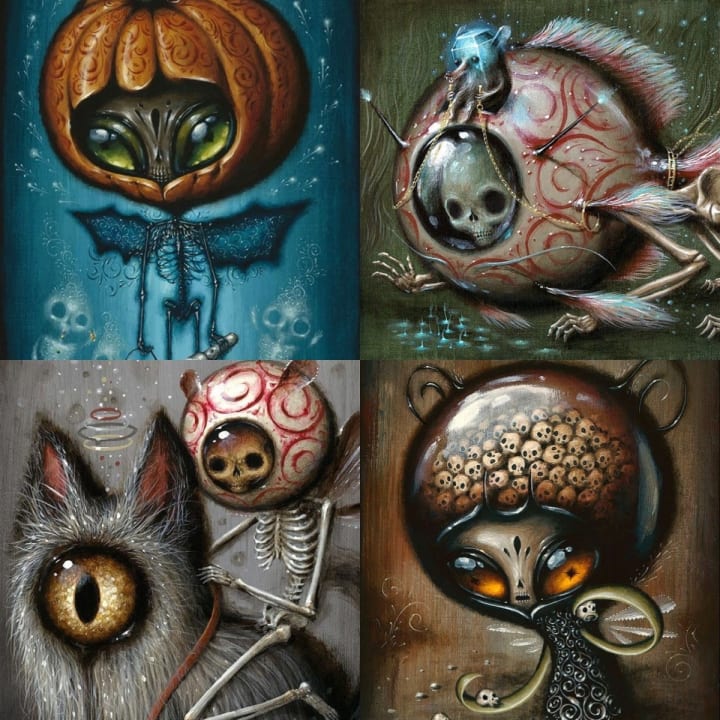 Jason Limon is a Texan cryptid artist, and if you're into creepy but cute creatures, then you're going to adore his paintings and sculptures!
Limon explores cryptids and other mythical beasties with his work; which perfectly blends together equal parts bizarre and adorable and sprinkles it off with a smidge of humour.
'That's not terrifying, you absolute plum!' I hear you yell.
Yeah, well imagine waking up at 3. am to find a Limon creation staring at you from the shadows...
Check out his online portfolio to fall in love.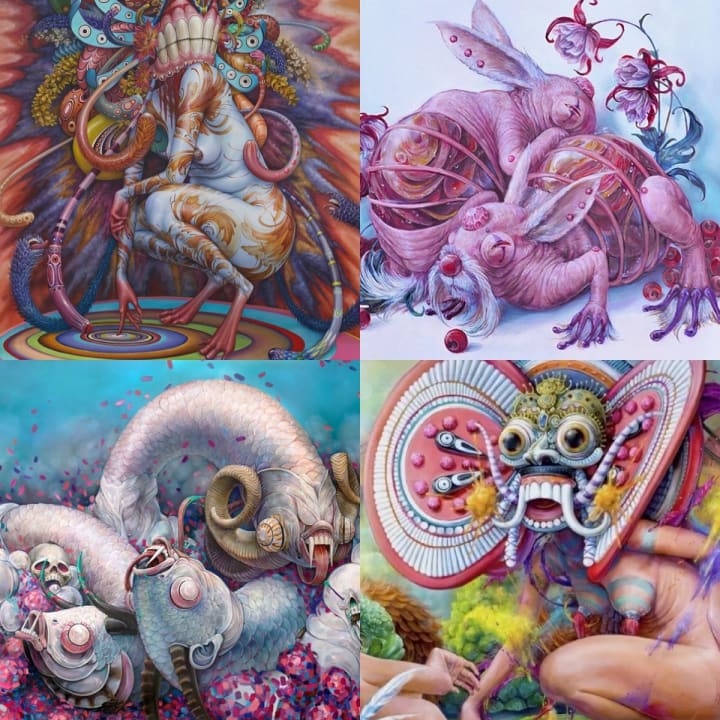 Right, we both know fine well that at the time you're reading this you're doubting my view of horror. You're thinking, "How can this bright, psychedelic art be disturbing in any way, shape or form?"
So let me tell you just why I find the art of Japanese-American Hannah Yata so unsettling. Sure, at first glance these paintings look bright and beautiful, but with closer inspection, you begin to notice unsettling little details - teeth, claws and fangs where they shouldn't and headless bodies with animal limbs. Each piece is truly a technicolour nightmare on an acid trip.
You can get a closer look at her work here.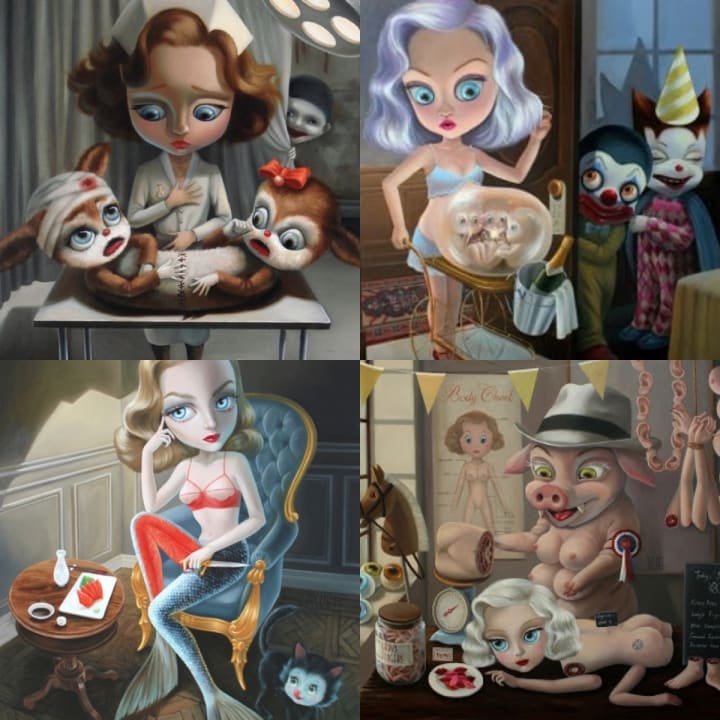 Xue Wang lives and works in London, UK and creates creepy, pin-up i nspired oil paintings with dark themes dressed in cute colours.
The big-eyed, doll-like characters have a distinct, vintage style that is somewhere between 'Blythe Doll' and 'Sailor Jerry Art'. But don't let their doe eyes and pastels fool you, on second glance each scene reveals something truly horrific - murder, dismemberment and cannibalism to name but a few.
Stare at them for long enough and you'll notice there's a sinister plot at play that you will never fully uncover. Each scene is a moment of a story, frozen in time so that your brain can put together the subtext.
Find out yourself by visiting her gallery.
Shawn Coss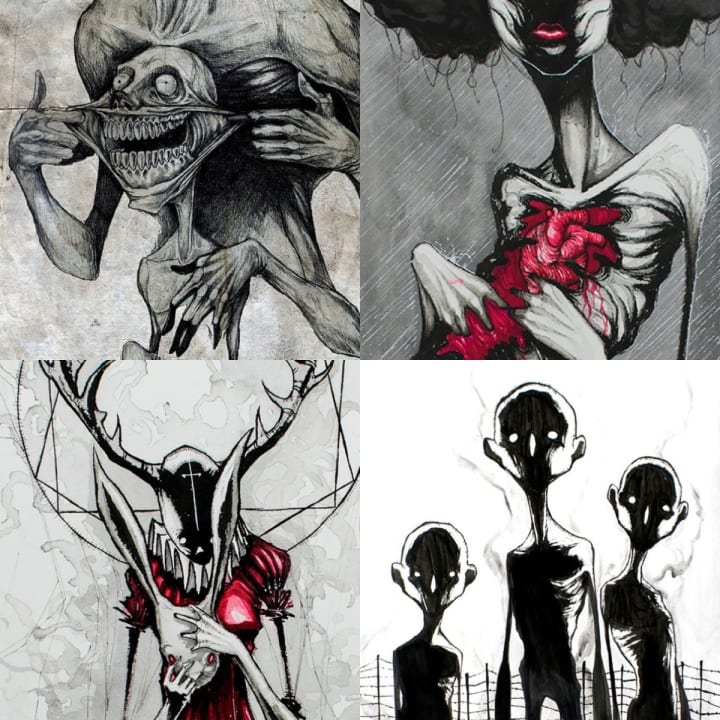 Shawn Coss rose to internet infamy with his hideous imaginings of mental health disorders as twisted monsters. The vast collection of creepy drawings still remains his most popular art to date, particularly amongst those afflicted with the issues he explores.
What I particularly appreciate about his work is the amount of thought and research that clearly goes into each piece. He's not just randomly drawing stuff and labelling it, he's putting deliberate thought and symbols into the design. Due to this, he has created art that is not only deeply unsettling, but that also allows the viewer to experience a small slice of what it's like to have this condition.
His figures are usually shadowy silhouettes with dead, glowing eyes and even though the subjects themselves have very few features, he still manages to make each piece unique and visually exciting. You can see his vast collection of work here.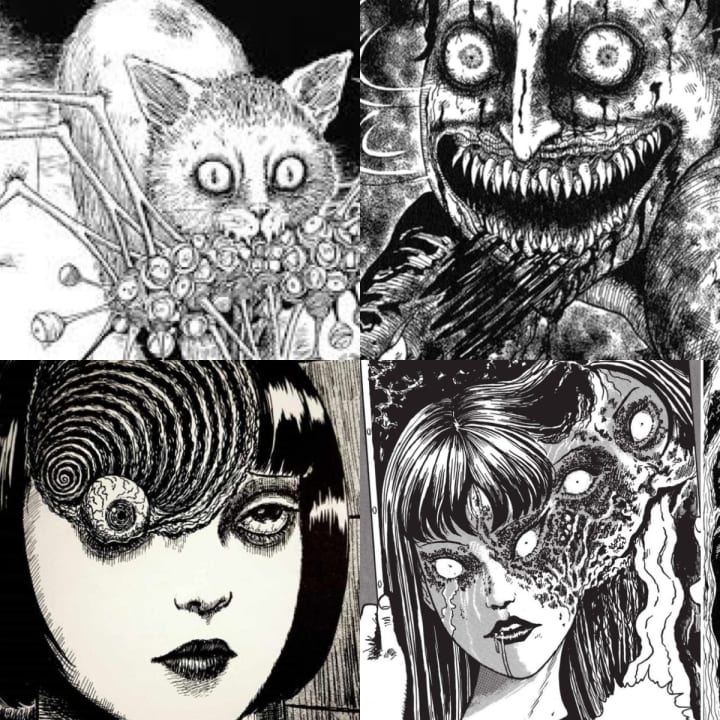 The undisputed master of bizarre, black and white horror, Junji Ito is perhaps the most established, influential artist on this list. Ito has been honing his craft as a Mangaka (Japanese comic book artist) for his whole life, gaining recognition for his work in 1987 when his short story won special recognition in a competition for 'Gekkan Halloween' Magazine.
From there, his career has soared and he is now one of the most recognised manga artists in the world, with other arts industry giants such as director Guillermo del Toro listing Ito's work as one of his biggest inspirations for movies.
Ito has several comic book series that feature themes of supernatural terrors, body horror, apocalyptic societal breakdowns deep-sea life, insects and human phobias. There is also countless other adaptions of his work such as films and tv series. I highly recommend his work if you want a horror that will stay in your soul and live rent-free in your head at 4 am. You can find a definitive list of his work at the unofficial Junji Ito Wiki.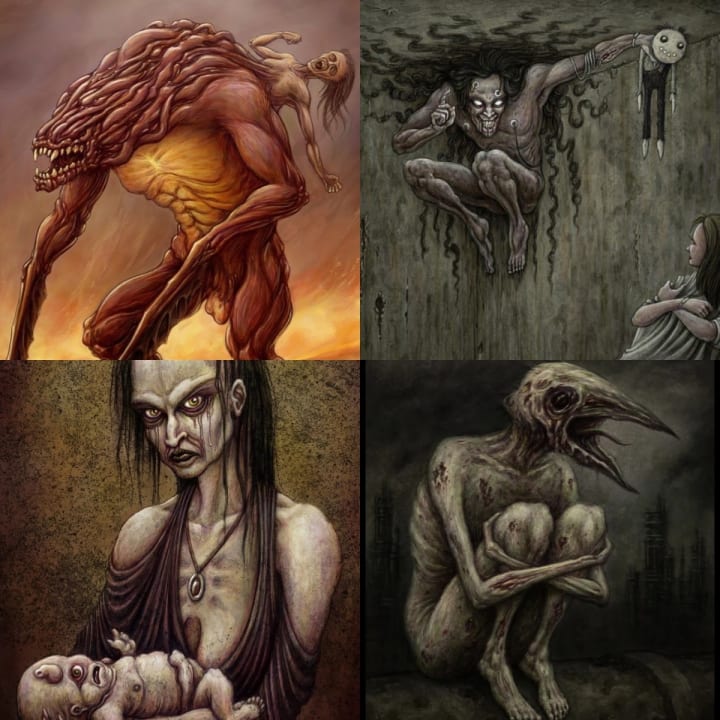 James Flaxman is an Australian…wait a minute - scroll back up! Now zoom in on the bottom right picture, yeah the creepy crow-face. Now zoom in a bit more. Look at that gross skin with radiation burns. Look at those hideous dead eyes. Look harder. Is this horror enough for you? Are you not entertained?
Sorry about that, clearly you can see how much I appreciate Flaxman's work. This Aussie artist creates grim, apocalyptic art that sparks something in the panic centres of your brain if you stare at it long enough. Which coincidentally, I have, and boy did it make me want to peel my face off with anxiety.
He blends grotesque details with twisted shapes with muted palettes slashed with crimson to create surreal characters, gross little cryptids and bleak landscapes. Personally, I would describe his style as "Fallout, Silent Hill and every metal album cover, mixed with a heroic dose of acid and DMT, then left to simmer at 300 degrees."
You can see his stuff over at his packed DeviantART profile here.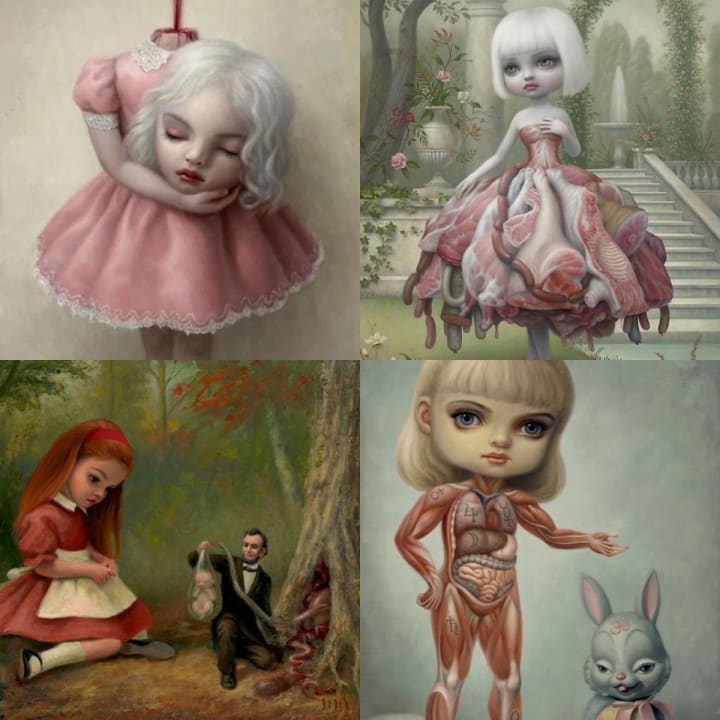 If you were a vaguely young alt kid of any variety in the year 2000, the chances are you saw that badass 'Jack off Jill' album cover. You know the one. And if you don't, I'm talking about the iconic cover of the 'Clear Hearts, Grey Flowers' album, painted by none other than the legendary Mark Ryder.
Ryder is perhaps the grandfather of the creepy-cute lowbrow style and his work has inspired millions - including me!
His art features dead-eyed toys and cute, ambiguously aged girls, and whilst it looks soft and colourful, there's just something deeply unsettling. What I find particularly disturbing are the child-like girls in his work - they appear to be children but they are usually engaged in adult activities or in situations that it's uncomfortable to see young people in.
Abraham Lincoln shows up a lot too. See for yourself at his website.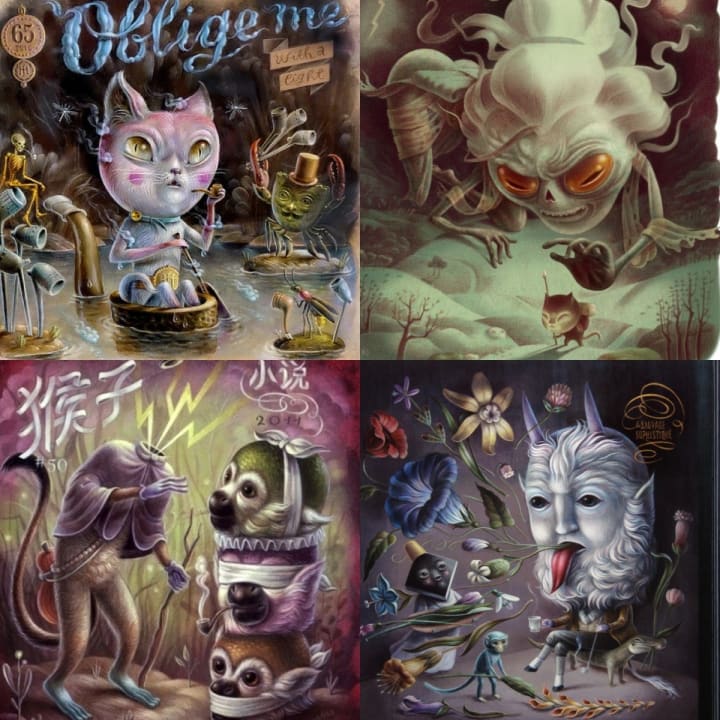 Fans of fantastical wonderlands will surely love Femke's whimsical worlds and crazy characters. Femke has a unique style that blends vintage elements, big-eyed characters and ethereal lighting. Her fine art pieces are carefully constructed to portray an entire story in just one scene.
Crowds of anthropomorphic creatures dance across the canvas, telling fairy tales and exploring themes that quite often lean towards the darker parts of life. Cute characters are assailed by creepy monsters, whilst headless animals perform inexplicable rites to assorted phantasms bathed in a neon glow.
You can view her website here.
Anton Seminov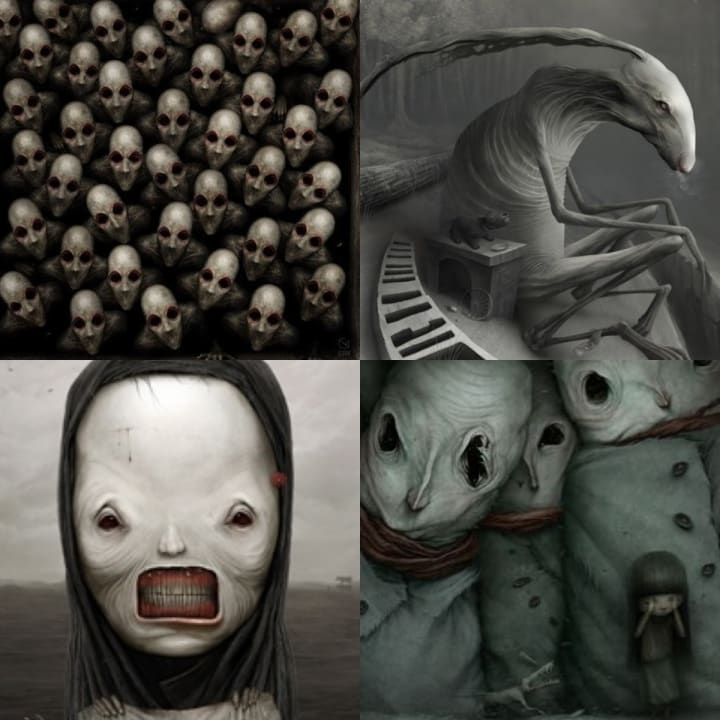 Seminov is a Siberian illustrator and graphic designer who creates gloomy art that you can feel. He paints gross creatures and creepy characters that look like a still from a horror movie. But what I love the most about his work is the richly detailed textures throughout each piece, every texture is familiar and relatable so that you can look at his pictures and just know how they would feel if you could only reach out and touch them. Anton's gallery definitely follows a gloomy colour theme of greys, with dozens of pale subjects in ominous settings that build a bleak world of terror. His characters are often bald and wrinkled like a forgotten turnip that has been stuck at the back of a cupboard for weeks. As you scroll through his gallery, you'll come across sparse bursts of colour that seem at first to break up the doom with a flash of vivid hues. But the colours are there to fill you with a false sense of security, your brain is tricked into thinking that there's something happier in-store and you pause for a second to give it a closer inspection. Then you realise that the loud colours add a whole new depth of terror.
You can view, follow and support his work here.