'Mandy' Is a Roller Coaster Ride Through the Gates of Hell
The Nicolas Cage, 80s, heavy-metal psychotic thriller is destined to become a 'cult classic.'
Mandy starring Nicolas Cage is a hell-raising retro-trippy horror film tracing back to the 80s with LSD drug-induced hauntingly-beautiful fantasy images that will give you nightmares with a twist of Satanism! It's a violent, bone-chilling disturbing, sinister satanic "rock opera." If you've ever witnessed rock films like Pink Floyd's "The Wall" and Rocky Horror—you can well relate to a classic heavy metal album such as Meat Loaf's Bat Out of Hell and combine it "Ghost Rider" and "Raising Arizona" where one of the characters wears a warrior vest. Nicolas Cage's character, Red Miller, wears one also. They should create Mandy: The Ride at Disneyland. I think that would be a big hit with the tourists.
The Heartbreaking Love Story of Red and Mandy
Mandy (RLJE Films) takes place in the mountains of the Pacific Northwest in 1983 A.D. It was actually filmed in Belgium in 2017. It's available on Amazon Prime Video and Itunes and select theaters.
It is a slow-burn drama. The two lovers, Mandy Bloom, (Andrea Riseborough) and Red Miller (Nicolas Cage) live a peaceful romantic existence together in a cabin in the woods of Crystal Lake. Mandy is an intellectual artist and an avid fan of fantasy novels who wears authentic rock t-shirts (Motley Crue, Black Sabbath) and Red is a lumberjack. Their relationship is quickly torn apart when a Manson-like cult, (Children of the New Dawn) invade their property and abduct Mandy, drug her, and then she is murdered. Their leader, Jeremiah Sands (Linus Roache), is obsessed with her and holds her captive as one of his disciples. He hears her speak to him silently through reading one of her trashy novels, Seeker of the Serpent's Eye. After Mandy is murdered and Red survives the invasion, the cult relentlessly tortures him and ties him up with barb wire. He escapes and goes on a crusade to hunt down the cult members who killed his soulmate.
Red Turns into a Soaked Red-Bloodied Warrior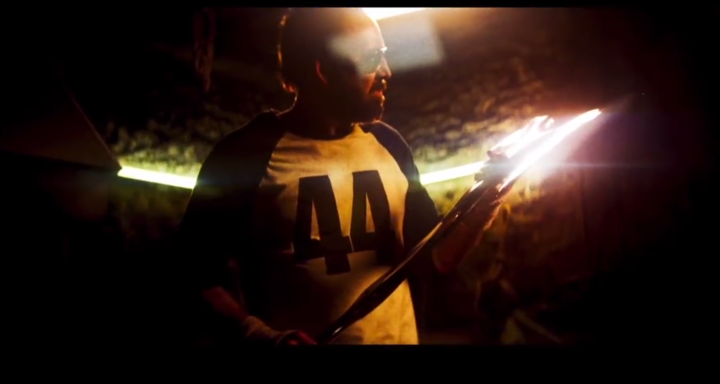 Red drinks the so-called Kool-Aid and turns into a red-blooded warrior and hunts down and kills each cult member as revenge for killing his lover. I couldn't stomach the satanic cult scenes when the cult members drugged and burned Mandy's body and tied up Red. I was so upset I wanted to scream in the theater, "Stop torturing him!" And I also was horrified when they burned the body.
An absurd event occurred during the middle of the movie. My phone was in my purse and it accidentally dialed 911 during one of the fire scenes! I quickly remedied it by turning it off! It was very embarrassing but amusing at the same time!
Fans Were Treated to the Premiere of 'Mandy'
I saw the premiere at The Alamo Drafthouse in Yonkers during the Legion M meet-up which took place before the screening of the film. They showed previews of old Nic Cage clips and at the end of the film was a recorded Q&A from the Egyptian Theater in Los Angeles. I wasn't very impressed with it because it had no audience participation. It was moderated by actor-director Kevin Smith and he did most of the talking. Not at all what I expected!
Legion M is a fan-owned entertainment company that invested in the film and hosted the fan meet-up and premiere of Mandy across the country in select theaters on September 13—the day before the film opened on September 14. My favorite scenes were when Nicky was in his underwear dousing vodka all over himself in his tiger shirt in the bathroom scene (That was a turn-on and very humorous!) and the famous chainsaw fight. Nic's acting was incredible! He gave an unforgettable performance of a lifetime! This film was definitely scripted for Nic Cage and I'm glad he didn't play Jeremiah Sands! He's well-suited for playing the lead role of Red!
Director Panos Cosmatos is a visionary. He produced the film Beyond The Black Rainbow in 2010. The animated sequence when Red is supposedly dreaming is mesmerizing. Actor Elijah Wood and his company, SpectreVision produced the movie.
Overall, I wasn't very amused with the film due to its hard-core subject matter. I thought it had some moments of humor but I wasn't that impressed. Some of the film's effects used a crimson-like filter to create dramatic imagery of a psycho-thriller were very cool. I've never witnessed that in a movie before! It's not for the faint heart or stomach and isn't for everyone.
Mandy won't win any awards, but it will go down in history as being the new favorite Nic Cage cult-classic film!
Rating: B-