Luck (a House of Night Short Story) by Kristin Cast - REVIEW
Kristin Cast pens a short story set within the House of Night universe
To say that the mother-daughter writing duo of the worldwide bestselling House of Night series have expanded upon their universe is a massive understatement - with twelve novels, four novellas, a graphic novel and a four-part sequel series exploring an alternative reality and an upcoming TV adaptation in the works - PC and Kristin Cast have been captivating readers for the past thirteen years.
Now Kristin (author of the Amber Smoke series and upcoming Key to Fear trilogy) is making her HoN writing solo debut with Luck - the first of two short stories centred on Zoey Redbird's childhood sweetheart Heath Luck during the climax of Betrayed.
Ever wonder how Heath Luck truly felt about his Imprint with Zoey, or how terrifying it was to be captured by the red vampyres and held in the tunnels beneath Tulsa? Find out in Luck - the first HoN short story told from Heath's point of view.
For a short, this was really well written and Cast definitely captured the character of Heath well, his inner monologue was great to read. Seeing the world and scenes readers remember from the second HoN from his perspective really added a new layer to the established story. It was well paced - without feeling rushed or dragged out, the characters, dialogue and scenarios felt natural and believable for Heath's narration.
However, there were some aspects of this story that I weren't keen on. For one - Heath realising his white privilege. I had no issue with the subject matter being addressed or tackled whatsoever nor how Cast wrote the internal monologue, I just felt this was the character I thought of least when it came to having that revelation. If any male character had white privileged attitudes, Erik Night comes more to mind - both in his attitudes towards his self entitlement and how he treated women before becoming romantic involved with Shaunee in the most recent instalments. When looking at Heath compared to Erik, Heath was miles ahead of the latter in maturity levels.
Secondly, I personally weren't a fan of the Tik Tok reference. The Casts have both weaved in pop culture references into their books - both together and individually - and this usually helps in keeping the story grounded in familiarity, but because this was a very to the moment reference it actually took me out of the story. It added nothing to the plot, except for one line of dialogue and felt unnecessary for one line of dialogue.
The main conflict of this story focused on the aftermath of Heath and Zoey's almost imprint and the stigma and prejudice they face being a vampyre/human couple. The ending was brilliantly written and cleverly incorporated the appearance of a fan favourite. I'm very much looking forward to reading the conclusion later in the year.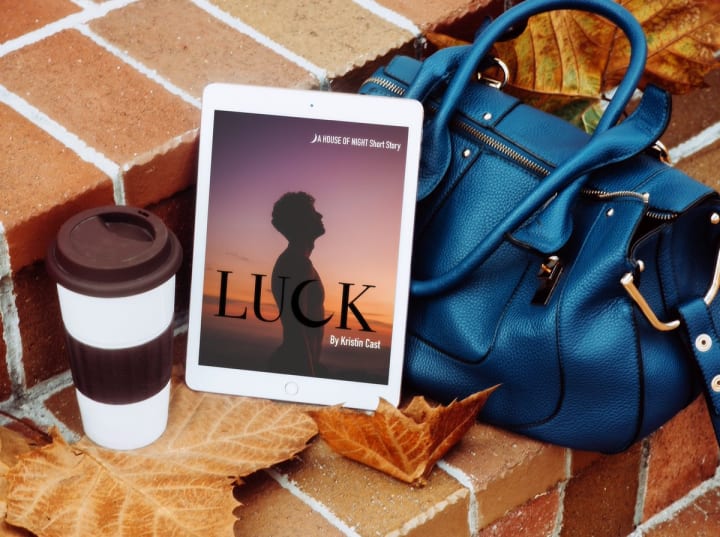 Want to Get Luck? Head over to Kristin's website and submit your proof of preorder/purchase of The Key to Fear and receive a virtual copy of Part One of Luck, a House of Night short story. Download links are sent out every evening. Submit your order or proof of purchase by 5:00pm PT to receive Luck the same day. Orders or proofs of purchase received after 5:00pm will be sent out the following day.
After the October 13th release of The Key to Fear, tag @kcastauthor on Instagram or Twitter or @pccastauthor on Facebook with your photo of The Key to Fear to receive the second half of Luck.