It will come back on you
Alexis Q Part One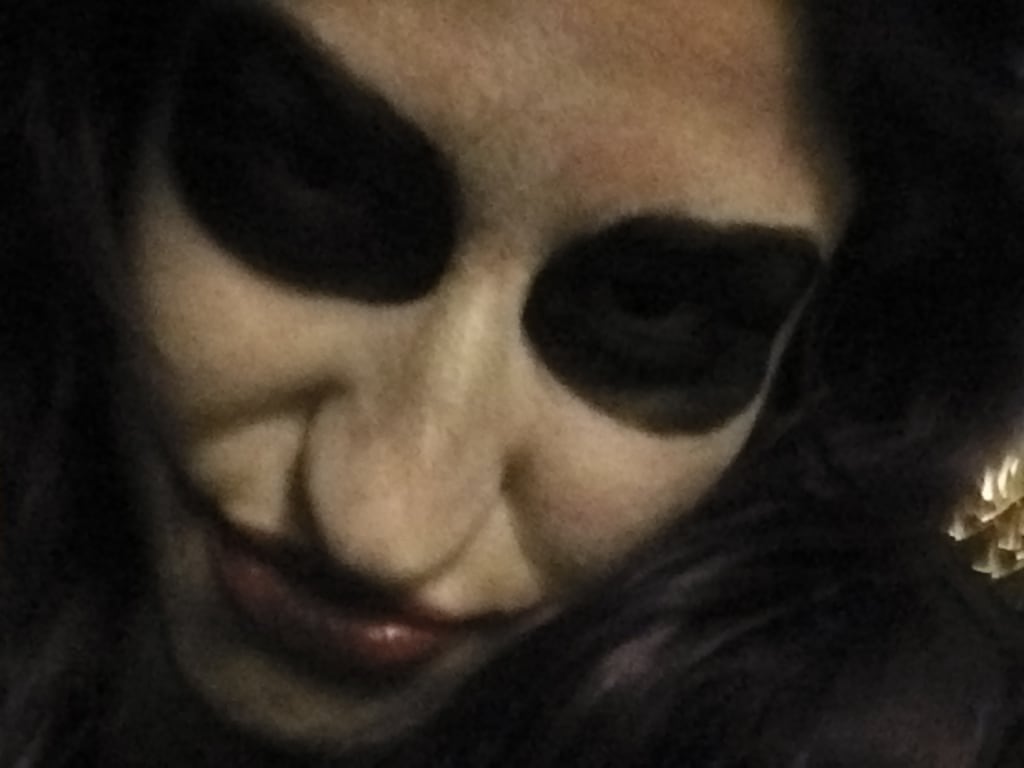 Alexis Q. Genesis lives in Pinnacle City, in a world where humans and the Supernatural live side by side. This multi-generational witch only uses magic when necessary.
She laid on the couch, reading a book, and then got a text on her phone, "I am so nervous about shopping for clothes in public."
Alexis was going shopping with her soul mate, who was buying female clothes for the first time in stores and trying them on.
The way she laid on the couch with furry leg warmers that were up to her knees would be a perfect picture for anyone to take. So after taking off her clothes except for her furry leg warmers, she took a couple of naked pictures and sent them to her love. She put her clothes back on and text.
"Be bold! That means do what you do with confidence, you see this picture, I'm confident in my body to show it off. Be confident in who you are." Alexis assured him.
She loves this woman inside a male's body, and if that means sharing clothes. It is a small price to pay to do whatever it takes for "Her" to want to be more feminine. Alexis always loves to be bold and would go out naked if she wouldn't get arrested because she's that comfortable in her skin.
He texts back, "Oh God, Lexi! You would be the perfect Catgirl for Halloween since you got your Kitty legs on."
She texts back, "I would be your pet any day of the week."
Alexis looked up and couldn't stop smiling at her Kitty Leg Warmers.
"Meow." She tried it for a second, and it didn't sound half bad. She put the book down and slid down like a Cat on the floor. Her limberness as a cheerleader made her almost prance across the floor.
It was something to think about, she had all this magic and in high school led her cheer squad to champions, maybe? Was she made to be a Cat Girl? The natural ability with the magic to make her capable of doing anything.
So she went upstairs, still on all fours, and then went into her room to pull out her Pink dress with Boots. Alexis was over the moon to find cute Kitty ears as well and put it on her head.
Then there was a knock on the door. The young blonde got up and went to open the front door. It was Elizabeth, the spouse of Youth Pastor, Benjamin Godspeed.
"Are you sleeping with my husband?" Elizabeth asked angrily. Alexis was gross out by the accusation, and Elizabeth glare at her as she felt so uncomfortable wearing her leather outfit and thigh-High Boots. She's dressed not for a costume party but at the request of her husband.
"I am in a serious relationship," Alexis informs Elizabeth as she was seriously trying to keep from throwing up because the idea alone was disgusting. The young teen right now wishes she long fingers nails like claws but murdering her isn't worth it.
"Jack is a Boy..." Elizabeth stated, and Alexis scans her, "Does the Great Youth Pastor call you Mommy before or after you punish him?"
"I AM NOT A DOMINATRIX! ARE YOU SLEEPING WITH MY HUSBAND?! I DON'T BELIEVE YOU WHEN YOU SAY NO!" Elizabeth yelled at Alexis, and the young teen walked up to her. She laughed out loud at that judgment, then stopped abruptly. Alexis had an idea to do something horrible to Elizabeth but first had to wash the dishes. So she went walking into the Kitchen. Her adoptive Mom, Selina, had to remind Alexis about doing her chores, and Callisto, her Biological Mom, as well as Selina's Girlfriend, agreed. She taught her a spell to do if it gets annoying doing it.
Elizabeth was right behind Alexis as she was doing dishes.
"I know young Bitches like you!." Elizabeth said, and Alexis soaped the sponge then twisted it.
"Tell me the truth!" Elizabeth demanded, and Alexis turned around because this was getting annoying.
"I am not fucking your husband." She went back to the Dishes after stating that again
"Where were you last night?" Elizabeth asked, and Alexis refused to answer because it was none of her business.
"My husband has been calling out your name during sex and has made me dress up like you for a year!" She told her. Alexis turned off the water in the sink. She felt like throwing up because the thought of him was sickening.
supernatural
About the author
I like writing stories and believe that sins as well as tragedies can make you a think
I write about shows and movies from a unprofessional of view.
I could write smut but it's too easy
I am Me
Reader insights
Be the first to share your insights about this piece.
Add your insights