Is 'Seed of Chucky' A Christmas Movie?
What Do You Think?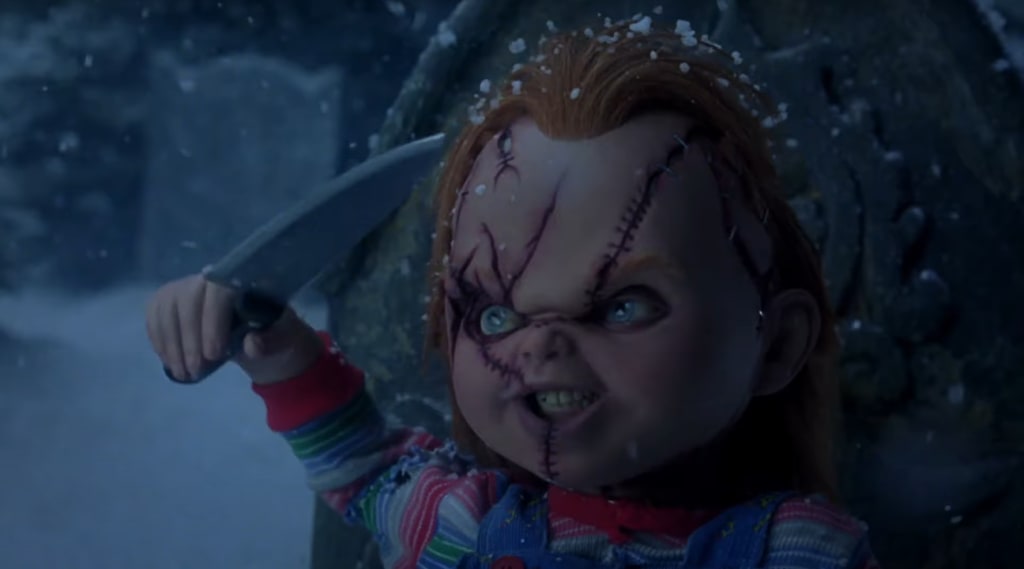 I have written the pros and cons of whether or not Child's Play (1988) is a Christmas movie (which you can read here). Now, I pose a question regarding a film that actually references the holiday: Is Seed of Chucky a Christmas movie?
It goes without saying that this is the most controversial entry in the franchise. But Christmas is kind of a big part of the plot. The film was released November 11, 2004. This is still a ways away from December 25, but still within what some might consider the road toward the holiday season. One might have even heard Christmas music beginning to play on the radio around the time of this film's release.
Years after the events of Bride of Chucky, the Chucky and Tiffany dolls found at the scene of the unsolved crime are rebuilt and (for some reason) used for the filming of Chucky Goes Psycho. This movie within the movie is based on said unsolved crime, the idea of Chucky and Tiffany being alive perceived as an urban legend.
From the looks of it, the movie within the movie is somewhat of a Christmas film, or at least partially takes place around the holiday. Set to the carol "Hark Hear the Bells," only scene that we see being filmed is when a man dressed like Santa Claus goes to a cemetery and is attacked by the killer dolls. Chucky even berates the man for not being the real Santa. The doll malfunctions, and the scene is put to a stop. Production of the film seems to even get halted due to a murder behind the scenes caused by Chucky and Tiffany, who have been brought back to life by their child Glen/Glenda.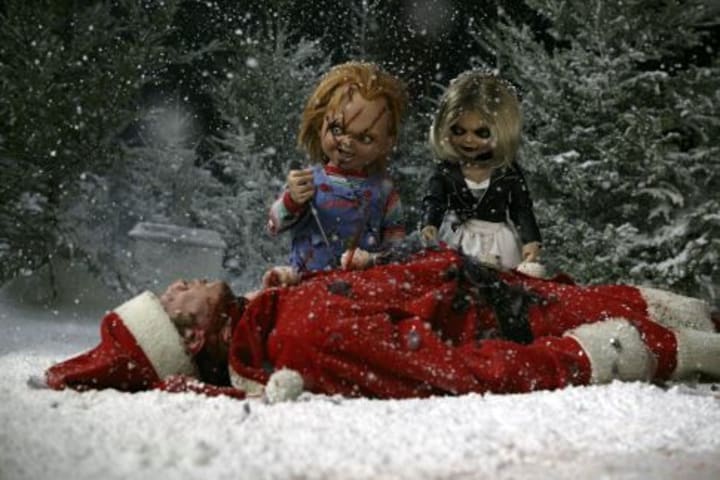 While Chucky Goes Psycho is not shown again, Christmas-y themes are still presented, particularly the Christian aspects of it. Actress Jennifer Tilly (played by Jennifer Tilly, who essentially plays Jennifer Tilly playing Tiffany in a film based on Tiffany played by Jennifer Tilly) tries to acquire the role of the Virgin Mary in Redman's film, a Bible epic. I've always thought that it would be a film centered around the nativity of Jesus, though I am not sure at the moment whether or not it is outright stated. But Seed of Chucky certainly plays with some of that symbolism, albeit in twisted ways.
Tiffany actually wants to possess Jennifer Tilly's body, meaning that Chucky would have to possess Redman. Needing a vessel for their child Glen/Glenda, Chucky and Tiffany go after Tilly and get her pregnant, with her for a time questioning how she got pregnant if it was not Redman who did it. The film plays all of this for laughs, but it is one of the darkest things to happen in the franchise. The eventually born twin babies end up getting possessed by Glen and Glenda, with Tiffany fulfilling her dream of becoming Jennifer Tilly after Chucky is killed yet again.
There is a bit of family bonding, but it is not the wholesome kind that would happen in a holiday movie, as it involves murders. A lot of what happens in the film is so meanspirited that it goes against what people typically think about when it comes to holiday spirit. As much as I want to deny that this is a Christmas movie, however, at the very least, Christmas symbolism is very much a part of the twisted plot. But since it is tweaked in a horrible fashion, then perhaps it would actually be the opposite of a Christmas movie? I'm leaning more toward this not being a Christmas movie, though it seems to have slightly more overt Christmas elements than the first Child's Play film.
Reader insights
Be the first to share your insights about this piece.
Add your insights