Infinity Wheel: Chapter 5
5. Inez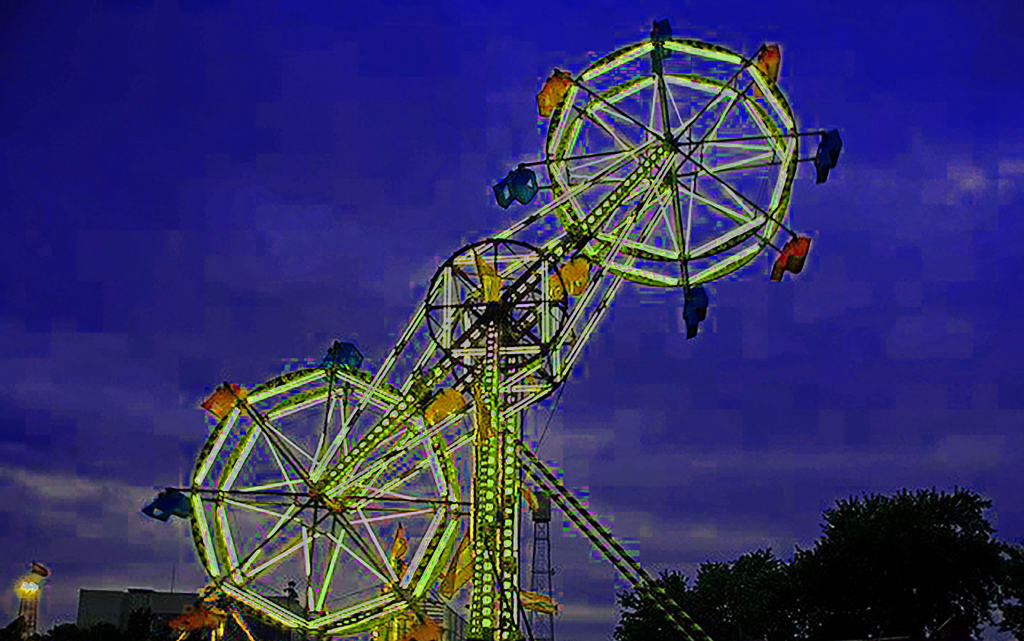 Inez sat on the piano bench gripping the sides. She had done all her warm-ups and practice exercises. The music sheet for "Carnival of the Animals" lay open in front of her, but she could not get past the first few stanzas. Her hands cramped and curled rigid. Her heart went quiet like a whisper.
It wasn't the notes. It wasn't the difficulty of the piece. Just the idea of a carnival made her feel sick. And one run by animals made her feel like things could go horribly wrong very quickly. Someone would break stuff, someone would run amok, and surely someone would get eaten. Inez did not like chaos. She shoved the music sheet in the piano bench and let out a frustrated huff.
Tap. Tap. Thunk. Weety rapped his little fist against her window. It was their secret knock. She motioned for him to come around to the back door.
"Hey, 'Nez."
"Hey Weety Sweetie, you want a pbj?"
"Hode the pickohs!" Weety crowed.
It was their little joke. Inez neatly spread Jiffy and strawberry preserves on Wonder bread, folded it like a soft pillow, and handed it to Weety.
They curled into the big couch, the big fan blowing on them full force.
"You want a story?"
"No, 'Nez. Not today. Maybe I tell you somethin'." The pale planes of Weety's face tightened.
"Sure." Inez put her hand on his back. "Anything you want." She could feel the fear bubbling just under the surface of Weety's skin. He was so good at masking it, like a turtle pulling itself into its shell. But to Inez, Weety's shell was transparent. He felt safe with her, let her see through that thin, hard wall. Weety played stupid a lot just to survive, acted like nothing hurt him. But the few, uncertain years of his life had made him hypervigilant, always aware, a light sleeper. And he felt every touch, every word, every gesture, every shake of the head that confirmed the short doom of his being.
"They's coming in the night, 'Nez. A whole train of 'em. I'm afraid."
"Who?" Inez cautiously opened her heartbeat. "I know it's someone bad, but I don't know who or what. Miss Miriam says it a carnival. She's all excited."
"Maybe. I dreamt of a man and a kinda monkey wearing a vest. They's a fat lady too, 'cept she's all wrinkled like an old balloon. They's all wrinkled." Weety's eyes were huge, tears rimming the bottoms. He was really afraid.
Inez could see them, hear the labored wheeze of their bodies against a metallic humming. "And black eyes." She said.
"Yeah." Weety nodded. "What're we gonna do? They's comin' here. Can you do the thing? Please, 'Nez?"
"Okay. Hold my hand a minute." Weety placed his tiny jelly-smeared hand in hers. Inez closed her eyes. She held tight to Weety and they began to rise. While their bodies nestled into the couch, they lifted up above them, above the ceiling. They cleared treetops into the blue, looking back down at themselves getting smaller and smaller. It felt like bubbles in their stomachs.
Usually, Weety giggled when they did the thing. Inez could lift him up out of his tired body, let him fly above everyone and everything. He felt light like a whisper of dandelion fluff. He could see all the people who thought about him, bad and good. And he felt stronger and smarter than all of them.
But today was different. They had to go higher today. Today was not fun. It was an assessment, search for an answer.
Inez raised them high enough to see the outline of Vesta, drawing a compass in her mind. Walraven's farm bridged the highway at the north. Cullom's scrapyard banked the east. Roemer's trailer park neighborhood edged the south. Nothing lay in the west, a dirt road out to the highway, scrubby bushes, a copse of weed trees here and there. The west is the best, she thought. She heard that in a song somewhere once. The west is the best.
"West best," muttered Weety.
Inez concentrated intently on the compass, seeing red and blue, icy and hot. "Open up!" she said feeling the energies of Vesta's denizens. Blue was good but there was so little of it. Mostly, it was gray and red. Apathy and rage. And one black breathing spot, the null set, Bobby Cullom hiding by Miss Miriam's house. Her stomach burned. She had to get them back down now.
"Whoa!" Weety grabbed onto her and they fell back into their bodies. Inez bolted for the bathroom and vomited.
"You okay?" yelled Weety dizzily from the couch.
She cleaned herself up and leaned against the doorway looking at her little friend.
"Stay away from Bobby. Hide if you need to in the west woods. The carnival will come through the north." Inez got quiet. " They're starving."
"Like wild animals." said Weety quietly.
fiction
About the author
I'm a storyteller through poetry, song, and short stories. I love connecting myth families and expanding on tropes. Our stories make us who we are. I live at Copper Fox Cottage with my fat chihuahua and artsy family.
Reader insights
Be the first to share your insights about this piece.
Add your insights