Infinity Wheel: Chapter 4
Miss Miriam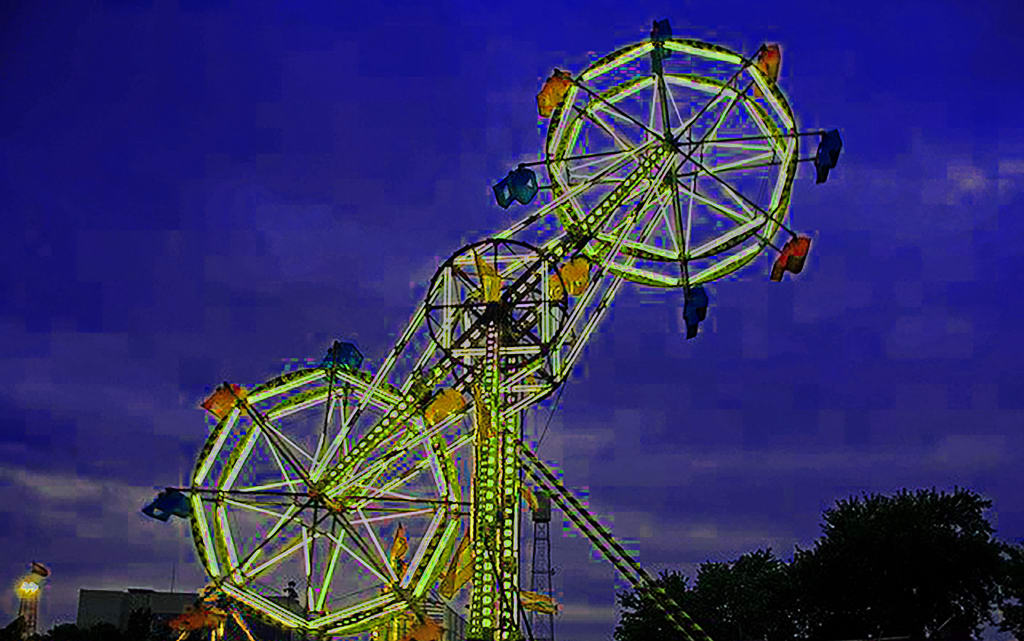 4. Miss Miriam
Miriam Manto perched silently on her piano bench. Her nimble hands rested in her lap. She was listening. The carnival was coming and she could hear the grind of axle and hum of wheels..
Her large eyes, the color of pewter, opened as wide halos looping in any trace of the caravan. She caught bits here and there, painted caravan walls, creatures bedding down on hay, flatbeds of mechanical rides. A half smile dawned on her lips as she stared into the dark miles away.
Miriam's eyes were not much use in this moment, in this village. She could not see more than three feet in front on her and had no depth perception. She never drove anywhere or experienced books except for on tape. She certainly never wore her thick glasses in front of her students for worry it would scare them. They made her look bug-like.
Everything was sound and music. Miriam's piano was her answer to all questioning sounds the universe sent her. Every key, every wire was the connective tissue between her heart and the world.
Her mother had been so angry the day he father brought that piano home. The room was too small, the noise was too big. Miriam was too tiny, too blind to play. Her mother stood in the kitchen doorway, hands on her bony hips. "She can't see, Arlan!"
"Neither can Stevie Wonder, Loretta! Christ!"
Her mother chewed her white bottom lip for a moment, slapped her father across the face, and stomped upstairs. They did not love each other anymore. Miriam would lie on the floor of her room listening to them argue. She would press her thumbs into her closed eyelids until she could see fireworks and flash kaleidoscopes. Her brain gave her the velvet night sky, pulses of heartbeat, lightning synapse shows. She could block out the parental rage brewing below.
It had been thirty years since anything like a carnival came to Vesta. Last time, Miriam had been too young, too small to ride the Ferris wheel. She had watched her parents scream and laugh, hearing their broken breaths while she stood in the shadow of the machine. They were stuck at the top, in that temporary romance of a young couple with a young child. They were sharing something Miriam could did not understand. She felt disconnected. Her mom kissed her dad and he kissed back. They were in a bubble of their past, before the wedding and money issues and a kid. As they kissed, the seat rocked and tipped. Just enough, Miriam thought, just enough to make it scary but not hurt them.
Then the Ferris wheel flashed its neon and went dark for eight seconds.
Fear swept Miriam up and curled through the wheel's passengers like a rising snake. Her parents clung to each other in panic. Miriam opened her eyes wide and saw the dark shapes of their bodies falling. She saw the other passengers gripping the handlebars, hanging, dropping. Shrieks and desperate cries filled her ears and her head was full. She clapped her hands over her ears, shut her eyes tight and screamed.
Suddenly, it was quiet. The bottom half of the wheel lit up, like a neon smile with toothy spokes. Miriam's parents waved at her from the top of the wheel, smiling nervously. The rest of the lights came up casting a warm, buzzy glow in the night, dimming the stars. It was magick.
Miriam walked home that night, holding both of her parents' hands. She let herself be balanced by the love between them, keeping her eyes closed. She only squinted at her feet when they turned a corner or they came to a curb. She listened to the music in their thoughts, edgy and excited. She held on tighter, clutching that feeling, reaching behind it to find an unfamiliar ache.
That ache stayed in Miriam's chest like a nesting firefly, blinking on and off, glowing for thirty years. She sat listening now, the low rumbling of that beautiful caravan drawing closer. The magnet of romance and longing clicking with the magick in her heart, turning it on.
She rested her hands on the piano keys and began to play randomly and softly. Her siren song floated on the air into night, chorused by crickets, held aloft by the starless breeze.
Bobby Cullom lay silent beneath her front porch window. He slowed his breathing and listened.
fiction
About the author
I'm a storyteller through poetry, song, and short stories. I love connecting myth families and expanding on tropes. Our stories make us who we are. I live at Copper Fox Cottage with my fat chihuahua and artsy family.
Reader insights
Be the first to share your insights about this piece.
Add your insights