How Mitch Lucker Mimicked Death
Two Hours Before Dying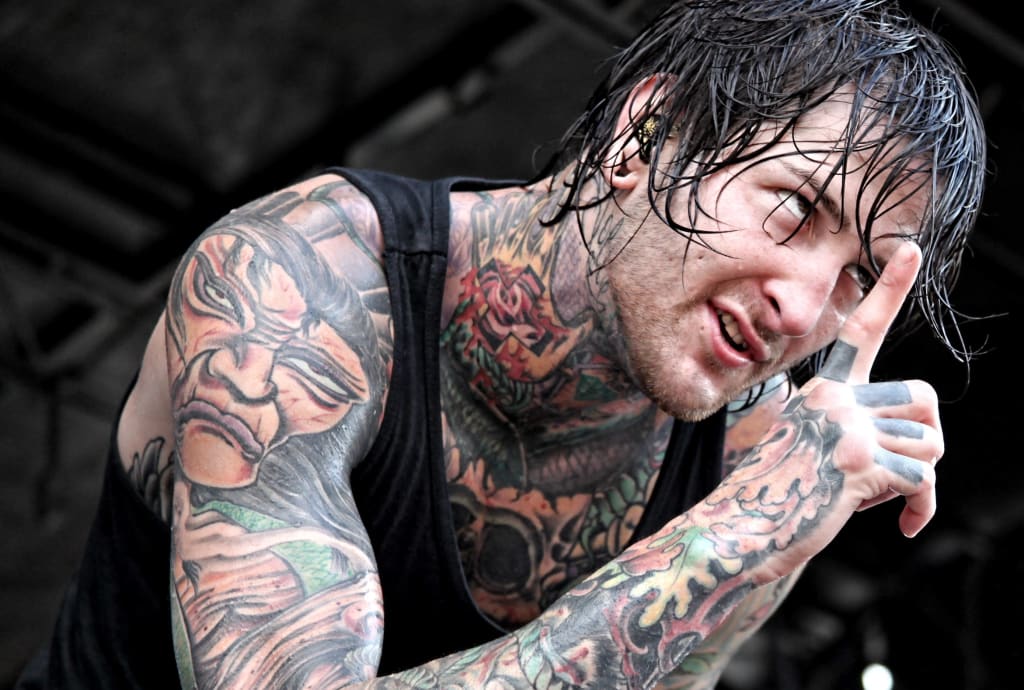 Photo by Luis Blanco | From Wikimedia Commons
"Whom the gods love die young" reminds us of Plato's classic doctrine.
In this ontic tragedy, there is a fatalistic stigma that is difficult to explain, but that Fernando Pessoa's demiurgical vision, inverting the old premise, scrutinizes most eloquently and expressively:
"The gods love those who die young because the absolute is their measure."
Indeed, it was this urge for the absolute that was immortalized in Kurt Cobain's fateful suicide note:
"it's better to burn out than to fade away."
Mitch Lucker seemed predestined to rise to the same condition as several other iconic figures in the world of arts and entertainment. In fact, a tragic spiral of events and dismal coincidences seemed to lead Suicide Silence's vocalist towards fatality. The musician passed away at the age of 28 (narrowly escaping the anathema of the 27 Club).
The 27 Club is a group of celebrities that passed away at age 27. The curse of the 27 Club became an urban myth when Kurt Cobain passed away in 1994. He was 27 years old! The conspiracy theories surrounding his death made it become viral in a time where social media was only a mirage,
Fans started to see a pattern here as other celebrities had shared the same gloomy fate: Janis Joplin, Jim Morrison Brian Jones, Jimi Hendrix an many others.
Living on the edge
Finally, everything seemed on track for the Suicide Silence frontman to get a place in the sun rising from the shadows of the dark universe of extreme metal. The band had several appearances on stage and was preparing the fourth studio album.
Married to Jolie Carmadella-Lucker and father of 5-year-old Kenadee, Mitch was, in his wife's words: "an incredible man, a wonderful father, and a great husband." However, according to Jolie, the frontman had problems with alcohol and had drunk on that fatal night: "I tried to move him, I stopped in front of him, begging him not to leave the house," but Mitch loved too much. Adrenaline speed and ecstasy.
The harbinger
A gloomy harbinger had shown itself months before the dreadful event. Mitch was hospitalized due to the infection developed following an elbow fracture and commented via Twitter: "an ambulance came to my house… and I woke up inside it because everyone thought I had died; apparently I just blacked out & took a nap."
But the most ominous and dire omen would be the last message shared on that social network, two hours before his death, accompanied by a photo taken, with his own cell phone, where Lucker appeared dressed in a suit and tie and with his face painted in a cadaverous manner: "The dead are living." Mitch thus paradoxically immortalized his situation: disguised as a corpse, he announced that the dead were alive. It finally seemed to advocate the fatality of his condition. The face of death that the mirror reflected was a sibling window to his terrible destiny.
Halloween silence
On 1 November, the Orange District Health Delegate's office announced that Mitch Lucker had died of multiple injuries caused by a motorcycle accident. At 8:55 pm on Halloween night, in the frenzy of speed, Mitch hit a pole on Huntington Beach's Main Street, and Harley-Davidson only stopped when it hit a Nissan Titan pickup. Lucker was assisted on the spot by paramedics, but he would eventually succumb to the trauma already at UC-Irvine Medical Center, where death was declared around 6 am.
The accident occurred on the night of all "Hallows" ("All Hallows Evening"), a date currently associated with the sphere of horror and death/renewal, and the musician died the next day when all the saints are celebrated, reiterating the dismal and sepulchral imagery and giving rise to the creation of the myth.
Mitch Lucker 20-10-1984 / 1-11-2012
"Aeternum Vale"

Rui Alves
I write to find the surrogate writer in me.
Rui is a graduate of the University of Porto, teacher, and life-coach.
He is also a partner of Rock n'Heavy and the founder of ZENite.
See all posts by Rui Alves →