How Horror Nights Became Home
An autistic fixation on horror amusements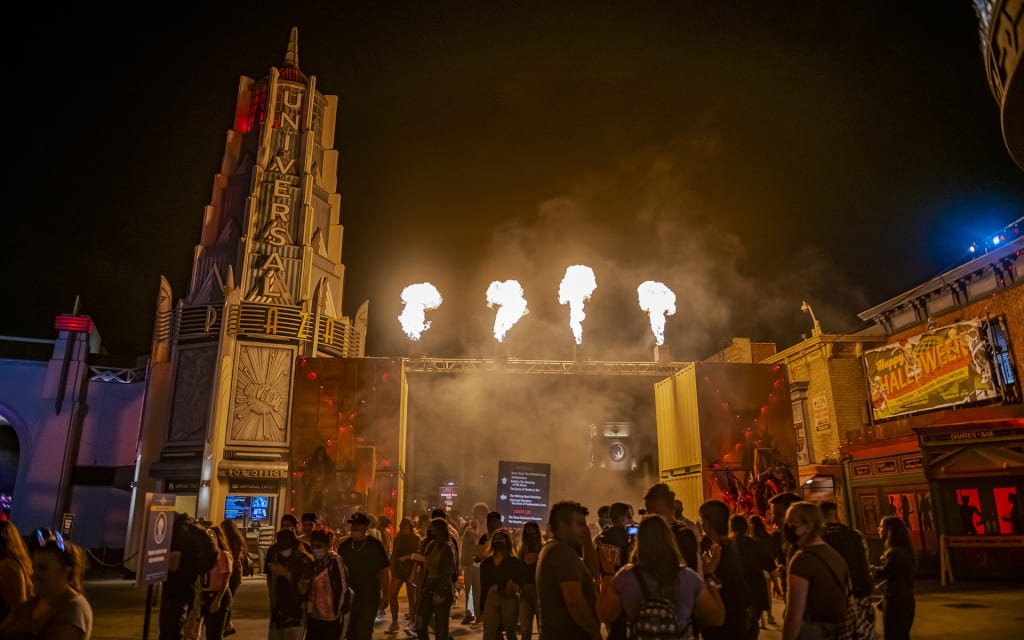 Horror Nights Hollywood in 2021
I'll admit, the first time I ever went to Horror Nights at Universal Studios in Hollywood, I was overwhelmed. I was fascinated by the mazes, the performers, and all the detail that went into everything, but I didn't go with the right people. They didn't have the patience for me and my needs and we didn't know we could get a disability access pass to help me. I fell in love that night, regardless, and hoped to go again in the future with the right people.
My wife wasn't into horror movies before dating me and so she was a little hesitant to join me. However, the more movies she watched, the more her curiosity piqued. We tested how she would handle Horror Nights by going in one of the old year round maze attractions, Universal Monsters Remix. She made it through with excitement, and so our first HHN together was planned for that year, in 2015. We fell in love with the mazes to intensely that we became frequent fear pass holders, and this marks our 6th straight year as passholders, paused only by the pandemic.
Going weekly to a Horror event may not seem like a big deal to some, but it's a big deal for me as an agoraphobic autistic person. It's incredibly difficult for me to leave the safe space and comfort of my home. The noises, the lights, the crowds, it could all be overstimulating for me. I'll be honest, the crowds CAN be overwhelming when the people surrounding me aren't very kind themselves, however, there's nights where we're surrounded by patient, kind people, and everything moves like a dream. Horror Nights is the type of stimulation I crave. Autistic people can avoid stimulation whilst also needing it, the constant movement and entertainment, combined with a handful of rides make the perfect concoction of stimulation I have come to love and adore. Two of my major fixations are horror films and Halloween in general, so it's like a perfect package for me. It's even better when characters I love are the focus, but I can appreciate Horror Nights and even learn a new appreciation for some franchises by going over and over again. I'm also always impressed by the scare actors and their hard work, and by the end of the season, some of them recognize us and give us heart felt good-byes when we leave. Not just the scare actors, but the folks who work the mazes in every sort of department - they become family to us. Every year that we return we hope to see people we recognize and remember from years before. There's joy in returning year after year and having someone who works there exclaim, "Oh hey! I remember you!" and then seeing them week after week and giving high fives and fist bumps. We also are always taken seriously and with great concern whenever we have any sort of accessibility issue too. It's something I appreciate as someone who is not only autistic but deals with limited mobility as well. The team members in guest services always take good care of us, and have turned difficult nights into incredible nights many times in the past.
I often find myself in tears on the last night of the year. The end if the season is always a sad time, knowing it all has to come down until the next year. We always make sure we're there for the last night, to say good-bye and pay our respects the the mazes that we become so familiar with by the end of the season. By the final moments, it dawns on me that it's a whole year before I'm back again. As a child, I was deeply afraid of Freddy Krueger and the StayPuft Marshmallow man, but coming face to face with them in the mazes helped me to conquer some of my childhood fears and grow to appreciate these characters more. Even in therapy, we discuss how Horror Nights is a light at the end of the tunnel for me...or the toxic tunnel (iykyk) It's what I get through tough months beforehand for, it's the motivation to keep going because it means I get to go home again. For two months of every year, I feel safe in scare zones amongst scare actors. It's familiar even when the characters and costumes change every year. I know that year after year, John Murdy (HHN Creative director and icon) and his team have my back, even if they don't know who I am. I only wish they could all see how free I feel in the mazes, how at home I am, how happy I become just being there amongst the fog and lights. It seems strange to say your safe space is at a horror event, but for me it's true. There are far scarier things in the world, and at Horror Nights I can immerse myself in scary things I can go home from, turn on the light and realize it's just pretend. It's being scared by my own choice, and feeling exhilarated doing so. It may seem odd to the average person that the place I feel safest away from home is a place filled with scary characters and fake blood...but I've always been everything but normal. Horror Nights has never made me feel strange for loving it, and instead... its people have embraced me. This year hasn't been an easy one and I cannot wait to go home to Horror Nights on September 8th.
pop culture
About the author
Reader insights
Outstanding
Excellent work. Looking forward to reading more!
Top insights
Eye opening

Niche topic & fresh perspectives

Heartfelt and relatable

The story invoked strong personal emotions

On-point and relevant

Writing reflected the title & theme
Add your insights