How Did Lure of the Vampire Come About?
An Excerpt from Lure of the Vampire A Pop Culture Reference Book by Me - Bertena Varney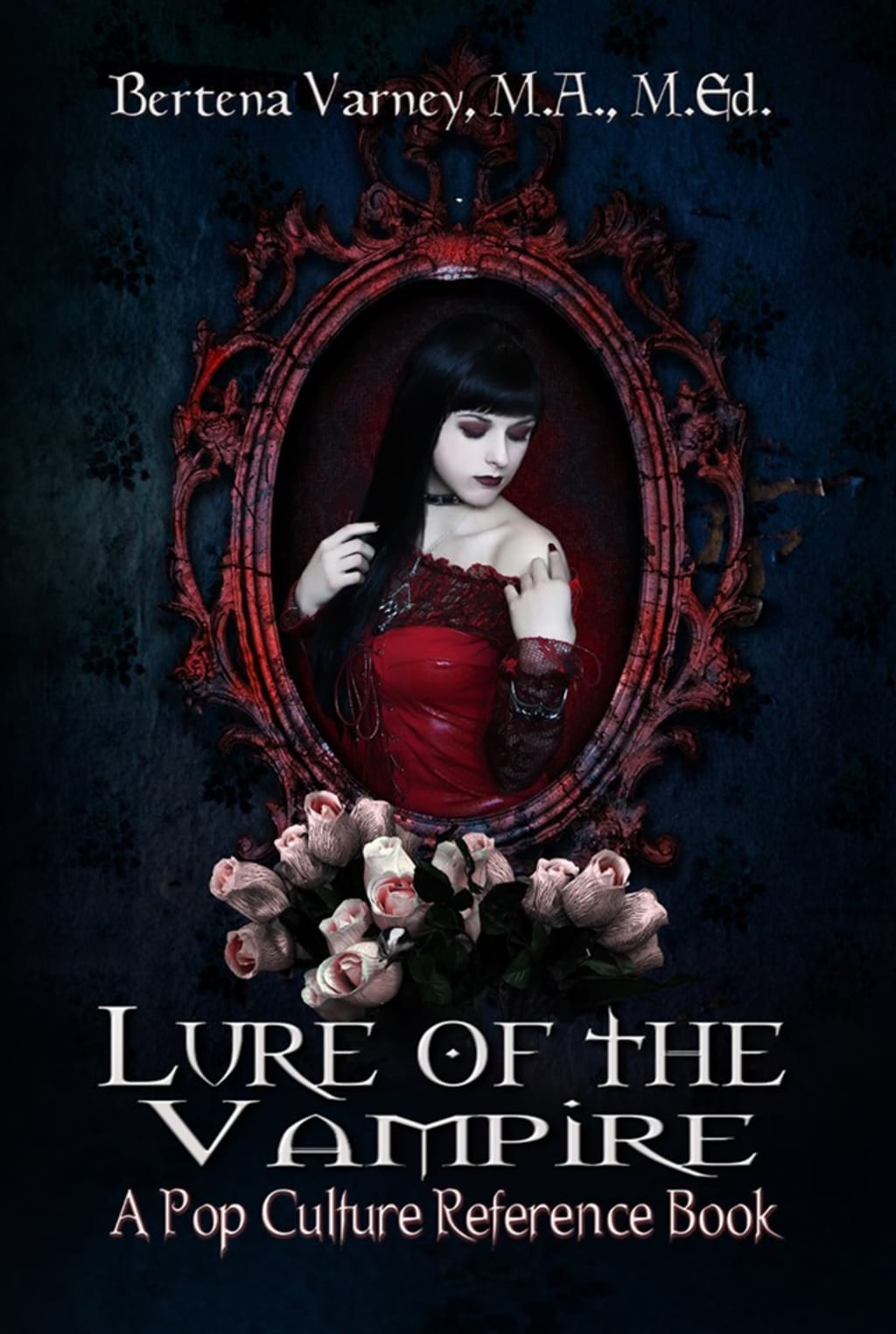 Provided by Me the Author
Since is it nearing Halloween and all things spooky are being released, I decided to share with you different excerpts of my book, Lure of the Vampire each week. Here is the preface to explain how it began...in 2008.. before vampire academia was accepted.
The Lure of the Vampire began as research for my master's thesis, The Search for the Lure of the Vampire. I was a lifelong student and was completing my Masters in Social Science and Education when I found that I needed one more class in order to graduate with my degree. This would not be a problem for most students, but I had already completed all the sociology and history classes that my college offered while completing my undergraduate Social Science Education degree and my Sociology and Criminology Masters. So, I was at a loss.
At that time, I was teaching part time as an adjunct at Eastern Kentucky University. One day, I was speaking with a colleague. She asked me about my problem and what I needed to do to complete the program. I told her the details and she said that her sister taught at my alma mater, Morehead State University. I contacted her sister and, after explaining my predicament to her, was very pleased when she agreed to let me build my own course of independent study.
She asked me what interested me. I told her that I had always taken the opportunity to steer any of my extra papers or studies towards the subject of vampires, citing the paper I did in history class on the history of the monster and for criminology, where I studied the subculture of modern vampires. She looked at me, interested but skeptical. We discussed the fact that pop culture has become very popular among the academic realm and, as such, had been deemed a legitimate study. She then agreed that if I could provide academic research and several other resources, then she would allow me to use this as my final class.
Well, she approved the study and I was off on what would become the most exciting semester of my life. I finally was allowed to read all the books, watch all the movies, and research all the blogs and websites about vampires that I wanted to, but for a valid academic purpose. But, a semester was not enough to time to research my paper because there is no one specific place, no definitive websites that are available for anyone wanting information about vampires. There are sites available, but it takes time to find them and, many times, they are outdated or abandoned. As a result, I decided that I was going to continue my research and develop a reference tool that would help others like me who are researching and writing about vampires – whether academically, as fans, or as fiction authors.
It was a very slow process at first. I researched and compiled information, but it wasn't until January 2010 when I became unemployed that I decided to dedicate all of my time to writing this book. I found a new avenue of research through Examiner.com, where I was given the columns for the Vampire Examiner and the True Blood Examiner. This allowed me national exposure to vampire fans and authors, many of whom have helped me through this process whether by providing links to websites, proofreading the manuscript, contributing articles, or just standing by me when I felt overwhelmed and overly anxious about this project.
After the first edition came out in June 2011, I could not stop researching and finding more resources about the sexy creature of the night. So, after compiling this research, I have added it to the first edition and hope that my thirst for the bloodsucker has paid off and provided you, the reader, with some special editions to this reference book.
Each year, the vampire continues to seduce those who love his history and literature, so this is never a finished project, but a never-ending endeavor.
However, for today, the third and final edition of this book is now ready for you, the reader, to use for your own research into this night creature known as the vampire. I hope that you find this book as much of a resource as I have. There are lists, websites, interviews, and very telling essays about vampires. The book begins with the history and mythology of the vampire and continues through literature, television, movies, games, modern vampires, and much more. This book has been an adventure in itself…….
Please enjoy YOUR study of the creature of the night.
"Whether we read books and watch films about vampires for psychological reasons or simply for entertainment purposes, each of us keeps the vampire myth alive. While we may be able to understand rationally that vampires do not exist, who among us does not start at the shadow at the window or the squeak in the dark?"
~Daniel C. Scarvone, author of Vampires
Additional Notes
This written in the 3rd edition pf Lure of the Vampire in 2014. I have been pondering revising and updating as well as doing an online class. What do you think?
I will be speaking on this topic for the Bowling Green Community Ed Center in October. I will post more on my Facebook when links are available.
You may purchase my books here.
Visit my author page at Bertena Varney Author on Facebook here https://www.facebook.com/bertenavarneyauthor/ for more information on my books.
And visit Midnight Musings Facebook Page here https://www.facebook.com/midnightmusingswithbertena/ to see what metaphysical things that I am up to.
And subscribe to my new YouTube Channel here https://www.youtube.com/channel/UCHA5C5qAsXCJXwbNxqjedVQ/
If you want to support me in helping make my hobbies become my main job simply leave a tip for me then visit my profile here.