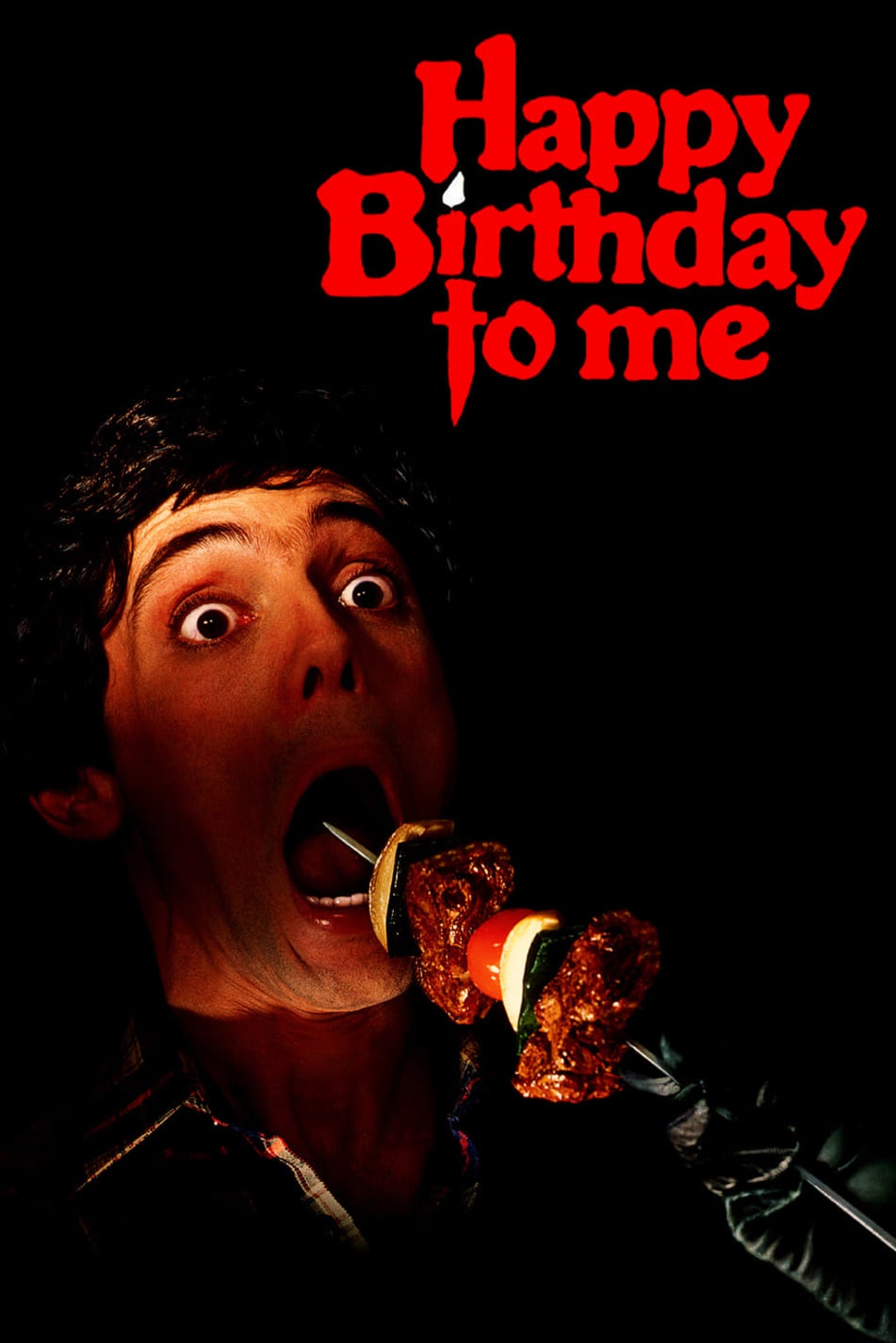 Unidentified actor gives head to shish-kabob
Happy Birthday to Me is a mess of a slasher film from 1981, starring the cute-as-a-button Melissa Sue Anderson who was better known as Mary (Mary, quite contrary?) on that old show Little House on the Prairie, where Dad was a teenage werewolf. (I'm just too goshdamned witty this morning for my own good.)
Mary here plays Virginia, who goes to some posh Canuck university with the "Top Ten," who are all curiously insufferable unknown actors playing roles that never rise far enough above stock to really grab the viewer enough so as said viewer can even remember who the hell they are or what their function is. One of them is some puny little guy who wears a big old army coat, sock cap, and a Dr. Who scarf. He has little round granny glasses and looks as if he might have studied the Talmud under Barbara Streisand. (Or, maybe he was a refugee from a Cyndi Lauper video where he is in love with Cyndi but has to leave her after he sees her hairdo which looks as if she got in a fight with a bottle of Manic Panic while trapped in a giant AI-driven Cuisinart. He has a pet rat. I never figured that last part out.)
The Ivy League shits (to borrow a phrase from Laura Dern's boyfriend in Blue Velvet) get in a fight in a bar with some Shriners, and then jump their cars over one of those Blues Brothers suspension bridges that fold up in the middle, and the jocky, all-Canuckian blonde rebel asshole football hero jock stud muffin who has an eagle tattooed on the front of his sports car almost gets them killed, and Melissa Sue walks home (which is right around the corner) but stops to visit the grave of her mother who seems to be buried in the front yard (which is a graveyard complete with astroturf, fake shrubs, a fog machine, and styrofoam headstones).
Mary has flashbacks to the accident with her mother where they both drowned after crashing through the gap in that bridge, and she also has visions of her murdering people, and an unknown killer stalks around but he/she/it is just a pair of hands. But the Killer on the Prowl is after co-eds, and Bundy was safely locked away at this point so we know it wasn't him. He does some creative killings, one of which is to kill the jock guy by loading too many weights on his bar while he's benching and then pulling the bar supports or whatever back so the dude is too scared to lower it to his chest, but it comes down and splats him and the viewer is left to ponder, "Why didn't he just roll over on the bench? Huh? Huh? Will ya' answer that one for me, God?"
(Snort. Giggle. Fart.)
Anyway.
The bloody bloodiness is pretty good, the blood being the "proper red stuff" (as Gentle Jack so eloquently put it), all the same everywhere as if it were on tap (as Thy Little Alex observed), and that's about all I can say for it. I'm not really worried about giving away the plot here, as there doesn't seem to be anything resembling a coherent plot (the film seems as if it were edited together while the director was drunk, stoned, and tripping balls; thus it proceeds with all the logic of a fever dream experienced by a type-two diabetic after passing out from consuming a heavy, carb-fueled Mexican dinner).
Rat Boy and all the other males here like to pretend to be stalker-slasher movie psychos. Rat Boy makes phony severed heads lying like Reanimator props in pans of fake blood. No wonder these guys get all the chicks. Anyway, just an aside.
At the end, we have a Bluebeardesque birthday bash with dead people, and someone rips off a latex face mask of Virginia, exposing the fact that she wasn't really with us the whole time but was in an alternate dimension where the camera is from the perspective of the killer who is Virginia but is not Virginia but who is Virginia and I'm so confused and partly because I refuse to stop for a comma....
Are you following all of this?
Anyway, what's left? Some old doctor who I don't know why he's there; a secret, radical surgical treatment that gives Virginia bionic powers (the brain surgery scene is surprisingly cool, looking as if it were lifted from an old Faces of Death movie); a secret revealed via the utterly absurd ripping off of the aforementioned Hollywood-level latex mask; A "bloody birthday party." Yawn.
I suppose it's entertaining in spots. Just take out your brain, stick it on top of the birthday cake, surround it with candles, light it with fireworks, watch the champagne fizzle. Just don't drink the punch. It has a turd floating in it.
This movie.
Addendum: I don't know who the hell these actors are, or what roles they were playing (didn't catch any names of characters really, and don't care), so Melissa Sue is the only name given here. Also, this movie sucks like an Electrolux. Also, AND WE WANT TO STRESS THIS: No actresses, animals, jocks with hot cars, dudes pretending they are Freddy Krueger, or young, Cyndi Lauper-lovin' dudes in granny glasses were harmed by the writing of this essay, parts of which may or may not have been intended to be humorous.
Happy Birthday to Me (1981 - Original Theatrical Trailer)
About the Creator
Author of Haunted Indianapolis, Indiana Ghost Folklore, Midwest Maniacs, Midwest UFOs and Beyond, Scary Urban Legends, 50 Famous Fables and Folk Tales, and Notorious Crimes of the Upper Midwest.: http://tombakerbooks.weebly.com
Reader insights
Nice work
Very well written. Keep up the good work!
Top insight
Compelling and original writing

Creative use of language & vocab
Add your insights