Fragments of Horror by Junji Ito
Eight short stories in the right measure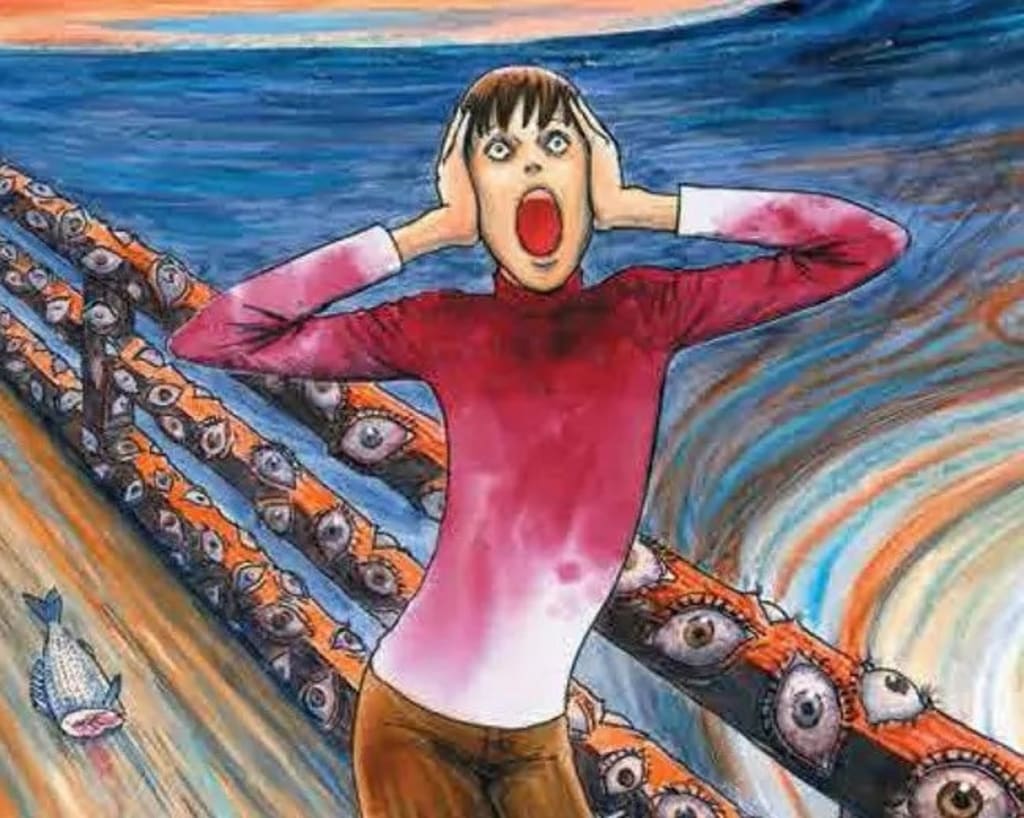 Terror is part of the most primitive human sensations, sometimes difficult to explain and Junji Ito plays with this ambiguity in his works. A unique, personal and different work of the absurd and grotesque. The most unreal fiction is the very reality that creates humanity is what we will find in Fragments of Horror.
From time to time there appears a person endowed with an intellect far above the average, someone capable of seeing things that normal man can barely observe. I am not referring to a superior being from an evolutionary point of view, but to that individual endowed with a special gift, to his or her ability to cross borders with his or her thinking.
What do they see that I am not able to see? Undoubtedly, if they are geniuses it is because the rest of us are not, and from our position we can only contemplate them with humility. But if there is something that many of them have done, and this is the good part, it is to offer us a portion of their genius in the form of art; whether in the form of fiction, painting or music.
You don't have to be Shakespeare or Mozart: there are many people in the world and everyone can say something new; there are many geniuses and of many kinds, geniuses -understood as an exceptional capacity to carry out a certain activity- who offer us their particular vision of the world, who open us a small door to their head.
I bring this up because when I read Junji Ito I can't help but think that this is one of those opportunities we are given. His work is unique, totally personal, and his vision of horror is totally new and different. Much of his stories, in the end, end up with a rational explanation that makes them all the stranger.
In a way, a good part of horror fiction is based on an ambiguous absurdity, and the possible explanations given to certain events are paranormal and unusual. Ito's work always ends with a rational turn of events that, in a univocal way, leads me to think one thing: there is nothing stranger than the real, the human. If tragedies occur in his stories, they are not due to an alien entity, but are indirectly blamed on us, on the wickedness of the individual and society.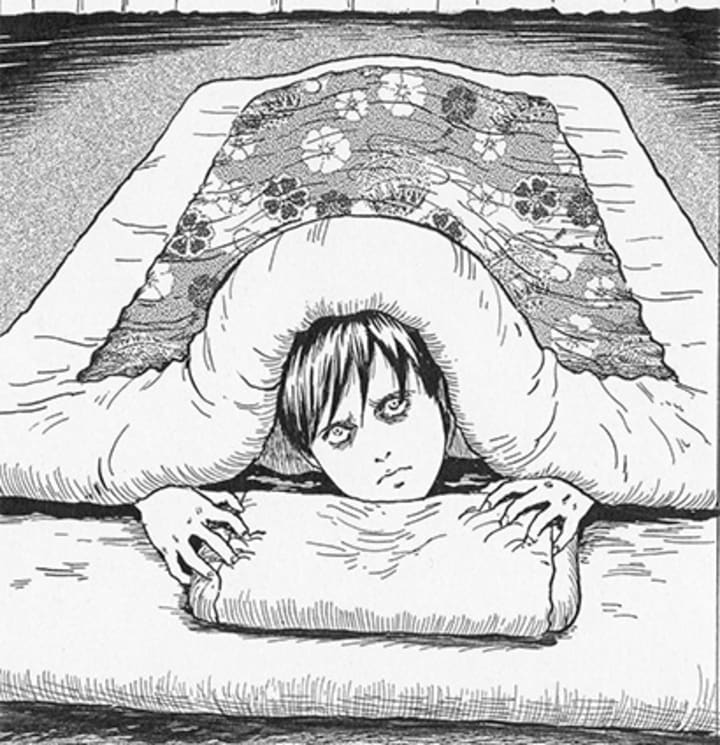 After the total madness of Gyo, I think I see the author at his best in this format. The approach on which his stories are based is totally nonsensical, and I think that stretching the chewing gum can sometimes be harmful to the final result.
It happened to me with Black Paradox, whose first chapter I found magnificent, but as it got longer and the plot became more complicated, interest gradually waned. In these small pieces of about thirty pages, the author presents the story, develops it and closes it without ever giving the feeling of missing pages; it does not seem concentrated and develops smoothly.
Ito's style continues in his line: thin strokes during the presentation of the story and a thicker and dirtier stroke in the dramatic scenes in addition to a quite conventional and calculated narration. There are pieces that are really good.
The first story is Futon, in which a young man refuses to get out of bed terrified by the spirits he sees. Among my favorite stories is "Wooden Spectres," the second story, in which a woman develops an unhealthy obsession with a house that has been declared a historical heritage site.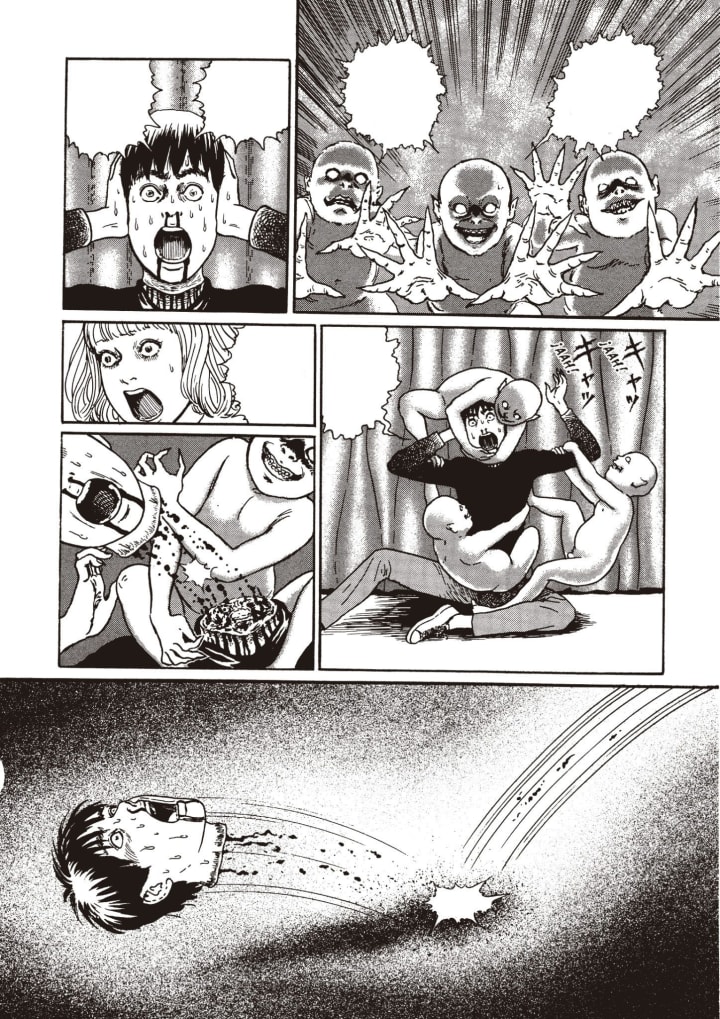 The third story and one of the most intriguing we will encounter is Tomio: Red Turtleneck, whose protagonist is cursed and will not be able to prevent his neck from cracking. Continuing on a psychological level, A Lingering Farewell tells how a family copes with the death of their loved ones.
Then we will move on to Dissection Girl, which deals with a girl's obsession with wanting to be dissected, for which she will pretend to be a corpse. A story that will make us feel many chills, while The Black Bird takes us to a story that focuses on the survival of a mountaineer. The penultimate story we will find in this compendium is Magami Nanakuse, which narrates the life of a writer specialized in the psychology of people, in their manias and follies.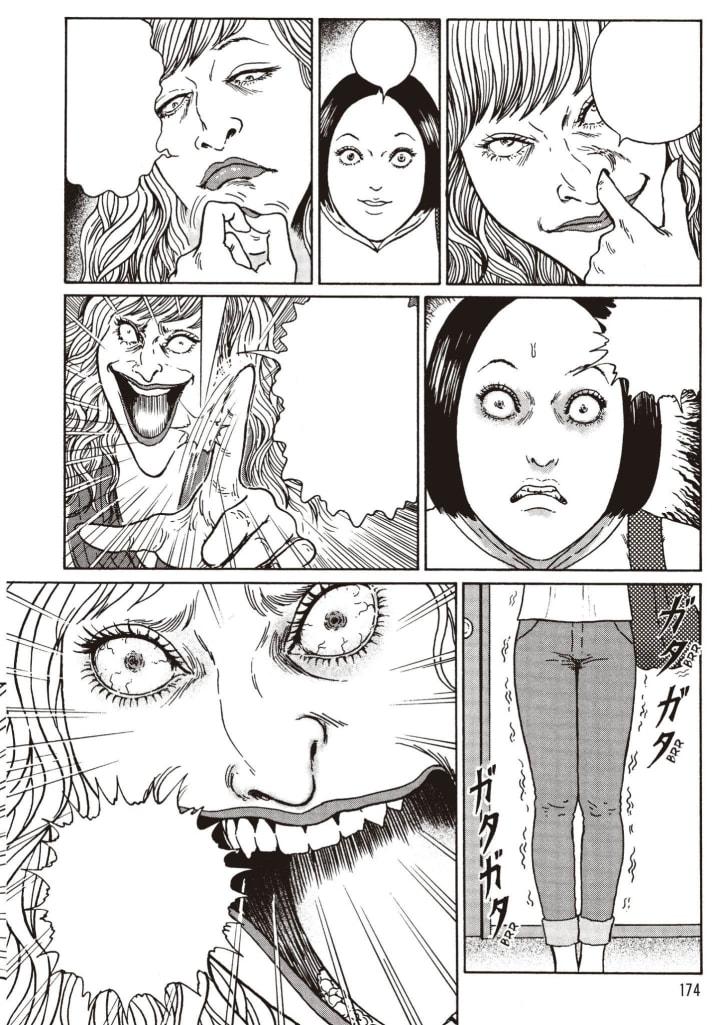 Last but not least, we discover one of the most remarkable stories, which could have been published as a single volume in itself: The Whispering Woman. It is a chilling narrative about a girl who needs to be constantly supervised.
Terror as a source of inspiration
Horror manga can enjoy a new popularity thanks to the works of Junji Ito. For a long time, this type of genre has not been very popular in the market, since the available titles were not too many or did not attract more public than those interested in the genre. This work can serve to open the way to a wider audience because inside Fragments of Horror we will find the most lurid of Junji Ito.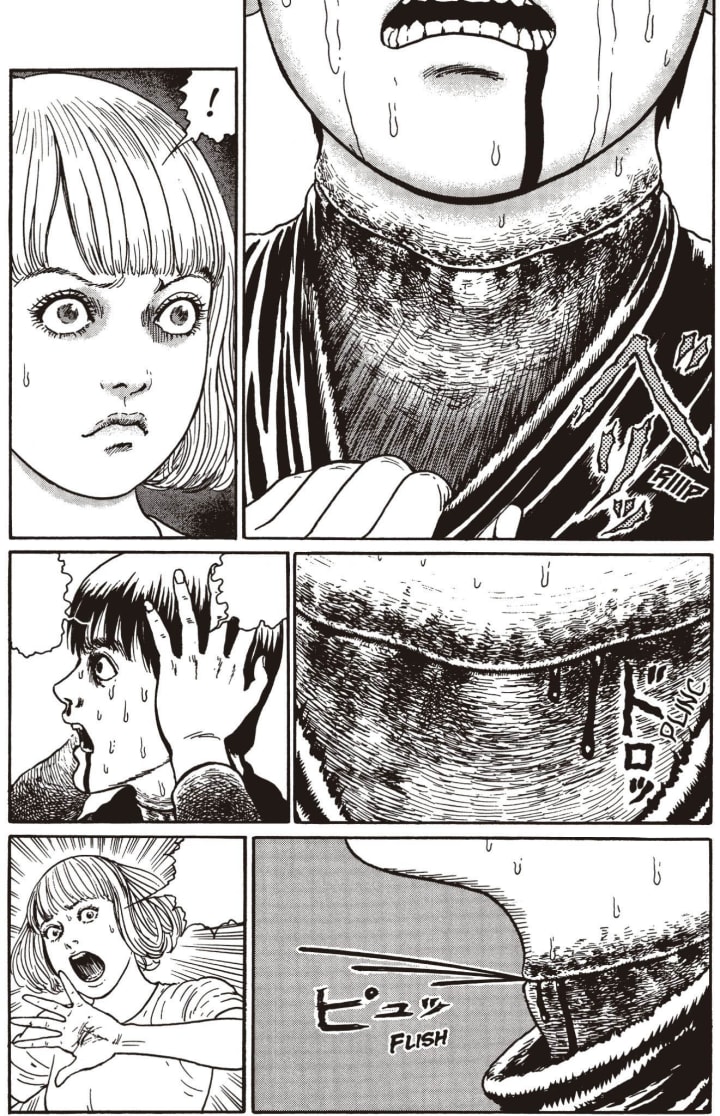 We hope that this genre will continue and that we will have many more of Junji Ito's unique style in the near future.
Thick strokes for drama
Junji Ito's style in this work does not differ from the rest: he presents the story with a thin stroke and this becomes thicker and more confusing when he wants to create drama. The stories follow a conventional narration of introduction, knot and denouement, so no confusion is created in the vignettes. Although this sometimes causes a lack of movement in the drawing.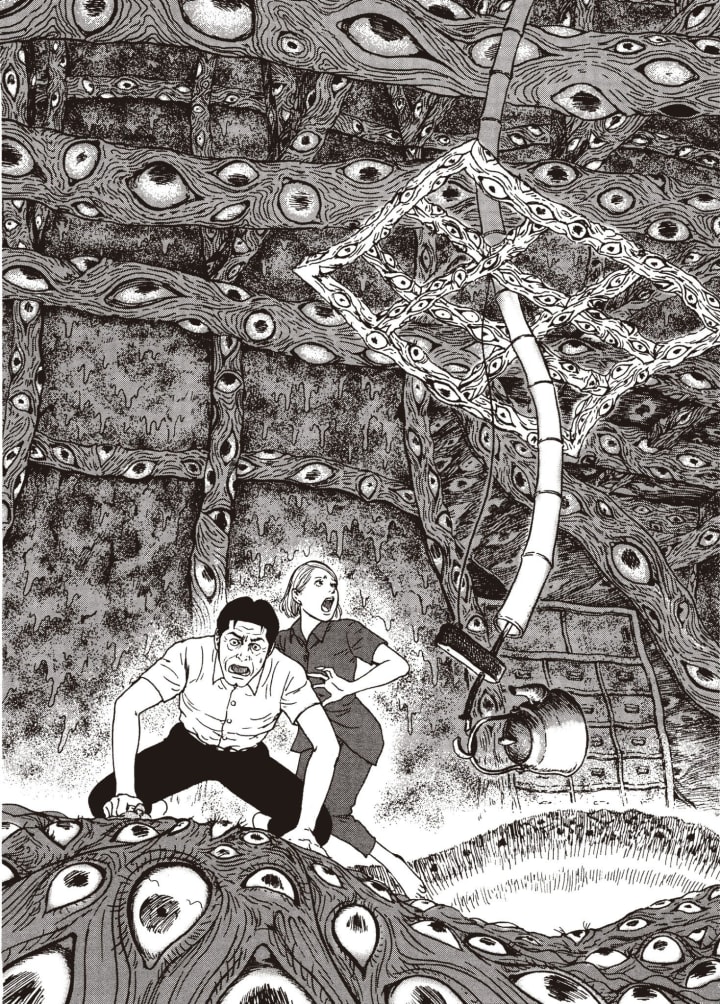 Even so, we must highlight some magnificent scenes and the brushwork of this mangaka, master of horror, such as the play of shadows in The Black Bird, which is very reminiscent of the atmosphere of Alfred Hitchcock's film The Raven. We will also experience the same sensation with the role of the woman in certain scenes, which goes through extremes, from corpse to obsession or simple observation.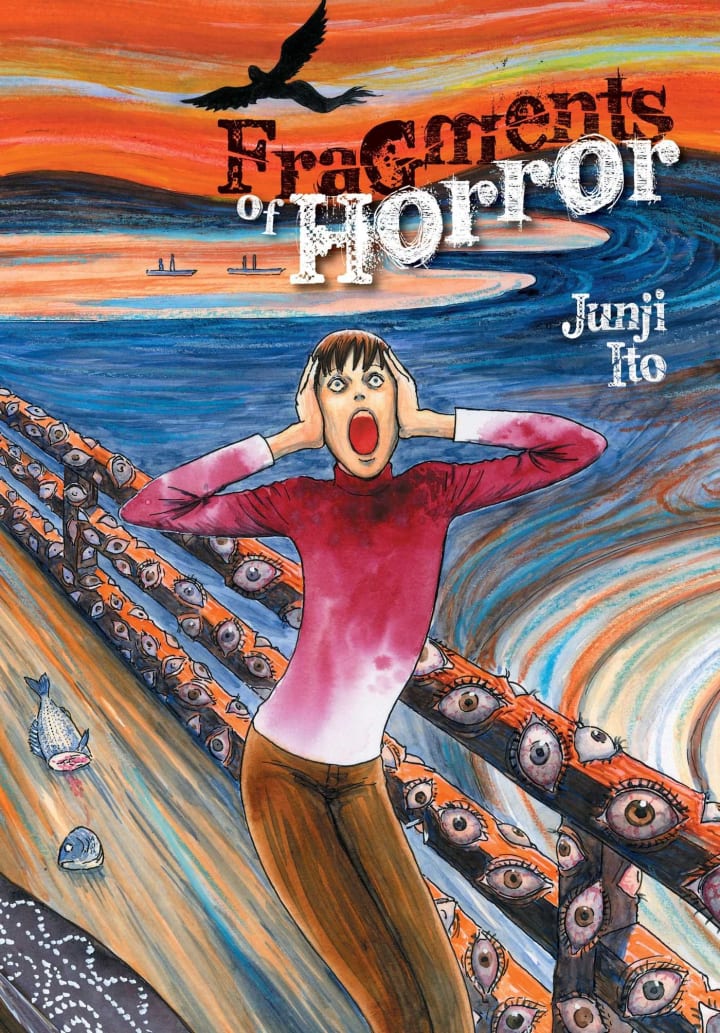 Author
Junji Ito was born on July 31, 1963 in Gifu Prefecture and it is rumored that his love for horror came when he saw his sister imitating Kazuo Umezu's drawings. He worked as an assistant in a dental clinic before devoting himself body and soul to comics. He is currently married to the painter Ishiguro Ayako.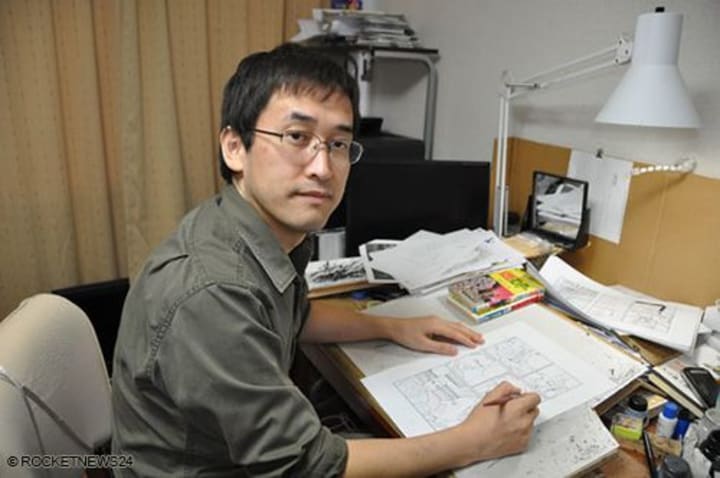 He is known for being one of the masters of horror manga thanks to his particular style and his ability to create oppressive atmospheres. Among his major influences are mangakas such as Kazuo Umezu, Hideshi Hino and writers like H.P. Lovecraft.
Junji Ito entered the manga world by winning an honorable mention in 1987 with the Kazuo Umezu Award (with the same author as one of the judges) thanks to his manga Tomie. The mangaka explores the world of horror from a malevolent perspective. He presents characters within a universe in which unnatural circumstances occur. His characters are often obsessed in some way with death and linked to the loss of reason or sanity.
The world he presents to us provokes an irremediable attraction towards the unknown and certainly interesting for some artists of the seventh art, who have dared to adapt some of his manga on several occasions. Undoubtedly Tomie and Uzumaki are his two most representative works, which also have real image movies.
Summary
Shirô Moriguchi has an accident in the mountains. After a month, Kume goes to the forest to study the birds and finds him. Once at the hospital, Shirô explains to the doctors that he has survived thanks to the few provisions he had in his backpack, and asks Kume not to leave him because something is frightening him. Now that he has been rescued, will he be able to run away from what terrifies him?
Conclusion
Fragments of Horror is a work that leaves no one indifferent. Junji Ito has earned by his own merits to be recognized as one of the best authors of horror manga. With its devastating plots and overwhelming atmospheres, this becomes a unique volume to spend anguish without falling into repulsion towards the characters and scenes. The best thing about this work is that it is unique, unsettling and eerie, key to creating a terrifyingly magnificent product. Personally I recommend "The Whispering Woman" is the best story in this volume without a doubt. What I could qualify as bad in this work is its lack of movement in the vignettes and that it has stories with a too conventional narration.