Everyone Needs to See Horror Festival Favorite 'Tigers Are Not Afraid'!
When a film has the likes of Stephen King, Neil Gaiman, and Guillermo del Toro singing its praises, it's probably a film worth checking out.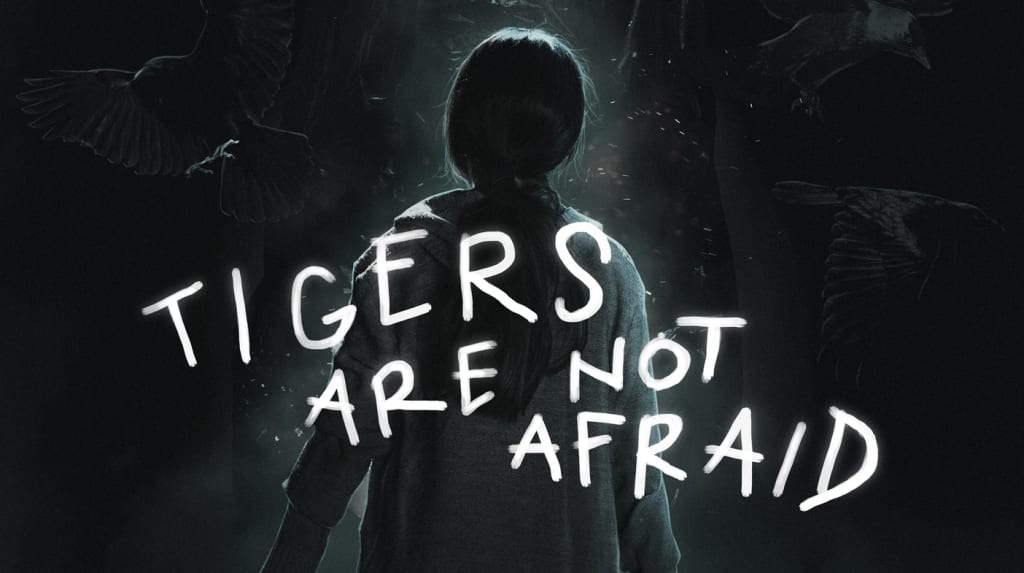 Every year the horror genre unveils simply terrifying tales that encourage all of us to sleep with the lights on. And recently the horror world has put out some seriously game-changing titles that have taken our darkest fears to a whole other level. Filmmakers aren't afraid to push the medium passed its boundaries, and bravely explore its mysterious, uncharted territories. These brave endeavors are the stuff of legends, and one fantastic example of that is Tigers Are Not Afraid. This horror fantasy tale set against the backdrop of cartel violence is nothing short of spectacular, horrifying, and extraordinary. And now thanks to the generous folks over at Shudder, fans now know when they'll get a chance to see this scary spectacle on the big screen before it ends up on the horror streaming platform. The trailer will spark your imagination, intrigue your curiosity, and put fear in your mind until you get the closure of seeing the actual film.
This horror movie follows a group of orphaned children from the drug wars, that have been granted three magical wishes. In order to survive the Hell these ruthless crime lords have put them in, they'll make those three wishes count. This wild ride into the dark corners of a child's nightmares has these poor kids not only running from the narcos that murdered their parents, but also from the demons that haunt them. In this tantalizingly terrifying teaser, we see a tiger drawing come to life, a stuffed animal communicating with the children, as well as a ton of dead people whispering evil things in their ears. This will indeed be something audiences have never seen before, and it goes without saying that acclaimed filmmaker Issa López has outdone herself this time. The wondrous world she has created is very reminiscent of Guillermo del Toro's early works. But don't get things twisted, because there is plenty of her own unique style and a gritty urban take on the idea of magical realism. To sum it all up from the just watching the great promo, Lopez has successfully conjured up an incredible experience that audiences will remember long after the credits roll.
"The stories of these children fighting for survival just across the border, and the dreams and nightmares that follow them, is one that needs to be told now more than ever. Fantasy and horror are sometimes the best vehicles to tell the most vital stories. With 'TIGERS,' I set out to do just that… and in putting it on the screen, Shudder is letting this story be heard. I couldn't be happier or prouder." - Issa Lopez.
'Tigers Are Not Afraid' - Poster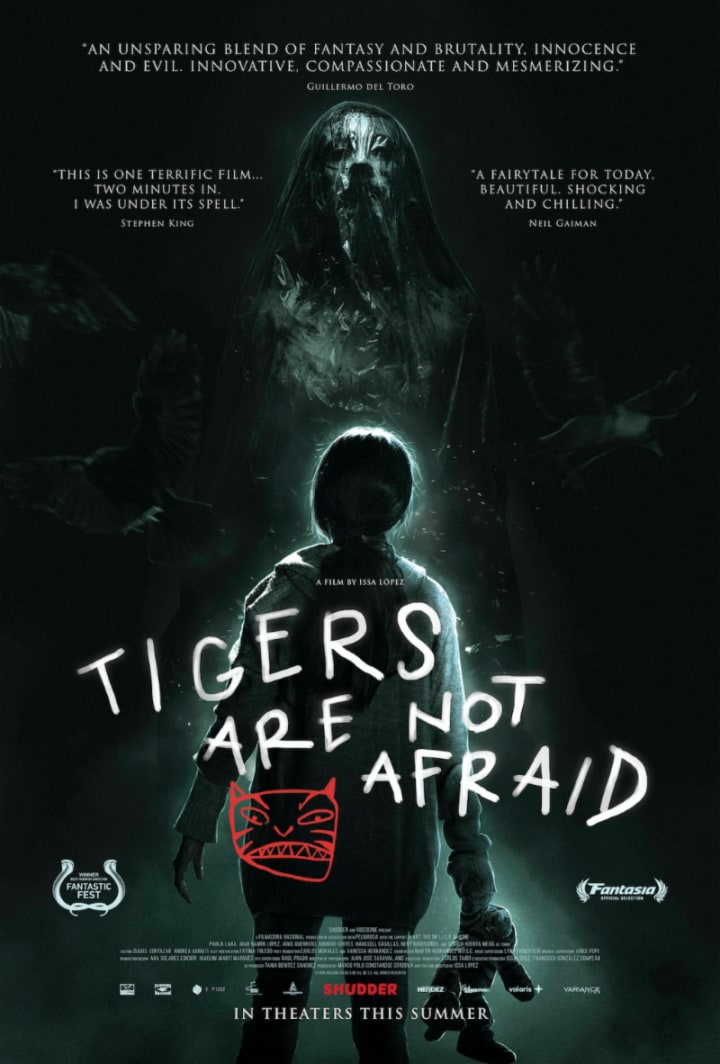 Tigers Are Not Afraid started its magnificent festival run at Fantastic Fest, where it was met with a considerable amount of acclaim. The praise continued on as it racked up a serious amount of significant laurels to fill its poster, as well as some most deserved acclaim from the critics. Fans who were lucky to see the film have not stopped talking about it, including some of the biggest names in both writing and Hollywood. Neil Gaiman, an author who's words have been turned into such hit TV series as Starz's American Gods and Amazon's Good Omens had this to say about the highly anticipated horror fantasy film:
"A fairy tale for Today. Beautiful, Shocking and Chilling." - Neil Gaiman
Horror cinema icon and Academy Award winner Guillermo Del Toro, whose reputation precedes him as one of the genres greatest has also given his praise to the horror fantasy motion picture:
"An unsparing blend of fantasy and brutality, innocence, and evil… Innovative, compassionate and mesmerizing." - Guillermo Del Toro
And last, but certainly not least, the granddaddy of 'em all, the sultan of scare, and who some would consider the King of horror has given it his endorsement. Stephen King, the writer of such horror masterpieces as
The Shining, It,
and
Misery
was put under its spell in the first two minutes. Coming from King, this is some serious praise, and any horror fanatic should head his words:
For awhile the real fear was the fact that Tigers may never get a US release date. But thanks to Shudder, the leaders in bringing the stuff nightmares are made of to audiences everywhere, has made sure that Tigers Are Not Afraid will be able to traumatize viewers everywhere. On August 23, 2019, the film will play in New York City, Los Angeles, and Toronto thanks to their theatrical partner Variance Films. An expansion will follow in September, and then the film will find a home on their streaming service. If it wasn't for Shudder, who knows what would have become of Lopez's fantastic film. That's one nightmare we all, fortunately, don't need to experience. Let's be honest, it looks just as good, if not better than anything the heavy hitters like Netflix or Amazon are putting out, but Shudder is probably the most appropriate place for this flick to land. Their taste in horror is unparalleled, and they are one of the most trusted names in the genre. Of all the places Tigers Are Not Afraid could have landed, Shudder is the perfect fit. And the company seems to think so, and are very excited as well.
"'Tigers Are Not Afraid' is a beautiful, haunting film by the amazing Issa López, and easily one of the most moving horror movies we've ever seen. We've worked closely with Issa every step of the way to make sure her amazing film gets the best release possible, and we're excited audiences will be able to experience her remarkable vision in theaters." - Craig Engler, Shudder GM.
As someone who considers himself a hardcore scare fanatic, I am continually looking for the next great film of the genre to add to my collection of horrors. I still enjoy reliving the classics, especially the ones that I've seen hundreds of times, always jumping at the terrifying moments because they're that good. I do enjoy the Conjuring-verse films and most of the Blumhouse titles that release throughout the year. Films like Midsommar and Brightburn are a breath of fresh air in a genre that can sometimes feel stale. So it is crucial to appreciate when an extraordinary filmmaker comes along and introduces our imaginations to something frightfully new. But one thing I need to make perfectly clear is that Tigers Are Not Afraid does not feel like it's going to be just a great horror film. My first inclination after the final moments of the trailer played is that this will be a great film overall, and like a tiger, I am not afraid to say I believe this motion picture could easily be a top contender for being one of the best films of 2019.
Reader insights
Be the first to share your insights about this piece.
Add your insights