Don't Go Upstairs
She doesn't feel safe in her own home...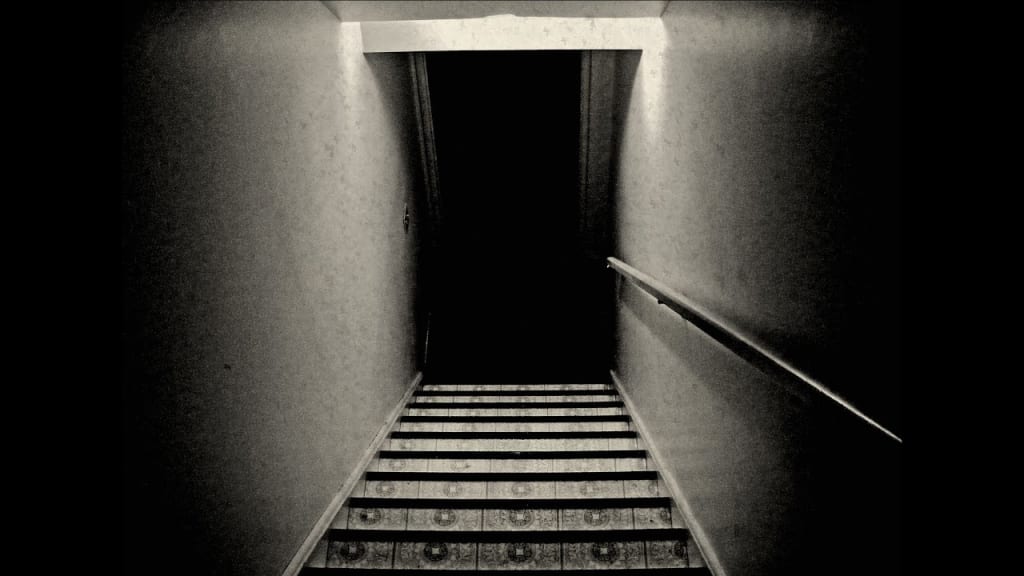 It was a stormy Sunday night. The sky was dark and the house was quiet. Margaret felt scared but that was nothing new. Ever since her husband passed away everything felt scary. Around every corner was a possible danger. Margaret feared she might never leave the house again but then she thought, "Why would I leave? This house is safe, these four walls protect me from the outside, from the unknown and the dangers out there."
She thought, "I trust what's in here." Just then she heard a creaking noise from the upstairs bedroom, her daughter's bedroom. She hadn't heard a noise come from that room since the pitter-patter of her young daughter before she left for college. She quickly shrugged it off to being nothing and went back to reading her book and drinking her tea. But there it was again, that slow creaking noise from the upstairs bedroom. Margaret finally let her curiosity get the best of her and decided to go upstairs. Reluctantly, she took one step. then another and then another up the long staircase. She never remembered the staircase being this long. Then the creak came again followed by a loud stomp! This made Margaret jump and grab her cross necklace around her neck. "Who's there?" She asked, her voice shaking. No answer.
"Who's there I said!" She said louder with a little more conviction. Again the creaking followed by the boom, but no answer. Margaret took a deep breath in then a slow breath out and started to walk towards her daughter's bedroom. "I'm coming in." She yelled, hoping to God she was speaking to no one; that this was all in her head that the rain outside was causing some sort of leak. The house was falling apart, it was old like she—she shouldn't let her imagination get the best of her. She could almost hear her husband telling her, "Margaret, you're overthinking it, everything's fine..." She slowly wrapped her fingers around the doorknob to her daughter's bedroom. She gripped the door knob tight and gave it a swift turn and yank the door open. Inside the bedroom she sees nothing but a bed, a mirror and memories. But what was the creaking?She thought. She sat on the bed, laughed to herself and thought, "This house is safe, it's the outside I don't trust. This house is fine."
Just then she heard a low heavy breathing coming from under the bed something weezy and deep and angry. Fear began to fill her whole body. She felt cold and stiff and unable to move. Suddenly something grabbed her ankles and grip them tight. Margaret screamed and tried to run from the bed but whatever had her by the ankles was now pulling her faster and faster underneath the bed. The slow, heavy breathing had turn into an angry cackling laugh filling the whole room louder than the thunder and louder than the rain. She screamed harder and grabbed onto the carpet, her nails digging into the fibers. Screaming someone help! Someone help! But no one was there to hear her cries. No one was there to help pull her out from under the bed, she was gone. In a flash, she was gone. Margaret's screams echoed through that empty house. Every scream matching every thunder boom. The neighbors couldn't hear what Margaret had seen. Months passed and the house had gone up for sale. Neighbors thought Margaret had just left to go live with her daughter or perhaps to go start a new single life of her own. When her daughter found out the house was for sale she was in a panic. She did her best to put up flyers, call the police, and let the neighbors know that Margaret was not on some luxurious vacation. But there was no trace of her mother to be found. So the house sold. The daughter mourned.
And now a new family lives in that quiet little house unaware of the dangers underneath the bed.