Darkness Lurks: Killer Clowns in Glasgow part two
Rumours spread like wildfire as to who murdered young Donna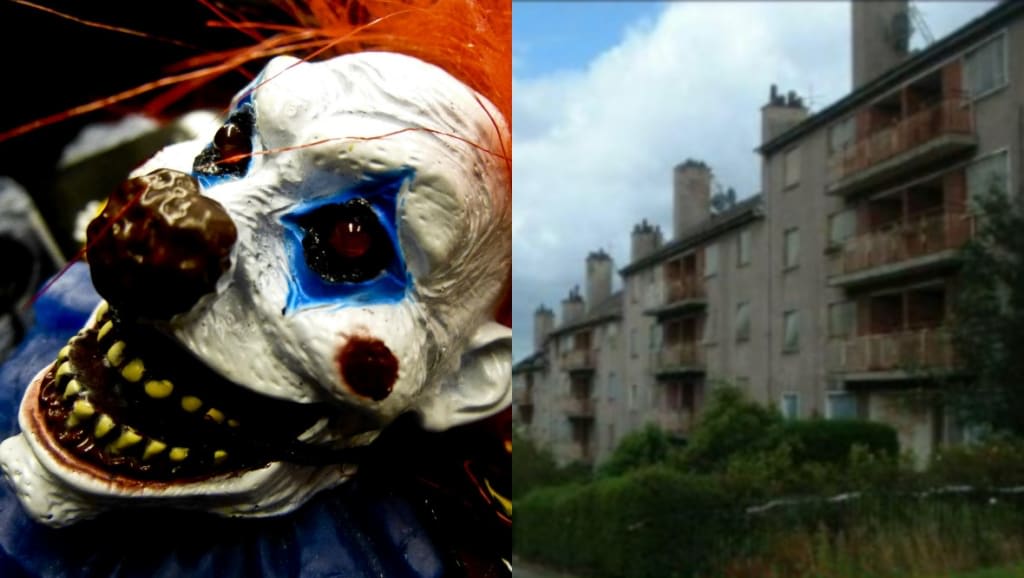 Nancy was struck with terror when her daughter Sandra appeared at her door to pick up Donna nearly an hour after she had left her on the lane.
Sandra had come the same way Donna would have passed but seen no sign of anyone in the miserable wet night, and ruled out Donna meeting any friends who would have all been in the house on such a night.
Panic was starting to set in.
They rushed to a neighbour's house to phone the police and get a search party started and sent Donna's brothers round to all of her friends' houses asking if they knew anything.
The local police were surprised to be receiving a call from this particular family.
Donna's two brothers and many cousins were well known by the police in the area, they were at loggerheads with one officer in particular: officer McAleer or "moustachy", or simply "tashy" for short, as he was known as in Castlemilk due to his ridiculously big moustache.
Tashy was a hate figure in the scheme where he had been harassing and bullying people for years.
Using dirty tricks, taking bribes, behaving like he was above the law, looking down at people from Castlemilk as if they were scum was all in a day's work for this reprobate.
A deeply unlikeable man, he had failed miserably to gain any sort of control of the area. It had descended into a lawless jungle of drug crime and gang violence in the years since he had been put in charge with promises to bring law and order to the streets.
When police eventually arrived moustachy was unsurprisingly the first one there, even more unsurprisingly he was very unhelpful and heartless towards Donna's mum and gran, focusing on why she was left alone, more or less inferring that she had run away, basically saying who could blame her, then before setting about trying to find the lost child he proceeded to start asking questions about Donna's brother and why she never called the police to her own house, insinuating she had something to hide.
A search was eventually called.
A group of local people of the Machrie- Ballantay areas along with Donna's family and a few police officers set out to find Donna, looking for about an hour without any trace until they were told their worst nightmare had come true..
Donna's lifeless body had been found, brutally ripped to shreds and unrecognisable around a 15-minute walk away from where she had been last seen.
It was a local teenager who had been out walking his dog when it attracted his attention to the dead body stuffed almost carelessly under a pile of rocks at the lake.
Soon the area would be covered in police cars, forensic officers and detectives and the hunt was now on for a vicious and evil child killer.
In that short window from leaving her gran's sight to being visible by her watching mum, something tragic had occurred.
Either her killer had been in the path blocking her way or she had been distracted and went off course, although with it being a dark rainy night the second option is highly unlikely.
Either way her life was to come to a gruesome and shocking end.
Donna's gran Nancy's heart was broken, she would blame herself for the rest of her life.
A massive police investigation was now underway.
The detectives would set about questioning anyone from the area that could talk and taking DNA from 3500 local men as the search went on and on without any leads, gripping the scheme in a panic.
Rumours would now start to spread as to who might be responsible for the senseless killing that shocked and numbed the city.
The first name on the lips of the Castlemilk gossip mongers was that of Donna's estranged father Joe Blair.
Joe had fallen out with Donna's mum years before but had a reputation for unexpectedly showing up every so often to cause trouble.
Known as a bit of an unpredictable wildman, he was a violent alcoholic and drug user.
He was outraged that Donna's mum had recently changed the schoolgirl's name from Joe's last name of Blair to Ferguson, so Donna would have the same name as her mum, brothers and cousins who had a reputation and were well known in Castlemilk.
In fact the last time Joe Blair was seen in Castlemilk he was up causing hassle because of the name change and was badly beaten up by Donna's brothers Frank and Lee.
On that occasion he vowed revenge threatening to burn their house down when they were sleeping as well as other similar drunken threats.
He hadn't been seen or heard from since.
Although Joe Blair was known to be unpredictable and a bit of a nutcase, could he really be held responsible for his daughter's brutal killing? No matter how out of his face he was on whatever drugs, could Joe Blair, a man capable of a few nasty things in his time, really be capable of harming his own daughter, never mind kill her? No.
Anyone who knew anything about him knew there couldn't be truth in those particular rumours.
They were to be proved right when it was revealed he had a watertight alibi. He was in fact in jail at the time.
Another name that seemed a lot more credible to some was that of Donna's cousin Chris.
Chris Ferguson was a bit of an outcast of the family, described as an oddball and a sadist he was terrorising anyone and anything he could from a young age, robbing pensioners, setting fires to houses and killing pets.
He was also a terrible bully to anyone he saw as weaker than himself.
His favourite victim was a boy called William who was a bit slow; he always had his school uniform on all day every day (even at weekends), hung around with much younger kids and had a very close relationship with his cat!
Staying in a place like Ballantay William was always going to have a hard time but Chris Ferguson took it too-far, smashing his windows, chasing him, beating him up and cutting him for fun.
One day, when Chris Ferguson was about 13/14, he saw Williams' cat on a wall. It was an old and overweight cat that was very rarely out of the house so Chris took the chance to capture the much loved family pet.
The sicko beat the poor animal to death, then as if that wasn't bad enough he wrapped it up in a bag and hit Williams' living room window with it before riding away on his bike laughing.
Worse was to come with Chris's sick obsession with hurting animals and the whole of Castlemilk would soon have him down as being sick in the head.
As part of a scheme project to drag Castlemilk away from the dark old image of poverty and vandalism, the council had an idea to put a beautiful family of swans in the lake.
This came much to the delight of local youngsters who helped name the family of swans that drew a big crowd at their first appearance.
Sadly though the swans lasted less than a month after Chris went down to the pond one day by himself and chopped the heads off of all six swans. A full family of beautiful animals murdered in an act of boredom.
There was no other evidence against him for his cousin's murder other than his reputation as a sicko and sadistic animal killer.
The nineteen-year-old who found the body was also immediately made a suspect by the local rumour mill.
Ryan King had few friends, was unemployed, smoked a lot of dope and stayed in his house all day watching VHS videos, (either horror films or WWF wrestling) or playing computer games on his commodore 64.
He would only be seen out when he was walking his dog, going to the video shop or if he was looking for a bit of hash from the numerous local dealers.
He would also earn some money for himself by doing some basic garden work or cleaning cars for people down in the Croftfoot area every now and again.
Most people who knew him saw him as a harmless guy who was a bit quiet and shy but with a good sense of humour when you got to know him. People who didn't know him sometimes would think he could be a bit strange or creepy with the way he acted, always with his hood up not talking to anyone but sometimes perhaps staring awkwardly at young good looking girls making them feel awkward.
There were definitely two sides to Ryan King who had started smoking weed at around 12 or 13 to deal with terrible shyness and anxiety attacks in school, some say this made him paranoid and only increased his nerves and turned him into a bit of a recluse.
One of the most far out rumours, that only served to add to ongoing racial tension on the outskirts of Castlemilk ,was the one that blamed a large group of Roma gypsies who had moved into a spare bit of land up almost right between Castlemilk and neighbouring Rutherglen.
The story went that some mad man named Doran was staying in the caravan site and was kidnapping Scottish kids to sell on a black market.
He was also- as far as the story went- a known child killer and peadofile wanted in Romania for horrible crimes.
This particular story turned out to have been put out on the street by a far right racist group looking to stir up tension between the communities anyway they could. They ended up succeeding in most cases, leading to the gypsy sites being attacked and firebombed until they decided to up sticks and move away during the night one night, never to be seen again.
But one rumour that seemed to stick and strike a chord with the people of Castlemilk's imagination was one about two escaped mental patients who had broken out of a nearby asylum.
The story of them escaping had been on the news and in the papers, they had been described as mentally insane and very dangerous.
One of the men was from the north of England so a lot of the police search was based there as it was thought that's where they were headed.
But stories were spreading like wildfire that they were still in Glasgow and were responsible for a spate of missing young people. As each person told the story it grew arms and legs.
Because they were known in Glasgow it was said they wear masks,only go about at night or in isolated areas looking for people who are vulnerable, weak or merely just alone, picking them up, forcing them into the back of a van and torturing them before killing them.
The stories of the guys dressed as clowns going about Castlemilk trying to get kids in the back of a van very quickly got attached to the story about the escaped mental patients.
Before you knew it the whole city was talking about killer clowns who were stalking the streets looking for victims, it seemed for a time that literally everybody you spoke to knew someone that had an encounter with the clowns.
It wasn't just kids or young people who were freaked out. As far away from Castlemilk as Possilpark, which is literally on the other end of the city, a group of women were so freaked out when they saw a blue van sitting at the top of the road they ended a kids party early, bringing everyone inside and calling the police in hysterics.
There were hundreds of similar reports that ended up causing the chief of Strathclyde police to put a statement out in The Evening Times newspaper urging calm and warning against "believing scare stories".
Without actually mentioning the clown stories or the escaped mental patients it was crystal clear to everyone what he was referring to.
With all the stories going around the pupils of St Judes were at fever pitch.
The more the story got told the more convinced they became that it was no longer a rumour.
Most of them now would see it as fact that the clowns that had been painting the fence and handing out sweets at St Judes only a few months earlier were the same people who killed young Donna.
Sonny was convinced there was something seriously strange going on, could these guys really be psychotic killers? Well after what had happened to Donna all bets were off as to what was reality anymore.
When St Jude's re-opened after the murder, Donnas school Castlemilk primary stayed shut.
On the first day back at St Judes Sonny's two friends and classmates Tam and Paddy got sent to the spare classroom upstairs to get some jotters.
The upstairs room in St Jude's was always rumoured to be haunted with stories about an old janitor who was pushed or jumped off the roof years before still haunting the school.
There was another one about a janitor who burned his house down killing his full family who would go on to haunt the school forever.
These were just two of many myths that had been passed down generation to generation; everybody who went to St Judes had heard at least one version.
There was also another urban legend about a girl who had the guts to say "Mary queen of Scotland got her chopped off" five times into a mirror with the light off.
She supposedly did it in the girl's gym changing room for a bet and, as the story goes, she was then beheaded.
Although most pupils would have been sceptical of these stories and took them with a healthy pinch of salt, they enjoyed scaring each other and wanting to believe it was true at times, plus no one EVER! would have the guts to say those words 5 times into a mirror in that school.
But after what had happened in real life with young Donna the pupils were given a reality check that there were real life bad people out there. All of a sudden they didn't have the same appetite for ghost stories as most would have been terrified at what had happened just yards from the school.
So when the boys went upstairs, there wasn't the big fuss there would usually have been about it.
When they got upstairs they looked out the big window across to Castlemilk Primary and couldn't believe what they were seeing.
It was a blue transit van parked right on its football pitch.
The van had a blacked out windscreen facing as if it was looking down towards them.
Freaked out by this, they ran back down the stairs into their class shouting "the clowns are up on the pitches!". The classroom burst into hysterics, some kids even started crying, even the teacher started panicking as she started trying to phone the janitor who she couldn't get ahold of and yelling to Paddy and Tam that they better not be joking about this.
The fact the teacher was visibly so worried was making the kids panic even more, she then started accusing the two boys of lying when she went quickly and looked over to see no sign of any van on the pitch.
Paddy and Tam were still sticking by their story as the teacher was getting more distressed.
Her reaction made the children even more certain there was more to it than a rumour.
A few of them were even starting to think the teachers and adults knew more than they were letting on.
The rest of the class, including Sonny, never believed Paddy and Tam but the boys were still adamant at what they had seen.
So as a last attempt at calling their bluff, Sonny suggested they all find a way of getting upto the pitch after school to see if there would be marks on the pitch.
If a van was on red ash there would still be marks there, he thought.
Again they stuck to their guns and agreed to go, determined they knew what they saw.
They planned to play football for an hour or so while it was still light, then when the janitor wasn't watching, quickly jump over the fence run over the backs, check the pitch and run back over before he noticed they were gone.
So after school they found the janitor and he agreed it was for the best if they were in the school where he could keep an eye on them.
He warned them that they all had to come and leave together.
He told them that the gates would all be locked after they came in and if anybody climbed over the fence to leave without telling him they would be in trouble.
He assured them he would be keeping an eye on them and would see if anyone tried anything daft.