Crucial Frequency
Episode 1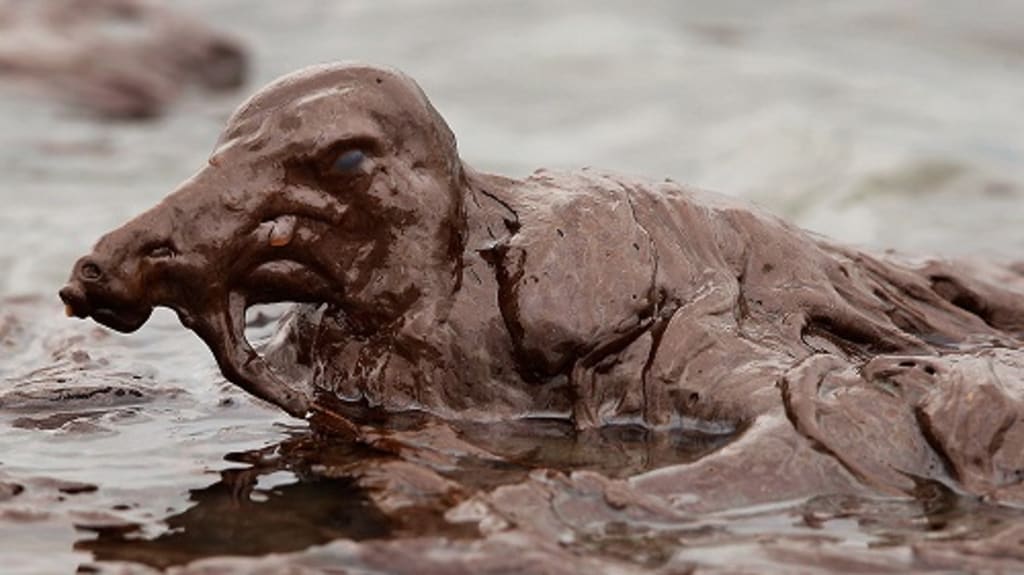 Welcome back to Past Dark radio where we give you the latest updates of what's goin' on in Midnight at the latest times.
Some breaking news before we start with our regular program, the 10-foot, shark tooth tiger was found dead earlier this week with several bite marks in it. No one had seen the culprit but what we do know is the killer was definitely bigger than 10-feet. Let's have a moment of silence for our beastly friend....Now back to our show.
If you're new to town I hope you have your rain coats on cause it rains non stop around these parts especially today. We'll be getting heavy winds up to 200 mph, so if I were you I would walk the kids to school instead of the bus. Also, be careful when visiting your nearest gas station. There have been reports of crying babies near gas station dumpsters but when investigated, nothing has been found. Could this be a returning legend of Mari the Caretaker? While we ponder, let's hear a few words from our sponsors!
"Can you get'm!? This week's target for the Dirty Lottery is the Grisly Barn Owl. In its decadent mud coat, the barn owl flies all over the town of Midnight looking for its next ill fortune to bestow. We're asking all the citizens and psychos of Midnight to look out for this Owl to turn its bad omens into your good fortune! But beware: if this owl catches you in its sight, death will soon follow around the corner! Capture the Grisly Barn Owl this week before it disappears and you will receive $1,000 along with a sort-of brand new Machete "Burn'm" 2.0! The blade of the machete can now reach a scorching temperature of 200 degrees! That's 200% more than the last version! So get out there ya lunatics and find that Barn Owl! "
Alright, alright you heard'm folks, you catch that Barn Owl alive and your future is lookin' a little less dim.But you know what time is is folks, we're openin' up the lines to start accepting calls. No matter who you are and how far, feel free to give us shout or we'll do it for you! And just like that we got a caller on the line. Tell us what's goin on in your neighborhood caller #1.
"Uh yes.. Hello I just thought I'd call here since I don't know anyone else in this town but I've been traveling for a while. Looking for a friend by the name of Billy Marthus. I hadn't heard his voice in months and his last known whereabouts were a town over. They told me he was heading here to… find himself again. Anyways… I can't get a signal anywhere out of town but I found a house with his name written all over it. I've tried the police but I haven't seen a police car for miles and 911 doesn't connect to anything. Could you stay on the phone with me as I search for Billy, please?"
No problem caller #1. Believe me we aren't keeping anyone waiting except Billy. To all my listeners out there, if you could put prayer in the air for Billy Marthus and his friend… I'm sorry miss what's your name again?
"Sarah. Sarah O'Dell from California. Thank you so much."
No, thank you Sarah for keeping our listeners entertained for the night. You'll be the reason we sleep tight tonight. Now get in there and look for Mr. Marthus. I won't say another word.
"Um… okay. I'm walking in now. Billy! Are you in here! OUCH! Fuck I think I stepped on a nail. But I'll be fine. I'm looking in what seems to be the living room but nothing's in here… except what looks like a...barn owl? It's huge and dripping with… it looks like mud. "
OH SNAP! It looks like you stumbled across a dirty lottery ticket Ms. O'Dell. If any citizens are near Ms. O'Dell's location please give her a hand, a shout, a somethin' to manage through this excitingly-horrid night! Sorry Sarah, go on I'll shut my trap.
"Oh...um okay. I don't know but Billy has to be here, I just feel it. Can you hear the stairs creak as I step up them?... Hello. Oh, you said weren't talking now."
Check the kitchen first.
"What? How did you know I walked past the kitchen?... Hello?... Guess I should check the kitchen first then. This place gives me the fuckin' creeps damnit. Billy. Are in you here? Bil..FUCK..fuck...fucking rats just poured out of all the cabinets. Fuck.
"Sarah."
Sounds like Mr. Marthus is home. Alright listeners, we're gonna take a short break to show you the newest addition to a grocery store near you. THE PITCHFORK 2000! Now equipped with an oak wood handle from some the strongest trees and a nice shiny silver finish to the razor sharp prongs meant to bring down the scariest or kindest of foes. Now back our program.
"Billy! Oh my god. What are you doing here, what's going on?"
"Why are you here? They're taking care of me now, not you."
What? Who? Billy? Billy turn around, why do you sound like that?"
"Don't touch me! AHHHHH!"
"Billy, your face. What happened to your face!? Stop! You're choking m...stop...Bil…"
...
….
…..
"This is what you wanted. Am I a citizen now? Midnighter?"
What a call for the Midnight listeners! On usual nights we'll have a real expert in storytelling to get your belly's tight before bedtime, but tonight was special! Rarely do we ever get to hear our meals before we eat it and I must say… the streets are certainly fed. Whenever you get a chance, stop by and say hello to your newest neighbor, Billy Marthus. And Mr. Marthus, take care of that Owl if you get a chance! Good bye and goodnight.