Creepshow (TV Horror Series 2019) Part 1
Season 1-Episodes 1-3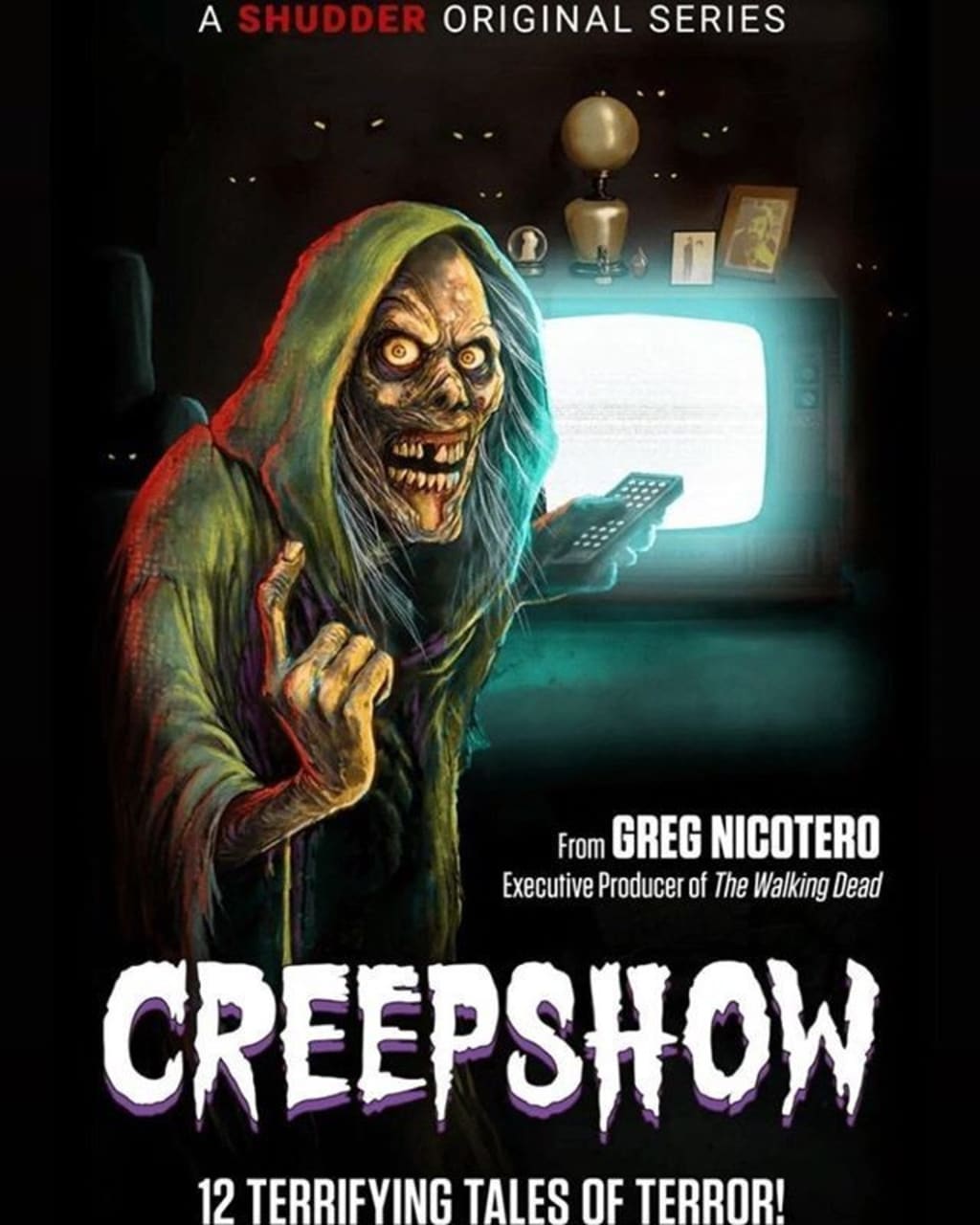 Creepshow The TV series, was a delightful treat when it was annouced. All kinds of ghouls and boils rejoiced when the news broke. The new show would air on the streaming service Shudder. At the time, I had never heard of of the streamer. My knowledge grew as my anticipation for the show grew. All I really knew about the service was it featured an assortment of horror, supernatural, thrillers, and suspense films. I had grown tiresome of Netflix and other services barely offering horror in the general sense. Libraries always felt empty. Shudder, now just reaching over 1 million subscribers is set to grow into its own powerhouse. Slowly growing up its power and influence. I've gone out of my way to subscribe to Shudder right before it turns into its own force to be reckoned with, owned by AMC. This is the scary uncle in the dark corner during the holidays.
The television series, based on the 1982 Cult Classic Creepshow. Directed by George A. Romero of " Dead " fame. Written by Stephen King based on some of his short stories and some originals. This would end up being his first Screenplay for a film and second acting job. Mostly shot on location in and around Pittsburgh. Romero hired long time collaborator Tom Savini to create comic-life special effects. He would also go on to play The Creep himself and a Garbage Man. Savini would go on to Direct a remake of Romeros Night of The Living Dead in the early 90's. Directly influenced by EC Horror Comics of the 1950's. This aspect of comic horror pop is presented throughout the film series and television series. Even contributors of the original film, help pass the torch to a new generation that grew with this cult film. Greg Nicotero, Executive Producer of The Walking Dead and horror films fame, returns as Executive Producer and Director on many episodes. He interned for Savini in the 80's. Things of old, are new again. Savini shows up to direct an episode written by Joe Hill, who played Billy in the original film and happens to write a story here. He was infamously under the care of Savini on the film set. John Harrison was 2nd Unit Director on the film and also composed the music, is back for more music and directing an episode. Adrienne Barbeau who starred in " The Crate" episode of the film, returns in the first episode honoring the legacy of the film series.
The opening episode, and subsequent episodes are broken up into 2 stories an episode. Even the Creepshow Animated Special follows this format. The episodes flow nicely and vary in content constantly mimics reading an EC comic book. This show pops as a pulpy comic horror jaunt through a fun house. We get some big talent here on full display. You can tell they love their story and craft, even with the small budget the creativity really kicks in. Such imaginative stories and character designs. With very little connective tissue beyond subtle references to the films and works of Stephen King. They really honor the memory of what came before while searching for their own path. These episodes pop. They flow nicely and vary in many degrees. They all serve up a dark fun we need in our lives. I'm not always down for remakes and reboots, but Creepshow was always held dearly to my heart and deserved more room to grow. It's a shame Romero wasn't around for the premiere of the television series. Nicotero really picks up the torch and delivers something fun and special.
The first episode "Gray Matter" and "The House of the Head" kick off this series with a shriek. The Creep is on full swing in this series. He usually sets up the comic book we are about to see unfold. Many subtle references to the original film inhabit many of these Intro and Outro wraparound sequences. Often partly animated. Various scenes are peppered with comic art and animation to really sell the comic book aspect reading and turning pages. With a short story by Stephen King, " Gray Matter" kicks off with all it's gooey tale. This episodes feature the talents of Adrienne Barbeau of the original film and The Fog. Tobin Bell, famously known as Jigsaw plays the reluctant Sherriff. Giancarlo Esposito of Breaking Bad and The Mandalorian fame plays Doc. This story features some mystery and gooey effects. A fun ride with an almost H.P. Lovecraft feel to it. Stephen Kings version of A Color Out of Space. Features scenes of suspense and mystery dripping with goo.
"The House of The Head'' features a haunted doll house. Evie, played by Cailey Fleming who's played young Rey in The Force Awakens and Judith Grimes on The Walking Dead. Evie is just coming into herself but still plays with dolls. She's given custom built doll house that has a three member family, not including a dog. Things seem to be off when she comes home to all of the dolls being moved, and the dog locked outside. Odd. As it goes on we find out a haunted severed head can appear at will and things are moved when she is away. She employs police officer figures and Native American Shamans. Quite haunting and creepy with a simple plot but with some mystery and feelings of doom throughout.
The second episode consists of "Bad Wolf Down" and "The Finger". Two completely different worlds. For a small budget they really pull together a WWII vibe for the first story. Right amidst battle during the beginning of the war. Men stuck behind enemy lines. A classic set up. As a fan of war films, and WWII set horror films. A sub-genre that has its own fans. This is tale has teeth. Our heroes hold out in an abandoned police station. Only to find nearly everyone dead, save for a woman who's been locked up in a cell, is now fatally shot yet she continues to live. In the initial battle an Nazi Officer's son was killed in the opening sequence. This Nazi officer played by Jeffrey Combs of Re-Animator film series and Peter Jacksons The Frighteners plays a man out for revenge. He and his men descend upon the station. Moments before the woman reveals her secret and gifts the soldiers with powers to defeat their enemy.
" The Finger", is a different sort of beast all together. Clark Wilson is a fourth-wall breaking, brash yet introspective person. He is a keeper of lost things. One fateful night he happens upon a finger. Whilst trying to figure out what the finger is attached to, he spills beer on it. He then encases the finger and puts it in the fridge. As he discovers in the morning, a fully grown arm. The mystery and fun dialogue lead this little creature. He soon discovers Bob, a creature that kills anyone that doesn't agree with Bob. They grow an unorthodox relationship, to say the least.
The third episode contains "All Hallows Eve" and " The Man In The Suitcase" offer up a revenge tale and moral lesson on greed. The first tale we meet a group of kids, who swore to meet every Halloween. They call themselves The Golden Dragons and are some sort of club. Even the little one, Skeeter is apart of the gang. We meet them as things seemingly end up being a regular night of Trick or Treating. These kids start going around harassing adults. Some connection between these kids and halloween , yet we are not privy to yet. A couple of plot twists, the kids aren't as horrible as we first think. Revenge is a dish best served cold. This is a night of revenge and squaring up old differences. A haunting yet introspective piece.
"The Man In The Suitcase" is a play on the helpful pedestrian. A young man picks up a bag at an airport. He comes to discover there is a man stuffed inside the suitcase. At first he's baffled. He then finds out the man spits out gold when he is in pain. The young man is reluctant until his roomate and ex-girlfriend find out who's hiding inside his bag. They don't seem to care how the man got in the suitcase. I try various ways to extract money. Can the young man let go of his greed and ego to be a good citizen. Nice twist ending.
A great start to a wonderful collection of shorts and television. Stay Tuned for Part 2 where I will be reviewing Episodes 4-6. Now a video of Joe Hill and his time as a child actor in Creepshow the film, and a writer on Creepshow the TV Series.