Conversations With Creators: Kev Harrison
Meet the dark fiction author and learn about his new novella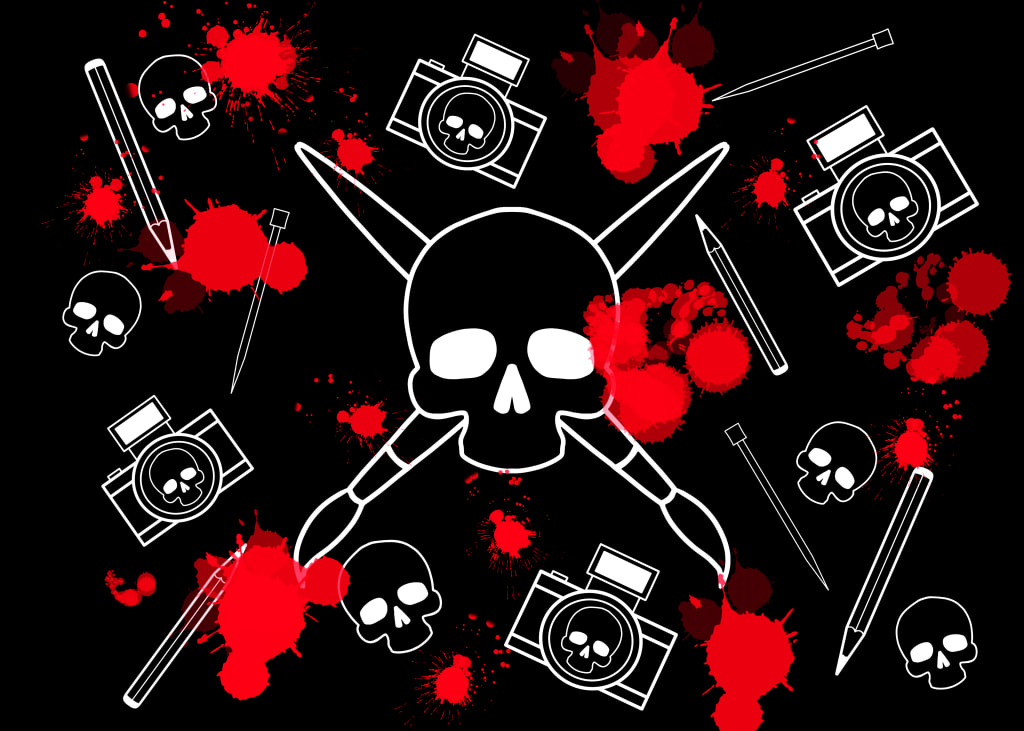 For the second instalment of Conversations with Creators - the series where I chat with talented, dark and unique creators - I'm talking with Kev Harrison.
Kev Harrison is a dark fiction writer and English teacher from the UK who has just released a new novella titled The Balance. The story is a modern re-imagining of a Slavic folk tale.
Your new novella was released on April 28th, can you tell me a bit about the story?
It's a story that draws on the Slavic folkloric character of Baba Yaga, but more as an anchor for the story. The real heart of the tale is one of eco-horror, seen through the eyes of Natalia, a 16-year-old girl who has a huge amount of responsibility on her shoulders, which is magnified when her younger brother is injured when she should be watching him. Because it's set in Poland in the cold war and in the thick of a brutal winter, there are no medicines available to treat him and so she turns to the local 'baba yaga' for help. This sets off a chain of events, which spirals out of control and leads to a clash between nature and man.
What inspired you to write this book?
I'd lived in Poland for 3 years, between 2011 and 2014, working as a teacher. The old tales there are still very present in the collective conscious, and the sheer scale of the wildernesses there makes a huge impression on you. This combination of a folklore that was new and different to me and being out in real, untouched countryside while there sowed the seeds of this story. The central character comes from my experience of young women that I taught there, who are striving against a societal bias which still sets a really tangible glass ceiling for them, professionally and in other areas of life. In spite of this, my classes were always full of determined women, who stopped at nothing to improve themselves and to constantly try to push back against these boundaries. I wanted Natalia to embody some of that determination.
How long have you been working on this project?
I started writing it in the autumn of 2017, left it for almost a year and then did a full reworking of the book in late 2018. I sent it to the publisher then but, as these things tend to, it wasn't until quite late in 2019 that things really started moving.
What is the most interesting or surprising thing you learnt when writing The Balance?
When I was planning the story, I did quite a bit of digging into baba yaga myths and realised that she has been represented in so many different ways, from a wicked kidnapper of children in a chicken-legged moving house, to a kindly guardian of the people living on the fringes of society. The version I liked the most – and the one I ultimately chose to go with, was one in which she is a neutral character who simply oversees the balance between man and nature.
What was the biggest challenge you faced creating this story?
It was the first long form piece I'd seen through. I'd started various longer projects before and all of them had been abandoned or left in a folder somewhere. After spending huge periods of time writing short fiction, finding the motivation to keep going on something longer, especially in the inevitable times when you question the quality of it, was really tough.
Can you share a quote from the novella with us?
During the first meeting between Natalia and Baba Yaga, the old woman is explaining her role in the world. When she's asked if she is allied with Satan, as the villagers have suggested, she replies:
"Let me tell you, my girl, there are worse things than your Satan. Old things, older than man, lurking in the shadows and waiting for the balance to tip in their favour."
If you could travel back in time and give yourself one piece of advice before starting this story what would it be?
I would tell myself to stick with it and not to lose hope when things take longer than I'd like. I think it's the nature of publishing that it's never a sprint, always a marathon. Sometimes, as writers, we can feel impatient for things to move along. But it's not always possible and we need to stay calm in these times. Work on something else and only worry about the things we can change.
What do you think readers will take away from The Balance?
I hope they will be transported into the countryside of a country that I love and hugely enjoyed being part of. I hope they will root for Natalia, who is far from perfect, but who has good intentions. And I hope they will think about our role with regard to nature. With how it really is a delicate balance that we have to try to keep with nature around us. It took me leaving my roots on the edge of London to really begin to appreciate the meaning of what a wilderness really is and to also understand why such things are so important.
Why do you write?
I write because I've always loved telling stories. Even in my day job as an English language teacher, I use story to invent examples to clarify meaning, etc.
Who are your favourite authors?
My number one is Haruki Murakami. He changed my life, very literally.
In horror, I'm a huge fan of Adam Nevill, Gemma Files, Jonathan Janz, Gemma Amor, John F. D. Taff, Michael Griffin. I've also enjoyed the work of some fellow newcomers lately in Michael David Wilson and Zachary Ashford. As ever, I've surely missed off several others that will come to me later in the day.
How do you choose your characters names?
This is something I find really difficult and often isn't settled until after I've written a fair chunk of a story. If I'm writing in first person, that's not overly problematic, but in third, it often means trawling back and changing the references, once it's decided upon.
Is there anything you want to change about your writing process for your next project?
The Balance was completely pantsed. I knew how it was going to end, but the process of getting there was quite unplanned. For the next novella I wrote, I used milestones. I don't want to plan too rigidly, because I think ideas that crop up organically are often true to character and to story and should be maintained. But having milestones that I was working towards as the story progressed, rather than simply driving towards an ending without a path, has been much easier to follow.
What does your perfect writing space look like?
I actually write in my lounge, on my laptop on a poang chair from Ikea. It's one of the comfiest chairs I've ever sat in and my laptop is a ten inch compact, so it's comfortable and doesn't heat up. I'm lucky that I work in the evening, while my partner works in the day, so I have an hour or two on at least 3 days a week, when I am free to sit back and write. Sometimes I like to change it up and then I go to a café in downtown Lisbon, called Simpli where they make absolutely wonderful coffee and cakes and have really well spaced out tables, so you can zone out and write. I've managed some pretty substantial sprints there, especially if I have to be the city early for a meeting.
What is your favourite quote?
Out of context, this might seem a bit weird, but in Dance, Dance, Dance by Haruki Murakami, the protagonist says: "For three and a half years, I'd been making this kind of contribution to society. Shoveling snow. You know, cultural snow." And this (and his wider observations about his life) struck such a chord with me, they made me take the leap to quit my job and do something that mattered.
What is the best and worst part about the process of writing and publishing a story?
The best part is when someone gets it. When you get a review and they mention something that you were absolutely driving for and you feel like you've achieved your goal, even if only with that one person.
The worst part for me is submission and the waiting. Perhaps even more so after you receive notice you've been shortlisted. I feel like the sword of Damocles is hanging over my head, waiting to execute me at any moment.
What's next for you?
I have my second novella, Below, at a relatively advanced stage with a publisher, so I hope that will be picked up, if not by them, then by someone else. It might even see the light of day within 2020, but I've learned to relax a bit more with timescales. I'm currently writing my first novel, which doesn't even have a working title, but is set in Turkey, where I've also lived, and various other countries around the middle east and north Africa, where I've travelled quite extensively.
-
Huge thanks to Kev for such an interesting interview. You can pick up The Balance here. To keep up to date with his latest projects, you can follow Kev on Twitter and Facebook, or visit his website.
-
I hope you enjoyed reading this interview as much as I enjoyed putting it together. Have you read The Balance? I would love to know your thoughts at @creepyandcurious on Instagram and @curiouslycreepy on Twitter. Watch this space for more creator interviews and other creepy content.
Stay creepy and curious, ghouls.
About the Creator
Sharing factual and fictional stories of the horrific, disgusting, macabre and frightfully peculiar. Appealing to the morbid curiosity within us all.
@creepyandcurious - Instagram
@curiouslycreepy - Twitter
Reader insights
Be the first to share your insights about this piece.
Add your insights