Collecting The Leaves
Suddenly transported somewhere that is unrecognizable, with qualities and physics that are also unrecognizable, with people… who just so happen to be recognizable. And they're all collecting leaves.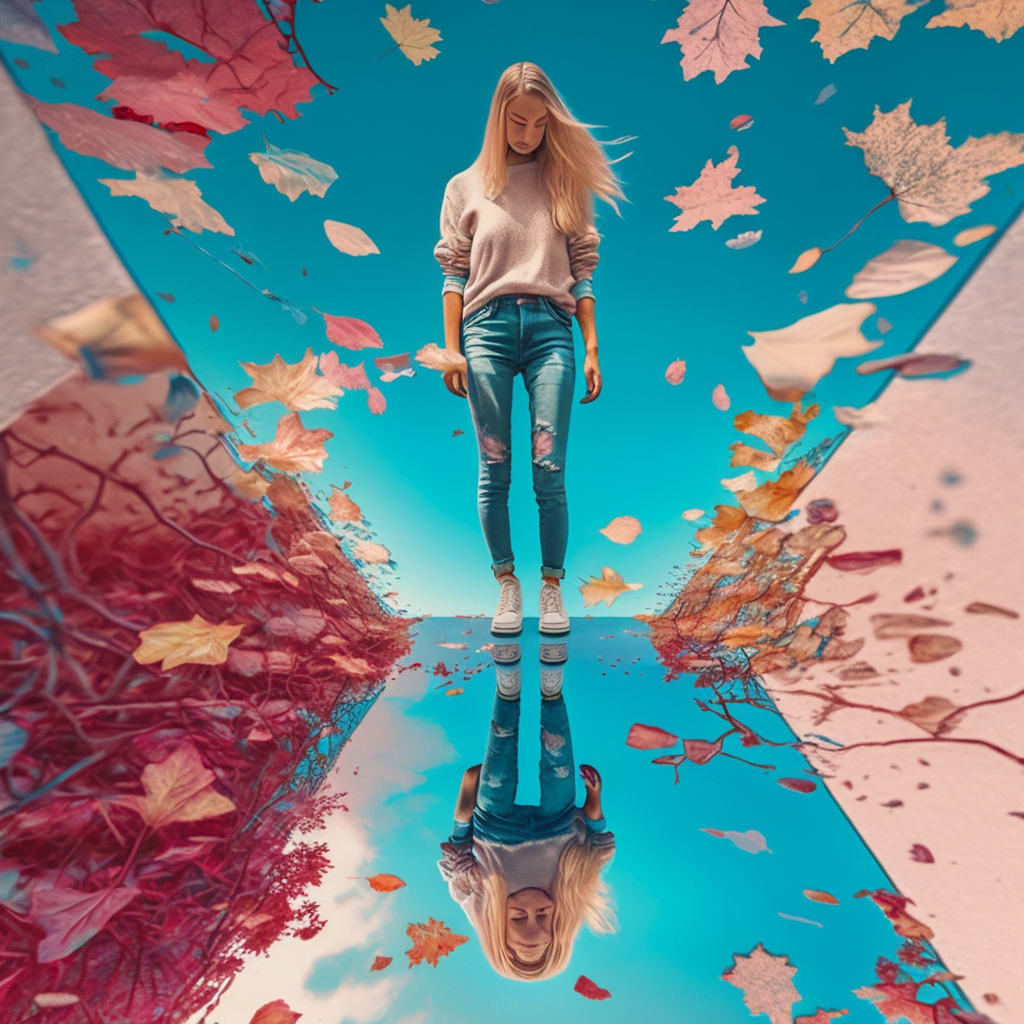 Woman staring at surreal reflection in glass while surrounded by leaves — AI image using Midjourney
Suddenly transported somewhere that is unrecognizable, with qualities and physics that are also unrecognizable, with people… who just so happen to be recognizable. And they're all collecting leaves.
**************
This story was originally published here on Medium if you so wish to read it there.
**************
Leaves fall from the sky endlessly but there are no trees sprouting up from the grass. The ground beneath Heather's feet is transparent, sturdy enough to hold her, clear enough to see miles and miles below. Heather doesn't remember how she got here, or what she was doing before this very moment, but she is very aware her bare feet are pressed tightly against the cool glass floor.
Beneath her, trees stretch downwards, hundreds of feet. Pines, oaks, a couple of redwoods. They stretch downwards, but as if down is up for them. Heather wonders if she is viewing this all wrong, is she the one who is upside-down, and the trees are right-side up? She looks back up; more leaves fall from the sky… no source is apparent. The glass creaks underneath her feet, not necessarily the noise one wants to hear.
100 feet to Heather's left, there is a large boulder, bigger than any house she has lived in. Collected at the base of the boulder, four more people, all barefoot as well. Heather senses that she and her bare feet should be with the other barefooted people. Maybe they will know how they got here… and how Heather got here.
Instantly, she recognizes one of them, Cheng, a coworker. Cheng sees Heather and waves her over. Cheng and the others are sitting down on the glass floor, collecting the fallen leaves. Heather continues towards the group, everyone else looks up. Heather recognizes another, Tyreke, her downstairs neighbor.
"Hey Heather, what are you doing here?" Tyreke asks with a confused smile.
"I was hoping you could tell me." Heather looks around, then back at everyone. "What is this place?"
"We're in holding." Cheng says solemnly.
Cheng is often solemn. Normally, that's a criticism. In this strange place, it is totally acceptable.
"You don't know that." One of the other guys says in a way as if he's already said it several times. "I'm Karthik."
Karthik reaches his hand out to shake Heather's hand, the glass creaks below them as they move towards one another. Worried, they both slow their movements, shake hands slowly, release hands slowly. Karthik's hands feel as hot as fire, but for some reason it doesn't hurt Heather. The other guy there looks up.
"Pierre." He says extending his hand and slowly shaking Heather's hand. "You look familiar."
Heather studies his face.
"You do too." She is confused.
She glances at Karthik, assuming his face will look familiar as well. But it absolutely does not.
"She and I work together, Pierre." Cheng says. "You probably saw her once when you visited me."
"Oh, you two know each other?" Heather asks.
"We used to be step-siblings." Cheng says. "It's a weird story that doesn't require an explanation."
"I think 'used to be step-siblings' explains it enough." Pierre laughs.
"We're in a spin class together too." Tyreke says, motioning towards Pierre. Pierre nods.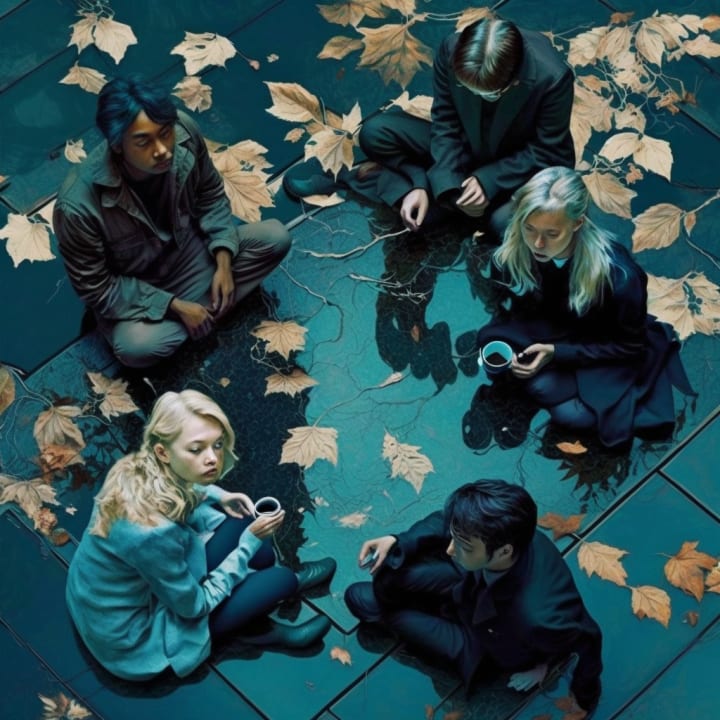 Heather continually tries to put the situation together as the leaves continue to fall and the four continue to collect them like they are paid to do so. Heather remembers that she once introduced Cheng and Tyreke and they all went out together. The two went out on a couple of dates after that but then it fizzled. Nothing bad, they just weren't entirely compatible. That was almost a year ago. So, everyone here seems to know one another, but Heather doesn't know Karthik, and does anyone else know Karthik?
"Do you know… any of us?" Heather asks Karthik.
"Nope, and I don't know what we're doing here." Karthik stops collecting leaves for a moment. "But we were told we need to keep collecting the leaves if we don't want anything bad to happen. So, we should just keep doing that."
Karthik goes back to collecting leaves.
"Wait, you were told to keep collecting leaves?" Heather is confused.
"Yep, by the guy in the long black robe." Cheng doesn't even look up.
"Yeah, he told all three of us while we were sitting here." Pierre says.
"You mean, all four of you." Heather corrects him.
Pierre looks up, says nothing, then returns to collecting leaves. More leaves fall from the sky and into Heather's hair. She plucks one out, holds it in front of her hair, and watches it disintegrate into dust.
"That happens." Tyreke says, watching Heather. "You need to get them once they hit the floor, then they're fine."
"Were you told that as well?" Heather asks, sitting down next to Tyreke.
"Yep, the three of us were." Tyreke answers.
"You mean the four of you?" Heather is confused but begins collecting leaves with them.
Tyreke looks up, says nothing, then returns to his leaves. Heather looks below them. The trees below are swaying in a silent wind. Suddenly, the sound of wind is heard above them, yet there is no feeling of wind. The air is eerily still and warm. Heather looks back up. Karthik is gone.
"Where did Karthik go?" Heather asks.
"Who is Karthik?" Cheng asks, never looking up. "We need to collect these leaves… and then maybe we will be fine… or maybe we won't… maybe we are doomed."
"Stop saying that." Pierre chastises without looking up. "If we keep a positive attitude, we will be fine."
"Do you guys seriously not remember Karthik, the guy who was just here?" Heather is perplexed and worried.
"The one in the black robe?" Tyreke asks. "I didn't get his name. But when he touched my shoulder, his hand was very hot."
Heather looks over at Tyreke's shoulder. The fabric on his shoulder has burned away. Small embers dance across the threads and eat away at more of his shirt. Heather looks to Pierre. The bottoms of the legs of his jeans are slowly melting into a puddle on the floor. A thick, goopy, navy-blue puddle. Heather whips her head towards Cheng to see her eyes sinking into her skull, slowly, deeper, and deeper.
Heather realizes she has stopped collecting leaves and everyone looks at her. She grasps a pile of leaves and pulls them towards her. Instantly, the embers on Tyreke's shoulder disappears, Pierre's jeans stop melting, and Cheng's eyes expand and grow back into the sockets in her head. They look smaller and squishier, but they're still there. Everyone looks back down and concentrates on their leaf collecting… so Heather continues with her leaf collecting as well.
If they keep collecting the leaves, they seem to be fine. So, Heather continues, intent to not stop. More leaves fall, the group of four continues to grab the leaves and pull them towards themselves, collecting them in neat piles. Heather feels a warm hand curl around her shoulder. She is too afraid to look at it. But out of the corner of her eye, she sees four wooden fingers, leaves and twigs sprouting from them. They curl around her shoulder tightly, gripping firmly, increasing in temperature. Hotter. Hotter.
Until they release and disappear out of her vision. A heat lingers on her shoulder for some time, so she continues to collect the leaves, intent on not stopping. Intent on never stopping.
The leaves must be collected… or else it will all burn down.
**************
If you enjoyed this story and want to read more of my work, then please come check out my website stephenavitabilewriting.com where I post all my latest work, plus you can even subscribe for updates!
About the Creator
I'm a creative writer in the way that I write. I hold the pen in this unique and creative way you've never seen. The content which I write... well, it's still to be determined if that's any good.
Reader insights
Outstanding
Excellent work. Looking forward to reading more!
Top insights
Compelling and original writing

Creative use of language & vocab

Easy to read and follow

Well-structured & engaging content

Excellent storytelling

Original narrative & well developed characters
Expert insights and opinions

Arguments were carefully researched and presented

Eye opening

Niche topic & fresh perspectives

Heartfelt and relatable

The story invoked strong personal emotions

Masterful proofreading

Zero grammar & spelling mistakes

On-point and relevant

Writing reflected the title & theme
Add your insights