Classic Movie Review: 'Scream 4' Kevin Williamson is the Key
Wes Craven is a legend but Kevin Williamson is why the original franchise of Scream worked.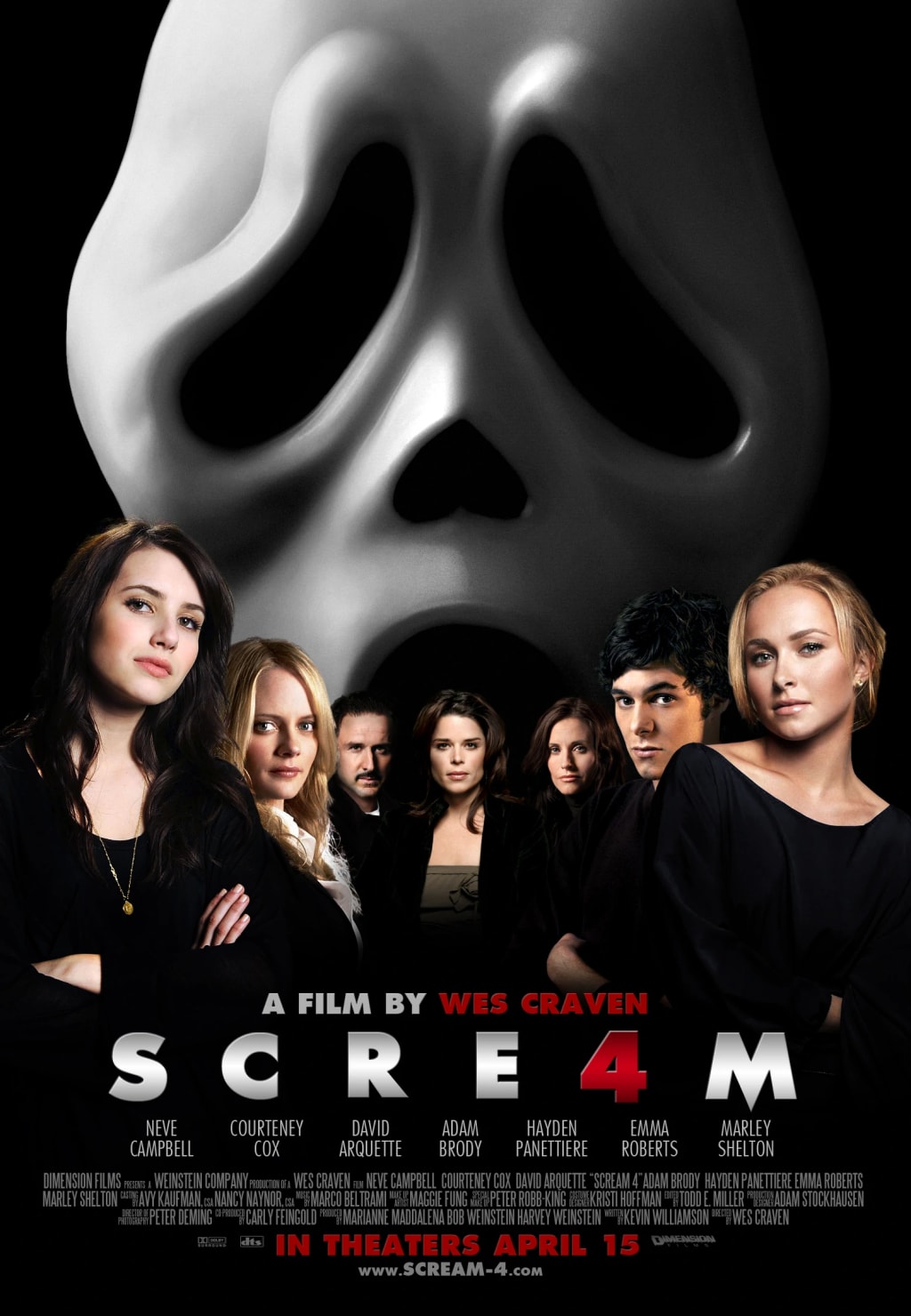 Scream 4 (2011)
Directed by Wes Craven
Written by Kevin Williamson
Starring Neve Campbell, David Arquette, Courtney Cox, Emma Roberts, Hayden Panettiere
Release Date April 15th, 2011
Published March 8th, 2023
The original Scream in 1996 transformed a moribund genre. Horror had grown stale and predictable when Scream arrived and with its mix of horror movie inside jokes, ironic asides, and better than average scares and completely reinvented horror movies. Scream gave the genre back the edge it lost with the 5th or 6th time Jason Voorhees came back from the dead and then went to space.
Scream 2 had similar juice as the first; cleverly twisting the conventions of goofy horror movie sequels and using those sequel cliches to create laughs before dousing the humor with blood and screams. The third film lost the thread by going so far inside itself that neither the laughs nor the scares could escape. That was likely due to the lack of writer Kevin Williamson who insanely creative approach to writing horror had first set Scream apart from the horror pack. Getting Williamson back for Scream 4 is truly the key to this film series' success.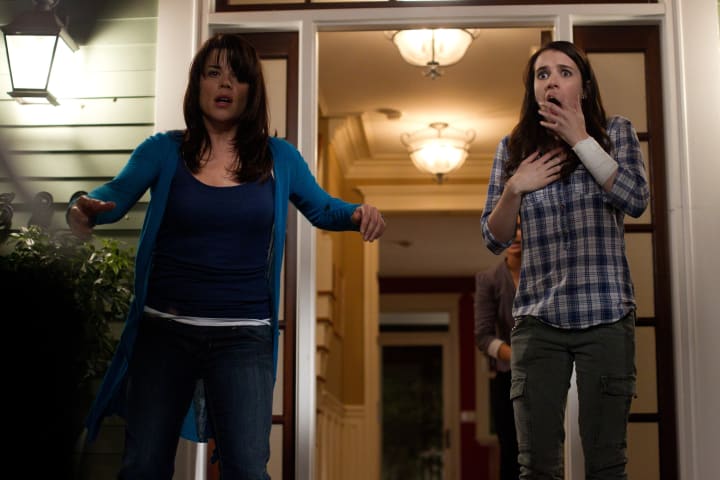 Scream 4 picked up the action of the Scream franchise 10 years after the story of Scream 3 and you have to wonder why Sidney Prescott (Neve Campbell) would ever go back to Woodsboro. Sure, she still has family there, her Aunt Kate (Mary McDonnell) and teenage cousin Jill (Emma Roberts), but still, going back to so much history and on the anniversary of the original killings no less, seems like a really bad idea.
Indeed, it is a bad idea as just before Sidney arrives, two Woodsboro teens are killed while watching the movie 'Stab 7,' based on the books by Gale Weathers (Courtney Cox) on the Woodsboro killings. Well, to be fair, as one of the soon to be murdered teens points out, the first three 'Stab' movies were based on the books; the next 4 were pale imitations of the first that even had Ghostface as a time traveler.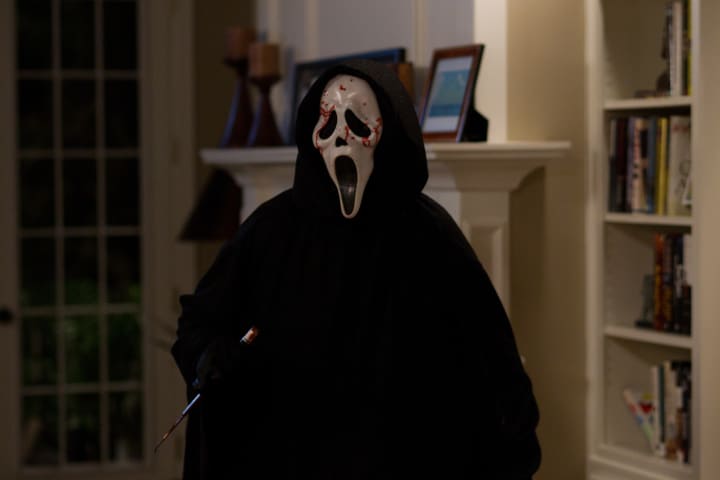 Back to Sidney, she has written a self help book based on her recovery from the trauma of surviving three separate mass murders. She has come back to Woodsboro at the behest of her publicist (Alison Brie) who can't wait to call the publishing company to tell them about the murders that she knows will spike sales of Sidney's book. Her bloodthirstiness is more of a commentary on modern marketing practice than any kind of clue to her being more of a character in this movie.
Still in Woodsboro 10 years later is Sid's pal and regularly failing protector Dewy (David Arquette). That's Sheriff Dewy now as he has somehow become Woodsboro's top lawman with a staff of fellow Deputy Dewy's including Hicks (Marley Shelton), Hoss (Adam Brody) and Parker (Anthony Anderson). This crew can barely write parking tickets and director Wes Craven delights in using the cops as props and jokes.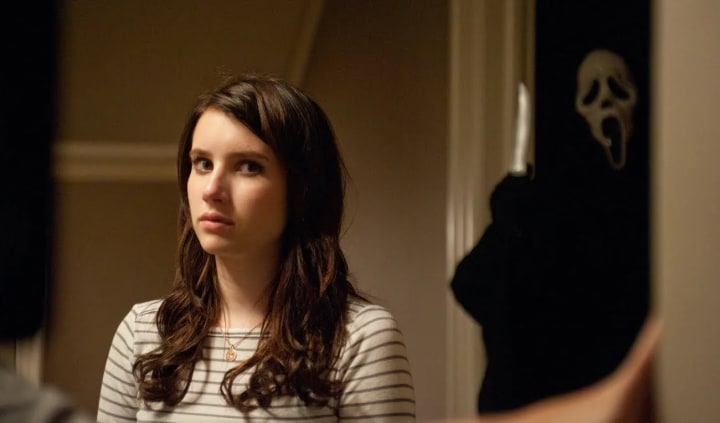 Wes Craven and writer Kevin Williamson, who it should be noted did not write "Scream 3," have returned the dark, twisted humor of the first film in a more complex and at times confusing fashion. The first 10 minutes of "Scream 4" are weird and creepy and then strangely funny and while you may get lost as to what movie you're watching, a pair of big star cameos are good for a laugh and a scare before the story begins to clear up and really get started.
There are so many cast members in Scream 4 that it's difficult to keep them straight and give them their due. Kieran Culkin and Eric Knudsen are terrific as horror movie nuts filling the classic Jamie Kennedy role as the keepers of the horror movie rule book. Marielle Jaffe from ABC Family's 10 Things I Hate About You, Nico Tortella from the CW's The Beautiful Life and Hayden Panatierre from Heroes each play a variation on the potential victim/potential killer arc. Panattiere was the best new addition to the Scream franchise cast. Her ascerbic, sexy, and funny Kirby is thankfully about to return in Scream 6 and that is welcome news.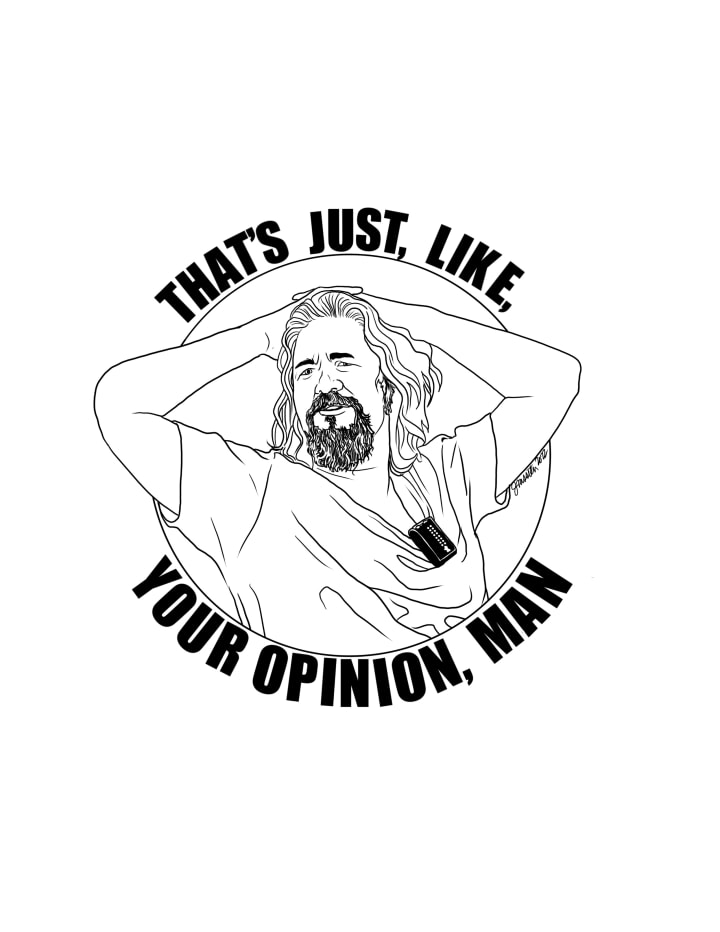 Scream 4 deftly mixes humor and horror as the original did and while it doesn't reinvent the genre as the first film did, it is a solid, gory horror movie that cleverly employs its own flaws in originality, continuity and logic as inside jokes. It seems impossible not to credit Williamson's script considering a similar mix of horror and humor by a different writer in Scream 3 failed completely. Admittedly, if you think about what you're watching too much you will likely find the thread that pulls it all apart but why spoil the blood spattered fun.
Find my archive of more than 20 years and nearly 2000 movie reviews at SeanattheMovies.blogspot.com. Find my modern review archive on my Vocal Profile, linked here. Follow me on Twitter at PodcastSean. Follow the archive blog on Twitter at SeanattheMovies. Listen to me talk about movies on the Everyone's a Critic Movie Review Podcast. If you have enjoyed what you have read, consider subscribing to my writing here on Vocal. If you'd truly like to support my writing, you can do so by making a monthly pledge or by leaving a one-time tip. Thanks!
About the Creator
Hello, my name is Sean Patrick He/Him, and I am a film critic and podcast host for Everyone's a Critic Movie Review Podcast. I am a voting member of the Broadcast Film Critics Association, the group behind the annual Critics Choice Awards.
Reader insights
Be the first to share your insights about this piece.
Add your insights