Chucky Review: "Hail Mary!"
Jake and Devon want answers from Chucky, and Lexy has another run-in with Trevor, who reveals some stunning information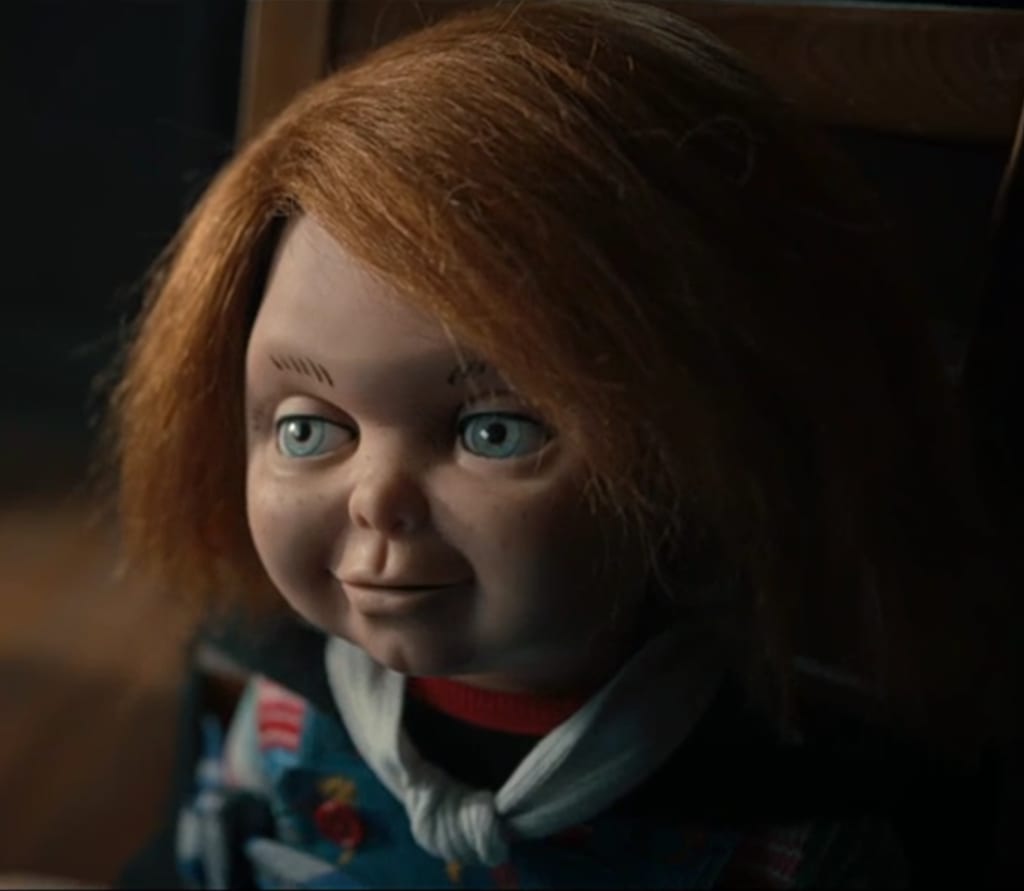 So I left the latest Chucky episode a bit amused and very, very excited for the next episode. I will explain the latter half of that statement later. Right now, let's focus on the latest episode, which sees Chucky tied up following his appearance at Incarnate Lord (again, very creepy name), with Jake realizing that this doll was sent to get info. Early attempts to get any information from Chucky failed, even the threat of killing him didn't deter him, either. Devon wanted badly to kill Chucky, but Jake remained insistent in getting info from him, and Devon's statement about how you can't just "reprogram" him...well...led to Jake getting the idea to do just that.
All the while, Lexy is encountered by Trevor Cain, the same clown who bullied Lexy years prior, which resulted in him ending up at the school. We see his feigned, sympathetic, "I'm here for you" bullshit, while he also reveals some news that is detrimental to Lexy: her mother, Michelle Cross, lost the re-election. I'll be a bit honest here, outside I was surprised, inside I was cheering. Michelle Cross as a civilian should be quite interesting, and we'll see how she (fails to) copes with that reality. It was a definite shock to Lexy, meanwhile, the reprogramming of Chucky took place.
In an homage to A Clockwork Orange, we see Chucky originally subjected to gory and murderous scenes from horror and sci-fi films (I swear I saw clips from the original version of The Thing), and then we get...unicorns. You read that right. In the 34-year history of the Chucky series, we got to actually see unicorns...and cuddly cartoon animals...and rainbows. All sorts of sugary stuff. It was a trippy scene, but the end result saw Up-Chucky (couldn't resist) puke on more than one occasion, and then, in such a soft tone, he utters the normal doll lines of dialogue.
That's not all. While we see Chucky leap from his chair in an apparent menacing manner, he only does so to tie Devon's shoes. Chucky later states that the ropes were loosened while the unicorns were on, but he didn't want to disturb anyone. Huh? What is this? He later rubs his tummy and says he's hungry. Yeah, they broke him. They literally broke Chucky. It was a hilarious sight to see, and Nadine thought it was absolutely adorable. Devon thought it was an act, Jake recognized what happened to Chucky, and Lexy wanted no part of this.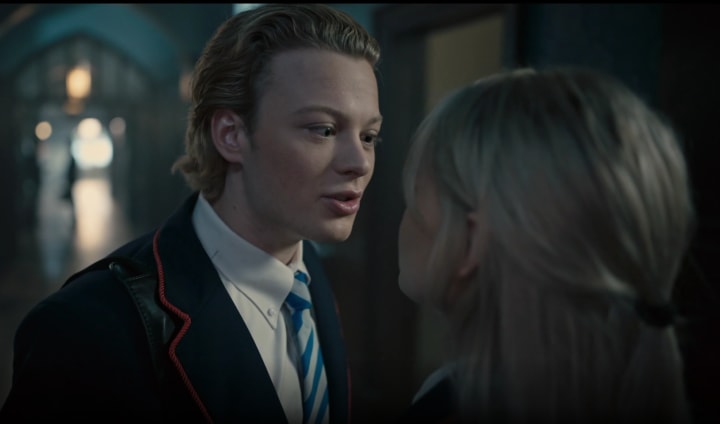 Lexy had too much on her plate, and that included Trevor, who finally removes his act and starts to threaten Lexy, while revealing his bitterness over ending up at the school--even though it was his own fault. Lexy managed to get Trevor out of her hair by loudly shouting that he was looking for condoms in front of Sister Ruth, meanwhile, Nadine is at confession, voicing her worries about Lexy and complaining about Trevor, but that is interrupted by the priest is killed by another Chucky doll that was delivered to the school. That doll wasn't done there. While docile Chucky was talking to Lexy, the other doll catches Trevor planning to set up Lexy as a drug user, and kills him in brutal fashion. I would be lying if I said I didn't celebrate like I did when the Colorado Avalanche won the Stanley Cup when Trevor was eliminated.
The group panics over seeing Trevor's body, and they know Chucky's involved, but unbeknownst to them, it was not the doll they thought it was. The final scene showed docile Chucky seated at Father Bryce's desk, while the other Chucky appears, and he's revealed to be even more jacked up than John Cena! My goodness.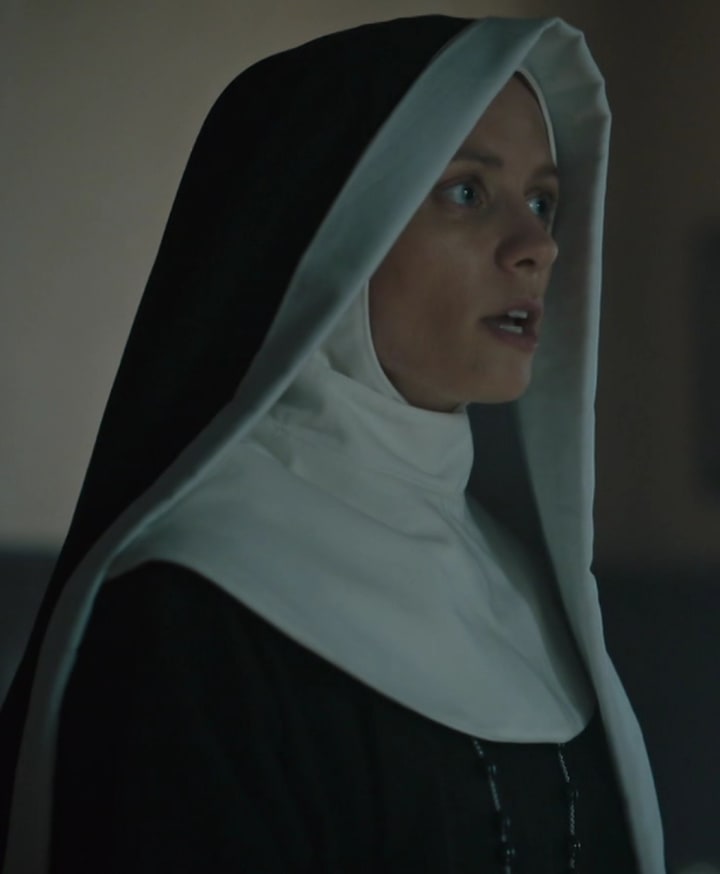 I want to say how elated I am that Lara Jean Chorostecki is part of this wild ride as Sister Ruth. I first saw LJC on Haven and American Gothic, but the show that made me a bit fan of hers was Designated Survivor, the short-lived ABC/Netflix series that starred Kiefer Sutherland. LJC recurred during the show's first season as the evil Beth MacLeish, the originally sweet-natured wife of war hero-turned-Vice President Peter MacLeish, only for Beth to undergo a heel turn and establish herself as a cold-hearted and murderous conspirator. She's been in many films and shows since then, including a Lifetime film, 2021's A Date with Danger, and regarding this series, LJC is really shining as Sister Ruth, but those who have read a lot of my stories before know that I have my hopes that she turns out to be evil. Sister Ruth hasn't given any hint of a possible heel turn (yet), but there's still more than half of Season Two left.
Episode 2.03, "Hail Mary!," aired on USA and SyFy on October 19, 2022, and now that this amazing episode has come and gone, I find myself so eager for the next episode! Two reasons. One, Gina Gershon will appear in the Tiffany-centric episode, meaning that she and Jennifer Tilly will be on-screen together. As we all know, Tilly and Gershon co-starred in the 1996 cult classic action-packed film, Bound; a movie that I did see on TV a number of years ago, and it is as legendary as advertised. Secondly, it was announced prior to this episode's airdate that WWE's Liv Morgan will appear in the episode! I beamed at that news, and it's not surprising, as fans remember seeing Liv dressed in Chucky-like gear on one occasion. Next week will be epic!
Thanks for reading my review; feel free to leave a comment below! If you like it, click the heart and click subscribe if you want more, and feel free to leave a tip or pledge (if you want)!
About the Creator
Born on March 18, 1985. I am an avid fan of sports and wrestling, and I've been a fan of female villains since the age of eight. Also love movies--especially comedy and horror--and among my favorite TV shows are The Simpsons and Family Guy
Reader insights
Be the first to share your insights about this piece.
Add your insights