Chucky Review: "Goin' to the Chapel"
A literally explosive episode sets up the season finale in grand and epic fashion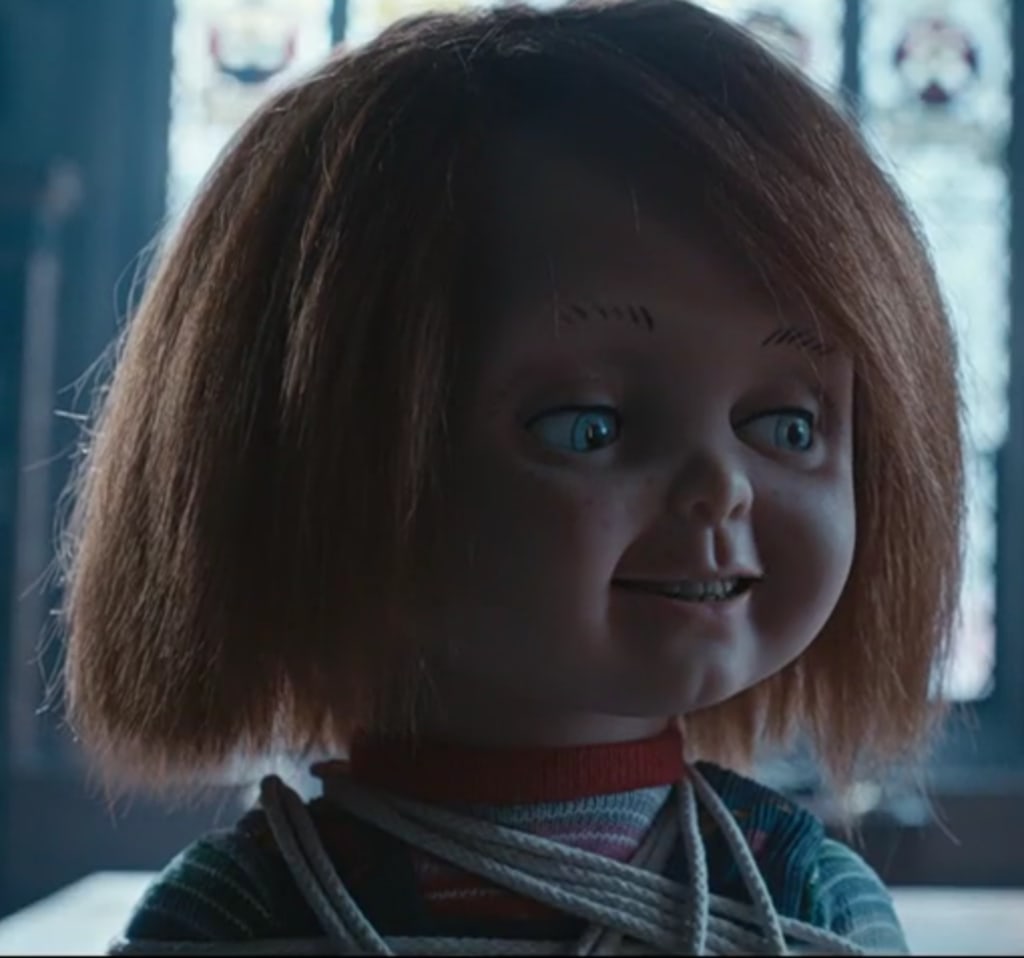 Literally every fiber of my being that has enjoyed Chucky for over three decades is still beaming over what I watched in this penultimate episode of the second season. Picking up exactly where we left off in the previous episode, we see the body of the fallen Nadine taken away, while Dr. Mixter holds the protagonists at gunpoint and demands the (formerly) Good Chucky doll. After receiving the doll, it's followed by Mixter berating Good Chucky for being upset over killing Nadine, and afterwards, we see Kyle (along with Glenda) holding Mixter at gunpoint, and as a result, the foster siblings are finally back together for the first time this season. I'd be lying if I said I wasn't emotional upon seeing Andy and Kyle together again. As for Mixter, she suggested an actual exorcism to get Chucky's soul out of the Good Chucky doll, which would allow "Chucky Prime" to exit Nica and enter that vessel.
Meanwhile, Tiffany is on the run with Glen and Jennifer Tilly (who remains in the original Tiffany doll), as because of Tiffany, Jennifer Tilly is now a wanted murderess. She denies Glen's request to reunite with Glenda, as the only thing Tiffany's focused on is avoiding prison and avoiding being a woman on the run. It's at this point that Tiffany decides that there's only one way out: she and Jennifer have to switch bodies again, which would result in the real Jennifer being locked up for Tiffany's crimes. Meanwhile, Kyle lets Andy have it for his actions with the van, while Nica appears and meets Andy for the first time as herself--as both of them mentioned, they encountered each other during the tail end of 2017's Cult of Chucky, but that was just moments after Chucky entered Nica.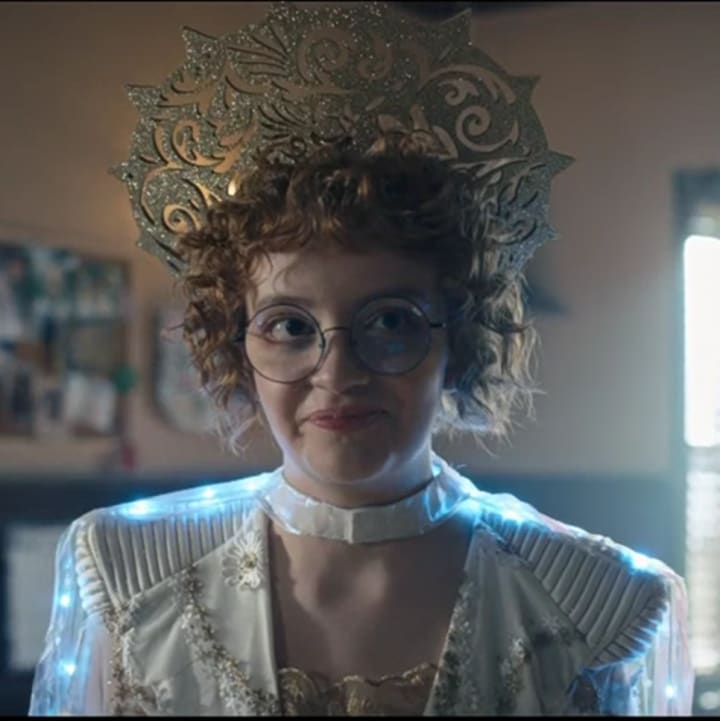 Meanwhile, Lexy is back on the pills...big time...and in her drugged up stupor, she sees Nadine, who comforts Lexy regarding her drug use, as well as telling Lexy that she is not to blame for Nadine's shocking demise. The problems between Jake and Devon remain, mainly due to Jake's belief in Good Chucky, and after Lexy gets off her high, she's confronted by Sister Ruth, after which Lexy promises to stay off the drugs, though Ruth states that Lexy isn't done quite yet. As for the exorcism plans, Father Bryce's call to the Vatican results in him getting ex-communicated, and at that moment, he decides to go rogue and do it anyway, and he has the "Exorcism for Dummies" book to guide him.
We are treated to a series of confessionals from a lot of the characters. Andy states that he's been traumatized because of Chucky, but fears that after he's finally done with Chucky, he's frightened, because Chucky's been his entire life. Glenda confronts Chucky over being deceived for so long, and in their own confessional, they vent about Chucky and voice their worry over Glen. Bryce himself confesses over how he's conducted himself, and how he's been punishing himself over it for so long. More on the confessions later.
Tiffany's plans to swap bodies (as well as her boasting about how much better being a doll is than being human) is interrupted by Jennifer breaking free and escaping, but during her escape, she's run down by a truck and killed, leaving Tiffany screaming in panic. The exorcism commences, and it sees Good Chucky talk his usually smack to the protagonists, but it does end up successful. However, in another twist, Chucky's soul ends up in Father Bryce, but not for long, as Chucky causes Bryce's body to explode! After Bryce's death, Mixter reminds the group that they have a deal, and afterwards, Nica does her part, but we are also treated to her confessional, where Nica talks about how Chucky and Tiffany have ruined her life, and she wants Chucky out of her.
It's followed by Nica uttering the Damballa chant, and she delivers the most accurate pronunciations. I remember Tiffany said some parts correctly when she utters it, but Nica's was perfect. So with all of that, Nica is finally free from Chucky, who is in Good Chucky's former vessel. Just as Mixter is about to take the doll, Andy intercepts Chucky and hands him off to Jake, who attempts to drown Chucky in the baptismal pool, only to be interrupted by Lexy, who is being held at gunpoint by the fully heel Ruth. The deranged nun promised to avenge Buff Chucky, and in her villainous appearance, Ruth ordered Jake to exchange Chucky and Mixter for Lexy's life. Jake acquiesces, but Ruth is still hellbent on killing Lexy, only for Glenda to toss their father's knife at the maniacal villainess and kill her.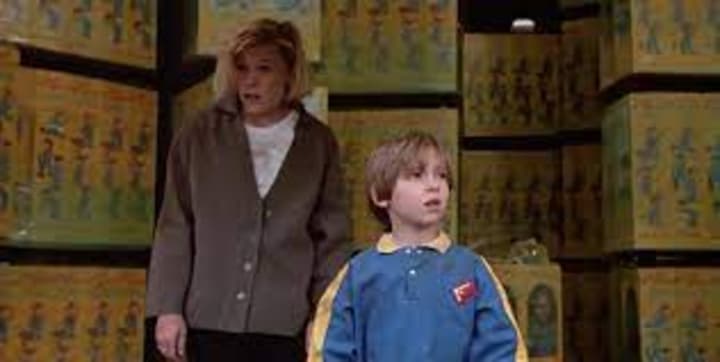 As for Mixter and Chucky, Andy grabs the gun and fires several shots at the latter, completely killing him while Mixter gets away. Andy and Kyle drink in the fact that their three-decade ordeal with Chucky is finally over, and it includes a callback scene to the final moments of Child's Play 2. As for Jake, Lexy, and Devon, they get to live their lives and enjoy adolescence, while Nica thanks Glenda for helping her. At that moment, Tiffany arrived with Glen, prompting Nica to raise her gun and attempt to kill Tiffany, who pleaded for mercy. Nica ignores her pleas and fires, but Glen took the bullet to protect their mother, leaving Nica horrified that she ended up shooting the much more innocent Glen. As for Mixter, we see her "confessional," which is nothing more than a maniacal vow to keep Chucky alive, and in the final moments, the evil Mixter cackles in a familiar tone. Has Chucky entered Mixter, or is that cackle basically her natural insanity?
This was an absolutely epic episode! Andy and Kyle finally reunite, we see Nadine appear to Lexy and comfort her (that was such an amazing scene), and we see an actual exorcism, complete with the pea soup as an homage to the 1973 film. Also, Ruth completes her inevitable heel turn; going fully off the rails before receiving her demise. Huge kudos to Lara Jean Chorostecki for acting out Ruth's evil insanity in that final moment. Also, Andy knocks off Chucky Prime, and we are treated to emotional moments between Andy and Kyle. However, with the good, there is some bad as well. For starters, Jennifer Tilly's demise. Those of us who have seen Bride of Chucky can see the doll get stitched back up again, but if it's not, then where that leaves Tiffany would be quite interesting. Glen getting shot was quite a shocker, something tells me Glen could be back in the doll from Seed of Chucky. And then there's Mixter. What the hell does she have in store?
Episode 2.07, "Goin' to the Chapel," aired on USA and SyFy on November 16, 2022, and next week is the finale. As the day arrived, I had some thoughts regarding the Chucky series, and I came to this conclusion. If Chucky does get renewed for a third season, I truly think that Season Three should be the end. I say this as someone who has enjoyed the overall Chucky series for over 30 years, having watched the movies over and over to the point where I know every nook, cranny, character, and line of dialogue. As this episode basically told us, Andy and Kyle's parts in the story appear to be done, though the current protagonists aren't done quite yet. The season finale will determine if we get a third season, but if it does, it has to be the end. There is only so much that can be done with Chucky. It's all been done. Chucky is the undisputed GOAT of horror slashers, that's undeniable. I have no doubt that next week's finale will be epic, and a potential third season will (probably) serve as an absolutely phenomenal final chapter.
Thanks for reading my review; feel free to leave a comment below! If you like it, click the heart and click subscribe if you want more, and feel free to leave a tip or pledge (if you want)!
Check out Sister Ruth's profile on Villainous Beauties Wiki!
tv review
About the author
Born on March 18, 1985. I am an avid fan of sports and wrestling, and I've been a fan of female villains since the age of eight. Also love movies--especially comedy and horror--and among my favorite TV shows are The Simpsons and Family Guy
Reader insights
Be the first to share your insights about this piece.
Add your insights