Chucky Review: "Doll on Doll"
More twisted (and epic) revelations emerge in immensely shocking episode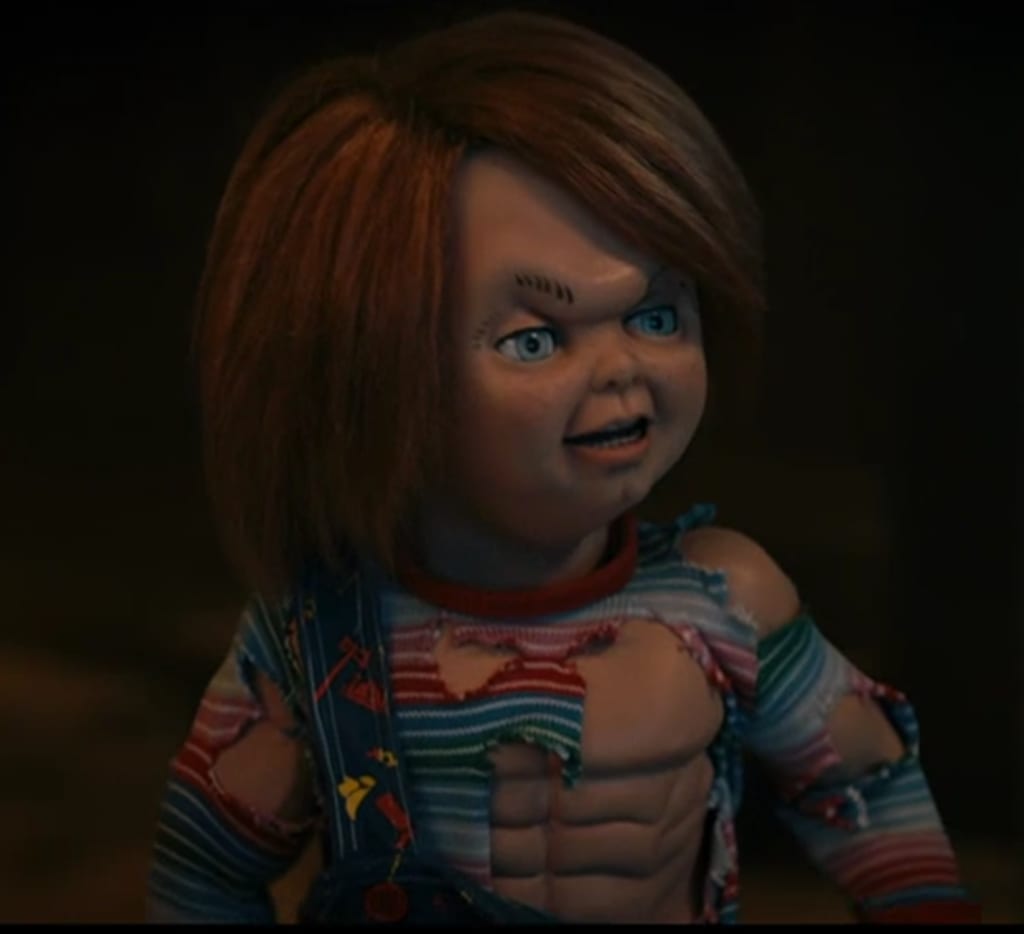 Entering this week's episode, I still had some ecstatic chills from everything that occurred in last week's "Death on Denial," which saw the beginning of Tiffany's world start to fall apart with Nica's escape. This week also saw us get back to some basics by returning to Incarnate Lord, with the docile Chucky doll dealing with juiced-up Chucky, who fights and mocks his counterpart. The counterpart, now referring to himself as "Good Chucky," delivers a swift Justin Tucker-esque kick to buff Chucky's family jewels, and does kill him by tossing knives at him, but throws up afterwards.
Jake is grateful to Good Chucky for saving him and Devon, who doesn't like Jake's acceptance of Good Chucky and ended up punished by Father Bryce for the Chucky image (seriously, I can't stand this guy). Meanwhile, Lexy and Nadine had a crisis of their own to deal with: Trevor's body was gone, and we have no idea who moved him after they just cleaned up the scene. My goodness.
Back at Jennifer Tilly's home, Tiffany is (again) watching Liar, Liar. You know, that movie was hella good, but Jen did make other classics, just saying. Anyway, it's the fallout from the events of "Death on Denial," and Glen (who continues to have the visions from 2004's Seed) approaches Tiffany and asks her about Nica, with Tiffany claiming that Nica was her girlfriend. Glen gets nothing else from Tiffany, as she's still salty over Glenda helping Nica escape; meanwhile, Meg Tilly remained at the house and brought up a past memory between herself and Jennifer, with Tiffany later leaving the conversation and heading to a secret area in the house. What happens next, well, definitely pleased and shocked this uber-Chucky fan and expert.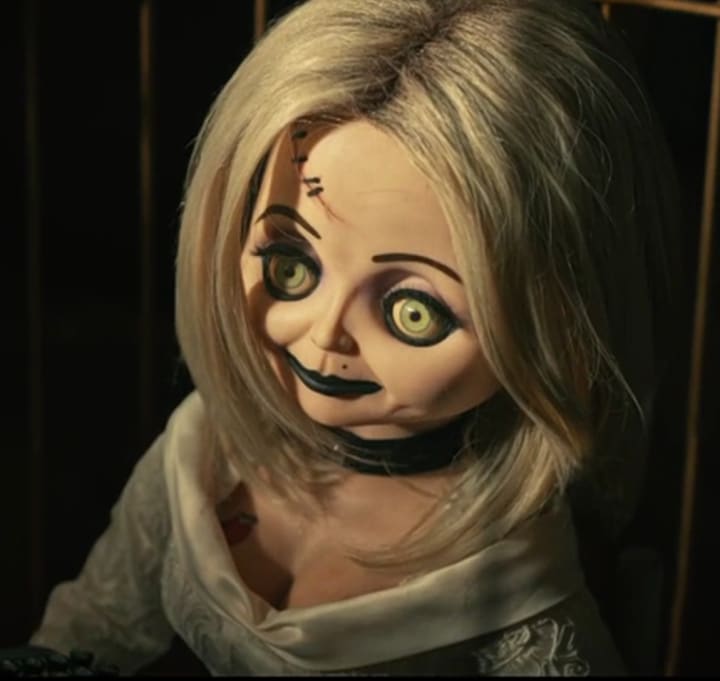 Tiffany removed a tarp to reveal a huge cage containing a Tiffany doll, but not just any Tiffany doll, it's Jennifer Tilly! For those of us who recall, the final moments of Seed's climax saw Tiffany swap souls with Jennifer Tilly, and afterwards, Chucky struck the doll with an axe. I'll be honest, in the 18 years that passed, I was left thinking that Jennifer Tilly was no more after that, but this revelation showed that Jen remained alive in the doll, and had the scar from Seed to prove it. I couldn't help but love Jen mentioning her longtime role as the voice of Bonnie Swanson on Family Guy (a role she began one year after she did Bride), and how Tiffany had been forcing Jen to give her finances to her. Regarding this visit, Tiffany ordered Jen to help her fool Meg into believing that she was her sister. More on this later.
Back at Incarnate Lord, Jake and Devon's relationship continued to show strain due to Jake's defense of Good Chucky, who runs off after hearing Devon mention all of the horrible ways Chucky had plagued the group. Despite being told that it was a different Chucky behind the murders of those close to Jake, Devon, and Lexy, Good Chucky still maintained guilt and felt that he shouldn't be around anyone. Jake and Nadine came up with the ultimate solution: baptism. Yes, a Chucky doll was baptized in this episode, while the other one (the one who about as jacked as Brock Lesnar is) was basically resurrected after being dumped in the trash by Sister Ruth, who saw buff Chucky as the Messiah and swore her devotion to him. Yikes.
Back at the Tilly house, Tiffany's new info from Jen actually had some holes in it, and upon realizing this, Tiffany confronted Jen and lashed out at her, but in the process, Meg and Glen followed Tiffany and saw the truth for themselves. Meg was stunned to see that her actual sister was in the doll, but the family reunion wouldn't last long, as Tiffany brutally murdered Meg in front of a horrified Jen, and she reveals her true identity to Glen. While Jen verbally lashes out at Tiffany for killing her sister, Tiffany revealed the entire truth, adding that she wanted a luxurious life but she failed at being Jennifer Tilly, and confessed to being a failure as a mother. Which brings us to this: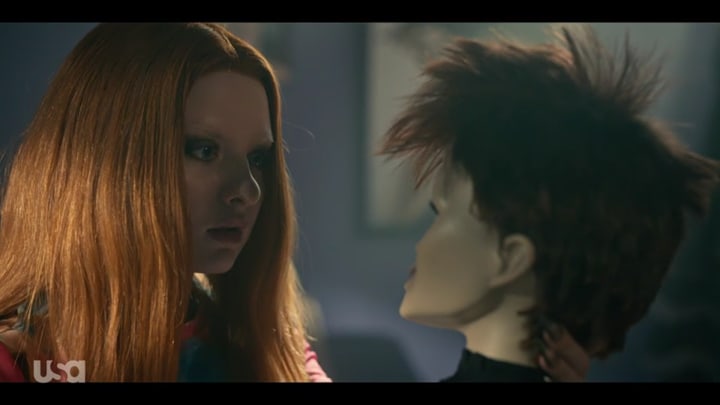 Tiffany presented Glen with the doll that Glen and Glenda shared in Seed, with Glen revealing that they needed to show Glenda this very doll, as it answers their questions. We see Tiffany set the room ablaze, and afterwards, Tiffany, Glen, Jen, and the Glen/Glenda doll are all on the road to find Glenda, as they have a lot of explaining to do. Afterwards, Devon and Lexy, upon scanning the Chucky selfies and seeing doll parts, decided to track the proverbial bread crumbs, which led to a secret cabin (I want to say it's the same cabin from Cult). Interestingly, we see Dr. Mixter enter the cabin, looking for Chucky, and also, Andy Barclay's inside--being tortured by the bald Chucky from the season opener, who reveals himself as the "Colonel."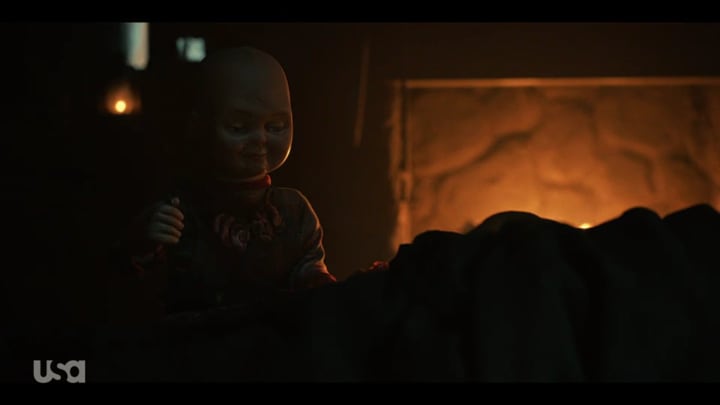 You know, just when I think this season couldn't get anymore epic, they give us the occurrences of this episode. Another episode that shows references to Seed, as well as the flashbacks, but we get the added bonus of the original Tiffany doll with Jennifer Tilly inside. Wow! Also, the Incarnate Lord storyline bore a lot of fruit in this episode. I'm very interested to see where this Good Chucky angle goes following his baptism, and it does look like we are getting that Sister Ruth heel turn after all. Also. Dr. Mixter has to be in league with Chucky. She called him "Charlie." That's way too familiar.
Episode 2.05, "Doll on Doll," aired on USA and SyFy on November 2, 2022. We are now in the second half of the show's sophomore season, and with three episodes remaining, we should see some very interesting developments in the final weeks.
Thanks for reading my review; feel free to leave a comment below! If you like it, click the heart and click subscribe if you want more, and feel free to leave a tip or pledge (if you want)!
About the Creator
Born on March 18, 1985. I am an avid fan of sports and wrestling, and I've been a fan of female villains since the age of eight. Also love movies--especially comedy and horror--and among my favorite TV shows are The Simpsons and Family Guy
Reader insights
Be the first to share your insights about this piece.
Add your insights