Chucky Review: "Death on Denial"
Several twists and turns take over this insanely epic, Tiffany-centric episode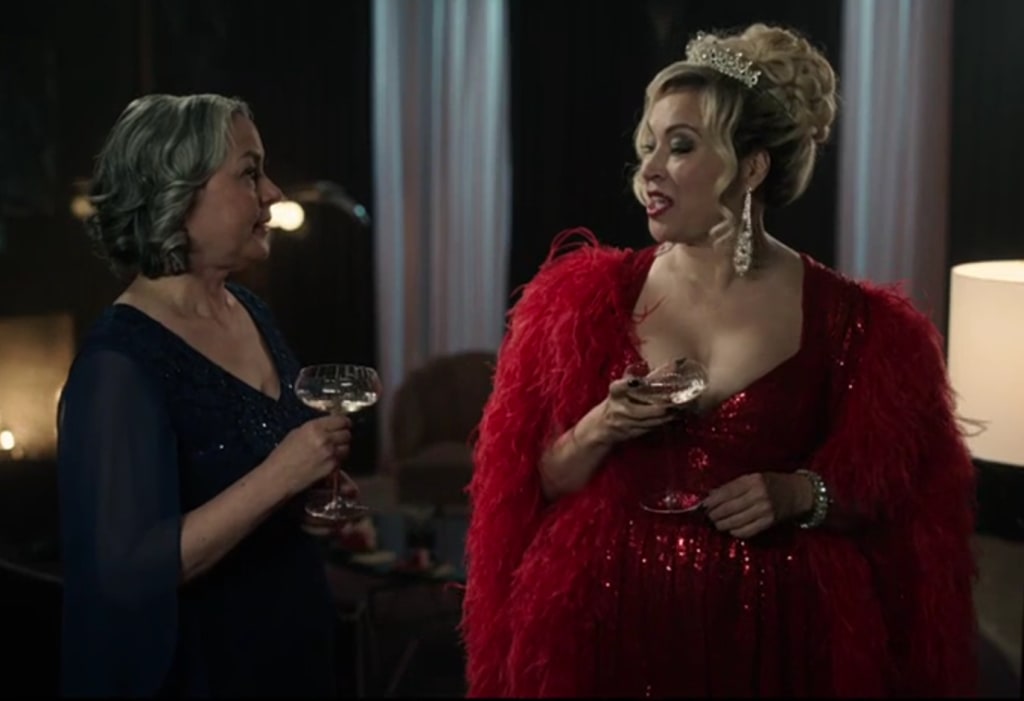 Jennifer Tilly's real-life sister, Meg Tilly, was one of many cameo guest stars
Wow! What a wild trip!
I had been looking forward to this episode, "Death on Denial," for the entire season, and the reasons are so, so many! So this episode gives us very little of the titular homicidal doll, and picks up where the season's second episode left off: with the appearance of Tiffany's twin offspring, Glen and Glenda, who were celebrating their birthday. What started out as a simple family celebration started to go off the rails a bit when Glenda revealed that they had been having vivid dreams of a woman being set on fire, and a man egging them on to kill her, and the visions come in the form of flashback scenes from 2004's Seed of Chucky, with clips of Glenda killing Joan (played by Hannah Spearritt in the film).
Tiffany brushes it off as her twins having "vivid imaginations," while Glen is stopped from entering the locked bedroom where Nica is held captive--a room that is guarded by Tiffany's butler, Jeeves (like that isn't stereotypical enough). What doesn't get brushed off is the appearance of several guests who are very close to Jennifer Tilly: first off, her two Bound co-stars, Gina Gershon and Joe Pantoliano, Real Housewives of Beverly Hills star Sutton Stracke, and yes, even Jennifer's real-life sister, Meg Tilly, joined this wildly insane party. My goodness!
While I gaze at the episode in immense awe, we are treated to Jeeves being as blatantly and disgustingly anti-woke as humanly possible; mocking the twins' they/them pronouns, using offensive anti-Italian-American slurs towards Joe Pantoliano, and being an absolute toxic pig to Gina and Sutton. So of course, the next time we see Jeeves, he's dead, and once the body's found, Tiffany decides to pose the whole affair as a murder mystery party. Because of this, we are treated to Gina doing various accents, as well as a lot of finger pointing, as in true murder mystery fashion, everyone's a suspect.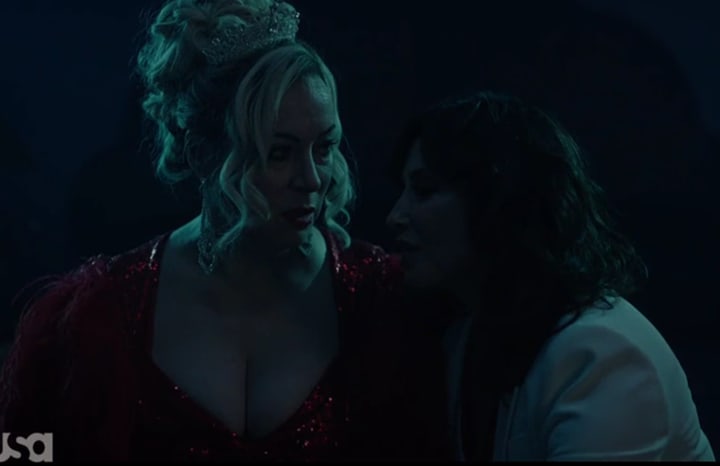 Of course, there are the twists. For one, Jennifer and Gina are together, and have been for a while. Gina's attempt to seduce and hook up with Jennifer lead to Tiffany actually asking if Gina killed Jeeves, with Gina saying that she didn't. The same question gets asked to Joe, who appears--pants down (yikes)--and also makes his move on Jennifer, even adding that he would be willing to watch Gina and Jennifer get together. While I lose calories laughing at the utter insanity on my screen, Joe is asked about Jeeves; he denies the claim as well, all while continuing to hit on Tiffany/Jennifer.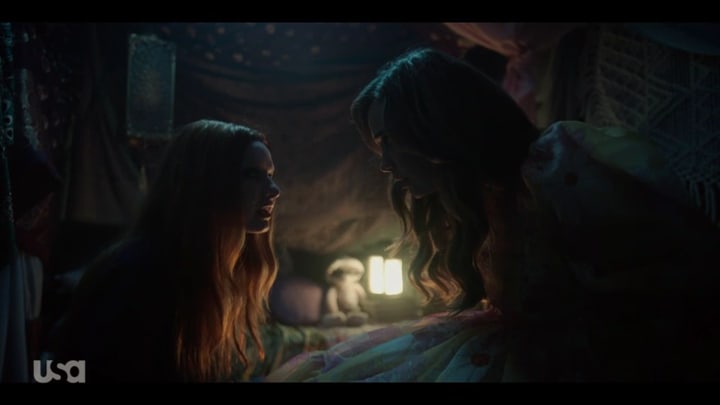 We are treated to another twist in the episode: Glen and Nica are in cahoots. A flashback to three months prior delved more into this; after Tiffany gets knocked out drunk watching Liar, Liar for the umpteenth time, Glen and Glenda enter the bedroom and see Nica held captive, with the latter of the twins speaking to Nica and learning about how she ended up trapped by their mother. The twins leave, but after Glenda returns for their knife, they accidentally nick themselves, with the sight of Glenda's blood drawing Chucky out. So Glenda sees that their homicidal father had been in Nica's body for all this time, and it led to the twins colluding with Nica in an escape plan that also included killing Tiffany.
However, the plan would see Glenda knock out Glen, as they never had the gumption to actually kill, and we later see Glenda enter the main room with the possessed Nica, who is sporting prosthetic arms and holding Tiffany at gunpoint. There was one little snag, though: the gun wasn't loaded, leaving Chucky and Glenda wondering who unloaded the gun. Tiffany slaps Chucky, who reverts back to Nica, after which Nica makes her escape past the closing gates, leaving Tiffany wailing in heartbreak and defeat, while Meg stands bewildered, and Sutton and Gina think it's all a show.
As Glenda and Nica both enter a van that drives up, we see a gloved hand on the wheel, and it belongs to none other than Kyle!!! Just when this episode can't get anymore epic, Kyle resurfaces, and it tells us what we already know: she survived that explosion, and she was the mysterious gloved hand figure who watched over Jake, Lexy, and Devon in the final moment of Season One. So we have a Kyle/Glenda/Nica alliance, though Glen has to be part of this, too; even though they remained at the house, but not before Glen was tasked by Glenda to ask who Tiffany Valentine is.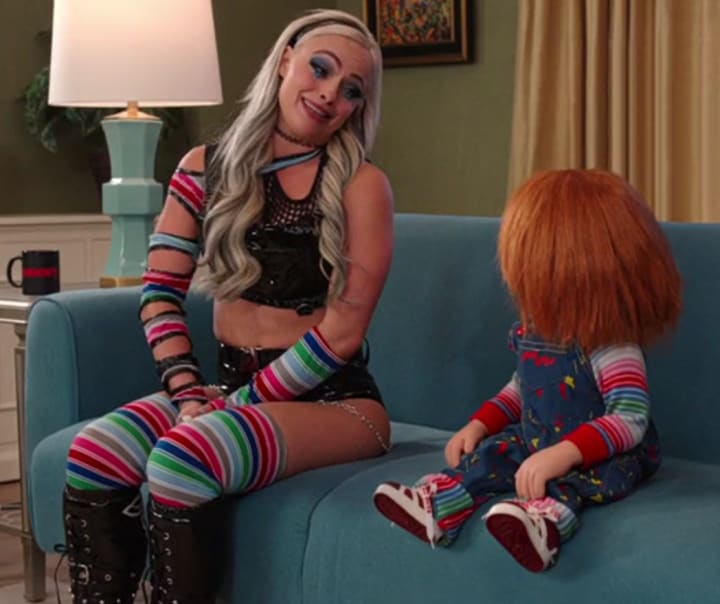 The episode does not end there, as Chucky appears to fill in the holes that were left, and he has some help in the form of a big-time Chucky fan, former WWE SmackDown Women's Champion Liv Morgan! So regarding who killed Jeeves, well, that was Glenda, as they drugged Jeeves' champagne. That's one question answered. The other involved the gun, and that was a bit longer. So the gun was actually Gina's gift to the twins, but she got a hold of it while confronting Joe, as she figured out that Joe had eyes on Jennifer as well. Gina asked Joe if he was in love with Jennifer, Joe said yes, and Gina unloaded the gun on Joe. So that's that...until Chucky played Liv's interview where she said that her biggest dream was to be killed by Chucky. Be careful what you wish for, Liv, because that "wish" ended up fulfilled.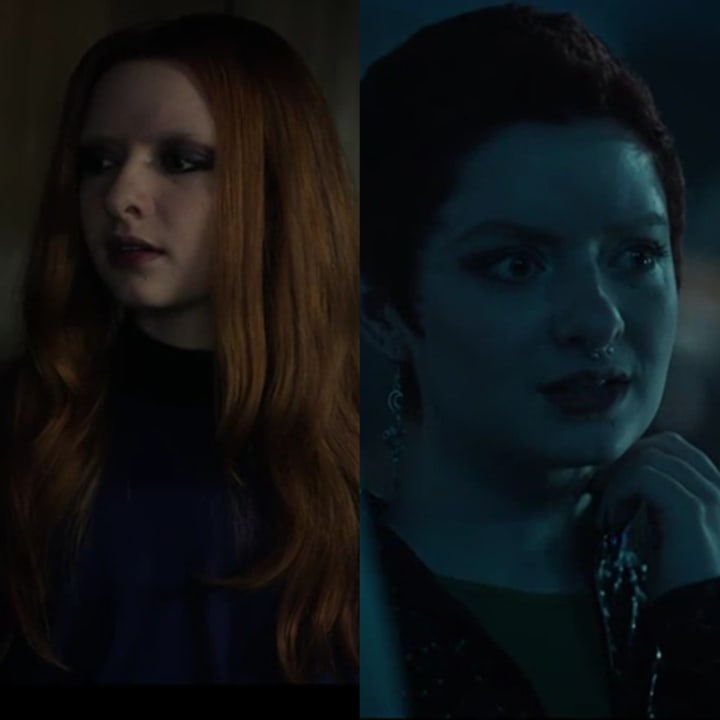 Without question, "Death on Denial" was the best episode of the entire series. Among the many reasons was the long awaited TV series debuts of Chucky and Tiffany's twin offspring, Glen and Glenda, who were both played by Lachlan Watson (they/them). I beamed when I learned that Lachlan Watson was cast to play the twins; my fandom of them started with Chilling Adventures of Sabrina, which featured Watson as Theo Putnam. The twins were mentioned a few times during Season One, but this was, officially, their first appearance on-screen since the final moments of Seed. I loved that the show stayed true to Glen and Glenda's differences in personality; Glen is the more docile of the two, while Glenda is more headstrong. However, as particular as I am, I do have a problem with Glenda asking about Tiffany Valentine, because Seed clearly establishes that they know that Chucky and Tiffany are their parents. Even so, Watson shined as both characters, and we will see more of them as the season progresses.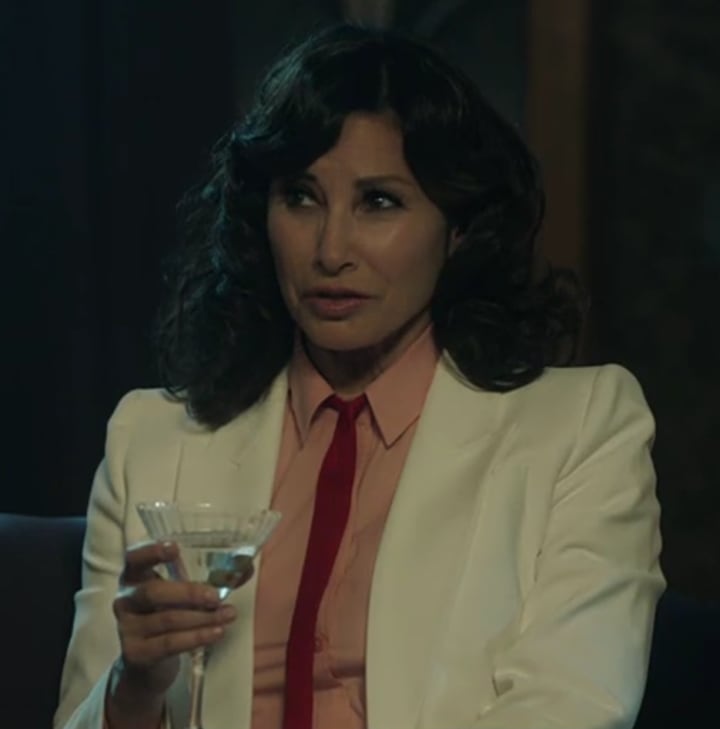 The WWE fan in me beamed over Liv Morgan appearing, though I was expecting her earlier than she actually appeared, plus I figured she'd be playing an actual character, but I enjoyed it nonetheless. Out of the other celeb cameos, the one I enjoyed the most was Gina Gershon. I've been a Gina Gershon fan for a long time; I did watch Bound a long time ago, and I've seen a lot of her other films as well, including Face/Off alongside John Travolta and Nicolas Cage. Gershon's done the villainess thing quite a few times before; playing criminal mastermind Elana March on Elementary, Jughead Jones' drug queen mother Gladys Jones on Riverdale, and most of all, evil corrupt cop/crime boss Melanie Hawkins on Brooklyn Nine-Nine. So when Gershon's spoofed version herself was unveiled to be a scorned murderess, it was absolutely epic!
Episode 2.04, "Death on Denial" aired on USA and SyFy on October 26, 2022, and again, this was the best episode of the series. So many twists and turns, the episode's format, as well as the cameos, all so legendary! And of course, the ending was amazing: Kyle's alive and working with Glenda and Nica, and Tiffany's world is beginning to crumble down on her. I was so happy Nica got out, because we need something good to happen to her. Here's hoping that good fortune increases, and of course, next week will also see the scene shift back to Incarnate Lord as well.
Thanks for reading my review; feel free to leave a comment below! If you like it, click the heart and click subscribe if you want more, and feel free to leave a tip or pledge (if you want)!
About the Creator
Born on March 18, 1985. I am an avid fan of sports and wrestling, and I've been a fan of female villains since the age of eight. Also love movies--especially comedy and horror--and among my favorite TV shows are The Simpsons and Family Guy
Reader insights
Be the first to share your insights about this piece.
Add your insights