'Christmas Bloody Christmas' Movie Review
'Droid to the World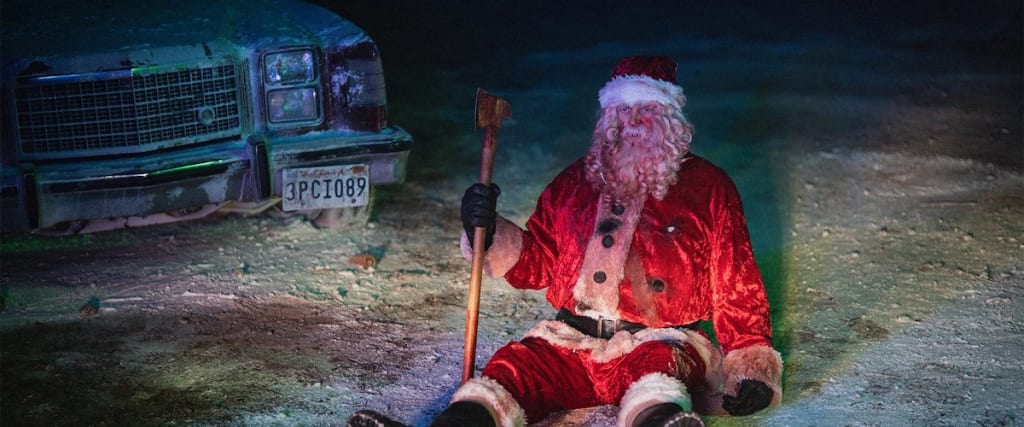 In the latest from Joe Begos, it's Christmas Eve, and co-workers Tori (Riley Dandy) and Robbie (Sam Delich) have nothing better to do than get as drunk as possible. But at the nearby toy store, a highly advanced animatronic Santa (Abraham Benrubi) begins a vicious killing spree. Why? Who knows?! But now Tori and Robbie have to find a way to stop it… or at least survive.
Joe Begos is a filmmaker I've been following since his debut feature Almost Human back in 2014. His 2020 film VFW ended up being one of my top horror movies of the year, and I can't recommend it enough. Christmas Bloody Christmas is another triumph for Begos, this time with an obvious affection for slasher movies of yesteryear. Begos's willingness to wear his influences on his sleeve is one of the many things I love about his work. VFW was a brazen love letter to movies like Assault On Precinct 13, The Warriors, and Night of the Living Dead. Here, we see shades of Silent Night, Deadly Night, Chopping Mall, and even some hints of The Terminator. And there's always a great scrappiness to his work, with outstanding practical effects, a grimy aesthetic, and some gorgeous, giallo-inspired neon lighting. I've always been a big believer in color and lighting being a key factor when establishing a mood, and Begos clearly is, too.
Riley Dandy and Sam Delich are fantastic together. They have wonderful chemistry, and they feel very naturally paired. This is also a testament to Begos's script, which is just electric. The dialogue is filthy, fast-paced, but always real. In addition to the obvious influence from ultra-violent 80's flicks, people have also been drawing comparisons to Clerks, which I think are appropriate here. Along with our two main leads, we've got appearances from Begos regulars Dora Madison, Graham Skipper, and Jeremy Gardner, comedian and MST3K star Jonah Ray Rodrigues, and horror veterans Kansas Bowling and Jeff Daniel Phillips. While they all have limited screen time, all of them add an extra bit of color to the small town setting. Phillips even gets a chance to show off his dramatic chops for a bit, and I really enjoyed that. I do have to say, one minor gripe I have about the movie is that, at about the halfway point, a little boy shows up to inevitably mistake the evil robot Santa for the real one. I hate to say it, but this kid's acting is glaringly bad. I try to go easy on little kids whose acting can be questionable, but yikes, this was unfortunate.
Abraham Benrubi plays the mechanical Santa, and as good as he is, it's usually pretty obvious that it's a human actor, not a robot. While this is initially a bit distracting, I settled into it fairly quickly and stopped caring. This is a movie where nonsense is to be expected and accepted, and that's just part of the fun. If you don't enjoy ridiculous, you picked the wrong movie. If you're into it, it's an absolute blast. Not much explanation is really even given for why a military prototype is being used for a toy store window display, it's just yet another oddball ingredient to the mix. The movie is already anchored by its likable and engaging leads and the over-the-top gore, so it makes it worth suspending your disbelief.
Christmas Bloody Christmas is a breezy, sleazy, wild ride that delivers not only memorable slaughter, but genuinely endearing characters and banter. Riley Dandy and Sam Delich are a solid duo with excellent chemistry, and the colorful supporting cast adds even more opportunity for both snappy dialogue and brutal violence. It's outlandish to say the least, but it's always entertaining and a bloody good time.
SCORE: 4.5/5
TRIGGER WARNING: rapid flashing light
About the Creator
I'm an actor and director of stage and screen. But I also dabble in standup, and on this site, horror movie criticism. I'm just a guy who loves horror movies, and I like to share that love with the world.
Reader insights
Be the first to share your insights about this piece.
Add your insights