Childhood Halloween Specials Worth Revisiting
It's time to get spooky.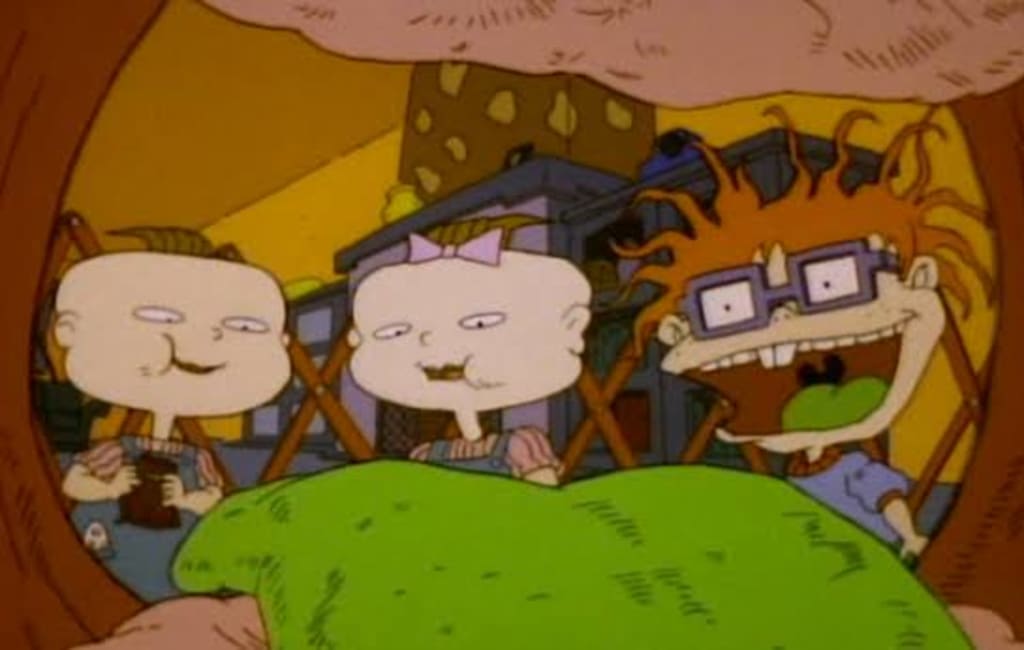 Credit: Nickelodeon.
Halloween is almost here!
Nearly everyone has a favorite Halloween special from their childhood, even if they did not grow up in the US.
To celebrate the spooky season, here's a list of the best childhood Halloween specials worth revisiting when you're all grown up. Whether you're revisiting an old favorite for yourself, or sharing it with your own children or other young relatives, there's plenty of creepy fun to be had.
1. Rugrats: "Candy Bar Creepshow"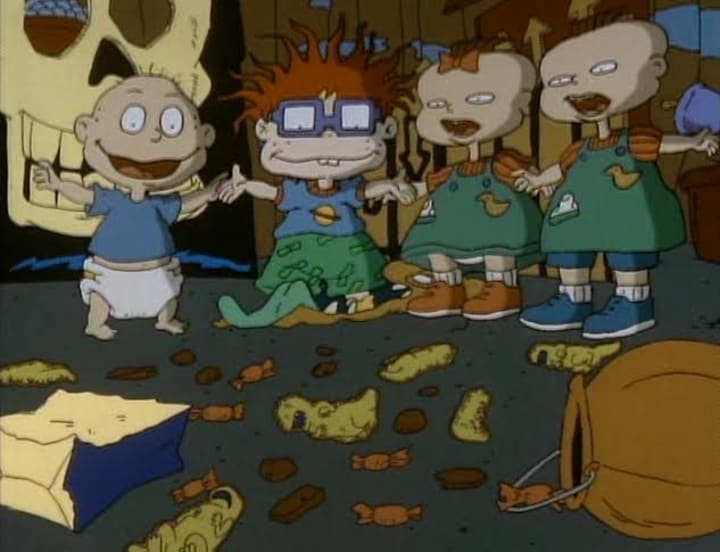 'Candy Bar Creepshow' is the first of two official Rugrats Halloween episodes, and easily the most memorable.
After being introduced to the traditions of Halloween by Angelica, Tommy, Chuckie, Phi,l and Lil venture into the grown-ups home-made haunted house in the hope of earning some treats for themselves. Chaos ensues when the babies' antics lead Angelica and Grandpa to believe the house really is haunted.
The episode is particularly memorable for its introduction of Reptar Bars, which remained a favorite treat of the babies throughout the show's run. A number of Youtube videos exist showing fans how to make their own Reptar Bars.
Fans with children could create a day of fun activities around 'Candy Bar Creepshow,' perhaps with a viewing of the episode followed by Reptar Bar making.
2. Toy Story of Terror!
Released in 2013, Toy Story of Terror is set after the much-loved movie Toy Story 3.
While on a trip with their new owner, Bonnie, to visit her Grandmother, Woody, Buzz, and the gang are forced to stay at the creepy Sleep Well Motel after Bonnie's Mother experiences car trouble. One by one, Bonnie's toys are snatched up by a mysterious entity, leaving only Jessie and her new friend Combat Carl to save them.
Toy Story has always been a franchise for all ages, and Toy Story of Terror is no exception. However, older fans are sure to find a little more to enjoy, with a few clever throwbacks to the second film, such as Jessie's fear of boxes, and how much Woody is worth.
3. Ahhh! Real Monsters!: "The Switching Hour"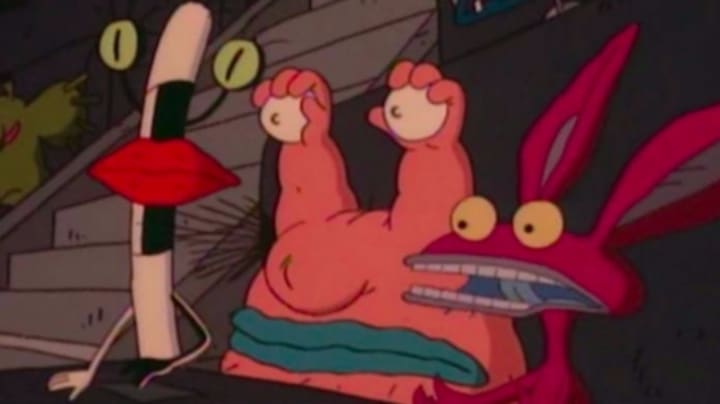 Fittingly for a show about young monsters learning the art of scaring, the very first episode of Ahhh! Real Monsters! is Halloween themed.
Although instructed not to go out on Halloween, our rebellious young heroes Ickis, Oblina, and Krumm do so anyway. Unfortunately, with all the children in spooky costumes, they find themselves unable to scare anyone. Things only get worse when Ickis gets switched with Nicky, a boy he has previously scared whom decided to dress like him for Halloween. Krumm and Oblina must find Ickis and return Nicky before the switch is discovered.
Though the animation shows its age (the episode first aired in 1994), the storytelling is top-notch. This is a perfect watch for kids, or adults, with a taste for the bizarre.
4. Scared Shrekless
Released in 2010, Scared Shrekless has Shrek and his friends partaking in a part creepy, part hilarious battle to decide who will become the King of Halloween.
To do so, they spend the night in Duloc, which has fallen into a spooky ruin since the events of the first film. As the group takes turns telling spooky stories, they are frightened off one by one, until only the new King remains.
Good fun for kids, and adults are sure to appreciate the references to classic horror films scattered throughout the special.
5. Boo to You Too, Winnie the Pooh!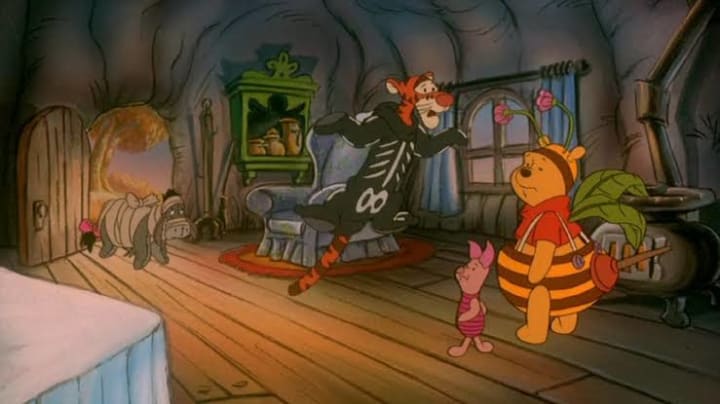 Boo to You Too, Winnie the Pooh first aired in 1996, featuring the beloved characters as they appeared in The New Adventures of Winnie the Pooh animated series.
On Halloween night, Pooh, Tigger, Rabbit and Eeyore embark on a search for Piglet after Tigger accidentally scares him away from Rabbit's House. Piglet, returning to the House to find his friends missing, jumps to the conclusion that they have been kidnapped by monsters, and sets out to rescue them.
Some fans may notice a few plot similarities between Boo to You! and the later released Piglet's Big Movie, but there's plenty of fun lessons to enjoy in both.
6. "Arnold's Halloween"
In 'Arnold's Halloween,' a special airing during the second season of Hey Arnold!, Arnold and Gerald pull a prank on Grandpa Phil, leading him to believe that aliens have landed.
Unfortunately, things soon spiral out of control when Grandpa Phil whips the whole neighborhood into a panic over the alien attack. Arnold and Gerald find themselves racing against time to save their friends, dressed in realistic alien costumes, from a mob of adults out for alien blood.
A fun special when it first aired, it is almost more fun to revisit as an adult, when the War of the Worlds references scattered throughout become much more obvious.
7. Mickey's House of Villains
It's Halloween at the House of Mouse!
Unfortunately, Jafar leads a team of Disney's greatest Villains in a vicious coup, taking control of the House. With most of the other Disney Heroes trapped in the kitchen, it is up to Mickey and the 'classic' crew to save the day and reclaim the House of Mouse.
Epic crossovers scattered between classic shorts were always the best parts of the House Of Mouse series, and Mickey's House Of Villains uses both to great effect, with a few wonderful nods to Disney history. Even if you've never seen the series, there's plenty to enjoy in this special.
So, sit back, relax, and relive a few creepy classics.
Happy Halloween!