'Candyman' (2021) Movie Review
What's In a Name?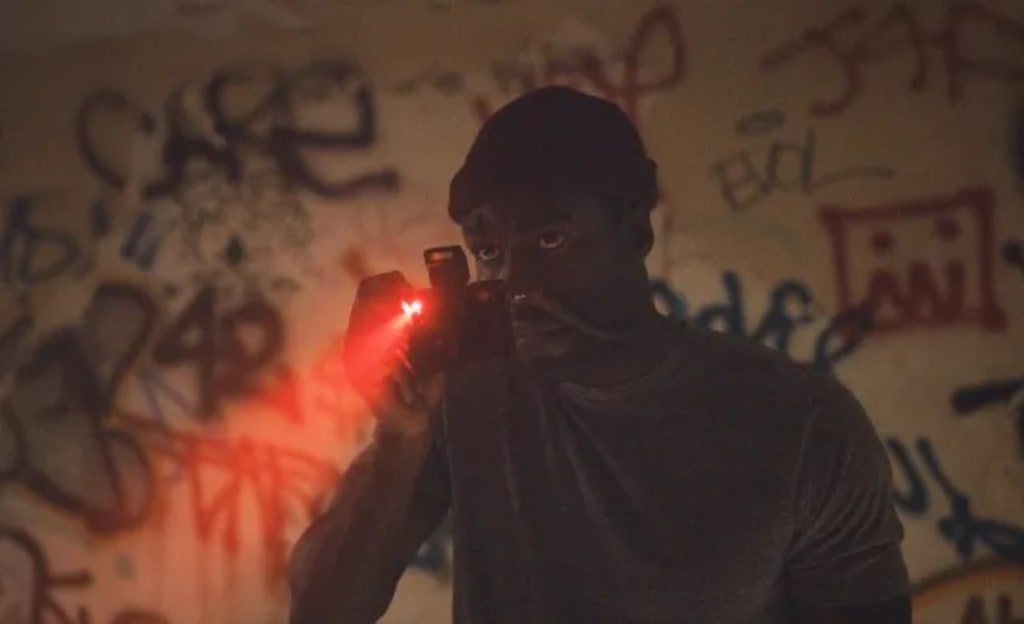 Candyman (2021), the latest in the current trend of belated sequels to classic movies, is about Anthony McCoy (Yahya Abdul-Mateen II), an artist in Chicago who visits the now-gentrified Cabrini Green housing project and learns the legend of Candyman, a hook-handed, fur-coated supernatural killer who appears if you say his name five times while looking in a mirror. Inspired by the legend, Anthony creates an art installation meant to invite viewers to summon the titular killer. But of course, people around him begin to die, and his grip on reality starts to slip.
The original 1992 picture is a bona fide horror paragon. Its atmosphere was eerie, its racial themes were poignant (even if certain elements of it could be seen as problematic in retrospect), and the performances from Virginia Madsen and Tony Todd were just outstanding. The film was followed by two sequels, a mediocre second one and a godawful direct-to-video third. As with 2018's Halloween, this film eliminates the other sequels in favor of creating a totally new continuity following the first film (a wise move for both franchises, in my opinion).
I found this new film to be incredibly entertaining and effective. Director Nia DaCosta collaborated with Jordan Peele on the script, and while Peele's influence is clear, it is entirely DaCosta's film. It doesn't have the same quippy dialogue, static closeups, or just general vibe that Peele's directorial works have. DaCosta actually does some really cool camerawork here, and she presents some of the kills in a somewhat unorthodox way. By the way, said kills are excellent. Much like A Nightmare On Elm Street and It, the Candyman franchise benefits from its killer being an otherworldly entity, as opposed to just a standard psycho killer. This lets the film be a little bit more inventive with its visuals, and 10x creepier in the process. The buildup to the titular character's arrival before he kills someone is superb, and DaCosta and her team deserve major praise for that. One other thing that really helped the 1992 film was the eerie score from Philip Glass. It was so distinctive and pretty much impossible to recapture, so composer Robert A. A. Lowe had quite the task ahead of him. I actually think he pulled it off. The score feels very reminiscent of Glass's, but it doesn't come off as a lazy imitation or anything. It suits the film and properly contributes to its atmosphere.
Yahya Abdul-Mateen II, who most of us probably first met in Aquaman, is outstanding as the protagonist. He's able to capture his crumbling sanity while still remaining sympathetic, and he has great chemistry with Teyonah Parris, who plays his girlfriend, Brianna. She's actually the primary lens through which the audiences sees the story. She has a lot of very emotional moments, and she handles them quite nicely. However, the actor who manages to steal every scene he's in is Colman Domingo. He plays an older gentleman named Burke who has lived in Cabrini Green for a long time, and he's the one who first relays the legend of Candyman to Anthony. He's almost evocative of Quint from Jaws, but he's not quite the revenge-hungry Captain Ahab that Quint was.
As stated before, the first film featured plenty of social commentary regarding the ripple effect that past mistreatment of black Americans has on the way they are treated today, and the scars left behind. While this message is slightly bogged down by details we now realize are a bit problematic, it's still quite clearly trying to comment on this unfortunate aspect of modern society. This new film does this as well, including continuing those previous themes of racial/generational trauma. It also addresses gentrification (if you don't know what it is, Google it). The original was filmed on location at an actual housing project. That area has now been gentrified in real life, so they were able to return to the original shooting location and address this issue. I thought that was pretty interesting.
This new addition to the Candyman franchise returns it to its roots, both literally and figuratively. It's a worthy follow-up that both honors the original and makes some interesting contributions to the Candyman mythos. It's clever, scary, and very unafraid to step on a toe or two.
SCORE: 4.5/5
movie review
I'm an actor and director of stage and screen (mostly nonprofessionally so far). But I also dabble in standup, and on this site, horror movie criticism. I'm just a guy who loves horror movies, and I like to share that love with the world.