Breaking Up With a Scorpio
And Halloween's Lesson About the Werewolf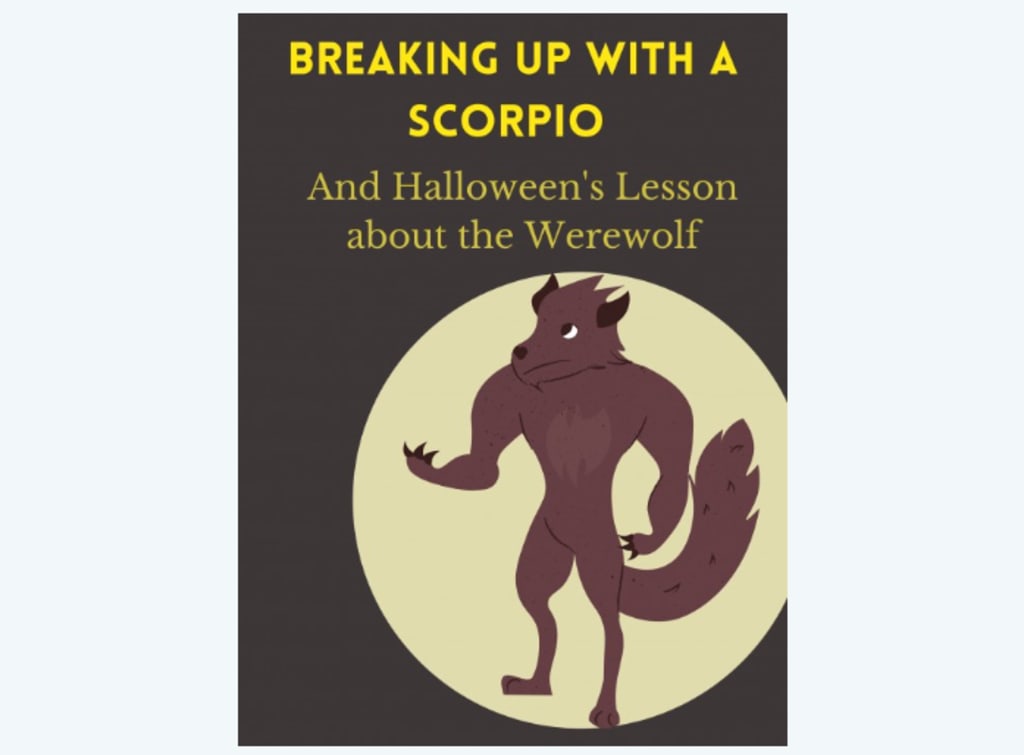 Source: Created using Canva.
The following article was inspired by a breakup in 2016 and the lore of Scorpios. The original was written in 2016. It has been drastically edited for a more peculiar read. Buckle up for a messy ride.
Mingling With Scorpios: A Dangerous Game
Scorpios. They are legendary creatures. They wander around the planet like vampires, ghouls, and monsters with pumpkins for heads. They're the kings and queens of Halloween. Scorpios are the children of Hades, the god who acts like a bloodhound on a missing person investigation. He scours the earth for traces of Persephone. It's nearly impossible to escape Hades' gaze.
Scorpios struggle to balance their emotions. They feel deeply; they can be passionately upset. Never get on the wrong side of their rage! They fear they'll hurt someone if they draw close, so they often play games of hot and cold. They're known for their mysteriousness and their hunger for skin-ship. They abandon those who betray them.
They badly want to be in a relationship, and they abhor getting hurt. Have you ever looked up the mating patterns of scorpions? It's barbaric.
Can you be in a relationship with a Scorpio without someone getting hurt? Asking… for a friend.
Coupledom doesn't always work out the way you think it will. Problems and growing pains come up in relationships — we all get sick, and we all die, eventually. This brings us to the mystery we all live and breathe: how much time do we have on this planet? Is there an afterlife? Is a single life but a drop of water cascading down a windshield?
The Most Confused Suitors
Scorpios want the ultimate relationship; they want someone who can please their mind, emotions, and body. They fear commitment because they see things as ephemeral. They fear letting go of one aspect of themselves to go deeper into something else.
Dating a Scorpio isn't for the faint of heart. They get inside your head. They know how to form a psychic connection. Their goal is to figure out how to control you. How can the werewolf mold you to their desires?
The werewolf is caught between their humanity and animal nature. Their transformation into the wolf side is 100% berserk.
When You Date a Scorpio
If you want to date a Scorpio, expect insanity. When things start heating up and they care about you — they either draw incredibly close (to the point of squeezing you to death), or they run.
Going up a level on the emotional chart is a lot for them to handle, and they often aren't ready. It takes time for Scorpios to mature, to be well-adjusted, and to settle. To put it candidly, settling down isn't what they want if that's boring. They're looking for experiences that are tantalizing.
They are a deep pool of seriousness; their depth is matched only by the Mariana Trench. Scorpios can be some of the most jealous, arrogant, and domineering monsters you will ever cross, they are werewolves — and this is due to all the unresolved emotional energy they have. Never date a Scorpio who hasn't matured through all their complex stages (the snake, the scorpion, and the phoenix).
In order to release all that energy, they have to face themselves and on their own terms. You can't make a Scorpio love you any more than you can make anyone love you. No one is your puppet.
Scorpios ultimately want to be sophisticated, successful, and envied. Let me share with you some details about the Scorpios I keep notes on…
The Scorpios I've Known
A.) My friend who grew up to be a doctor keeps moving to different cities, forcing his wife to keep picking up different jobs and never settling down in one place — moving from Washington to Hawaii, Florida to Missouri, and Texas to California. He is the flame of the relationship, and she can either have the flame or resist and let go of him. She is in a test of love that most people fail.
B.) A once upon a time ago crush, studied criminology on the side. He eventually became a software engineer making $400,000+ a year. He buys up properties in his hometown while he lives in an apartment in one of the biggest cities in the world. He, for whatever reason, doesn't want to propose to his girlfriend of ten years. Or has he? Maybe they're already married?
C.) Then there was the violinist. He broke off an engagement with his notoriously shy fiance days before the wedding. He keeps picking up artsy hobbies. He has been with the same girlfriend for six years. He likes to disappear for weeks to go camping in the woods to build a fire all to himself. Someone once told me a star hangs over him, and it has him in its clutches. He can't fight his destiny, and his destiny is his nature.
D.) Then there was the one I got too close to. He treated me like a pretty doll that he wanted to put on a shelf. He wanted kisses. He wanted more than that. (I put the brakes on that, thankfully.) He didn't tell me he was seeing other women. He conveniently left out that information. He compared himself to Hugh Jackman's Wolverine; no wait, he thought he was Deadpool. Seriously, he believed he was Deadpool and that he had the looks of Ryan Reynolds. (He didn't.)
He had a small apartment when I knew him. He had a locked closet where he meticulously organized his most precious objects. There was also a couch that pulled out into a bed and a small flatscreen TV.
I regret getting tangled up with this guy for a season. I'm still not sure what I was thinking.
He left a mess when he moved. For one, he didn't tell his roommate he was moving. Who knows where he is now, perhaps sailing on seafoam as he escapes to Aphrodite's palace.
What I've Learned
There is one thing that I know: Scorpios come to their own conclusions on their own terms. You cannot sway them to a different course. They have terrible poker faces. They have to make their own special journey to release themselves from feeling like a werewolf; otherwise, they'll always be a creature that acts more on behavior and instinct than something more refined.
They research their own impulses, and when they figure themselves out — they're insanely successful. Many of the richest people I know are Scorpios. Their romantic relationships are fascinating. Sometimes they part ways with someone, declaring their ex as scorched earth. They often attract and accept wild and manipulative and incomplete mates, and then when ready… they cut them out of their lives. They'll do impressive damage control, somehow fixing $50,000 of debt from their shopaholic ex.
If you try to teach them how to be refined, they won't learn; instead, they'll have emotional codependency, so let them unmask themselves.
Say Thank You Instead
Don't date a Scorpio before they do their emotional homework. It might be tempting to jump into the waters before they've actually matured, but ultimately, they'll just cut you out of their life and run for the hills. They'll push themselves into isolation where they can build giant fires. They'll keep you on the line waiting for commitment. They can't get out of their cocoon until they completely give themselves to "the hermit mode".
Can a werewolf sleep in a cocoon? It's an important question.
They'll mess you up if they're not ready: let them dig deep into the past and overcome it. If they haven't processed their past, you'll be left with a nasty mess. Don't be their plaything to help them process their past mistakes. Scorpios love submissive objects they can experiment with.
If they want to come back to you, they will. But in the meantime, if you break up with a Scorpio, just say thank you. Move on. Don't expect this beast to turn back to you. If they do turn back, consider their behavior. Are they acting so weird that you need to put a restraining order on them?
Tell the werewolf: "Thank you for going into more depth than most people ever will. Thank you for having such a strong passionate drive that makes things more real in a world that's often dormant. Thank you for opening up to me because now I know more about this world."
Thank you for letting me tango with a werewolf. ;)
Also, drop the word "loyalty" somewhere in a conversation. Do it strategically. They love that word.
They're Energy Seekers
Every time you see a full moon, remember how it drives the werewolves crazy. Remember that Scorpio takes in a profound amount of emotional energy because Scorpio is the fixed sign of water. It's the first sign of the zodiac that acknowledges death. It's the first magical sign, paving the way for Aquarius and Pisces.
Scorpios are meant to be royalty, and maybe it takes a couple of lifetimes to get there — but this world desperately needs their emotional leadership.
We need these Scorpio punks to wake up the emotions of others. Let them get comfortable in their Phoenix state — the highest form for Scorpio that has to do with resurrection and sacrifice. Underneath the skin of a brainwashed monster is something beautiful waiting to play its part in reality.
This Halloween when you are surrounded by ghouls and goblins, don't forget the wolf of the night, waiting for nighttime, waiting to strike for some flesh, and remember in the end… the werewolf will have victory. What do I mean by victory? They'll eventually shed their monster skin for something holy (maybe a secular kind of holy). Just don't expect to see this transformation.
Halloween is meant for Scorpio. It is their season. In some cultures, Halloween is the beginning of a new year. We dress ourselves up in costumes, become aware of the spiritual and emotional energy around us, and at the end of the night… and the next day… we take down the mask. They say the veil between life and death is at its thinnest around Halloween.
Scorpios thrive on the energy of late October and early November. Some people fear that energy — they won't even let their children go trick or treating. They won't sell Halloween decorations at their shops. They go into dogmatic diatribes about the Satanic evils of Halloween (sigh).
It's the middle of fall, the leaves are changing, and the living are letting go of their pasts. It's not just a time to be creepy, spooky, or enchanting. It's a time to reflect on your spiritual, emotional, and sexual energy. This is the kind of examination Scorpio needs.
When it comes to a Scorpio, we have to ask ourselves: where does the mask end and where does the real person begin?
Dear Scorpio, if you can find a way to let go of all your costumes, you might actually find yourself. Stop with all the pageantry. Do you really need a monster parade every day?
Let go of your emotional hurts. Be free to express yourself in whatever wild way you need. Accept a glad heart. Be merry and join with others who are merry; don't be so afraid. Don't get lost in werewolf emotions, let it all go.
Hard transition here, but we hardly understand what is magic. Whether it's science, religion, or magic — we are dealing with energy. This is what Scorpio will study until their last words on their deathbed.
During spring the flowers grow, and we see pastels and new fruit — but when autumn arrives, the delights of spring are no more. Whatever reigned in May, turns brown and decays. Halloween never fully kills spring — it tells spring to go to sleep for a little while. Fall begins in September, and maybe at the beginning of the season we have doubts that the cold night air will come — but by Halloween, we know, and we accept, and we open our minds to the possibilities of death and resurrection.
Scorpios often have to break up in order to see and understand what they love. Did it really feel like a loss?
Scorpios need to tell spring to be quiet for a while. They know spring will come back if it is meant to be, but they don't get to enjoy the fruits of the first seasons. They instead deal with unmasking emotions, hiding in caves, and delighting in the hearty tastes of pumpkin, apple, barley, and maple.
Scorpios are telling all of us to go to sleep, let go of our pretenses, enjoy the darkness, and stop being afraid. Spring is whimsical; fall is serious.
Even though the trees lose their leaves, the trees are still alive. Leaves reveal their true colors when the chloroplasts deplete. Instead of everything unified in green, the trees reveal they were hiding gold, garnet, bright orange, deep dark purple, and white.
We are all revealing our true nature. Happy Halloween.
*****
Originally published: https://hubpages.com/relationships/Difficulties-of-Dating-a-Scorpio
monster
halloween
About the author
Freelance writer. Undergrad in Digital Film and Mass Media. Master's in English Creative Writing. Spent six years working as a journalist. Owns one dog and two cats.
Reader insights
Nice work
Very well written. Keep up the good work!
Top insights
Compelling and original writing

Creative use of language & vocab

Heartfelt and relatable

The story invoked strong personal emotions
Add your insights