Battle of the Gremlins
Spike vs. Greta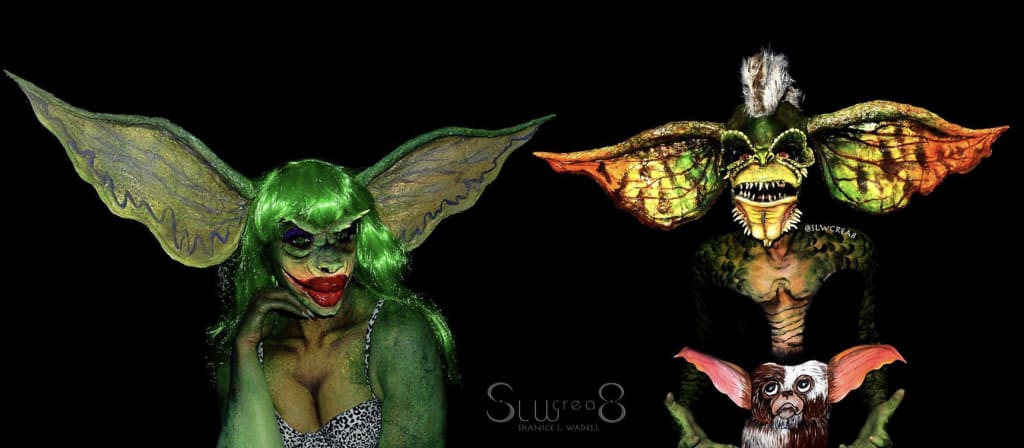 2016 Spike and 2018 Greta Gremlin ~ Makeup Art / Model / Photography: Shanice L. Wadell
Before we begin, we need to lay down some strict guidelines.
"The Rules and Care Guide for the Mogwai" only has 3 simple rules…
1. Never expose it to bright light
2. Never get it wet
3. NEVER FEED AFTER MIDNIGHT!
Simple enough right? We don't want what happened in 1984 and 1990 to occurring again now do we?! What a catastrophe!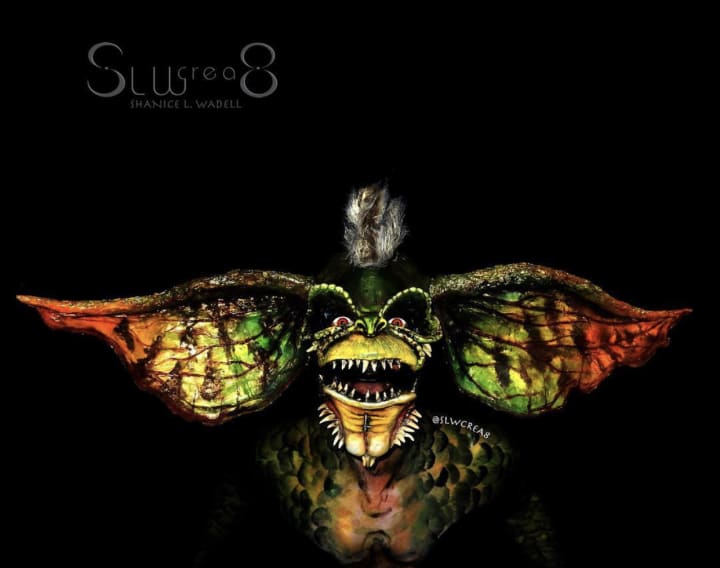 But in all seriousness… Gremlins and Gremlins 2 are on of my all-time classic movie favorites and Halloween gives the perfect opportunity to embody one of these gnarly wicked creatures. In my case 2 perfect opportunities. Cue Spike and Greta Gremlin! These two characters are always very well memorialized when mentioning the Gremlins franchise (other than the star player Gizmo). But the real question is, which slimy little green creature reigns champ this Halloween?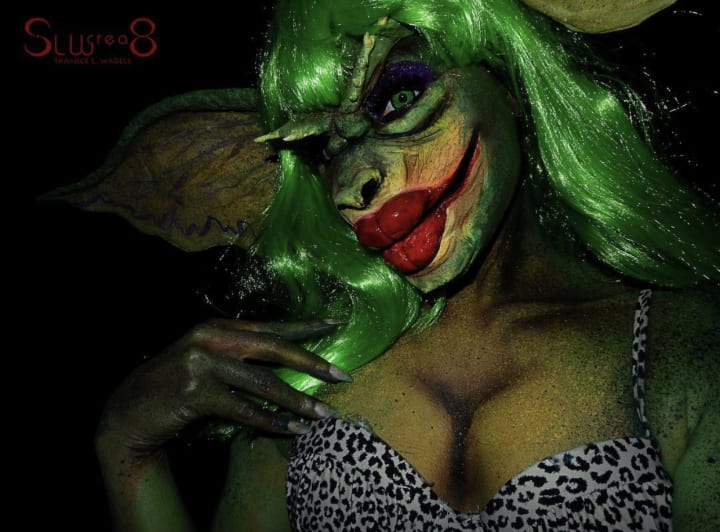 Spike Makeup and Prosthetics ~ The Process
Back in 2016, my first year I really got into makeup art and self-teaching myself, I decided I wanted to turn myself into Spike. Mind you, it was not even Halloween season when this all went down… it was actually in the middle of December. Who says you can only dress up during the month of October? Clearly, I'm a rule breaker and a rebel because I celebrate the Halloween spirit ALL YEAR ROUND!
I began sculpting out the movable face piece and homemade gremlin ears within that same day. The face piece itself, I made out of foam lightweight air dry clay. For the ears, well you should ALREADY KNOW if you have read any of my past posts. That's right, classic tinfoil, hot glue and a dollar store hairband.

After sculpting and forming the face and ears, I coated them with a light layer of liquid latex. This creates a nice surface to lay down my water activated paints and acrylic paints (which I pre-painted before application). I also want to add that I shaped out tiny little sharp Gremlin teeth out of tinfoil and hot glued into the molded gums. I also created Spikes classic mohawk, again, out of tinfoil for the base and then covered it with faux fur fabric.

Thinking ahead of time, I knew I wanted to incorporate the adorable and vulnerable little Gizmo. I planned to do a body paint of him on my stomach but I also wanted him to have a 3D look as well. The simple solution to that was… cut out large ears out of construction paper and paint them as realistic as possible.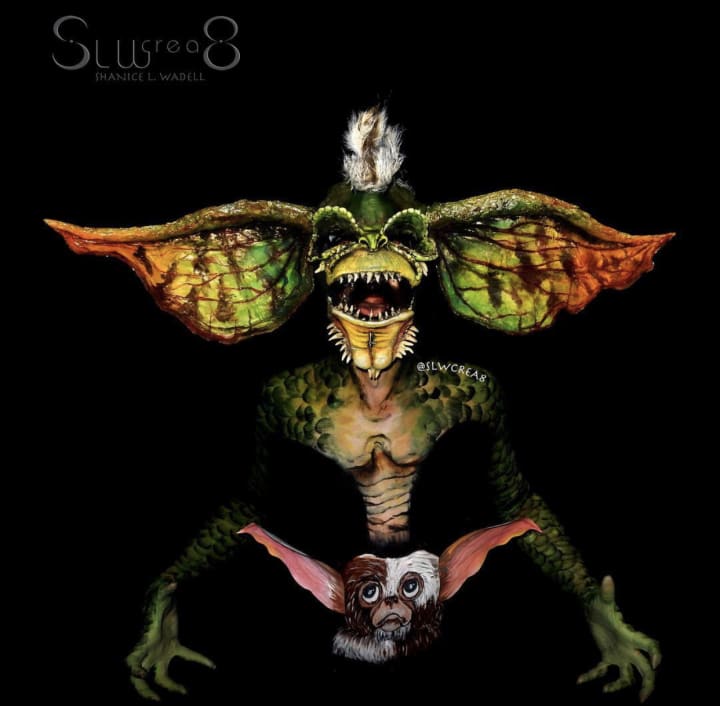 When it came down to the body paint and prosthetic application itself, I went with the classic Gremlin greens, dark browns, black, and touches of yellow.
Greta Gremlin Makeup and Prosthetics ~ The Process
Now fast forward to December 2018…. I had Gremlins on my mind again! It must be something about December that gets me in the mood to paint myself green. This time around I wanted to see if I could pull off Greta Gremlin.

Starting from scratch again, I took my face cast and went to down sculpting out my version of Greta, of course is her classic big bright red lips. As I explained above, I went through the exact same steps as I had with Spike the previous years, same materials for the face piece and for her ears. The only slight difference is for her lips, once I was finished pre-painting, I took clear nail polish and coated the lips of the face piece to give a nice shiny effect to make it look like she had just put on a fresh coat of shiny glossy red lipstick.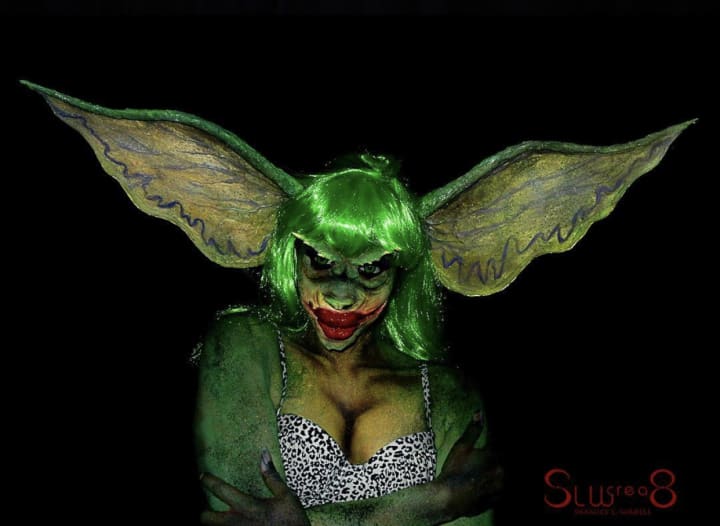 So with all that out of way, let's circle back to the main question at hand... which Gremlin is your favorite?!
Full List of Products Used for Spike
Mehron Makeup
• AQ Paradise Body Paint White
• AQ Paradise Body Paint Black
• AQ Paradise Body Paint Yellow
• AQ Paradise Body Paint Brown
• AQ Paradise Body Paint Green
• AQ Paradise Body Paint Mango
• Mehron Liquid Latex
Stila Cosmetics
• Stay All Day Liquid Liner in Black
NYX Cosmetics
• Ultimate Brights Eyeshadow Palette
Urban Decay Cosmetics
• Shadow Box Pallet
FX_Cosplay
• Fab Body Paint Lemon Yellow
• Fab Body Paint Poison Green
• Fab Body Paint Flesh
• Fab Body Paint Plum
Funky Eyes Contact Lenses
• Wild Fire
Full List of Products Used for Greta Gremlin
Mehron Makeup
• AQ Paradise Body Paint Dark Green
• AQ Paradise Body Paint Light Green
• AQ Paradise Body Paint Amazon Green
• AQ Paradise Body Paint Black
• AQ Paradise Body Paint White
• AQ Paradise Body Paint Mango
• AQ Paradise Body Paint Yellow
• AQ Paradise Body Paint Red
• AQ Paradise Body Paint Dark Brown
• AQ Paradise Body Paint Light Brown
NYX Cosmetics
• Avant Pop - Surreal My Heart
• Ultimate Palette - Smoke Screen
• Ultimate Palette - Warm Neutrals
• Jumbo Eye Pencil - Black Bean
• Wicked Lashes
• Pigment Primer
• Angel Veil - Primer
• First Base Primer
A Devils Kiss
• Purple Vitamin Infused Pressed Glitter
Furless Cosmetics
• Loose Eyeshadow Pigment - Immoral
Sclera Lenses Dotcom
• Mini Goblin Lenses 17mm
Andy Candy Makeup
• Loose Pigment - Berry Cute