Batter Up: Chandler Riggs Teases Plenty Of Deaths In 'The Walking Dead' Season 8
Prepare for war when AMC's The Walking Dead returns to our screens, and fans of the undead romp are promised the most explosive season yet.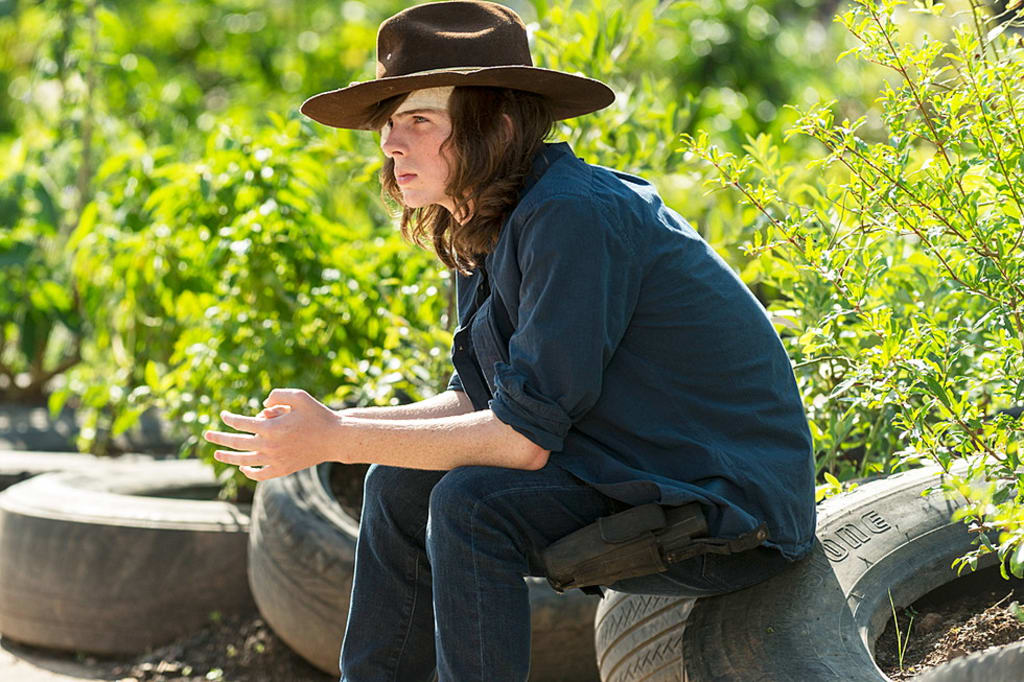 'The Walking Dead' [Credit: AMC]
Prepare for war when AMC's The Walking Dead returns to our screens, and fans of the undead romp are promised the most explosive season yet. Alongside tenacious tigers, wire-wrapped baseball bats, and herds of the usual ravenous walkers, expect a number of our stalwart survivors to also lose their lives in the upcoming Season 8.
These days, we have learned that no one is safe in the zombie apocalypse, and even Andrew Lincoln's Rick Grimes has been tipped for an early grave before the show shuffles to its end. However, as we enter the "All Out War" era of the comic books that the show is based off, it sounds like this year will be upping its number of body bags needed once again.
The Walking Dread
Speaking to Australia's national radio station Triple J, Chandler Riggs (a.k.a. Corrrrral) revealed just how much of a bloody bonanza fans should expect when the show returns on October 22:
"Season 7 was all about building up and getting everyone ready to fight against Negan, and this season there's going to be lots of explosions, lots of killing, a lot more Negan. Yeah, lots of fighting, lots of cool stuff. It's really, really fun this season."
The action-packed first trailer already teased those explosions, and Riggs's comments neatly line up with Steven Ogg's "thin the herd" analogy for the upcoming season. Literally anyone could be up for the chop, but let's not forget, "if Daryl dies we riot."
It is also interesting to note that Riggs highlights that there will be a lot more Negan. Sure, #JeffreyDeanMorgan's mustachioed maniac may have smashed a few heads like melons, but Season 7 felt relatively light on the show's next Big Bad. One of the most convincing arguments is that Negan seems just a little too nice, so let's see how Season 8 addresses that when we see him turn into full-blown warlord.
As for who is next to take a dirt nap, place your bets now. It is certainly true that the bumper-sized cast needs knocking down a peg or two, and aside from our "core" cast, there is plenty of fresh meat ready for the abattoir. The "All Out War" segment from #RobertKirkman's comic books may be relatively light on the deaths of big names that currently find themselves on the show, but we all know how TWD likes to mix things up a bit.
Thankfully, it is highly unlikely that Riggs is going anywhere — especially with that Old Man Carl theory — but never say never. Last season saw the departure of big players like Glenn, Abraham, and Sasha, so showrunner Scott Gimple will have to pull something special from his rotting satchel if he wants to top that. Either way, prepare for the blood to start spraying and the limbs to start flying.
(Source: Triple J)

Tom Chapman
Tom is a Manchester-based writer with square eyes and the love of a good pun. Raised on a diet of Jurassic Park, this '90s boy has VHS flowing in his blood. No topic is too big for this freelancer by day, crime-fighting vigilante by night.
See all posts by Tom Chapman →