'Barbarian' Movie Review
Scare BnB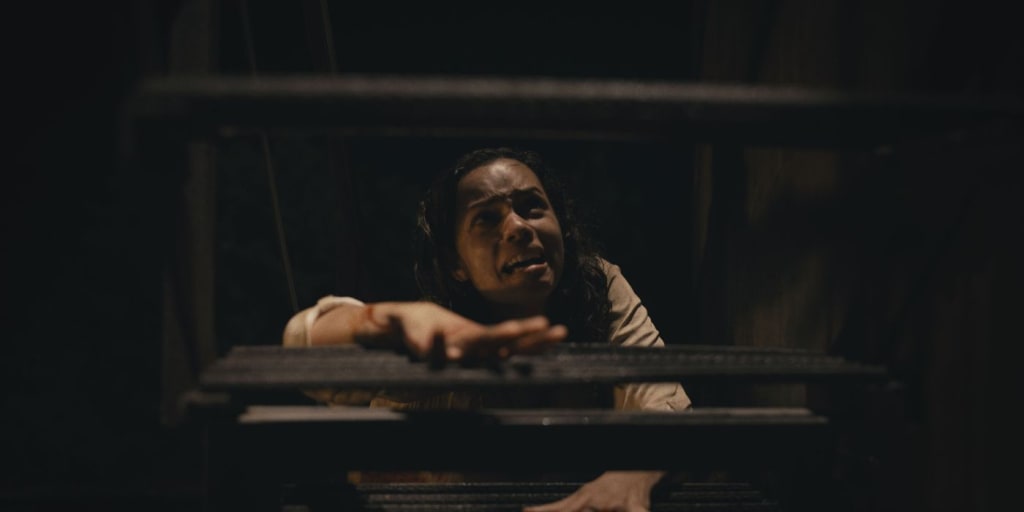 Barbarian is the first horror film from writer/director Zach Cregger. When Tess (Georgina Campbell) finds out that the Airbnb she's renting was double-booked, she begins to strike up a friendship with her new "roommate" Keith (Bill Skarsgård). But it turns out there's something suspicious about this house, and the two of them may be in grave danger.
It's best to go into Barbarian as blind as possible, so I'm going to keep my thoughts as vague as I can, because I cannot recommend this movie highly enough! I absolutely adore this film. Zach Cregger is yet another TV comedy alum trying his hand at horror, following in the footsteps of Jordan Peele, Danny McBride, and the like. While Cregger is probably best known for the cult favorite sketch series "The Whitest Kids U'Know" (R.I.P. Trevor Moore), with Barbarian, he shows an awesome grasp of the horror genre, and I desperately hope he makes more in the future. His style is really energized, clearly taking cues from directors like Sam Raimi and Peter Jackson, two of my very favorites. We even get a few visual nods to The Evil Dead, which will always score you some extra points in my book. I don't know what Zach Cregger plans on doing next, but I would love to see him stick around in the director's chair.
My only previous exposure to Georgina Campbell was in an episode of "Black Mirror" from about five years ago, and while I remember liking her, she hadn't really been on my radar since then. She proves herself to be a capable leading lady here, and she definitely has the makings of a scream queen. While most viewers, especially horror fans, will know Bill Skarsgård as Pennywise the clown, he actually plays a normal guy here, and I found him really enjoyable, in an awkward, fumbling sort of way. It's an against-type performance that is just one of many surprises that Barbarian has to offer. One other key player here is Justin Long, but I won't elaborate any further on his role in the story. I'll just say that, once again, he proves that he is vastly underutilized by Hollywood, and having also done Jeepers Creepers, Drag Me to Hell and Tusk, he deserves much more credit as a horror star.
One of the most impressive (and entertaining) things about Barbarian is just how unpredictable it is. Like I said, it's ideal to go into the film pretty blind, because it goes in a lot of strange and unexpected directions. I don't think there was a single point during the entire film in which I knew what would be happening ten minutes later. This unpredictability creates even more tension as the story progresses, as well as just making the film that much more unique. I was also absolutely in love with some of the stylistic choices. The cinematography and direction ratchet up the intensity with plenty of great camera movement and funky angles that put the viewer right there in the middle of the action. There's also a griminess that practically oozes out of the screen in some of the more horrific scenes, and this is occasionally accented by moments of pitch-black humor (another major positive I look for in horror).
Barbarian is an audacious first horror film from writer/director Zach Cregger, and it's an absolute blast. It's one of the most intense, unpredictable, and entertaining movies of the past several years, and the gonzo visual style harkens back to some genre classics. It's pure lunacy, and pure genius.
SCORE: 5/5
TRIGGER WARNING: flashing lights, discussion of sexual assault
About the Creator
I'm an actor and director of stage and screen. But I also dabble in standup, and on this site, horror movie criticism. I'm just a guy who loves horror movies, and I like to share that love with the world.
Reader insights
Be the first to share your insights about this piece.
Add your insights