'American Killing' (2019) Review
A writers retreat takes a very dark turn when its obsessive showrunner manipulates his team into playing along in his disturbed, hidden-camera 'masterpiece.'
Getting scripts out on time for episodic productions can be emotionally draining on the writers. It takes a massive toll on the writer's ability to function in the real world. Consequently, when a production they put everything into is under threat of cancellation, some people find it impossible to cope. They look for a way in which they can vent both their anger and their creative talents in a singular explosive project which could elevate their name in the eyes of the viewing public. Jeb, with his cartoon series on the verge of cancellation, is one such creative talent.
With a robust cast featuring Trevor Peterson, Persia White, Caitlin Gerard, Demetri Goritsas, Christopher Wolfe, Melinda Lee and Sondra Blake, the Justyn Ah Chong/Matthew D. Ward co-directed American Killing presents viewers with a vividly dynamic picture of what can happen when a writer with significant issues begins to emotionally unravel.
Jeb (Trevor Peterson) works tirelessly on each season of the production, but the studio executives do not recognise his hard work. All they care about is the ratings. As a result of the studio executives demanding 30 scripts in 30 days, the studio sends Jeb and a team of writers to a secluded house in the mountains to complete the work. With no distractions, the writers must complete all 30 scripts in the timeframe allotted or see the series become just another cancellation statistic.
Even though we are talking about a cartoon series, this production is no less important to Jeb as HBO's Game of Thrones is to its series writers. As the film progresses, we soon learn Jeb has a strong type-A personality. Because of his controlling personality and obsessiveness to detail work ethic, the team begins to become increasingly less and less cohesive.
The story takes an incredibly dark turn when Jeb places hidden cameras around the house to capture footage for his "masterpiece." This production will be the one that lifts him out of obscurity. Studio executives will have no choice but to recognise his brilliance.
Even though studio executives fire Jeb, he continues to secretly spy on his now-former writing colleagues. As he watches the footage from his cameras, Jeb's madness takes him further and further down a winding path from which there is no return.
With an undeniable rage building within him, Jeb returns to the house and begins killing off the writers one by one. Jeb captures each of the killings on camera so that he can add it to his "masterpiece."
Despite the fact that nothing Jeb schemed went according to his plan, with numerous unforeseen twists and turns throughout the production, his ultimate "masterpiece" is a snuff film everyone that sees it will never forget.
Fans of The Vampire Diaries (TVD) might remember Peterson from the second season episodes "Katerina" and "The Sacrifice," both of which provided the actor with ample moments to shine as brightly as any of the regular and recurring cast members. Peterson brought the same level of commitment to American Killing that he did with those two episodes. Peterson is not the only TVD actor to headline the Justyn Ah Chong/Matthew D. Ward co-directed film. There is, of course, Persia White.
White appeared in TVD in episodes during the third, fourth and eighth seasons of the series, according to the popular website IMDb. IMDb, while it is not completely accurate, has an extensive catalogue of which talent appeared in which productions. A lot of people rely on it for information on upcoming films and television productions. If White made appearances in episodes not listed on her IMDb page, she might want to address this oversight as soon as possible.
If you're a "Friend of Bill W.," Clark (Goritsas) is a character you can relate to because he has not touched a drop of alcohol for eight months. If he were in the Alcoholics Anonymous program, he might be on either the first or second step. There is part of me that would have liked to have seen more of this character.
Goritsas, just by glancing at his IMDb page, we find he has an extensive list of titles which cements his credibility as an actor. Just by watching the reel, there is no doubt the Oregon born actor has serious talent.
Gerard, possibly best known for The Last Ship and Insidious: The Last Key, plays Natalie in American Killings. Along with Peterson, White, Goritsas, Wolfe and Lee as Jeb, Raven, Clark, Billy and Joan, respectively, Natalie is one of the writers the studio executives sent to the house so that she could work on getting the scripts written from the coming season. Because of certain dynamics at play between team members, the end result is horrifying.
Each actor brought with them a different level of experience to the character they respectively personify. This experience shines through the performances and grounds the production in a degree of realism rarely seen in other films of the same genre.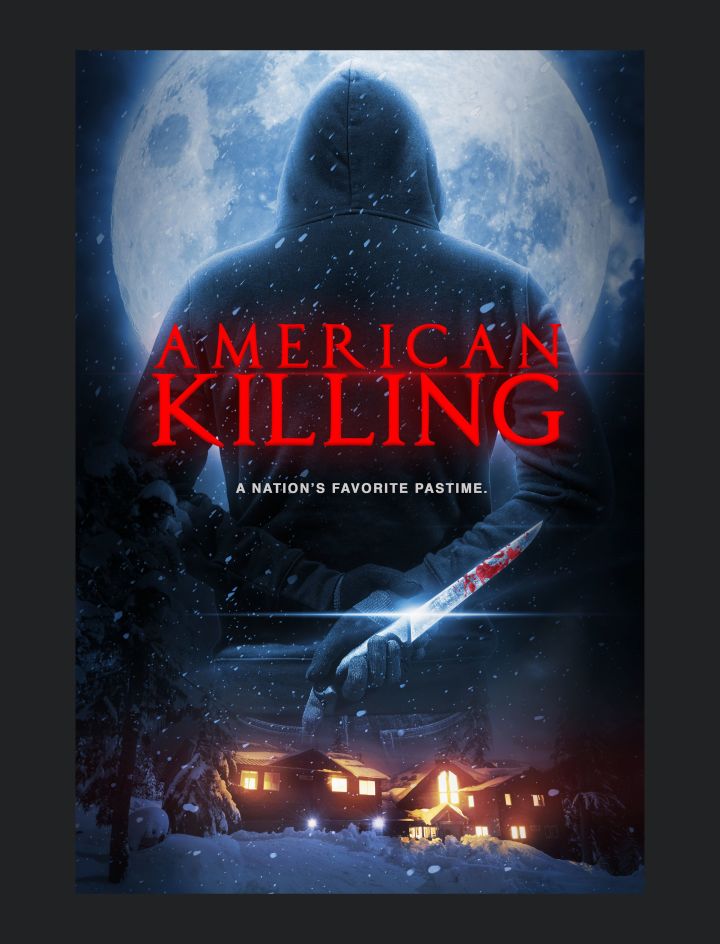 American Killing, from High Octane Pictures, became available on VOD and DVD Tuesday, 6 August 2019.