9 Christmas-Themed Horror Movies You Should Watch Right Now!
I've compiled a list of 8 Christmas horror movies/TV shows that will help you get through the holidays without resorting to a full on Jack Nicholson style family massacre.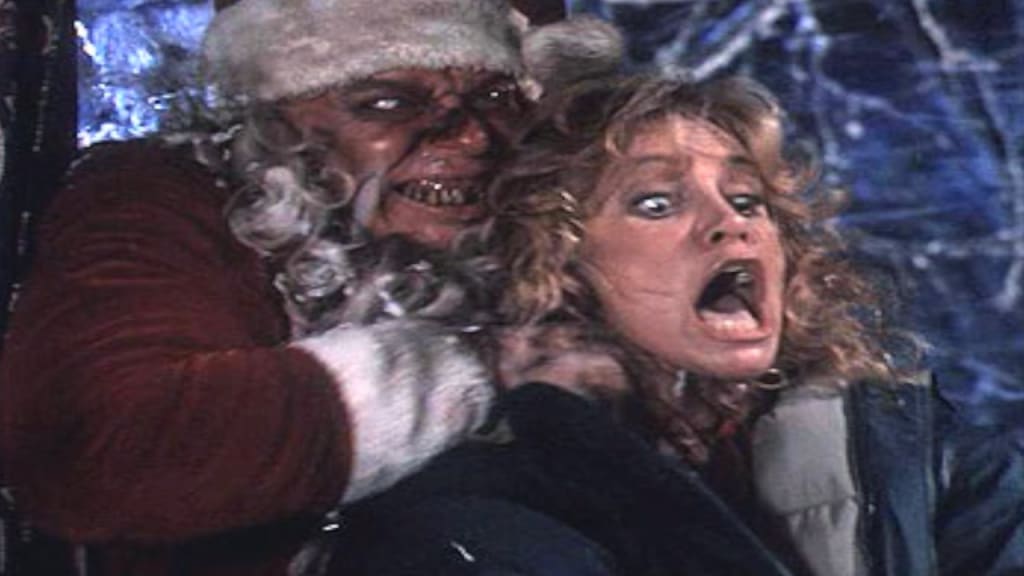 Who's been naughty? 'Tales From The Crypt' [Credit: HBO]
So, you're about to hang stockings by the fire and put up that epic Christmas tree that's sure to outdo the neighbors pitiful effort. December is usually a very festive month as we get closer to the big day of eating presents and opening turkey (scratch that, reverse it). However, if you're like me then you get a bit tired of the usual re-runs of Its A Wonderful Life and Home Alone (don't get me wrong, they are good movies) and start to look for something with a bit more edge. Well, you're in the right place, as I've compiled a list of 9 Christmas horror movies/TV shows that will help you get through the holidays without resorting to a full-on Jack Nicholson family massacre — well, maybe. Let's begin:
9. WIND CHILL (2007)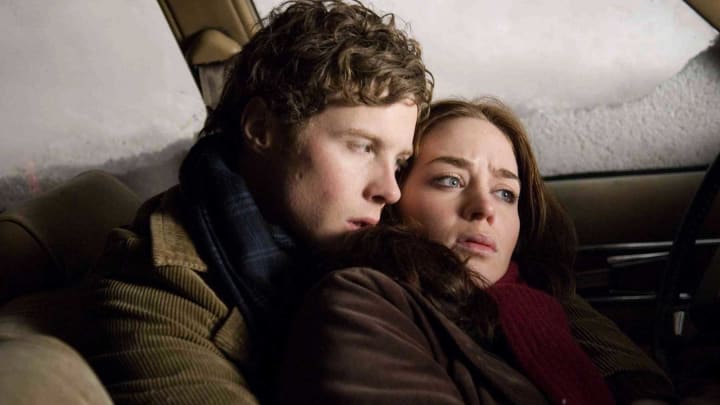 An early starring role for Emily Blunt who accepts a lift home for the holidays from her "Guy" friend. As their car becomes stranded on a snowy road, secrets are revealed that threaten their survival and ghosts from the highway come back to haunt them. Not a perfect Christmas movie by any stretch but it has a cool theme and an interesting premise. Like any story with a mystery, it does tend to either make or break the movie upon the reveal so I'll leave it up to you if it deserves to be on this list.
8. 'Christmas Evil' (1980)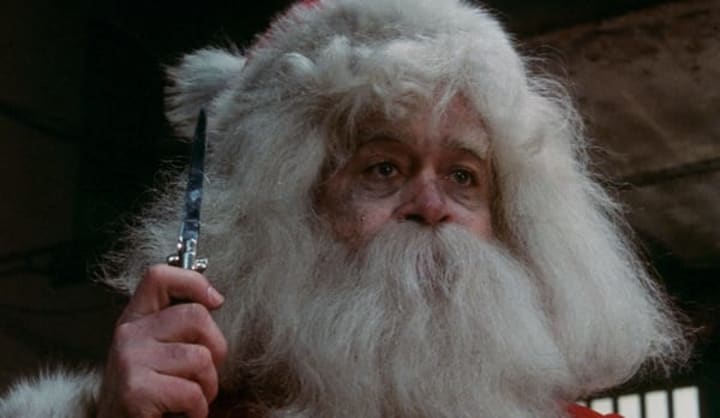 In Christmas Evil, a mentally scarred toy factory worker has a nervous breakdown over Christmas (how unlikely) and dons a Santa suit to go find out who's been naughty and who's been even worse. One of the first of the "Santa-goes-on-killing-spree" sub-genre that seems to be even more popular today strangely. It's a strange movie that I think even JOKER has taken inspiration from, especially the grimy look of humanity and life in general. It's part slice and dice and part character study with a wonderfully whimsical ending, See it for free today on YouTube (before it's deleted).
7. 'Twilight Zone': Night Of The Meek (1985)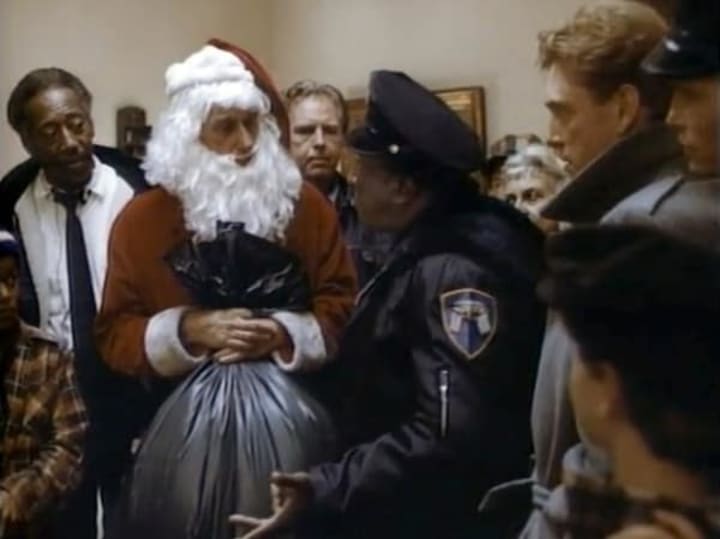 Part of the first season of the '80s revival of the now-legendary Rod Serling series The Twilight Zone. In fact, it's a remake of the same-titled story, which revolves around a drunk department store Santa who gets fired on Christmas Eve. All he wants to do is give presents to EVERY needy child in the city and when he comes across a magical never-ending sack of toys it looks like his wish is granted. A quaint little gem and worth a watch if you can find it online.
6. 'Silent Night, Bloody Night' (1972)
When a man inherits his father's mansion that was formerly a mental institution, he stirs up an unsolved murder and secrets that the town has tried to hide for a long time. The movie has a solid cult following and enough scares and style to put it in the must-see category during Christmas time. It's creepy, atmospheric, well paced and really shocked audiences on release, I think you'll dig it if you're into 70's and 80's horror for sure.
5. 'Jack Frost' (1997)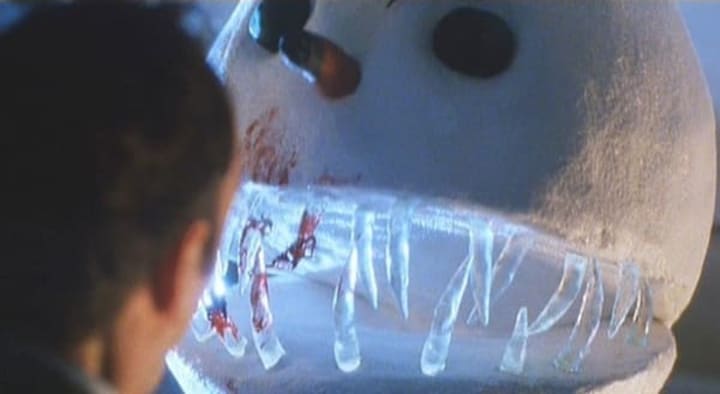 No, its not the Michael Keaton family favourite, but a true Christmas-nasty. Basically, a serial killer dies and comes back as a homicidal snowman intent on getting revenge against those who convicted him. I don't need to tell you its a cheesy, low-budget monstrosity that combines bad acting with a cheap snowman prop. Hell, I don't just recommend seeing it — I want you to show ALL the family. Watch it for shits and giggles here on YouTube.
4. ELVES (1989)
Anyone on here like puppets? Well if not, you'll hate this crazy-plotted flick. Basically, a left-over Nazi plan to create a race of supermen is triggered in modern day with the use of an evil elf creature hell-bent on bringing back the master race. I'd love to see a documentary exploring this film and what they were thinking during the shoot as it's completely BONKERS. The film itself survives primarily on its cult underground status and probably deserves to be remastered to improve the viewing experience. If you're a fan of grainy VHS uploaded horror movies from the '80s though you'll get a kick out of it while wrapping the presents.
3. 'Tales From The Crypt': And All Through The House (1989)
An early episode from the anthology horror TV show Tales From The Crypt that gave me nightmares when I was a kid. When a money-grubbing wife murders her husband on Christmas Eve, complications to her plan arise in the form of an escaped mental patient who just happens to be dressed as old St Nick. A fun little TV treat that was formerly adapted in the '70s with Joan Collins being harassed by the evil Santa. I watch it every year if I can and If you want some cheesy holiday horror you can do a lot worse, Watch this version now.
2. 'The Woman In Black' (1989)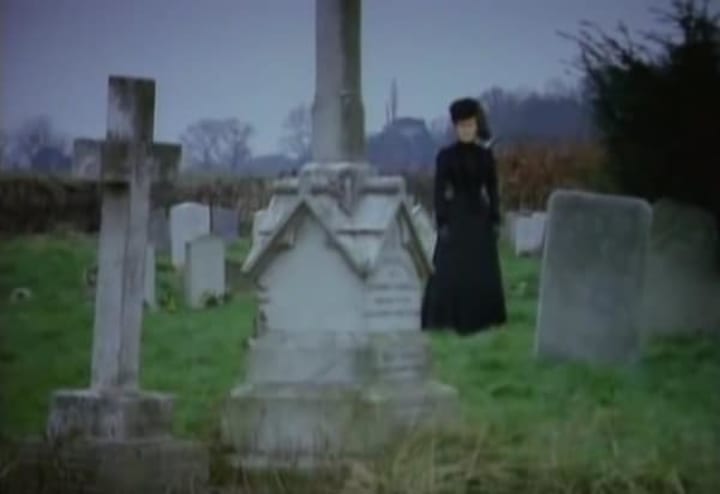 Now you might point out this isn't exactly a Christmas-themed horror film, BUT it did debut on Christmas Eve 28 years ago and it certainly taps into the autumn/winter time frame. When a young solicitor is sent to an old manor house in the country he falls afoul of a supernatural presence that threatens to destroy his sanity for good. Based on Susan Hill's novel of the same name, this movie needs to be seen as a stark warning to tread lightly in other people's affairs...Even after they've passed on. Go watch it today and just know she's out there waiting for YOU.
1. 'Black Christmas' (1974)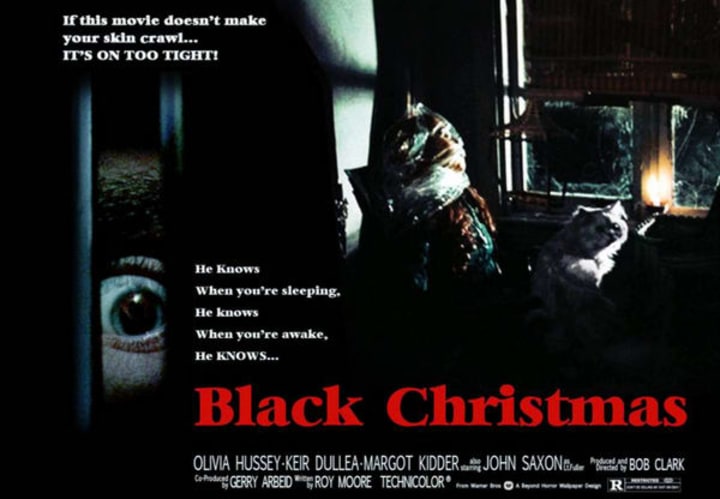 Black Christmas is one of the best Christmas slasher movies of all time and it unbelievably beat John Carpenter's original Halloween by a full four years. During the Christmas break, a group of sorority sisters are menaced by a series of disturbing phone calls from a psychopathic killer. A Genuinely creepy and original movie with an atmosphere of dread throughout. This is really a holiday MUST-SEE and has to be no 1 on everyone's list, even for posterity's sake. Also, it got a decent-ish remake in 2006's Black Xmas that you could watch back to back and terrify yourself into the early hours if you DARE.
Lastly
So that's the round-up of Christmas terror to start you off this holiday season, it may not be perfect but it's a mixed bag of shockers that's for sure. Be sure to follow my TikTok for more recommendations in the future and a few of my personal 2 sentence horror stories which are sure to send a shiver down your stocking. All that's left to say now, I guess is, merry Christmas to all and to all a good FRIGHT!