21 Creepy Movies For The Whole Family
A selection of spooky flicks to enjoy with your little monsters...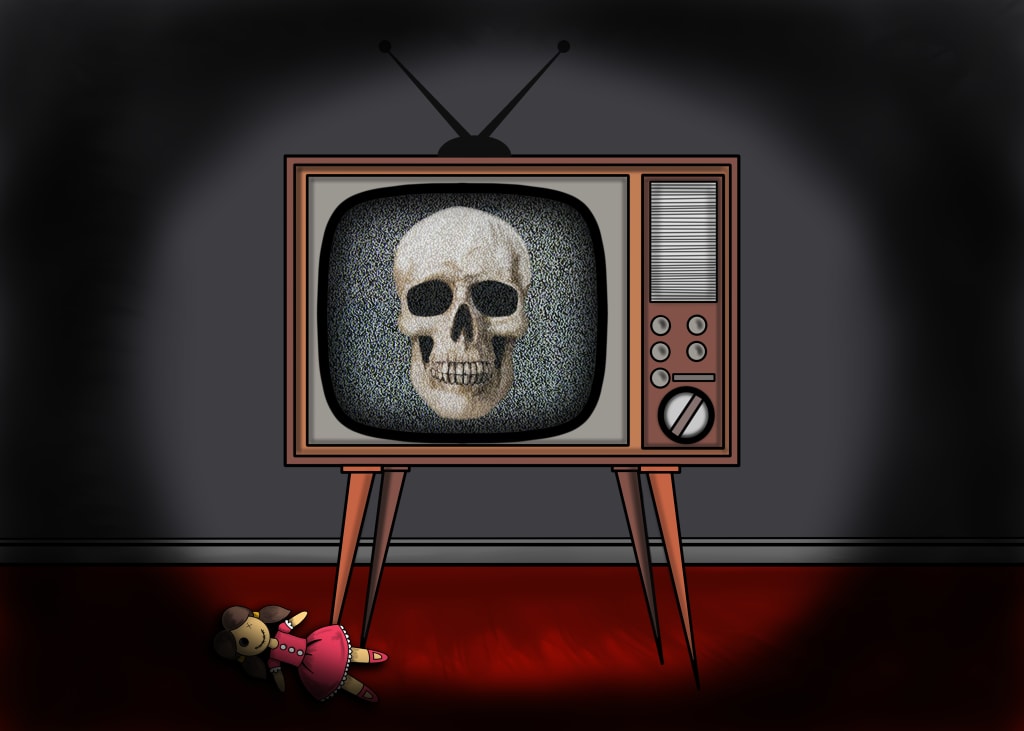 Picture by Shaun Molloy (@shaunmolloyart)
During this time of global pandemic and nationwide lock down life seems to be becoming more like a horror movie with every passing day. Parents especially may be feeling frightful with the knowledge that they somehow have to entertain their little monsters without the help of school to burn some energy and impart some knowledge.
Watching horror movies is a great way to take your mind off of the actual real world horrors that we are facing, although that might not be appropriate for little eyes. For that reason, I have put together a list of my favourite creepy movies that are suitable for the whole family.
21. Toy Story
First on the list is Toy Story. I know, I know...Toy Story is in no way, shape or form a creepy movie. It is heartwarming and happy and absolutely should not be on this list. Right? Wrong. Although for the most part it is a jolly children's movie it is important not to forget the absolute atrocities that are Sid's hybrid toys. To this day, the one-eyed baby doll head on the spider-like metal legs is the most horrifying doll-like creature I have ever seen. Step aside Annabelle and Brahms, you have nothing on this.
20. Harry Potter (1-8)
Is there a better crowd pleaser for children and adults alike? Harry Potter may not be suitable for the littlest bats in your cave however for the most part this is a good option. I still get as captivated by the world of witchcraft and wizardry now as I did when I was a kid, and the collection does involve a few good scares. Remember Aragog the giant spider and the Dementors?
19. Scooby-Doo
The 2002 Scooby-Doo movie starring Sarah Michelle Gellar begins when the gang have been separated for a while and all get individually invited to a spooky island resort and amusement park that has an odd impact on its visitors. The gang reunite and, not surprisingly, solve the mystery. I was never a super-fan of the cartoon but this movie was a childhood favourite of mine and is definitely spooky enough for a place on this list.
18. The Book of Life
A love story that spans over the land of the living and the dead, this is one of the most visually pleasing movies on this list and is beautifully unique in its style. Although not necessarily creepy, the macabre nature of the explorations of the land of remembered and the land of the forgotten are certainly in-keeping with the tone, and Xibalba is one creepy cool guy.
17. Hocus Pocus
This list would not be complete without the mention of possibly the most iconic trio of witches that have ever graced our screens. In Hocus Pocus, the Sanderson sisters are accidentally resurrected following their execution centuries earlier for practising dark witchcraft. Absolute classic.
16. Charlie and the Chocolate Factory
Although I am a big fan of the Johnny Depp led remake, I would like you to focus your attention on the original movie released in 1971. Now I would like you to cast your mind back to the eerie boat scene in the terrifying tunnel. Nightmare fuel and absolutely appropriate for this list, and that is without even considering the demise of the children visiting the factory.
15. The Witches
Based on the Roald Dahl book of the same name, a young boy encounters a coven of witches that turn him into a mouse. Anjelica Huston plays the Grand High Witch and I cannot imagine anyone else playing the part so well. She would certainly be a worthy adversary for Winifred, Sarah and Mary Sanderson.
14. Monster House
A nice and refreshing twist on your typical haunted house story. What if the house itself was a living, breathing monster? Find out in Monster House.
13. Gremlins
Here we have an absolute cult classic. It is the oldest movie on the list but that absolutely does not speak for its quality. The Gremlins are cute, mischievous and malevolent little creatures that are released to cause mayhem in town when a boy does not follow the rules of care for his pet - no water, no food after midnight and no bright lights.
12. ParaNorman
ParaNorman is about a boy called Norman (shocker) that can talk to the dead. An old curse threatens his town and he must face ghosts and zombies to put the issue to bed. This one is a fun little movie.
11. Return to Oz
This sequel to the beloved classic features something a lot more frightening than lions and tigers and bears, oh my! The hall of heads in princess Mombi's castle absolutely shook me as a child. Not to mention the absolutely awful wheeler creatures that would not look out of place in an adult horror movie.
10. The House with a Clock in its Walls
Starring Jack Black, the movie follows a young boy whose parents pass away prompting his move to live with his uncle. He soon finds out that his uncle is a warlock and is searching for a clock that was created with black magic and hidden in the walls of the house. If they don't find the clock in time, it will bring on the end of the world. Tick, tock.
9. Coraline
The story follows a young girl that is feeling neglected by her parents and finds a secret passage to a parallel universe. When she crosses the passage, she finds caring parents with buttons for eyes. However, the other universe is more sinister than it first appears.
8. Frankenweenie
Tim Burton's Frankenweenie features a boy who is attempting to resurrect his dearly loved dog that passed away. This movie is certainly aesthetically pleasing in the same way that all Tim Burton movies seem to be.
7. Corpse Bride
Unsurprisingly, we have another Tim Burton movie. After all, spooky kids movies are absolutely his thing. The tale follows Victor as he accidentally gets enthralled in the vibrant underworld on the eve of his wedding. Visually beautiful and with beautiful music, this one is a winner.
6. The Nightmare Before Christmas
Is it a Halloween movie or is it a Christmas movie? It is an all-the-damn-year-round movie. One of the most popular and most tattooed of Tim Burton's movies, this one never gets old. Don't do yourself a disservice and wait for Halloween of Christmas for it.
5. Goosebumps (1-2)
Based on the R.L Stine book series of the same name, the Goosebumps movie stars Jack Black as R.L Stine himself and also the voice behind the unsettling ventriloquist dummy, Slappy. The sequel features a different story and cast and although not as good, is still worth a watch. Another one here that may not be suitable for the teeniest witches in your coven.
4. The Haunted Mansion
A personal favourite of mine, Eddie Murphy is a realtor who takes his family to a mansion after being summoned there. When they arrive, it is apparent that Mr. Gracey is infatuated with Jim's (Eddie Murphy's) wife who happens to look a lot like his old girlfriend. Things get supernatural and super sinister pretty quickly.
3. The Addams Family (1-2)
Another absolute cult classic featuring the nations favourite spooky family, The Addams Family have captured hearts and it is clear why. If its not the passionate and dark romance between Morticia and Gomez, it is the charm of misanthropic daughter Wednesday. The Addams Family never gets old.
2. Casper
Casper the friendly ghost and his pesky uncles haunt a mansion that has been left to the awful Carrigan in a will. She hires an afterlife therapist to try and rid the building of its spirit residents so she can uncover the treasure within. He moves in with his daughter, who builds a friendship with Casper. This is such a good watch and my young self had a little cry at the end (and my adult self, who am I kidding).
1. Hotel Transylvania (1-3)
With a sparkling cast including Selena Gomez, Adam Sandler and Andy Samberg, the Hotel Transylvania trilogy features an array of your favourite monsters including Dracula, Frankenstein, mummies, werewolves, witches and zombies. These movies are beautiful and hilarious, with a catchy tune or two.
This collection is certainly not exhaustive and there are plenty more spooky movies you could watch with your little demons. Of course, if you don't have kids don't let that stop you. Maybe adult horrors are a bit too much for you or maybe you believe childless adults should not miss out on all of the fun these movies have to bring, and I completely agree. However old you are, enjoy the spooky things in life.
I would love to hear what you would have included on this list! You can send your suggestions my way at @curiouslycreepy on Twitter. Stay creepy and curious, ghouls.