13 Horrible Sexy Halloween Costume Ideas for 2019
Sexy Halloween costumes are bad enough as it is, but these questionable ideas for All Hallows' Eve outfits should be avoided at all costs.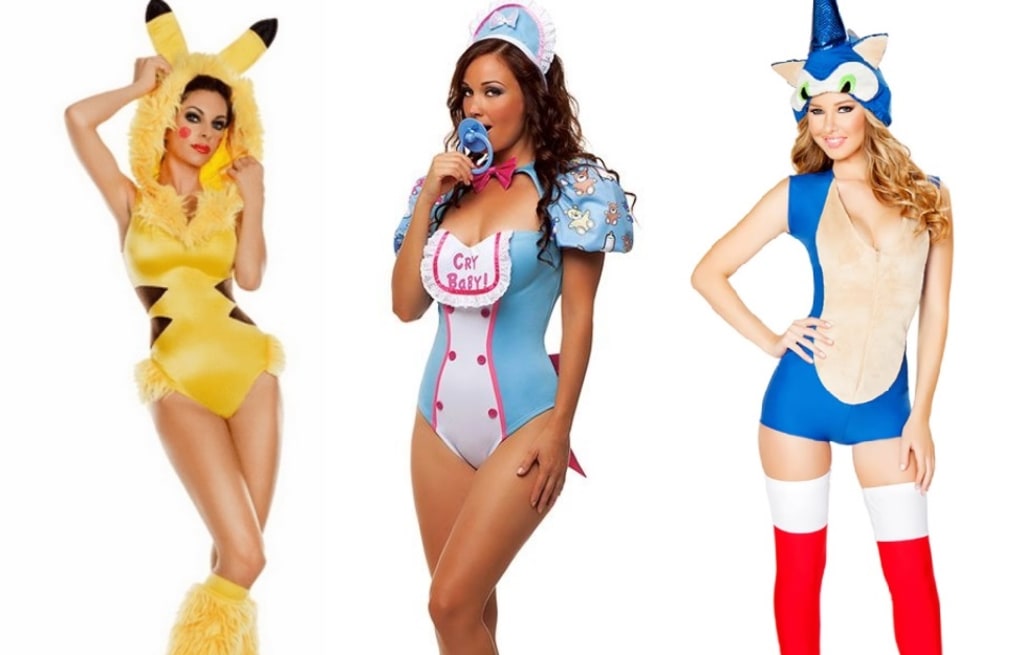 According to Starbucks, it's officially Pumpkin Spice Latte season, so you know what that means: It's time to spend the next two months injecting that mildly spiced sugary syrup and espresso into your veins so that you can spend your fall nights crafting the perfect sexy Halloween costume.
Halloween costumes that reference pop culture in different ways are always all the rage, as are the revealing "sexy" costumes that get more and more ridiculous with each passing year. Companies love coming up with questionable costume ideas that they know will generate headlines, like the sexy Donald Trump, sexy "Fake News," and sexy Slenderman offerings of recent years. However, you don't have to rely on corporations to produce horrible Halloween costumes for you; here you'll find a few truly terrible and terrifying DIY ideas for sexy costumes inspired by the things that fascinated us in 2019. But beware: The costumes on this list really shouldn't be worn anywhere.
Sexy Pizzadilla
Twitter can sometimes be one of the most terrifying places on the web, as evidenced by the melted, oozing monstrosity that is the Pizzadilla. A video of the construction of the crazy culinary concoction went viral recently, and it soon became clear that it was the most disturbing horror movie of the year. As one Twitter user put it, the recipe video had "more surprise twists than an M. Night Shyamalan movie."
It begins harmless enough, with chicken being seasoned and shredded. However, you might become a bit queasy when you see the amount of bottled BBQ sauce that's added to the pulverized poultry. But you'll really lose your appetite when the breading, frying, and pizza-fying begins.
As luck would have it, Yandy, the industry leader in questionable Halloween costumes made from as little material as possible, already sells a sexy pizza slice Halloween costume. All you need to do to turn it into a Pizzadilla is glue some sawdust or gold glitter on the sides for breading, along with some brown shredded tissue paper or cloth to be the pieces of barbecue chicken oozing out. Complete your look with a pair of white thigh-stockings dotted with black spots to represent the seasoned mayo and sour cream dipping sauce that's supposed to be served with the repulsive mutant meal.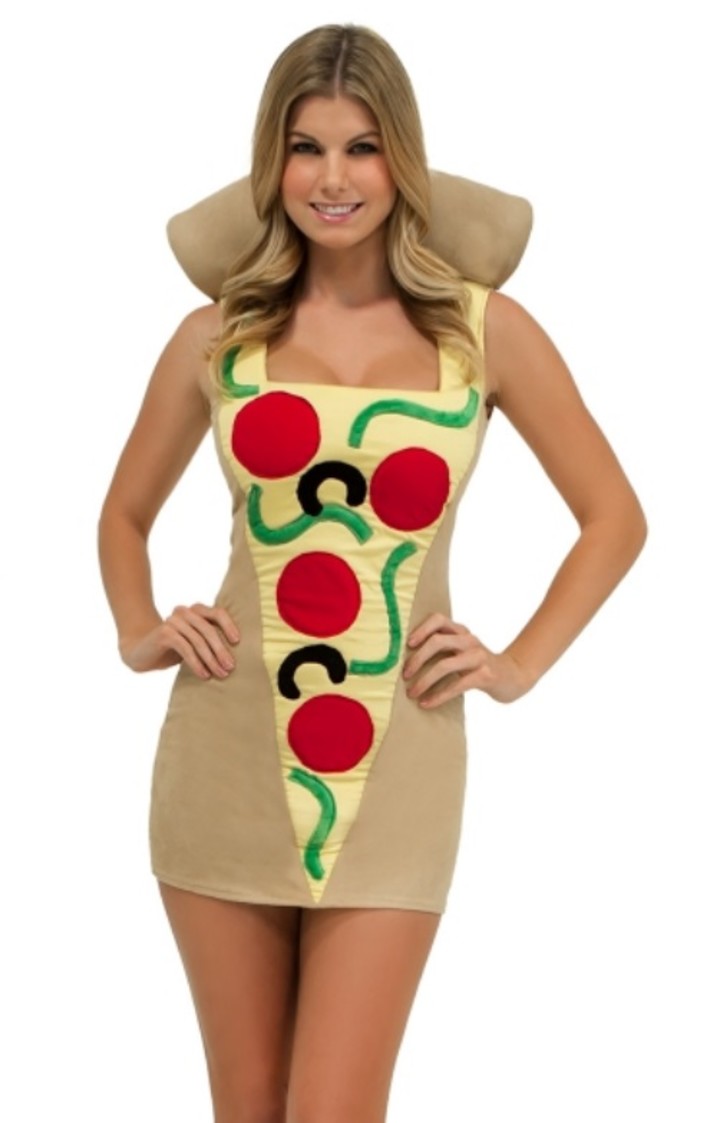 Sexy Forky from 'Toy Story'
Sadly, it's becoming commonplace for Halloween costume stores to sell sexed-up versions of characters from movies and cartoons aimed at kids; there are already adult costumes based on beloved animated characters from Spongebob Squarepants, Sesame Street, and various Disney movies.
I haven't found a Sexy Forky yet, but you can dress up like a living sex doll created by Sid the sadistic toy torturer by rocking the mask from the official Forky costume for kids and trading the rest of the outfit for something more revealing. Just slip on a white body stocking and a pair of red evening gloves to represent Forky's bright pipe cleaner arms. For his popsicle stick feet, complete your look with a pair of high-heeled wooden wedges.
If you don't want to invest in the Forky mask, you could always try fashioning yourself a spork crown out of a headband and a white Styrofoam plate and painting your face instead.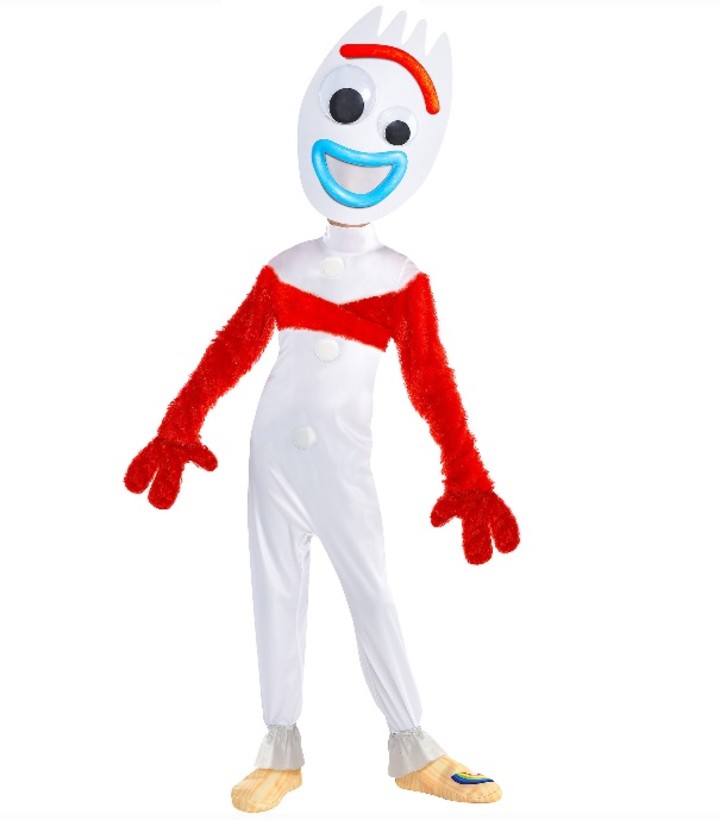 Sexy Sonic The Hedgehog with Teeth
If dressing like a spork suffering from an existential crisis isn't spooky enough for you, try creating a costume based on this blue abomination. The internet was horrified when the trailer for the live-action Sonic the Hedgehog movie was released at the end of April, with many fans of the super fast Sega Genesis character complaining that his human-like teeth were downright disturbing. The backlash was so massive that director Jeff Fowler eventually announced that Paramount Pictures had made the decision to completely redesign the character.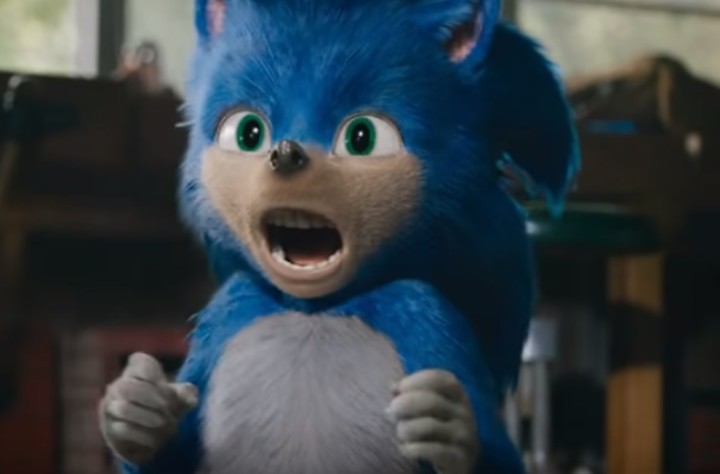 If you want to dress up like a sexed-up version of the mutant hedgehog that became an internet meme, you're in luck; Sexy Sonic the Hedgehog costumes are already a thing. Just take your pick from the options available, shove a pair of big fake teeth in your mouth or rock a latex mask like the one below, and you're good to go.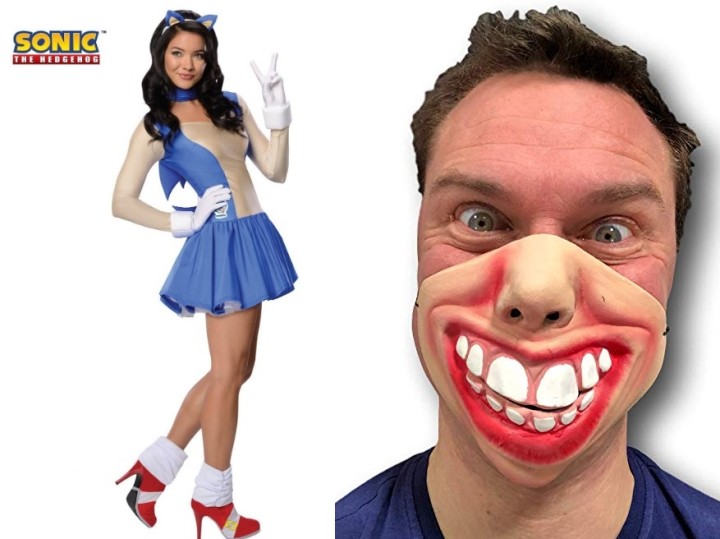 Sexy Cheesed Baby
Dressing up like a streetwalker who still sucks her thumb will undoubtedly attract the wrong kind of attention, but sexed-up baby costumes for adult women do exist. They might be cringe-worthy, but they will help you pay tribute to one of the most bizarre viral internet "challenges" of 2019. For some reason, young parents obsessed with social media decided that it was absolutely hilarious to throw slices of cheese at their babies' faces, an act that they filmed in hopes of scoring likes and retweets.
All you have to do to pull off a horrible Halloween costume inspired by the cheese challenge is to slip on one of the aforementioned sexy baby costumes and slap a Kraft single on your forehead. Or, if you want to make your costume interactive, carry around a diaper bag full of slimy cheese slices for fellow revelers to throw at your face.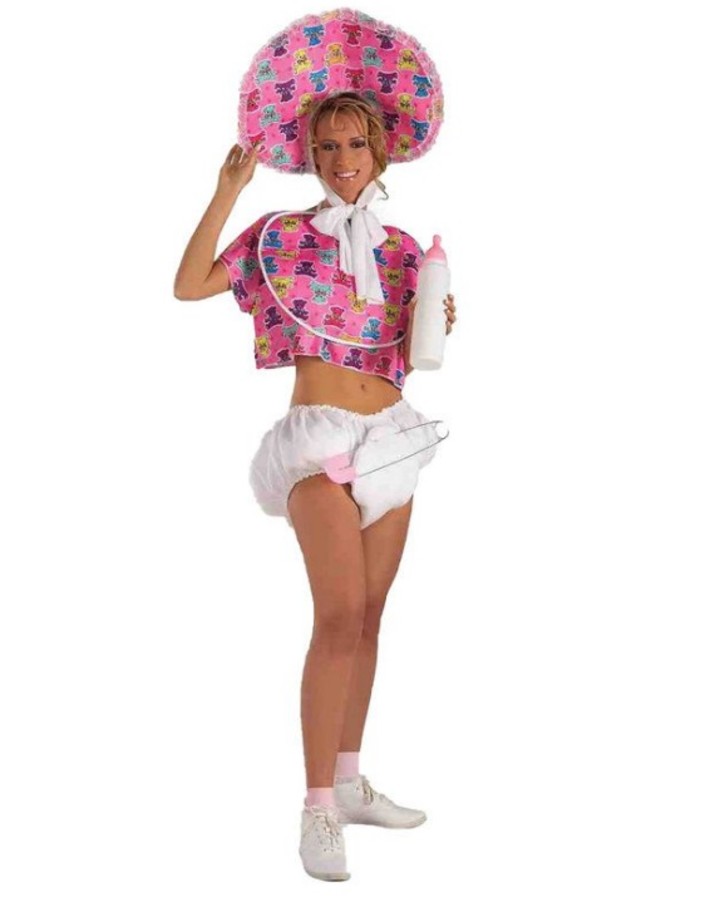 Sexy Popeye's Chicken Sandwich
If you're really into wearing food, here's another fun Halloween costume that's a bit more appetizing. This one is inspired by the chicken sandwich that took America by storm in 2019, a divine culinary creation that gave those of us who can't stomach Chick-fil-A's hateful politics a spicy and saucy reason to celebrate during these trying times.
I've found a few different hamburger swimsuits like the one pictured below that could easily be transformed into sexy chicken sandwiches. All you need to do is create a belt of Popeye's chicken tenders by stringing them together around your waist, making sure that the edible accessory covers up the beef portion of the bathing suit. As an added bonus, you'll smell so good that you won't have to wear perfume. Just beware: You'll end up leaving grease stains everywhere you sit, and you might get confronted by Chick-fil-A fanatics who disagree with your excellent taste in fast good chicken.
Sexy "Smirnoff" from 'Stranger Things'
The creators of Stranger Things had to have all that sweet Halloween consumer cash in mind when they came up with the sailor costumes that Steve and Robin wear at Scoops Ahoy, but the breakout character from Season Three of the popular Netflix series was most definitely Russian scientist Alexei, Hopper's cartoon-loving comrade who he so affectionately dubbed "Smirnoff."
To dress up like a hotter version of the childlike geek who did such an excellent job of messing around with Jim and getting under his skin, you'll need a tight white button-up shirt with a front pocket, a nerdy pair of aviator glasses, a pair of khaki booty shorts, a stuffed Woody Woodpecker doll, a curly brown wig, a black front pocket wallet with a clip, a pair of black high heels, and a red Slurpee (just make sure it's cherry, damn it!). You can also accessorize your look by adding a pair of handcuffs to your ensemble, and you can sex up your costume even more by tying up your shirt to reveal a faux bullet wound on your belly.
Alexei might seem like an odd Stranger Things character to use as inspiration for a so-called "slutty" costume, but at least this idea isn't as awful as the sexy Eleven Halloween costume that already exists.
Sexy Bottle Cap Challenge
Speaking of Smirnoff, you might be able to find a sexy vodka bottle costume to use for this interactive idea inspired by a simple viral challenge that had internet users trying to kick the caps off of various bottles without knocking them over.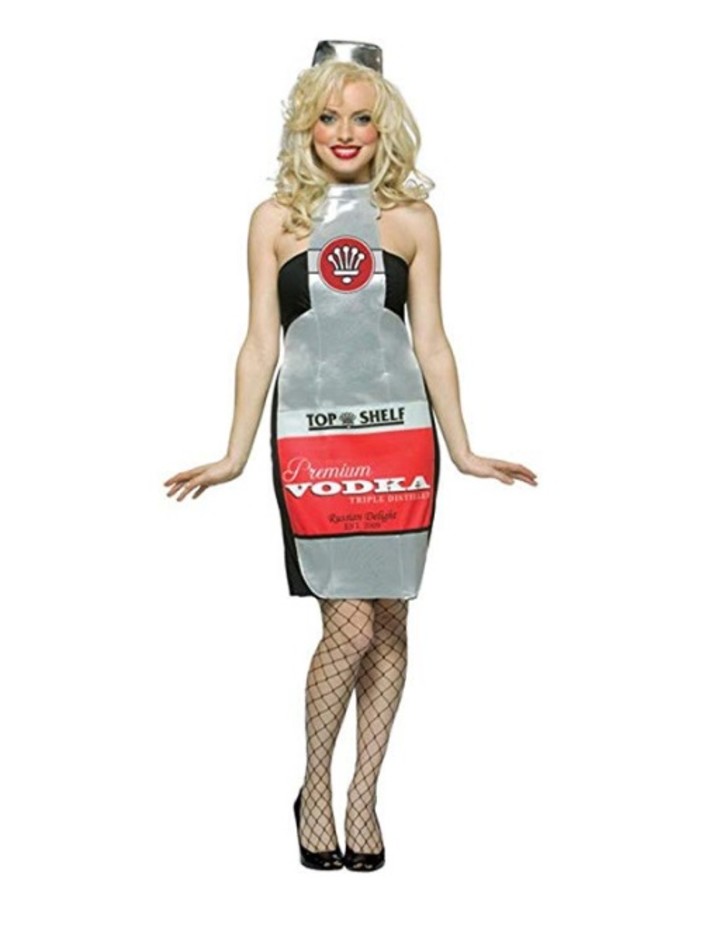 For this costume to work, you would have to go around asking people drunk on pumpkin ale to aim roundhouse kicks at your head in hopes of knocking the bottle cap hat off of your noggin. This is a bad idea because you're much more likely to end up taking a foot in the face. But like I said before, this is a list of horrible Halloween costume ideas.
Sexy Juuling Sansa
Actress Sophie Turner is one of the many celebrities who took part in the bottle cap challenge, and she also inspired her own viral meme when she was photographed puffing away on a Juul on the Game of Thrones set.
Non-licensed sexy Sansa Stark Halloween costumes are as easy to find as a modern-day drinking container in a Game of Thrones episode, as long as you get creative with your search terms (think along the lines of "Seductive Winter Wolf Lady"), but adding a Juul to your knockoff costume will elevate it by making it comedic.
Unfortunately, vaping has recently been linked to an epidemic of a mysterious lung ailments, so maybe we shouldn't be laughing at the Queen of the North's dangerous vice.
Sexy Detective Pikachu
My knowledge of Pokemon is limited, but it kind of seems like a bunch of weird dudes might spend all night trying to "catch" you if you wear one of the many sexy Pikachu costumes that are already available (it's really shocking just how numerous they are). Luckily for fans of the Detective Pikachu movie, there's also no shortage of hottie Sherlock Holmes costumes out there, so you can combine the two to create this costume that elevates every gamer's favorite little yellow guy from a cute creature that must be possessed to a crime-solving mastermind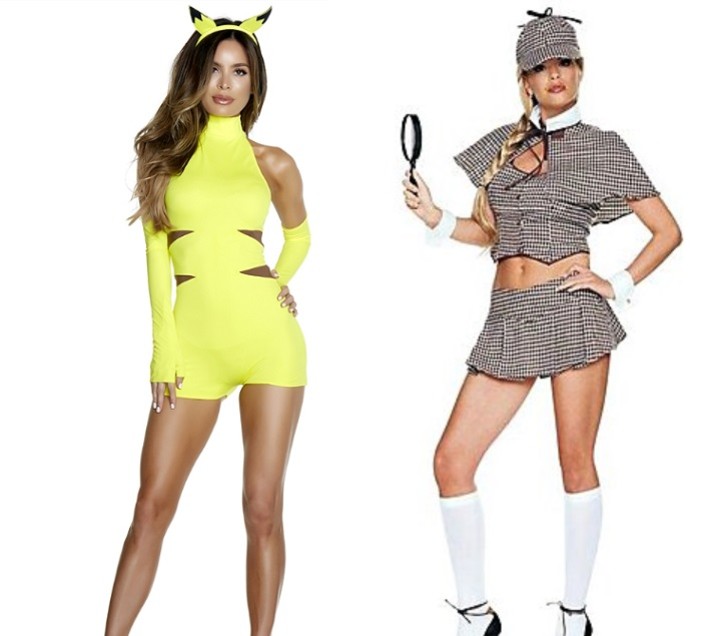 Sexy Bird Box
I hated the Bird Box movie so much that I had to include a costume inspired by it on this list for the simple fact that it will remind me that this horrific horror film exists. To pull this look off, all you need is a sexy bird costume and a large cardboard box that you can cut two holes in: one for your neck and one for your torso. You'll also want to cut slits near the holes to make it possible to slide the box on over your body, leaving the open side facing forward so that your costume is visible. Depending on the size and shape of the box, you may also need to cut arm holes in it.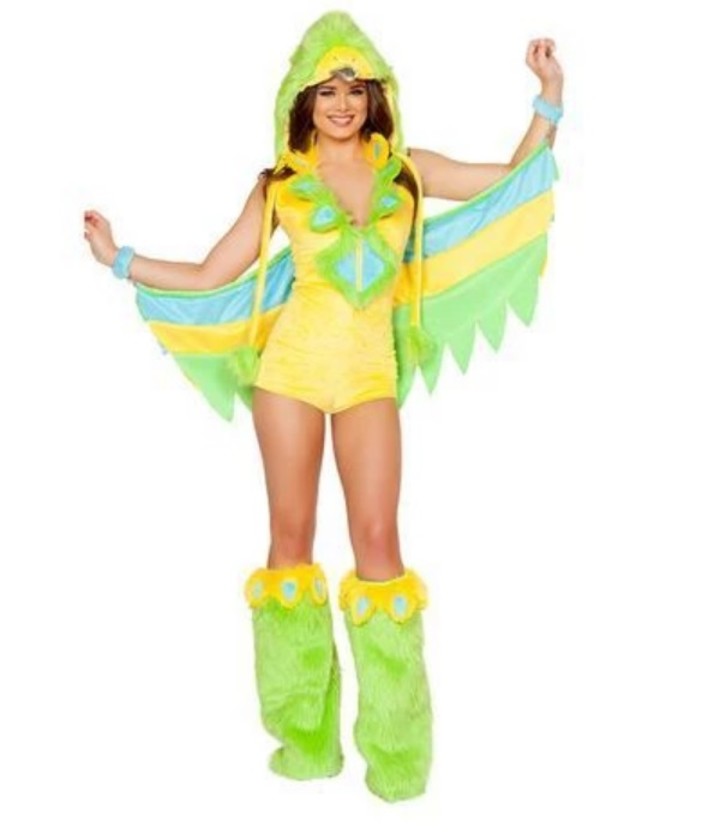 Complete your look with a blindfold that will save you from having to see all the other horrible sexy Halloween costumes around you.
Sexy Charles Manson
It's weird how easy it is to find a sexy inmate Halloween costume, because nothing is hotter than committing crimes or serving time for one that you did not commit (next time you see a girl dressed up like a prisoner in a porno for Halloween, ask her what she's in for).
But instead of dressing up like a nameless murderer, arsonist, identity thief, or embezzler, why not pay homage to a real criminal? Charles Manson is currently having a moment, thanks to actor Damon Herriman's portrayal of the cult leader in two different projects: the addictive Netflix series Mindhunter and Quentin Tarantino's latest movie Once Upon a Time in Hollywood. However, it may not be the best idea to walk around with a swastika etched on your forehead; in addition to looking like a Nazi and a Manson admirer, you'll probably spend all night getting hit on by MAGA acolytes.
Sexy Kim Jong Un
Speaking of Donald Trump, America's wannabe dictator already has his own sexy Halloween costume, so why doesn't our Dear Leader's BFF from North Korea share this honor? It's really sad that I was surprised to discover that a sexy Kim Jong Un Halloween costume doesn't already exist, but there are numerous non-revealing options available for men. You might try rocking a mask featuring the Rocket Man's likeness and wearing just the gray utilitarian jacket from one of these costumes, pairing it with a pair of gray booty shorts and gray, thigh-high stockings instead of pants. Complete your look by placing a love letter to or from Kim Jong Un's president pen pal in your front pocket, making sure to cover it with plenty of little hearts. And if you have a really brave friend, you can ask her to dress up like the sexed-up version of the murderous authoritarian's biggest admirer.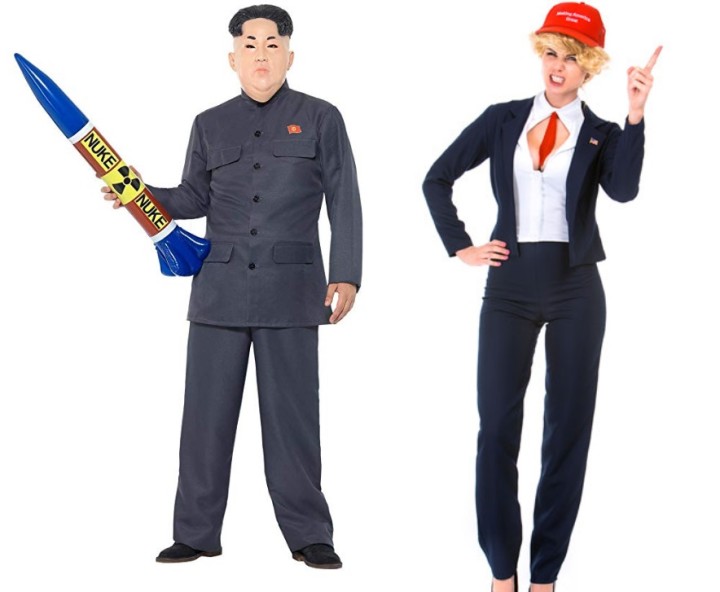 Sexy Burning Hunchback of Notre Dame
Gender-bending sexy costumes for women based on male Disney characters are quite popular, with options including "Sassy Peter Pan" and "Tipsy Hatter" costumes. I couldn't find a "Quasimodo Cutie" costume, but all it would take to dress up like the Hunchback of Notre Dame is a short green tunic dress with a pillow stuffed in the back.
I know it's so, so wrong to poke fun at France's loss of centuries of history, but you might get a few laughs by adding some fake flames to your hot Hunchback costume, a reference to the fire that destroyed part of the Notre Dame Cathedral earlier this year. Let's just hope that Quasi doesn't burn in Disney's live-actionHunchback of Notre Dame movie that's currently in the works.
So from the silly and strange to the sadistic and twisted, the sexy Halloween costumes on this list really shouldn't be worn by anyone.