10 Netflix Originals Perfect for Halloween Night
#BestOfNetflix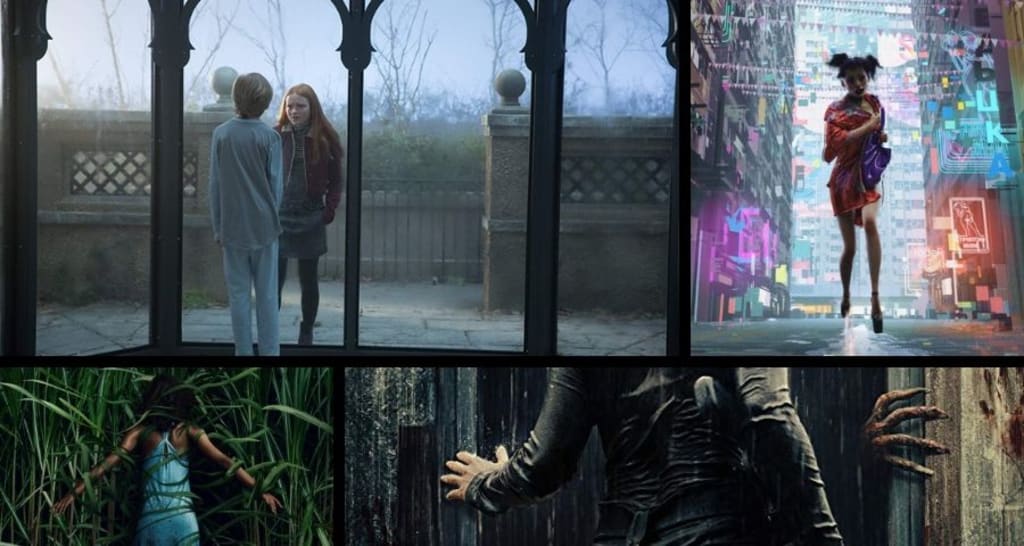 Since I'm too old to go trick or treating now... I usually find myself watching a horror movie to celebrate October 31st. I also don't want to pay extra for my night in. Which is why I felt the need to make a list of 10 Netflix exclusive Horror movies (okay, it's mostly movies, there are also a couple of t.v. shows and a collection of short stories from different animators). The good news is that these are all Netflix Originals! So no matter what country you are in, these titles should be available to you on Netflix. Hope you liked to get scared. Happy Halloween!
1. 1922
"A simple yet proud farmer in the year 1922 conspires to murder his wife for financial gain, convincing his teenage son to assist. But their actions have unintended consequences."—IMDb
1922 is based on a Stephen King novel, the King of horror. While not all Stephen King Novels are loved... this one scored a high 90 percent critic score on Rotten Tomatoes.
2. Slasher

"An anthology series featuring rampaging serial killers leaving carnage in their wake as their next victims fight to stay alive."—IMDb
Not all horror movies get great reviews like Slasher did. It stands pretty high on the list with a 70 percent critic review and a 77 percent audience review on Rotten Tomatoes.
3. In the Tall Grass

"After hearing a young boy's cry for help, a sister and brother venture into a vast field of tall grass in Kansas but soon discover there may be no way out...and that something evil lurks within."—IMDb
In the Tall Grass is an oddly entrancing movie based on a Stephen King novel. I'll warn you this, trying to understand the paradox in this movie may mean watching it twice.
4. Apostle

"In 1905, a drifter on a dangerous mission to rescue his kidnapped sister tangles with a sinister religious cult on an isolated island." - IMDb
Apostle may not have done well with it's audience reviews... but it still stands tall with an 80 percent critic score on Rotten Tomatoes.
5. Ghoul

"In a totalitarian near-future India, a mysterious prisoner is sent to a remote military interrogation center where he turns the tables on his captors by exposing their most shameful secrets and unleashing a demon from Arabic folklore."—IMDb
Unlike the other titles, Ghoul isn't a movie but a mini t.v. series. It follows a strong female protagonist as she explore the darkness around her.
6. Love Death and Robots

"A collection of animated short stories that span various genres including science fiction, fantasy, horror and comedy."—IMDb
Love, Death and Robots is like no other recommendation on this list. It's not a movie ... but it's not quite a show either. It is a collection of several different stories by several different artists. If I were to personally recommend one thing on this list above all else ... it would be Love, Death and Robots.
Featuring—"The Witness"

"After seeing a brutal murder, a woman flees from the killer through the streets of a surreal city."—IMDb
"The Witness" is one of the short animations in Love, Death and Robots, and if you watch them all... "The Witness" is certainly one of the most remembered of the collection. If you want to jump ahead and watch the "The Witness" first, it's the third episode in Love, Death and Robots.
"The Witness" has won several Primetime Emmys including 'Outstanding Individual Achievement in Animation' for the character animator David Pate, 'Outstanding Short Form Animated Program' and 'Outstanding Short Form Animated Program' for the background designer Jun-Ho Kim.
7. Eli

"A boy receiving treatment for his auto-immune disorder discovers that the house he's living in isn't as safe as he thought."—IMDb
This movie is perfect for a good Halloween scare ... especially since some "viewers of Netflix's new horror Eli claim to be seeing demons" after watching the film" according to an article by NME.
If you are all caught up on your Netflix movies and shows, then Eli is probably the movie for you. It was recently released and is shot in the same house as The Haunting of Hill House. Which if you by chance haven't seen yet ... it is also amazing!
8. Requiem

"When her mother commits suicide, a cellist's life is turned upside down by mysterious questions raised about her past."—IMDb
Also a TV show and not a movie. Requiem has fair reviews, not overly impressive ... but not terrible either. It scored a 75 percent critic score and a 61 percent audience score on Rotten Tomatoes.
9. Hold The Dark

"After the deaths of three children suspected to be killed by wolves, writer Russell Core is hired by the parents of a missing six-year-old boy to track down and locate their son in the Alaskan wilderness."—IMDb
Hold The Dark not only has an awesome, title but it also scored a 72 percent critic score on Rotten Tomatoes... too bad for it's 31 percent audience score though.
10. Kuntilanak

"A group of kids agree to explore an abandoned house in order to win a reality show contest, which requires them to prove that the stories of the evil Kuntilanak are real. They soon discover that the ghost is very much real when it appears from an old mirror and starts haunting them."—IMDb
I'll be honest, Kuntilanak only scored a 4.6 out of 10 on IMDb ... however, if you want a classic horror movie with lots of disturbing imagery... this is the movie for you!
Work Cited
Capon, Tom. "Netflix Trailer for Disturbing New Horror Film Eli Leaves Fans 'Scared to Turn Lights off' as Boy Strapped down and Terrorised by Ghosts." The Sun, The Sun, 4 Oct. 2019, www.thesun.co.uk/tvandshowbiz/tv/10065729/netflix-eli-ghost-movie-terrified/.
"Love, Death & Robots." IMDb, IMDb.com, www.imdb.com/title/tt9561862/awards.
"Movies: TV Shows: Movie Trailers: Reviews." Rotten Tomatoes, www.rottentomatoes.com/.
"Ratings and Reviews for New Movies and TV Shows." IMDb, IMDb.com, www.imdb.com/.
"See What's next." Netflix, www.netflix.com/.
Skinner, Tom. "Viewers of Netflix's New Horror 'Eli' Claim to Be 'Seeing Demons' after Watching the Film." NME, NME, 22 Oct. 2019, www.nme.com/news/film/viewers-of-netflixs-new-horror-eli-claim-to-be-seeing-demons-after-watching-the-film-2559864.