10 Haunted Hot Spots to Visit in Michigan
From rickety bridges to abandoned mental institutions, these are the spookiest sites to see in the Mitten State.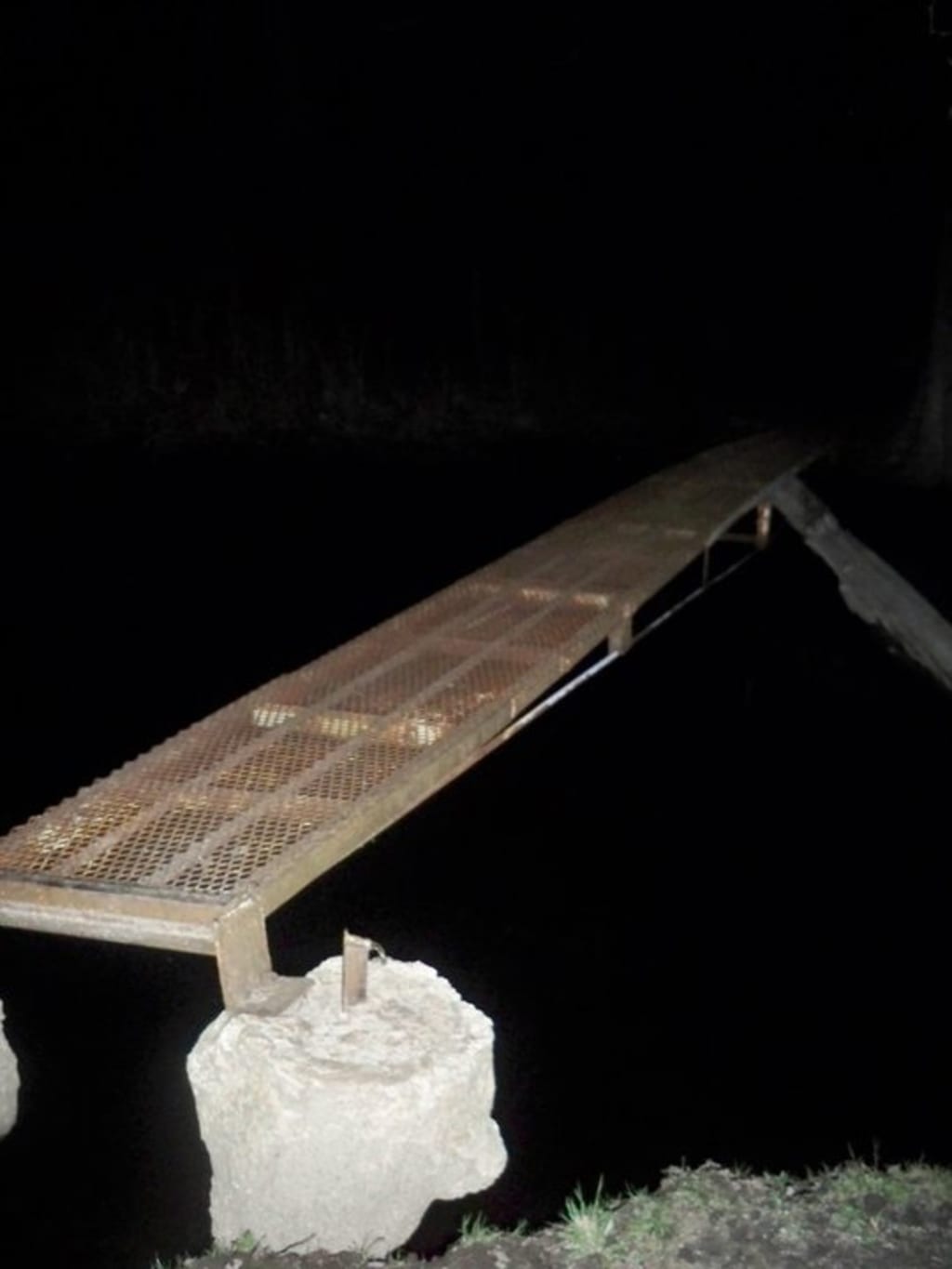 Are you a native Michigander looking for a little bit of freaky fun? Or are you just passing through our beautiful state? Either way, if you have a vested interest in the paranormal, here are some of Michigan's weirdest reputedly-haunted locations to add to your "must-see" list.
10. Hell's Bridge
My paranormal investigation team began investigating Hell's Bridge back in 2009. This rickety, old, steel bridge, found deep in the woods in Algoma Township, has a legend behind it that, although unsettling, seems to have no historical validity. But it's worth repeating
Back in the mid-1800's, in the town of Laphamville (now known as Rockford), there lived a man named Elias Friske. When some of the town's children started going missing, Friske preached fire and brimstone that the devil was behind it and even helped the townspeople organize a search party to find the children. Legend has it that Friske took some of the remaining children and made them bind themselves in a line to a rope to go on the search with him. However, he started leading them away from the adults, and they made the trek all the way up to what is now known as Hell's Bridge. (The bridge pictured in the photo is "Hell's Bridge", but it certainly was not there in the mid-1800's. Steel foot bridges were unheard of back then, and this bridge was likely put in for hunters, as it sits on public hunting and fishing ground.)
Once Friske got the children to the bridge, he tied them to the massive tree that stands next to the bridge and began murdering them viciously one-by-one while the others watched. One group of searchers heard the children crying and screaming, and, as they had gotten off-track, were able to rush to the scene. But it was too late. Friske finished off the last child and dumped its body into the river, taking off as the group approached. Some of the men in the party were able to capture Friske and made him explain what he had done. Without a fair trial (hey, they had caught the killer), they persecuted Friske and sentenced him to death by hanging (either from a bridge or the tree where he had tied up the children; the story is ambiguous in this area). Friske swore up-and-down that a demon had made him slaughter the children, but that mattered little to the devastated villagers. He was executed on the spot.
With a legend that has no solid historical backing (believe me, after hours sifting through records, there is nothing to indicate that Elias Friske even existed), why should it be included on this list?
Two words: Personal experiences.
From rope burns around the neck to scratches and bruises randomly showing up on the skins of visitors, from electronic voice phenomena (EVPs) of children's voices to reports of disembodied footsteps coming down the trail toward the opening where the bridge is located, there is no shortage of claims made by those who have visited the bridge.
9. Mouth Cemetery
Mouth Cemetery is a difficult-to-find little cemetery located in Montague. Its only real claim to fame is that it sits atop land located near scientist-philosopher Joseph Sadony's old stomping grounds, The Valley of the Pines.
Joseph Sadony was, and still is, a highly revered resident of Montague, best known for his remarkable spiritual abilities. Many would call him a "clairvoyant" or a "psychic", although Mr. Sadony might have preferred other terms. He sought to scientifically study his abilities and did so from his lab located near the cemetery.
Before Sadony staked his claim, however, Montague was a lumbering village. For about four decades, the village thrived, but as soon as the lumber business hit a decline, so did the town. The area was also home to some rather notable characters, some of whom are directly connected to the cemetery.
Captain Robertson and his wife are two such figures, both of whom are buried in Mouth Cemetery. Both are said to haunt the cemetery, and it is not uncommon for visitors to place copper pennies (or a golf ball, as I discovered during a visit) on their graves.
There is one legend tied to Joseph Sadony himself. It is said that, if you sat in Sadony's chair (which has long since been removed), you might suffer the same fate as a high school boy named Troy Lohman. It is said that, after sitting in the chair, Lohman was killed in an auto accident a short time later.
Although the chair is gone, visitors to the cemetery have reported some bizarre experiences. Batteries rapidly drain, cries can be heard, and a young girl in a white dress has reportedly been seen.
8. Traverse City State Hospital
Back in the late 19th century, before the advent of outpatient mental health care, those deemed "abnormal" by society's standards could be placed in a mental hospital. Even with the push for Moral Treatment, as urged on by architect Thomas Kirkbride, there were unethical and inhumane practices that left lasting imprints on the asylums and their patients and staff.
One such hospital is the Traverse City State Hospital. Opened in 1885, this Kirkbride building was supposed to embody the moral discipline given to patients. Kirkbride believed that large, open spaces with plenty of light and opportunities to work and leisure could help alleviate patients' symptoms. That's why the hospital was constructed on such a grand scale.
Traverse City State Hospital was operational for over a hundred years, finally closing its doors in 1989 amid budget cuts and the surging popularity of prescription drugs to treat mental disorders.
While its living occupants were shown the door, the deceased are rumored to still reside there. Word-of-mouth has it that religious items brought onto the premises mysteriously vanish. Some visitors report having been chased by spectral figures, hearing disembodied screams, and lights turning on in patients' rooms when there was no electricity running through the buildings.
Today, some areas of the hospital have been revamped and are open to the public. However, you can still encounter sad reminders of a past riddled with abuse and neglect of patients.
7. The Felt Mansion and the Melon Heads
Parents in the Saugatuck area used to scare their kids with tales of the Melon Heads. (I'm sure some still do!) The story has it that these kids (who supposedly suffered from hydrocephalus, a rare and chronic disease that causes cerebrospinal fluid to collect in the brain, leading the top of the head to become enlarged) lived near the Junction Insane Asylum (which is more of a legend than anything) near Felt Mansion.
These children were reportedly subjected to inhumane and deadly experiments before being released into the woods and living as feral children. The children are said to have actually killed the demented doctor who experimented on them and consumed his flesh.
For more insight into the Melon Heads legend, check out the Conspiracy Therapy podcast and their episode on this creepy topic.
As for Felt Mansion itself, let's revisit with an old blog entry I wrote on the location:
This is the Felt Mansion, located in Saugatuck State Park, Michigan. The mansion was built in 1925 by inventor millionaire Dorr E. Felt for his wife Agnes, who died of a stroke in her bedroom shortly after the mansion's completion in 1928. The Felt family kept the property until 1948, when they sold it to the St. Augustine Seminary. The Seminary added a few buildings during the 60s, but they closed and sold the land in the 70s due to low enrollment. The land passed to The State of Michigan, which turned the large school into a minimum-security prison and the home itself into a State Police Post and office/storage space for the prison. After the prison died out, the township purchased the land with the idea of razing it (due to asbestos) and keeping the mansion and grounds for public use.
There are several cave-like features in which it is said that Dorr Felt kept wild animals (such as bears) for his own menagerie. There is an area where he kept his eagle.
There are a few underground tunnels Felt had built for storing food, fuel, and an underground bunker. They run through the mansion and the lower areas to the east and south of the mansion.
In the old asylum, the cells are said to be boarded up and glass windows seem to be broken from the inside.
It's said that the spirit of Agnes remained at Felt Mansion after she died. Dorr Felt remarried, and it's said his new wife didn't like spending time in the house because of Agatha's restless spirit. Doors open and close by themselves in Agnes's room. Disembodied voices have been heard. Orbs and mists have shown up in many photographs. Many people believe the spirits of Agnes and Dorr E. Felt are still in the mansion. The ballroom is supposed to be a major hot spot for paranormal activity.
6. The Town of Ypsilanti
Ever get the impression that an entire town might be haunted? You might if you have been to Ypsilanti. Located near the bustling college city of Ann Arbor, Ypsilanti has a charming, rustic vibe to it. The old buildings have character, so it is easy to imagine that there are ghosts living within their walls.
The former Ypsilanti Ladies' Library at 130 North Huron Street was the Starkweather family homestead starting in 1858 and was, upon Mary Anne Starkweather's death in 1964, turned into a library. It was later turned into an office. However, people who have visited and worked in the building swear that Mary Anne is still walking the upper halls and creates disembodied footsteps that employees have heard after hours when no one else was supposed to be in the building.
Then there is the grounds of the former 690-acre Ypsilanti Regional Psychiatric Hospital, which was razed and bought out by Toyota. While the original structure was still standing, people claimed to hear strange moans coming from within.
Denton Road, which runs vertically smack-dab between Ypsilanti and Canton, is said to host bizarre blue lights that flash all over the road after nightfall. Legend has it that, should you turn off your car's engine and get out, you'll hear chains or pipes clanging in addition to strange growls.
Finally, there are two strange stories involving murders that both took place along Geddes Road. The first has to do with a spectral nurse who was reportedly murdered and dumped alongside the road. Rumor has it she will disappear from sight in your rearview after you pass her.
The other case is directly connected to the Ypsilanti Ripper, John Norman Collins, who brutally killed female students from the University of Michigan and Eastern Michigan University from 1967 to 1969. This guy actually had the gall to show up at the funeral parlor and ask to have his picture taken with one of his victims!
Collins likely murdered one of his victims (there were eight in all), Dawn Basom, at a barn belonging to an abandoned farmhouse on Geddes and LeForge roads. He set the barn ablaze at roughly 3:17 AM. Dawn's body was found on April 17, 1969 along Gale Road, roughly one mile from the barn.
It is said that car trunks will mysteriously pop open while driving down the stretch of road where Dawn was murdered and that you will see an apparition of the old barn and of Dawn herself.
5. Eloise Insane Asylum
From 1832 to 1979, what eventually became known as Eloise Insane Asylum housed the poor and mentally disabled. Thousands passed through her doors during this time, and it is certain that many of them never left. Just look at the cemetery and its rows of numbered headstones. It is said that there are many restless spirits still living on the grounds. (For a more in-depth look at the history of Eloise, go here.)
Today, Eloise functions as condominiums and a strip mall. But in the 1920s, Eloise was at the peak of its popularity, housing over 10,000 patients and 2,000 staff members. Prior to its recent renovations, those who explored the premises reportedly found glass jars with human body parts, remnants of directions for bizarre medical procedures, and even heard disembodied cries and groans. There have been a few reports seeing a woman in white on the upper floors and roof.
4. The Town of Shelldrake
Shelldrake isn't so much a town as it is a ghost town. Situated about eight miles south of Whitefish Point in the scenic Upper Peninsula, Shelldrake is said to be derived from the Ojibwa "Anzigo-ziibi" and was first a Native American fishing area and served as a pathway to Vermillion Point, where red ochre (used for painting) could be gathered from the mines.
Of course, settlers made their way in, and by 1890, Shelldrake was a bustling little sawmill town that housed its workers. When the lumber industry took a hit, so did Shelldrake; It was eventually sold to private owners in the 1930s under the assumption it would be developed into a resort town. The resort development never came, and Shelldrake is now a privately-owned ghost town with a few antiquated buildings left standing.
This setting makes for some great ghost stories. The ghost of an older captain has been seen on the dock, looking out into Whitefish Bay. Lights come on and off and shades move on their own in the Palmer House, and a glowing specter has reportedly been seen at night in the windows of the Hopkins House.
The Smith House is said to be haunted by a logger with a long beard and clad in overalls. Additionally, the Biehl House is apparently home to a ghostly lady in a blue veil who passes by visitors without uttering a word.
3. Mackinac Island
Mackinac Island is one of Michigan's biggest tourist destinations and, as some say, the final destination for many lingering souls. This small island is, of course, only accessible by boat, and vehicles are not allowed to drive on its four square miles. You can, however, walk along its roads and pathways and get the sense that you have traveled back in time.
Two battles were waged here during the War of 1812, and by the middle of the 19th century, fishing took over from the fur trading industry. In the 1890s, the federal government decided to leave the island, and in 1895, it became Michigan's first state park.
The military fort on the island—built by British forces—was set atop an old Native American burial ground and saw its fair share of deaths. The luxurious Grand Hotel is also said to be haunted and, during its construction, crews found human remains in the soil where they were digging the foundation. A black mass with menacing red eyes has reportedly been seen in its theater and attacked a maintenance worker, who decided to never return to work afterward.
There is a lagoon known as The Drowning Pool between Mission Point and the downtown area that is supposed to have been the spot for drowning witches in the 18th and 19th centuries. Seven women were accused of practicing witchcraft, and all were drowned. Their dark figures have been spotted floating near the surface of the water.
A number of other buildings and areas around the island are said to be haunted. Just ask the locals and seasonal staff.
2. Nunica Cemetery
Nunica Cemetery is located in the small West Michigan town of Nunica, about 25 miles west of Grand Rapids. It was first established in 1883 and is known for being one of the most haunted cemeteries in the state.
One spirit said to walk the grounds is that of Joel A. Bond. Mr. Bond served in the 21st Regiment Michigan Volunteer Infantry during the Civil War and is hailed as a pioneer in developing the Nunica area. He passed away while driving the horses on his farm at the age of 67. Mr. Bond seems to keep a watchful eye on the cemetery and would be considered an intelligent spirit. He is apparently the spirit responsible for reaching out and touching visitors at the cemetery.
While there seems to be a good amount of activity going on, visitors are encouraged to come only in the daytime, as cops tend to patrol the area for would-be offenders.
Want to learn more about its haunted history from author and investigator Amberrose Hammond? Be sure to check out her book, which features an in-depth chapter on Nunica!
1. The City of Grand Rapids
Grand Rapids is #1 on this list, perhaps due to personal bias. I have lived in and around this city all my life and grew up hearing all the ghost stories and legends, from the Michigan Bell Telephone Company building to the numerous hauntings of Heritage Hill's historic homes.
Stories have developed over the years, ranging from the ghost that haunts San Chez Bistro (and likes to mess around with the servers and patrons, including pulling on skirts and pant legs) to the ladies who founded and remained at St. Cecilia's Music Center after their deaths.
Aquinas College (my alma mater) also has a lengthy history of reported hauntings. While many of them might be mere legends, there is one death known to have occurred in the garden at Holmdene, which serves as an administrative building and offices for several departments.
The gorgeous old Amway Grand Plaza's smoking section is said to be haunted (as objects move on their own), as is the recently restored Grand Rapids Civic Theatre.
Fulton Street Cemetery and the residential streets surrounding it also seem to be a hotbed for paranormal activity. This is the city's oldest cemetery and houses many of its pioneering residents, including John Ball and his massive boulder of a grave. The cemetery first opened in 1838 and ended up expanding by an additional six acres.
It appears that the part of the cemetery which housed the pauper's graves might have been built over with houses. Residents along one side street parallel to the cemetery have found headstones in their backyards, and many report their houses being haunted.
Gary Eberle, an amazing writer, English professor, and person, penned a book on the rumored hauntings in Grand Rapids. This is an essential read for any paranormal enthusiast living in the area and is a book that spurred my interests as a kid.