Your Hogwarts Acceptance Letter Got Lost in the Mail
ATTEMPT REDELIVERY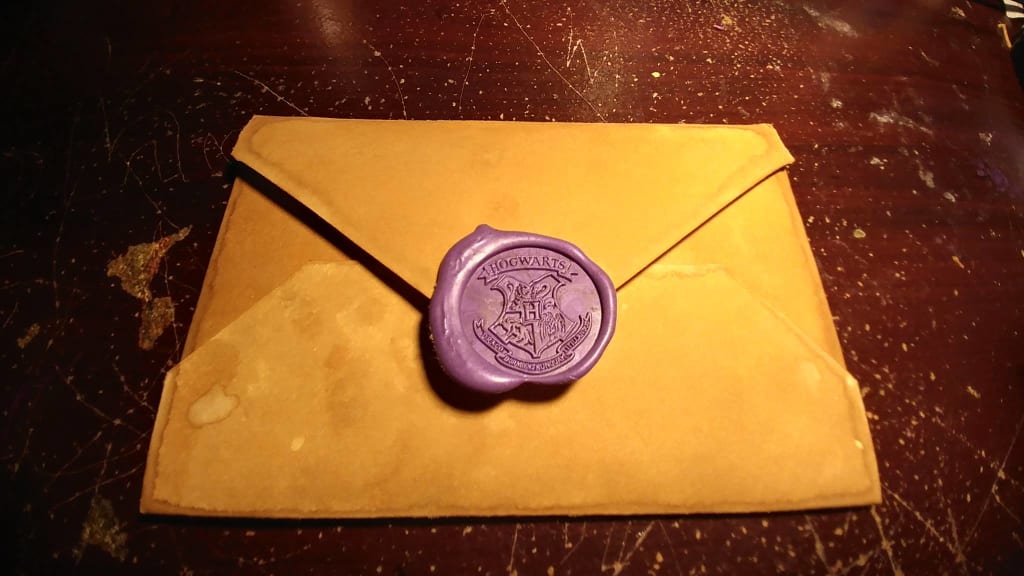 Hogwarts acceptance letter envelope sealed with purple wax and the school's crest
During the winter holidays one year, I learned that quite a few of my friends rewatch the Harry Potter series. This was an intentional act to take them back to their childhood when things were much simpler, and they experienced pure joy following the series. For many it was what made reading fun to them, and although it may not be their favourite book anymore, the characters, plot and inside jokes have become unforgettable trivia that they still reference to this day. Knowing that the following year, we would be turning 22, I decided that I would take this opportunity to finally read the entire series and present my best friend with their own Hogwarts acceptance letter. In the story, the letters were originally sent out to children when they turned 11, so it seemed quite fitting that there would have been an attempt at redelivery, when most of them were finishing up their post-secondary education. Some of my friends had even joked that they would have totally dropped their current studies to attend Hogwarts if given the chance, so I knew I was on the right track with this creative project. Although they would have been a mature student in age, their curiosity and love of magical things would make them fit right in. I was quite excited to have an art project to work on as and looking forward to witnessing the joy they would experience having a childhood dream fulfilled.
This seemed like the perfect opportunity for me. I had never read the Harry Potter series before, but I had watched all the movies. To the dismay of my friends, I was missing out crucial plot devices and character development that the movies just couldn't capture right. Additionally, I wanted to work on my calligraphy, a skill I was developing because of how bad my chicken scratch writing was – I even had trouble reading my own notes and that was too problematic. To begin, I knew I had to get the details of the letter right. Online sources gave me conflicting results, so I knew I had to read the books to be accurate. To be quite honest, I found my answers regarding the acceptance letters in the early chapters of the first book, but I was too into the story to stop there. As such, all my free time was consumed reading the series and I managed to complete it all in a few months. One of my personal challenges is that I like to know absolutely everything about a project and plan out all the details I want to take on before starting it. Having read the series completely for the first time, I did quite enjoy it, but the fandom around it didn't make all too much sense to me at this point in my life. Maybe I just missed the world it would have opened me up to during my childhood. Reading the rest of series didn't do much except expand my own knowledge of the characters and the story line, material that I couldn't really use in the acceptance letters.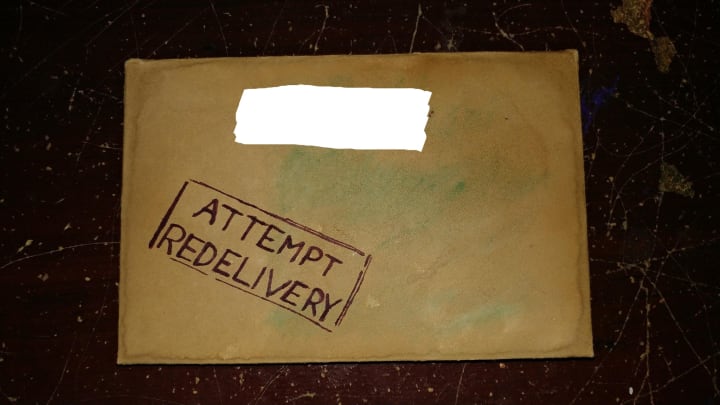 For gifts, I've always tried to create things on my own. I find that the personal touch adds a great deal of connection between the gift giver and receiver, and this was no exception. Having determined the project, I sourced all the materials and got to work. I soaked multiple sheets of beige cardstock in a thin layer of coffee to develop an aged look to the letter. It worked out great and once I had folded and cut the paper to size, it really started to look like a letter that had been weathered with time. To keep it accurate to the books, I found a Hogwarts stamp, purple wax and green ink. Although not specified, the green ink had silver particulates in it that shimmered in the light, adding an air of magic to the letter. Despite my efforts, there was no way I could casually ask for my friends' addresses and specifics about where their bed was located without it being awkward, so I removed that aspect of the letter. Instead, I simply addressed it to the recipient and created what looked like a stamp stating "ATTEMPT REDELIVERY". To start the letters, I cut out the Hogwarts seal and placed it at the top to act as a letter head. This was incredibly challenging as I had dull scissors and had to navigate sharp turns on a very small image. I then inked up two fountain pens I had, a Lamy 2000 and a TWSBI Eco with the green ink, I got to work. There is something therapeutic about writing slowly. For one my writing was a lot cleaner, but I could feel the feedback from the nib, the flow of the pen and seeing the project progress before my very eyes. Funny enough, it was equally therapeutic as it was frustrating, because I have sweaty hands which required me to take frequent breaks and I tried my best to not mess with the ink. There were some points where I pressed too hard or too lightly and it shows. One thing about writing with a fountain pen is that it is not always forgiving. Once I was done and looked back at the final project, it turned out way better than expected. What I first saw as mistakes just added to the charm of being a handwritten note. When I finally delivered the card to my friend, their reaction made the entire process worth it as they truly felt like it was the acceptance letter that they had waited so long for. Unfortunately, I could not deliver on getting them into Hogwarts.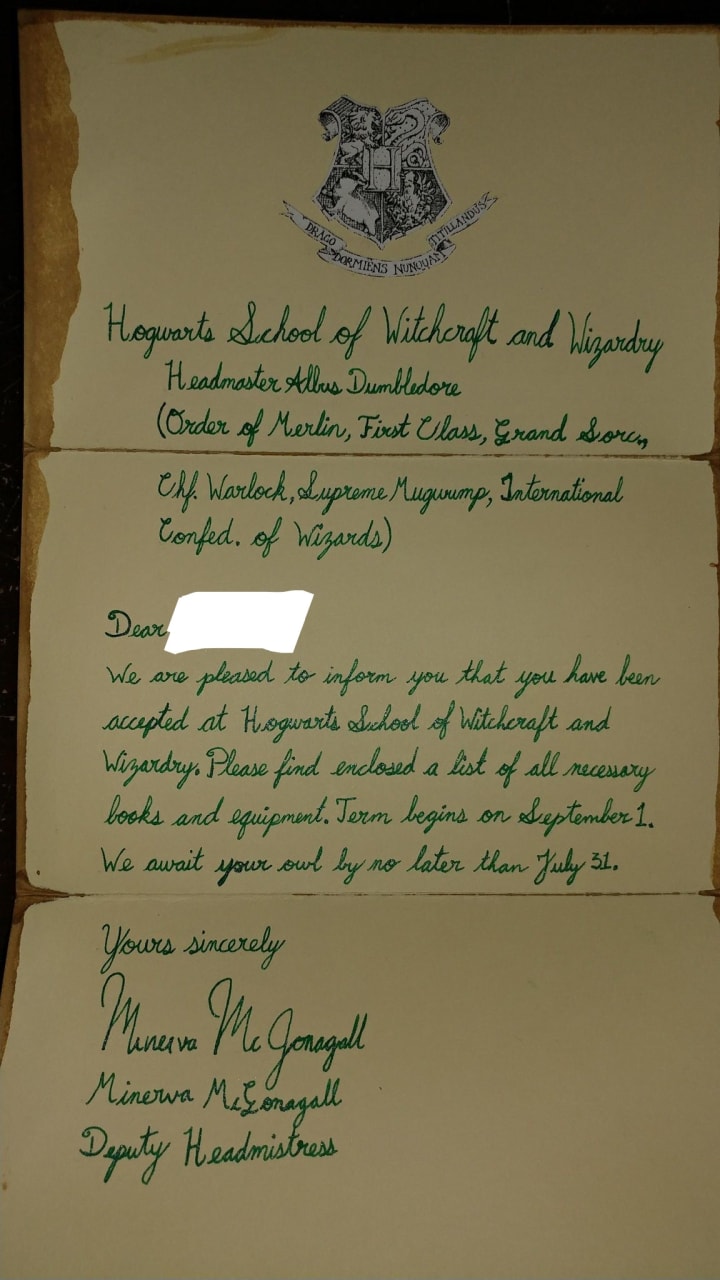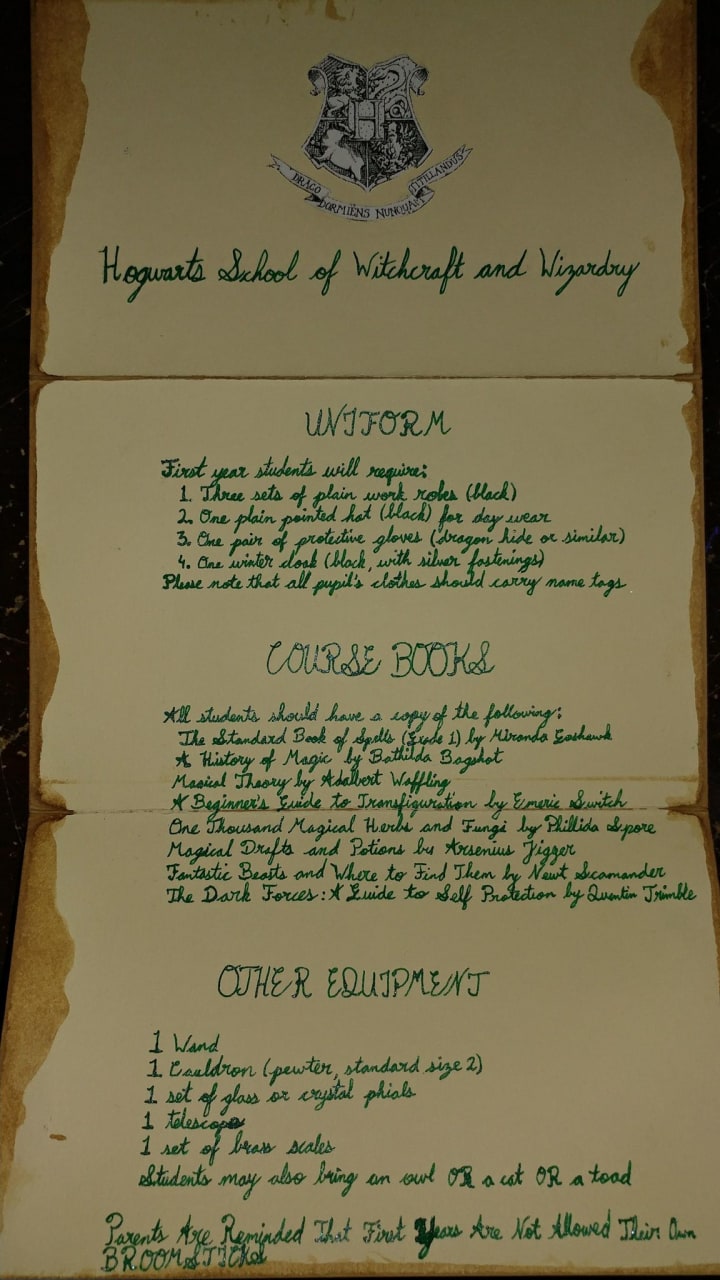 Having finished the acceptance letter and understanding the process. I created a model to standardize it, allowing me to create even more cards for the rest of the Harry Potter fans in my circle of friends. At some point, creating the cards got tiring and I needed someway to make it even more challenging and creative for myself. What better way to do that than look at the "Equipment" letter and create miniature versions of the items. I had even rationalized to myself that, once my friends would get their theoretical wand, they could just use a growth charm to make their products of a usable size. The tiny books were probably the most creatively frustrating product I've ever created. Because I decided to make everything so miniature, there was very little room for error. Gluing the covers to the pages, adding the embellishments, and ensuring everything was aesthetically pleased was made more challenging because I just really wanted it to be perfect. Surprisingly, the writing wasn't that bad because I already write pretty small, and I was much more lenient with myself on how the ink turned out on the pages. What I thought I could get done in a week of my free time took me about a month. The end product was hardly worth it because I wasn't able to mass produce it in the same way I could the letters. However, the miniature books and equipment gave me something to hold onto as a completed project because I rarely create things for myself. Creating for others is much easier for me as I create a sense of accountability to them and have the motivation to provide them with a product or a token that they can appreciate.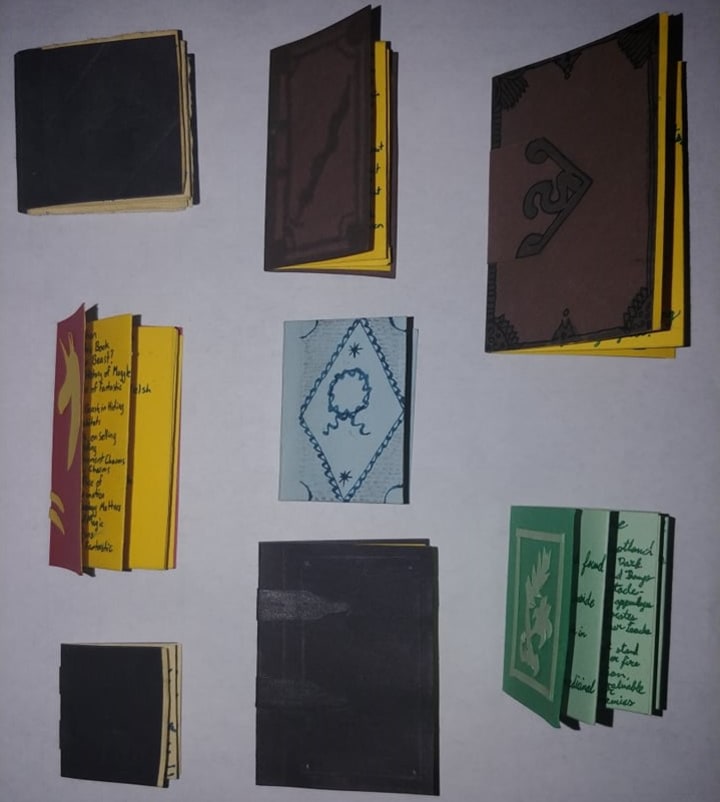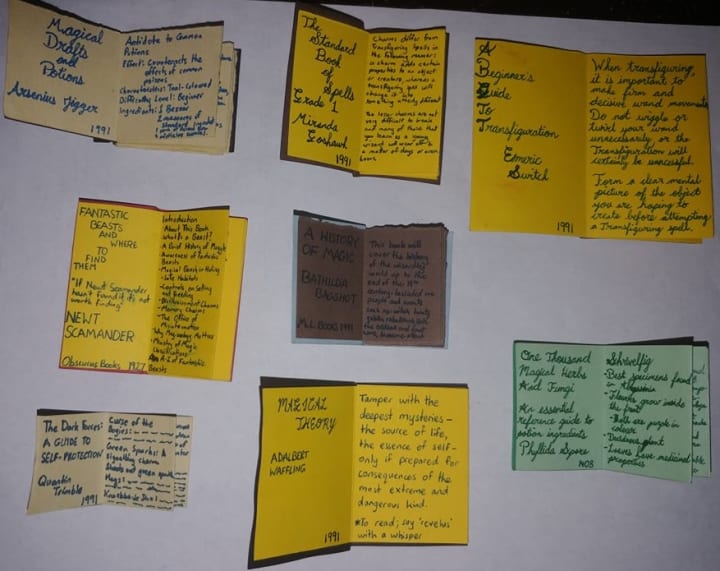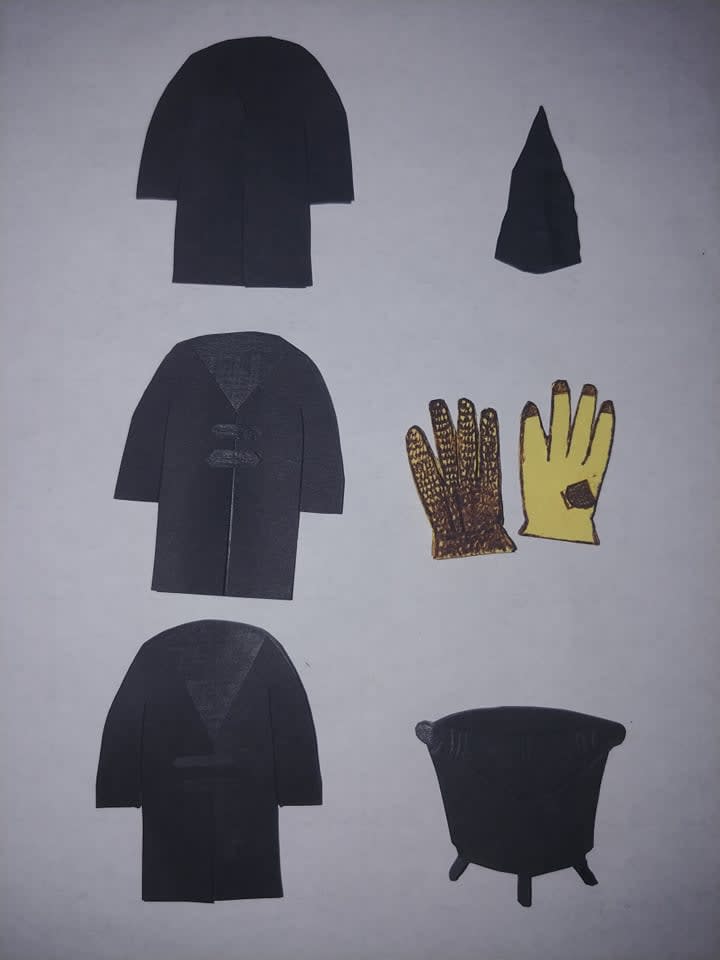 Overall, this was a very fun project. Finishing the Harry Potter books that I had put off for so long made me understand why my friends liked it so much. Still not my favorite series but I could appreciate how as a child being exposed to this world of magic and creativity would inspire imaginations to run wild. I am also fortunate that I can now understand all the inside jokes that previously went over my head. I still create the letters today for friends who seek them out. I've definitely improved my writing and found ways to cut down the prep work by doing work in bulk, in anticipation for more letter requests. Best of all, my writing continues to improve with constant practice, and I can read everything I write now! I'm thankful for the opportunity to flex my creative skill and be challenged to create more meaningful projects that bring excitement and joy to the people around me.
Reader insights
Be the first to share your insights about this piece.
Add your insights