You Gotta Have Creativity, Uniqueness, Nerve, & Talent
How Watching Rupaul's Drag Race Is Improving My Real Life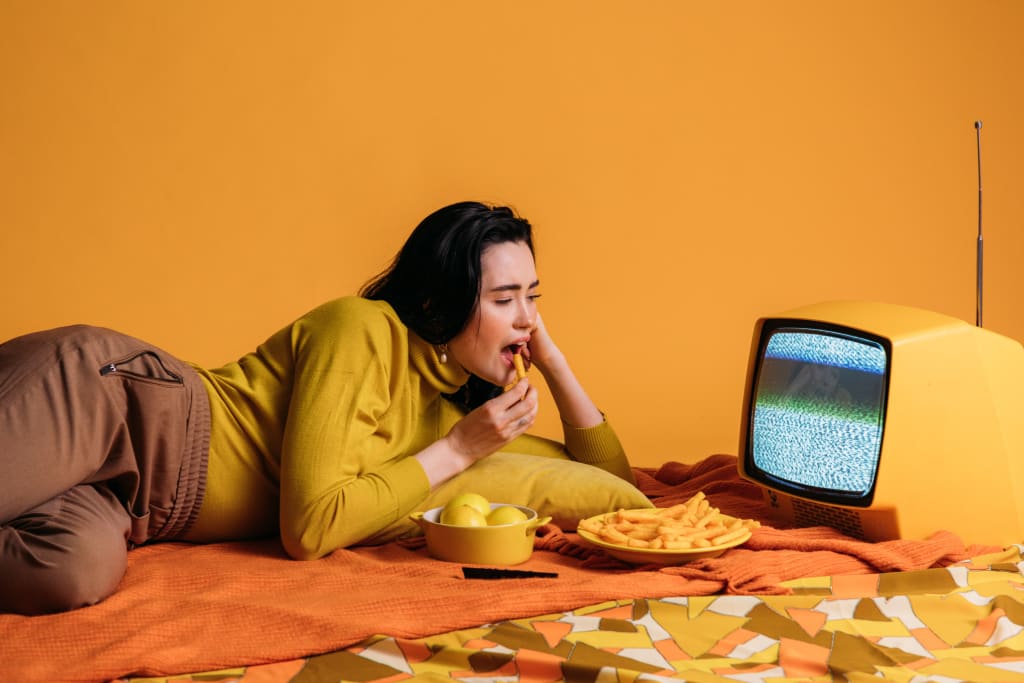 Photo Caption: Not a real photo of me but a very close replica of my state of being over the last two days.
For, let's say three years, my BFF Uncle Princess Devin has begged me to watch his favorite show of all time . . . Rupaul's Drag Race mainly because he loves the event entitled the Snatch Game.
Devin would send me clips and then remind me for the ten thousandth time that I had promised him I would finally watch it.
After Devin humored me and downloaded an app I had suggested earlier this week, he politely reminded me in a way that only he can that I STILL had not watched Rupaul's Drag Race by saying in what I felt was a very diplomatic manner . . .
Bitch, I downloaded your app and you STILL have not watched Rupaul's Drag Race.
I could tell he was getting super irritated and he HAD been super patient after recommending the show for the last 36 months.
So, I downloaded Paramount Plus and began at the beginning. Season 1, Episode 1 and there's only 175 total episodes and that's if you don't count the international spin-offs as well as the All Stars followups.
PEOPLE, I Am Completely And Emotionally Invested In This Show
Rupaul is probably one of the best reality competition hosts I have ever seen. All of the queens respect Rupaul ,who commands the room with glamour and fierceness but the overarching impression I have is that at the core, Rupaul is genuinely kind.
Example: One of the aspiring Queens fell asleep on the couch during a Season 2 challenge. Rupaul instead of getting upset, just delicately nudged the contestant awake and inquired if they would be ok to continue the challenge.
When a contestant is told they are eliminated and Rupaul tells them to
Sashay Away
There is always an encouraging statement to the eliminated Queen and people, you can feel the sincerity.
I love that. And I LOVE Rupaul after watching this show. I always liked Rupaul but had no idea just how amazing of a person Rupaul was until seeing the truly caring interactions.
The Queens Are Beyond Talented
Makeup? check. Dance skills? check. Sewing? check. Speaking? check. Performance? check.
The individuals so far competing to take the title of the next Drag Superstar are quite simply some of the most all around talented individuals I have seen either in real life or on TV.
Even the Queens who get eliminated in the first several rounds ARE STILL AMAZING.
The Queens inspire me to do better.
Funny over the last several days, I have found myself paying more attention to my outfits, my hair, my makeup, and also to challenge myself more creatively. This isn't a resolution I made to myself.
More I think an influence from watching the show. After watching how beautiful all of the Queens are, it has inspired me to pay more attention to feeling beautiful and taking the extra time to make myself feel good and glamorous.
I'm Only On Season 2 So Far
And I am fully invested in this show. Like watched the entire first season in a day invested. Like waited to go to the bathroom during LipSync For Your Life to see which Queen would get to stay and which one would have to sashay away.
But you can fully expect a regular update as I work my way through all 175 episodes. Devin was so right . . . I should have started watching this years ago.
And in the words of Rupaul,
You gotta have Creativity, Uniqueness, Nerve, and Talent.
Fill in the blanks on that one. ;)
tv
About the author
Reader insights
Be the first to share your insights about this piece.
Add your insights