Wonder Woman 1984. A reckless golden eagle model.
Model's life was in danger by a halloween costume character immersion influence.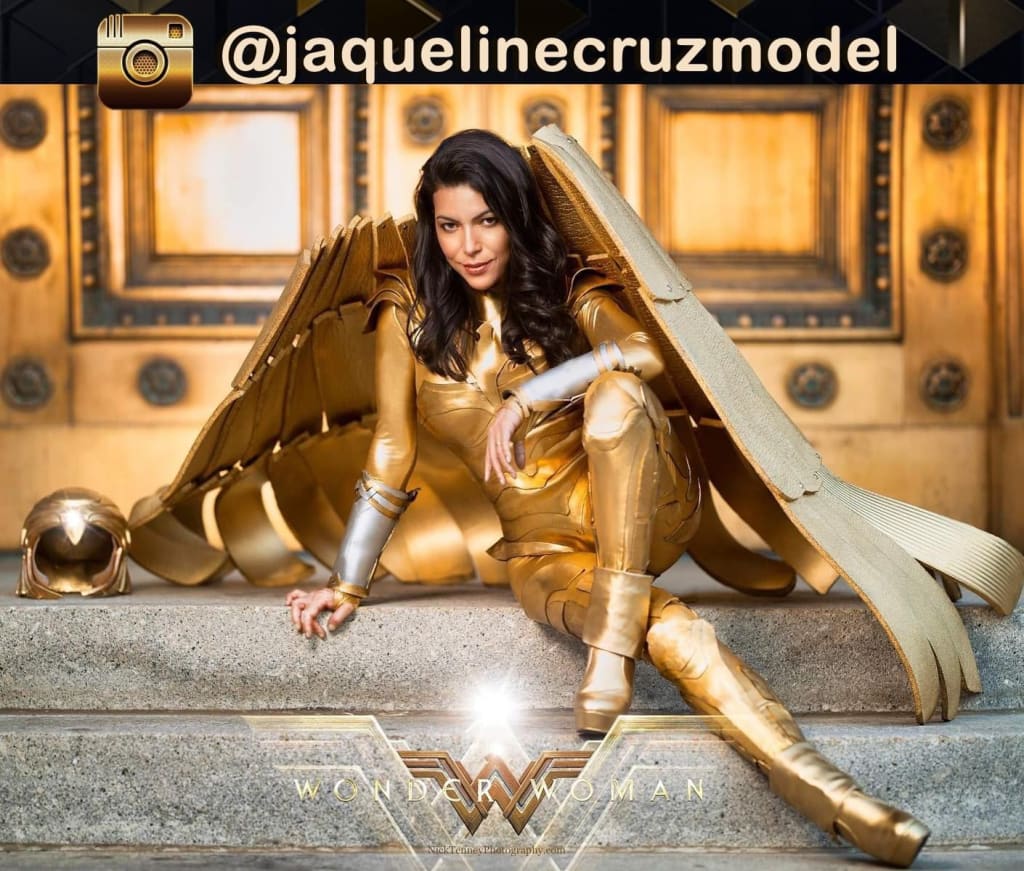 Model Jaqueline Cruz AKA Wonder Woman 1984 Diane Princess.
As a model, actress, Portuguese and Spanish teacher, dating coach, writer, painter and artist, Jaqueline Cruz was having a creative block, she needed an idea that would allow her to put all or mostly of her talents together on time for Halloween.
For one of her last minute call photoshooting, she created a silver pair of wings in just 3 hours.
That was for a new group of creators, photographers, filmographers and models, a perfect opportunity to meet new people in the industry.
That's how she met Nick Tenney, a creative photographer that was amazed by her creativity.
He delivered the photos and expressed the intention of shooting with her again. But she shared with him about her creative block and promised she would get in touch as soon her inspiration shows up.
Nick posted an image of her wearing the wings and someone commented: "Wow! She looks like Wonder Woman!"
And then she got the insight! "That's it"! She said. "I'm going to create a Wonder Woman 1984 inspired costume!"
She loves wings and the golden armor in the new movie does have It. Perfect!
She could make good use of her talent as an artist for designing it, as a model for photo shooting it, and as an actress for the video.
Not having a budget for investing in materials, she had to figure out how to make the best quality outfit, without spending too much.
It was hours of research and she finally found something that could work, some leftovers rubber for roof impermeabilization was for sale for an affordable cost on the internet. Perfect, with her creativity it would be a super cool, strong and durable material.
She bought it and started Design the corset. It came up way better than she expected, realistic, flexible, comfortable but really heavy.
Next step was to create the wings. With an already so heavy corset, it would be impossible for her to pair it with also heavy wings and still be able to model it with comfort.
She did some research and found out that the best option would be EVA foam, which is light weight. The problem was once more the budget, this kind of material with the thickness she needed would be too expensive.
She figured it out again. Found some used yoga matts for sale (Made from EVA foam) that did the work.
Wings done! Perfectly designed, allowing movements, super lightweight and comfortable.
Next step was the helmet. Again without financial resources, she had to find another option.
She had an old styrofoam helmet for biking that she could recycle, carve it and get good results. She also added some left overs EVA from the wings to it and proceeded to paint.
What she didn't know was that the spray paint chemicals would melt the styrofoam.
Frustrated, she had to find a solution. That's when she had the idea of using gesso and sand paper for creating a smooth surface, but the gesso cracked and she had the idea of using a coat of school glue mixed with cornstarch for bending the gesso.
Helmet finally looking good and ready for the gold spray paint.
She also used left overs rubber pieces for making the wrist bands and legs armor.
Not having money for buying a printed gold bodysuit. She bought an affordable used gold one for sale on the internet and decorated it using leftovers rubber as well.
Costume complete! Proud of her artist talent on this creation. Now was time for her to use modeling and acting talent photo shooting and filming it.
Jaqueline shared her creative process and results in her Facebook art store and fan page, and several photographers wanted to shoot with her.
She couldn't invite more than 2 otherwise it would be complicated.
So she invited Nick and Zhon Johansen, another outstanding photographer, friends with her that always collaborated in times she needed him.
They went for the shooting adventure and chose a building in SLC owned by the Mormon church. They almost got in trouble for not knowing that it wasn't allowed to shoot in there. A member of the church politely informed them and because the photo shooting wasn't for commercial use, they were ok with the use of the images.
She still felt sad and frustrated again. After all the work she did put on the outfit, 3 weeks overcoming issues, for just a half hour shoot and only a few images.
She wouldn't give up too early, after all, she was supposed to feel as a Wonder Woman and keep fighting the obstacles! And they decided that it was time to search for another cool spot and keep shooting, they found a building in Salt Lake City downtown that has a super cool looking golden door. And they finally got really good shots!
It was time for the video and they went to the top of a parking building and started filming.
Nick and Jaque got so excited! Maybe more than they should. She was still a little frustrated because of the earlier embarrassment that did threaten the success of the photoshooting. And she Felt the urge of taking it seriously the "in character immersion."
Soon she was feeling like a real superhero. Brave and unbeatable! And she had the idea of sitting and standing on the border of the building for the drone shots.
The outfit and atmosphere influenced her behavior. She felt on top of the world. The wind in her face made her feel that she could fly as a real golden eagle.
She felt powerful as a real Wonder Woman observing the cityscape and making sure the city was in order.
Which resulted in outstanding images as you can see in the video above.
However, Zhon got really scared.
That was reckless and dangerous! No safety equipment at all.
Zhon didn't even want to keep shooting.
She was already tired after shooting for so long, the wind could easily drag her out of the border. She probably wouldn't survive if she fell!
This Halloween costume idea and adventure could really become a real horror story.
But fortunately nothing bad happened. Maybe the weight of the rubber in her corset helped to keep her safe and the wings made with lightweight material and focused in free movements, allowed the wind to fold the wings instead of dragging her in an unwanted flight to death. Who knows? Everything happens for a reason don't you agree?
So, they headed back home safely and everything was good. Except for Zhon's piece of mind, who had nightmares the 4 nights after Jaque's reckless adventure traumatized him because of the possibility of an accident.
He talked to Jaque and she had no other choice than acknowledge him and humble apologize for the mistake and for scaring him that much.
Already out of the outfit and excitement influence, she was finally able to see how dangerous it was and learned her lesson.
Passion for our art definitely doesn't worth putting our lives in danger!
But since she already did... We hope you all enjoy the photos and video so much to the point of giving us your vote in this Halloween context! 😉
See us in a future adventure! Next time having safety as a priority.
Happy Halloween! 🎃
Text by: Jaqueline Cruz
98% real life story with a pinch of fiction facts for making it a little more interesting.
Names of characters are also real.
Costume designer, HAMUA, model and writer: Jaqueline Cruz.
Photo and video by: Nick Tenney and Zhon Johansen
Want to see more picks related? Follow us!
Jaque's IG: https://www.instagram.com/jaquelinecruzmodel/?hl=en
Nick's IG https://www.instagram.com/nicktenneyphotography/?hl=en
Zhon's IG https://www.instagram.com/zhonjohansen/?hl=en