DC Universe
'Wild C.A.T.S': Worthy of the Silver Screen?
Recent News About DC's impending Comic Reboot of the franchise raises new questions about a potential translation to the Big Screen.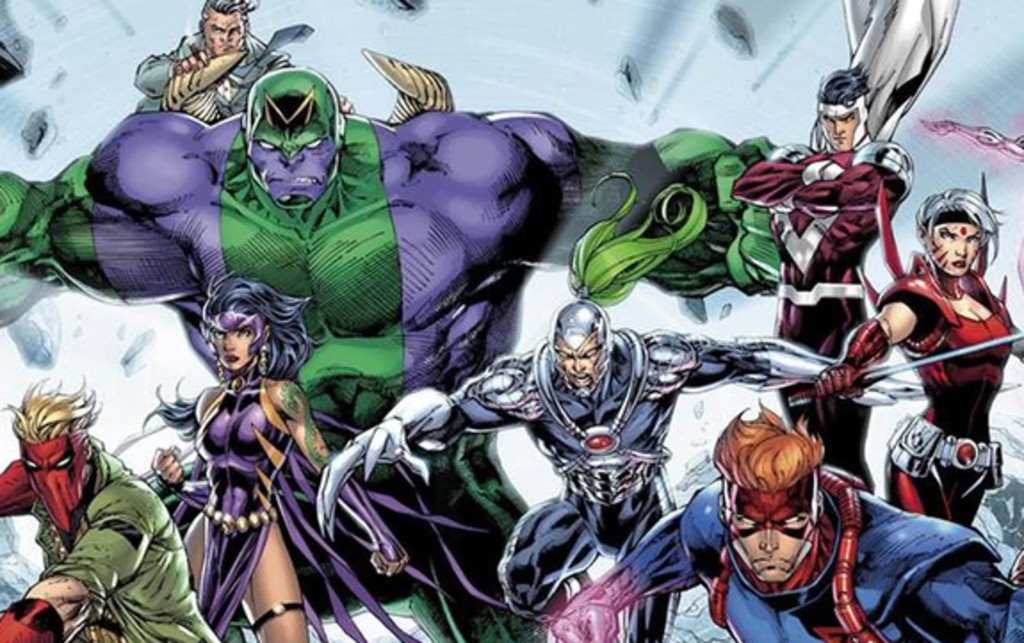 DC is reviving one of the dopest, most underrated comic superhero teams out there, and I want all of the smoke that comes with it. Jim Lee deciding to bring WildC.A.T.S. out of mothballs to spearhead a re-imagining of the entire WildStorm Comic Universe in a limited collection got me thinking about how the original Image iteration of the WildC.A.T.S. would translate to the big screen. A couple of things need to be clarified before we explore this fan topic any further.1) THIS cheesy representation of the comic CANNOT be the first thing in folks minds IF a movie re-make is thought about (the show opening IS pretty dope, though).
2) We need to remember just how ridiculously engaging the Image Comic landscape was prior to its absorption into DC's conglomerate. WildC.A.T.S. was the flagship comic of the Image/WildStorm comic universe, which in its heyday, was every bit as engaging and diverse as both DC and Marvel were during its period as a solo entity. Gen13, Wetworks, and a number of other creative titles made up WildStorm's lineup, but the WildC.A.T.S. franchise was definitely the headliner. DC has already seen some of the original WildC.A.T.S. team make cameo appearances in the comics, as well as in DC's expansive animated movie offerings (Grifter making a brief appearance in Flashpoint Paradoximmediately comes to mind). A fully imagined WildC.A.T.S. animated movie is definitely within DC's power to pull off effectively. Greater entry into DC's live-action superhero universe would definitely require some re-fashioning. That being said, the original story arcs found in the earlier Image-based comics could really stand on their own in terms of conversion to a well-planned origin story. The eternal battle between the Kheribum and the evil Damonites taking place on earth is a concept that's built for story-telling. The original WildC.A.T.S. team (Lord Imp, Spartan, Void, Voodoo, Maul, Warblade, Zealot, and Grifter) were all extremely well fleshed out as characters, with Spartan, Zealot, Warblade, and Grifter having spinoff solo comics within WildStorm's framework. There have also been different versions of the team during the franchise's growth, but the original squad has the most name recognition and visibility for a possible translation to the DCU animated movie line, or the live-action DCU. Seeing a WildC.A.T.S. offering on the big screen may just be a twinkle in some director's eye at this point, but it's awesome to know that DC has invested in re-booting this iconic team again in the comics. It should only be a matter of time until we see the team (or individuals from it) gradually introduced into the DC movie universe. As a WildC.A.T.S. stan, who sat through that cheesy Saturday morning goodness growing up, it's a necessity to see WildC.A.T.S. portrayed the right way, in their own film. If DC does pursue integrating these characters (as well as other major players from the Wildstorm/Image franchises), how well would it be done? How true would DC be to the spirit of the characters as they were uring their original Image heydays? Would their inclusion into the greater DC landscape open the door to the inclusion of other popular characters from that universe? Personally, I'd love to see Todd McFarlane's Spawn re-imagined or The Savage Dragon make a cameo on DC's landscape. DC's got stuff in the archive that could very well turn things around in terms of the DCU's movie fortunes are concerned. Whether they actually take advantage of that vault of archived goodies remains to be seen. If (or when) they do go that route, WildC.A.T.S. would be a great place to start.Like the article? Feel free to leave a tip if you enjoyed what you read. Every little bit counts toward refining content and bringing better offerings in the future.
superheroes