Why You Should Be Watching 'One Day at a Time'
This Netflix sitcom is so much more than it seems.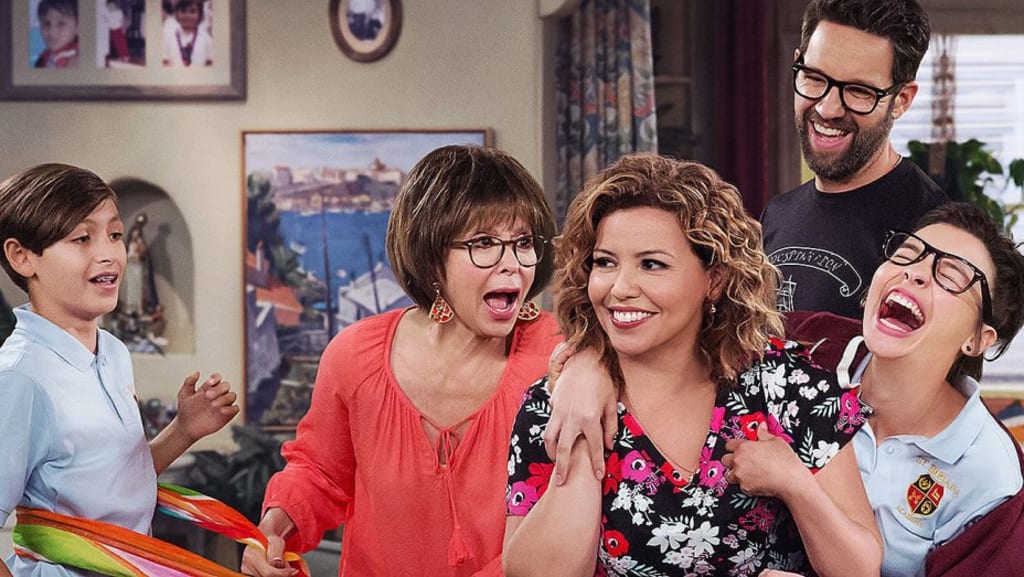 I am a lover of sitcoms and as the years have progressed we've moved away from the Friends and The Big Bang Theory style set-up to a more creative set-up like Brooklyn Nine-Nine and The Good Place. However, One Day at a Time is filmed in front of a live audience and its main set is the living room of an apartment, much like Friends. So, why am I raving about One Day at a Time? Because everything that Friends was lacking, this show has.
Here's the issue with Friends (yes, my snowflake ass is going to say it), it just hasn't aged that well. It still has it's funny moments but it also presents members of the LQBTQ+ community as the butt of the joke and don't even get me started on the representation problem. How can you set a sitcom in New York City, a very diverse city, and only have one recurring character of colour? One Day at a Time centers around a Cuban-American family living in L.A. and tackles a lot of prominent issues in today's society including gun control, addiction and racism.
Penelope Alvarez is the provider. She's a single mother raising two kids, working full time, a veteran and trying to cope living with her mother. She is strong, independent and ambitious. Her storylines include realising she gets paid less than a male co-worker at her job, living with depression and anxiety as well as struggling to make people see that she doesn't need to be married to be happy. Penelope is the definition of supermum and she's pretty hilarious.
Lydia Riera is the matriarch of the family. At times she can come across as superficial and judgmental, but she loves her family and would do anything for them. Throughout the seasons she struggles with health issues, losing her identity as she gets older and navigating a relationship whilst she still clings on to the memory of her dead husband. A woman who doesn't let anyone get the better of her and thinks she is perfect—she's the rightful queen of the family.
Alex Alvarez is the good looks. The youngest of the Alvarez family and his abuelita's clear favourite—he is very used to having things done for him. But that isn't all he is. Whilst he's very hung up on his looks he also battles with racism at school. His mother finding him smoking weed and is often the emotional support for some characters, but mostly his older sister.
Elena Alvarez is the activist. Determined to change the world into a better place she demands respect for herself and respect for others. Her coming out story in season one is beautifully handled and wonderfully performed. Elena also struggles with homophobia on the streets, her rocky relationship with her father and having sex for the first time.
Pat Schneider is the token white guy. The landlord of the building the Alvarez family live in Schneider has forced his way into their family without any real permission. A rich guy who is often ignorant to the way the world actually works, but truly tries his hardest to understand. He's a father figure for Elena and Alex and Penelope's closest friend. Schneider battles his addiction, his bad history with women and also finding his place within the family.
The characters I've just described don't sound like sitcom characters but have no doubt that they all have their funny moments.
Lydia: All the girls will wish it was them in your dress.
Elena: Dare to dream.
There is also funny supporting characters like Dr. Leslie Berkowitz, Penelope's boss and Lydia's platonic companion who seems to have no luck. Syd is Elena's non-binary significant other who is completely awkward and adorable at the same time. The ex-veterans who attend group therapy with Penelope are effortlessly funny.
The laughs are easy, but the hard hitting topics often hit you like a ton of bricks. This is so much more than what The Big Bang Theory or Friends tried to do. This is the heart of Brooklyn Nine-Nine and the thinking of The Good Place and the classic set up of Friends. This is real life. This is a show you have to watch.