Why 'Trainspotting' Was Never About the Drugs
The Irvine Welsh classic is about so much more than heroin.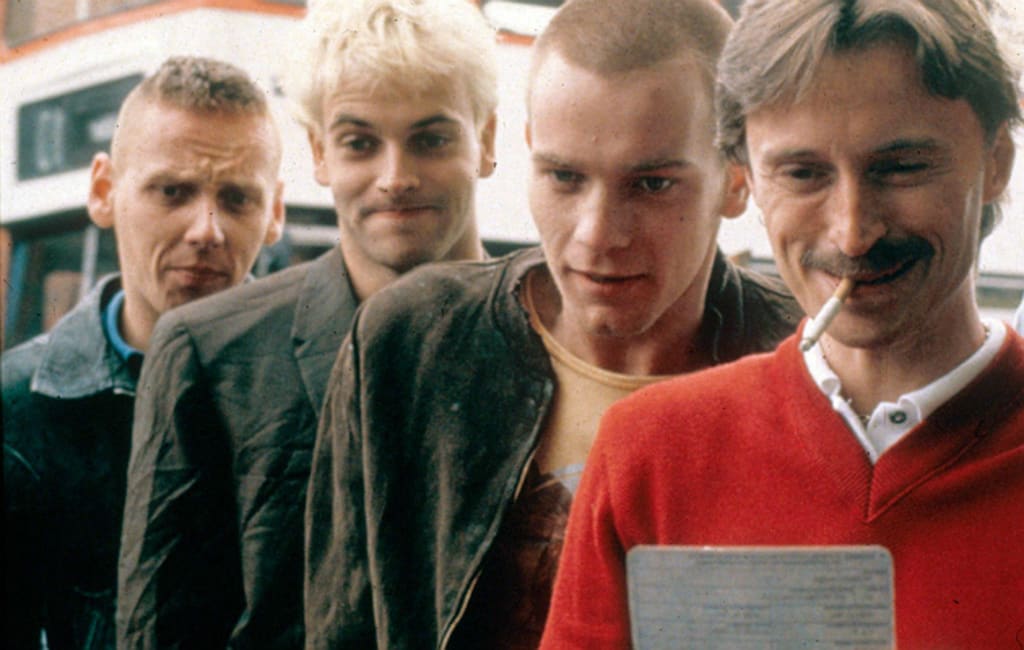 It's over two decades since Trainspotting smashed its way into publication, and into the public consciousness.
The story centres on a group of friends living in Leith, a working-class port area to the North of Edinburgh.
Written largely in Scots dialect, the combination of unabated sex, violence, and bad behaviour saw Irvine Welsh create a foul-mouthed literary triumph which remains relevant and highly-regarded to this day.
Much like Chuck Palahniuk (Fight Club) and Brett Easton Ellis (American Psycho) managed in the same decade, the Scot succeeded in creating a genuine cultural smash with outrageously R-rated content.
The spectrum of public and critical reception to Trainspotting was enormous—some branded the novel as an instant literary classic, while others saw it as morally repugnant.
Indeed, Chairman Lord Gowrie of the Booker prize panel in 1993 claimed that the book was rejected for shortlisting as two of the judges deemed it too "offensive" for consideration.
As extreme as that sounds, the release of the subsequent motion picture in 1996 saw controversy heighten to greater levels.
By that point even US Presidential candidate Bob Dole had decided to take a swipe, claiming that the film "glamourised" the use of heroin—highlighting the film as a means to outline his proposal of an all-out war on drugs.
Much as heroin clings to its users and doesn't let go, the perception of drug use as the central focus of the story hasn't really shifted, which is odd as Welsh himself has confirmed that the novel isn't about heroin at all.
In reality, reading the novel offers a chance to infiltrate a group of friends living through the neoliberalism of Thatcher's Britain.
The book is almost sociological, delving far deeper than the film in exploring the life and struggles of a young working-class group of friends maturing during a very tough time.
Violence and heroin use are merely a sideshow here—a reaction from a working community that finds their industry and collective identity ripped from them.
As Welsh previously said, Thatcher is as much the author as him as "she created the conditions" that Renton and co lived through.
"It still resonates because it's not a book about drugs," says Welsh."It's a book about transition out of the world of work. These characters are all from the industrial working class, being made redundant, being made socially irrelevant in Britain.""Twenty, thirty years later it's happening to the middle classes...we're rationing out the dregs of capitalism to people. That's why it resonates – people think 'we're in a dystopian future, what are we going to do?' It's quite hard to come to terms with and often, the answer is drugs."
Falling into a familiar trap, a general understanding from some quarters of Trainspotting being "a famous book about Heroin" shields it from perception as a searing indictment of 80s Britain—which it certainly is.
The candid description of heroin use arguably shows some highs and happier times for the group, but also shows the brutal lows—scrapes with the law, stealing from family members, and in some cases even death.
If anything, the choice of reckless abandon associated with drug use showcases the lack of choice presented to the young men Welsh introduces us to. Consumer capitalism has utterly rejected them, and they have little to aim for.
In the present day, we continue to live in a post-industrial society, and working-class communities continue to wrangle with high-unemployment and drug abuse—little surprise then that Welsh's work continues to hold relevance.