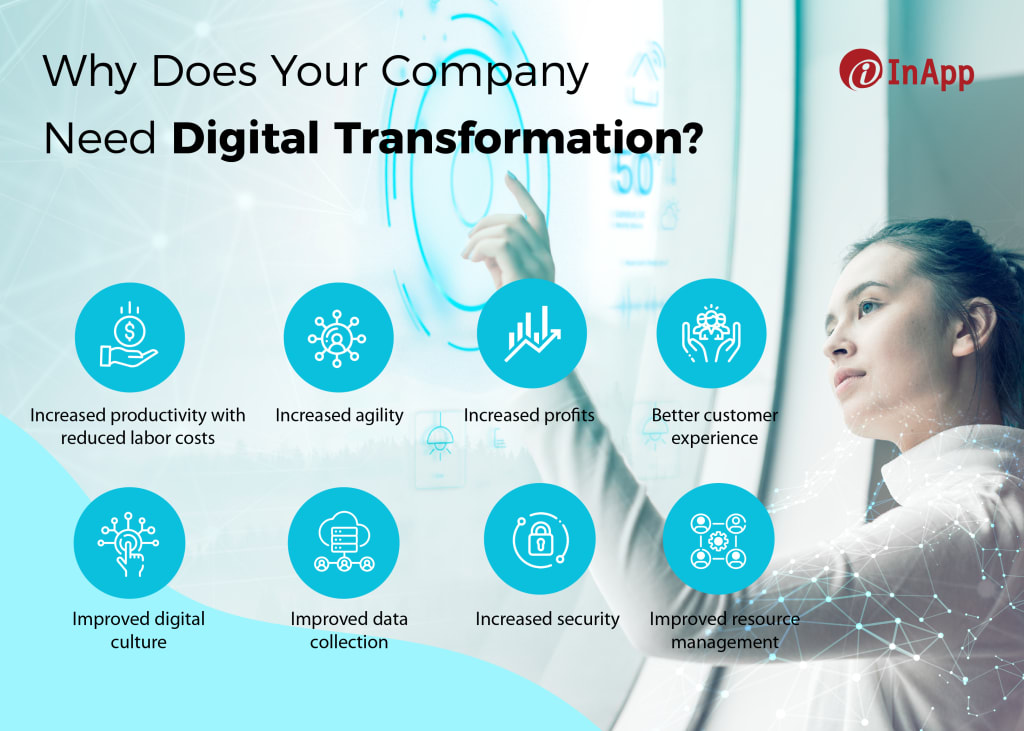 Everyone is talking about "digital" — digital data, digital marketing, digital transformation, digital technologies, digital media, etc. But in this technology-dominated era, what does it mean to "go digital" or adopt digital transformation?
Technologies like the Internet of Things (IoT) and mobile services have changed our habits and lives. We're almost all connected. If some are not, they will be soon. We're living in a world where we can order everything on a mobile device. Now it's become a fact — mobile is the future.
Before you implement your digital strategy, let's understand what digital transformation is and what its benefits are.
What is digital transformation?
Digital transformation is the integration of digital technologies into all areas of your business operations. It brings many benefits to your organization and, ultimately, to your customers. It can make businesses more profitable and efficient, as well as build a more sustainable relationship with customers. It also brings fundamental changes in the way organizations to operate their business.
Why is digital transformation strategy important?
Simply going digital won't bring many benefits to your organization. It needs to be implemented with a strategy in mind. Strategy is more important than technology, according to this MIT Sloan report.
With a digital transformation strategy, you'll evaluate all processes, systems, workflows, and work cultures of your organization.
Digital transformation will collect data from all levels of your business to improve efficiency. Companies adopting digital transformation can take advantage of advanced processing technologies such as artificial intelligence (AI), IoT application development, SaaS platforms, and hybrid IT services to connect the dots on their customer's journey. This was not possible before.
What are the benefits of digital transformation?
Increased productivity with reduced labour costs
Organizations will spend time and money updating their digital tools and training new employees. However, digital tools can raise efficiency and productivity, while keeping costs down.
Increased agility
Adopting digital transformation will make your enterprise more agile. If you're a software company, it'll improve your delivery time to the market and allow faster innovation.
Increased profits
Businesses that implement digital transformation improve their profitability and efficiency. According to this report by SAP Center for Business Insights and Oxford Economics, organizations adopting digital transformation experienced the following advantages:
85% increased their market share
80% reported increased profits
On average, 23% expected increased revenue over their competitors
Better customer experience
Customers always have high expectations. They want low prices, unlimited choices, and fast delivery. More than 60% of companies are competing on customer experiences, according to a report by Gartner. The right kind of digital strategy results in an improved customer experience, giving your business a competitive advantage.
Improved digital culture
With the right tools tailored to their needs and environment, digital transformation encourages digital culture, which is the way technology shapes how we interact as humans. It results in easier collaboration. Digital culture is also crucial for upskilling and digital learning in any organization.
Improved data collection
Digital transformation offers you a system for improved data collection. You can incorporate that data for business intelligence and insights, enabling your business to grow.
Increased security
By deploying artificial intelligence and analytics with a robust data-gathering infrastructure, you can prevent or reduce cyber threats.
Improved resource management
If you implement digital transformation correctly, it brings all your company's software resources and databases into one place. Digital transformation can consolidate resources and information into a suite of business tools. It can integrate databases, applications, and software into a central repository. It encompasses every level of your business.
Conclusion
Digital transformation offers opportunities for increased profitability and cost savings with better data collection and an improved customer experience. In fact, it's redefining the way businesses operate. And the pace of digital transformation in the world is expected to gather steam. Approximately 53% of all investments in information and communication technology by 2023 will be related to digital transformation, according to a report by IDC.
InApp has two decades of experience in empowering businesses with innovative solutions by helping our clients achieve greater data security, visibility, and control. If you have any questions, please contact us here.
FAQs
What is digital transformation?
Digital transformation is the integration of digital technologies into all areas of business operations. It results in many benefits to the organization and, ultimately, to their customers
What are the challenges in digital transformation?
One of the biggest challenges that you'll face while implementing digital transformation is the integration of different systems into a consolidated workflow. You'll have to sync your data management and security protocols.
What are the technologies in digital transformation?
Cloud Computing
Mobile phones and apps
IoTs
AI/ML
Digital twins
What are the common reasons that digital transformation in some organizations fail?
Lack of focus on people and culture
Poor communication
Not defining KPIs for your organizations
About the Creator
We are a custom software development company focused on providing world-class business solutions and delivering exceptional value to customers.
Customers: Startups - Fortune 500
Reader insights
Be the first to share your insights about this piece.
Add your insights