Why Do Animated Movies Such As 'Shrek' & 'Despicable Me' End With Dance Parties?
It's time to talk about that little trend which has come to dominate the last few minutes of animated studio releases in recent years.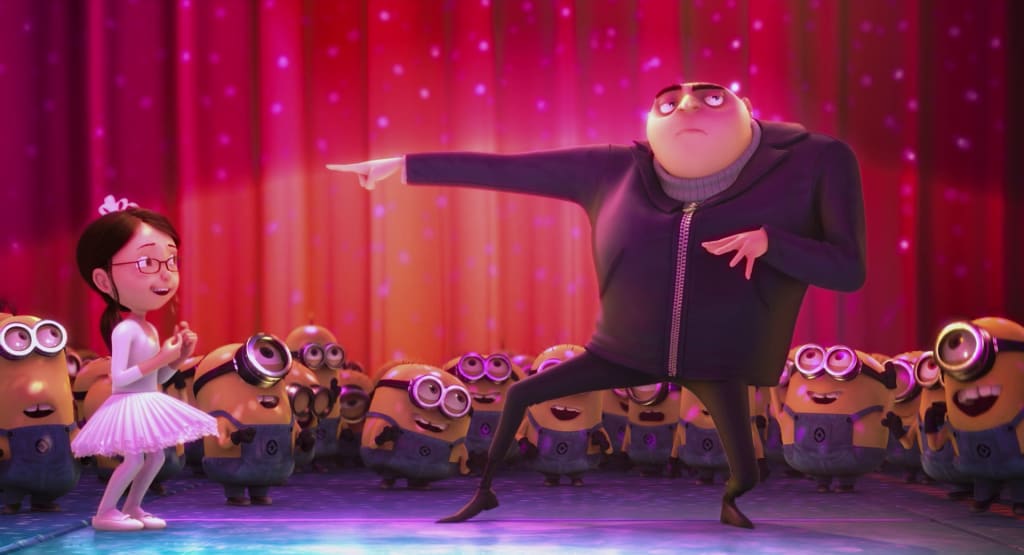 Despicable Me [Credit: Dreamworks]
2017 has already brought us plenty of escapist fun in the form of Cars 3, Captain Underpants and The Boss Baby, and there's even more yet to come in the form of Pixar's highly anticipated movie Coco. As ever, we've been wowed by the wondrous visuals of this year's animated movies and laughed at their witty scripts. However, it's time to talk about that little trend which has come to dominate the last few minutes of animated studio releases in recent years.
Yup, even though few of 2017's releases have (so far) included one, it's the dance party ending which has swiftly become a long-lasting staple of most animated movies. Since the early 2000s, it seems that every CGI animation in particular must end with its main characters (and sometimes villains too) convening on the dance floor, getting their groove on to some upbeat tunes, both before and during the rolling credits.
Though Toy Story 2 included an early form of this with Wheezy the Penguin's cover of 'You've Got A Friend In Me', its easy to see where this trend truly began. As well as influencing a pop-culture heavy brand of family movies, #Shrek also popularized the dance party ending through the cast's (and Smash Mouth's) rousing rendition of 'I'm A Believer'. Then, director Andrew Adamson repeated the same trick for Shrek 2, clearly prompting Dreamworks to include similar scenes in Shrek's other sequels, its spin-off Puss in Boots and films such as the Despicable Me series. But Disney is also guilty of including animated gambolling in recent years, as anyone who saw Zootopia's characters shimmying to Shakira can attest to. As if that wasn't enough, 20th Century Fox also put their best foot forward in the final moments of Rio and Robots.
"But what's the deal?" you might ask. After all, a great many animated films – particularly Disney classics — feature dancing and songs of some variety. But crucially, these older #movies are musicals (more often than not), meaning that these forms of sensational show numbers are to be expected. Modern animated movies such as the Despicable Me series tend to steer clear of characters spontaneously swaying and bursting into song; in fact, they don't engage with music and dance much at all, at least until their concluding number.
Indeed, from Megamind's inclusion of Michael Jackson's 'Bad' to Mr Fantastic Fox's use of Bobby Fuller's 'Let Her Dance' the last two decades worth of animated movies are stuffed full of these colorful conclusions. Chances are that at least one unmentioned example has sprung into your mind already! Yet, regardless of whether they have you either clapping your hands over your ears or along to the beat, these dance-themed endings do serve a number of purposes in their respective films.
Dance Parties And The Status Quo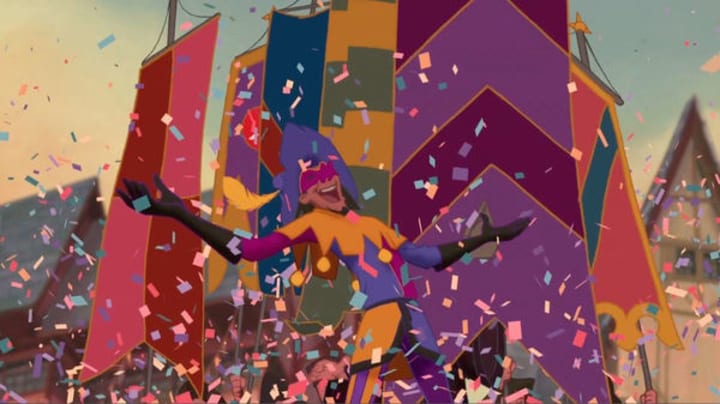 Underneath the wisecracks and wacky villains, many of these animated movies are pretty moralistic, and as such, they contain messages about compassion, teamwork, truth to oneself and family. Dance numbers may not be an essential part of animated movies, but they are a way of swiftly signposting – and emphasizing - important changes about their narrative.
Certainly, the act of dancing itself is important. Dancing may be a fun activity that plenty of us love to enjoy at special occasions, yet, like music, it hasn't always been used just for recreation. Remember the Feast of Fools sequence in Disney's The Hunchback of Notre Dame? Well, singing and dancing carnivals of this kind were a real thing that occasionally happened during medieval times. Beset by hardships, the lower classes were allowed to put aside their usual rules and routines to dance and let off steam in the hopes that they wouldn't revolt against the ruling classes for the rest of the intervening year. As such, both in real life and fiction, dancing and partying have been used for — and become symbolic of — rebellion. Indeed, the famed Russian theorist Mikhail Bakhtin called this "Carnivalesque", where, as it is in Hunchback's Feast of Fools, the world is inverted and the old way of things is suspended in lieu of music, dancing and partying.
So it's no accident that many animated characters dance at the end of the films after they have won the day. Of course, studios aren't expecting you to know the social history of dancing, but by drawing upon these subtle histories and tropes, the filmmakers are therefore able to easily emphasize the important plot points of their stories. Whether it's Gru's defeat of Vector in #DespicableMe or Rodney's triumph over Ratchet in Robots, the fact that they dance and party afterwards signifies not just their relief at winning, but also their defiance towards — and their overturning of —the traditional status quo.
Then again, there is another shrewder reason for the inclusion of dance party endings…
If You Like It, Then Buy It!
Plenty of artists and creators work on an animated film, but as we know, any family friendly blockbuster is geared to generate more money for the studio.
How might a dance sequence aid them? Well, check out the end credits for Madagascar for example, where we see King Julian, Mort, and the Penguins prominently performing among the rest of the cast. All of them are breakout characters who are either funny, lovable, or in the case of Mort, both. If, like in Madagascar's case, the audience witnesses these kinds of characters busting some hilarious moves at the movies' end, the younger audience will remember what they loved about them and pressure their parents to buy figures or other merchandise pertaining to that character.
Plus, if the song is particularly catchy or memorable, there's probably a greater chance that fans of the film will purchase the tune or the entire soundtrack too. Because, the bottom line is that a dance party is a very quick and easy way of manufacturing an ending that leaves the audience feeling good about the film they've just been watching, so that there's a higher chance of them re-watching the movie or purchasing it for home release. Sure, some may feel somewhat shoehorned by this contrast with the rest of the movie, but clearly, the hope from the filmmakers is that the infectious upbeat boogying will win you over.
Though we haven't seen many cases of dance parties this year, we've already begun to see this trope spoofed — albeit in a very mature fashion — within Seth Rogen's Sausage Party. With so many dances already committed to celluloid, it's going to be very interesting to see how studios will continue to utilize dance party endings in their animated movies and thus ensure that they remain fresh and exciting for audiences to enjoy.