Who was Ed Dillinger's Wife in Tron Legacy?
This is a mystery that needs to be solved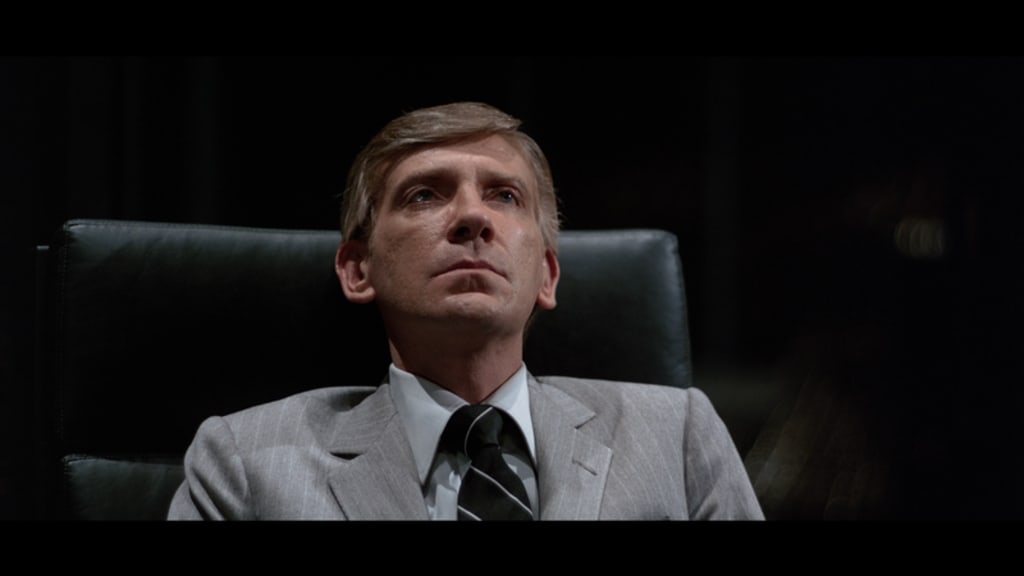 Ed Dillinger in the film Tron
So who was Ed Dillinger's wife ? We saw in TRON that Dillinger was probably single? I mean he didn't ever talk about his wife. And he worked all the time and was late as well. So did Dillinger even have time for a wife? If he did they never made this clear in Tron Legacy. I mean is Tron Legacy we just see Ed Dillinger Jr. But who is his mom this is a question that needs to be answered.
I suspect the answer might be in one of the Tron books or comics? But I am not sure about that. I am sure more people would have posted about this all over if that was the case. Who will ever really know who the wife of Dillinger was? Or maybe he never even got married. It could be possible that Ed Dillinger Jr. was born from a girlfriend that he had?
I mean we all know that Kevin Flynn is the father of Sam Flynn. By the way we are not even clear who Kevin Flynn's wife was either. This is something we need to investigate also. Now that I think of it Tron leaves us with a lot of mystery. All questions that would at least be revealed in the new Tron 3 film.
Still we will always wonder who's married who. I wish I knew who the wife of Dillinger was. Or if she was ever on the grid, or simply became part of the master control program.
Upon searching Ed Dillinger and Ed Dillinger Jr I saw no trace of who the wife of Dillinger could be. This is kind of a mystery. We know Ed Dillinger got busted at the end of Tron. Did they just say he had Ed Dillinger jr. out of the blue to bring back Dillinger in some form ? I know it might not seem important to some people, but this is something that has been on my mind lately.
And since I can not find any trace of who the wife of Dillinger is. This is something I think should be looked into more. I mean when we think about it. We should have a movie that shows what happened to Tron, Laura and Flynn as well as Dillinger all those years. I think that would solve the mystery about who Flynn and Dillinger married. I assume Tron and Yori got married in the real world. Which makes me wonder if they ever had a child?
So many questions make us wonder what really happened. And as a huge Tron fan it would be nice to know what really happened. And if no one knows who the wife of Dillinger is then I think they should make a movie about it. Well maybe not I don't really like love stories. But It would be nice to know more stories about what happened on the Grid all those years, as well as who Dillinger married. And for that matter we would like to know who Flynn married as well.
Bottom line these are all questions they can answer and should be answered in Tron 3. It just leaves to many open loop holes that may keep fans like me up late at night wondering about what really happened after Tron ended. What was Dillinger really doing all that time? We kind of know what Flynn was doing, but it's time to find out what Ed Dillinger was doing. We the fans want answers. So let us hope that Disney will once again dive into the world of the Grid and help us understand where
Ed Dillinger Jr really came from and what his story is? Also is Ed Dillinger Sr. the new Master Control Program? It seems like it and that sets up the story line perfectly for Tron 3. End of Line