Who Is 'Jeopoardy's G.O.A.T?
Answer: Alex Trebek, Who Says He's Not Ready To Retire In Spite Of Cancer Battle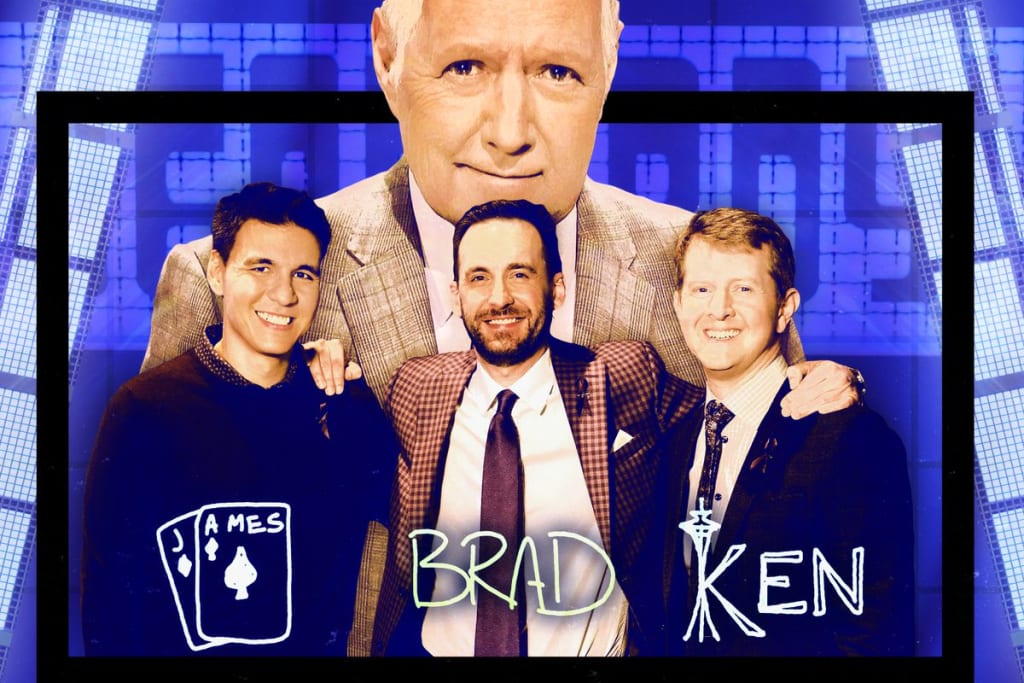 https://cdn.vox-cdn.com/thumbor/XosJLPBfCNGPEgY0eLmA6kxf7tE=/0x0:1200x800/1200x800/filters:focal(502x179:694x371)/cdn.vox-cdn.com/uploads/chorus_image/image/66039282/JeopardyGOATTournament_NonFeat_Getty_Ringer.0.jpg
The question on everyone's lips - to be fair, the lips of anyone watching the Jeopardy: Greatest Of All Time tournament - is who will end up being declared the G.O.A.T?
Will it be Ken Jennings, who won a stunning 74 games in a row in 2004? James Holzhauer, who wowed audiences with a 32-game streak that featured strategic betting and play? Or will it be Brad Rutter, who was limited to a 5-game maximum but is still ranked as the highest-earning Jeopardy! champ?
Many would argue it will be the show's host, the venerable Alex Trebek, who is still as sharp as ever in spite of his claims to the contrary. Trebek, 79, has often been in the news lately, courtesy of his intense popularity and news of his cancer diagnosis last March. Now, though, his focus is promoting the Greatest Of All Time tournament, where Jennings, Holzhauer and Rutter are competing against each other to vie for the ultimate Jeopardy! crown.
What's interesting about Trebek is that in spite of this medical crisis, he has not missed a beat as far as taping Jeopardy! goes, and in spite of challenges such as developing mouth sores from the latest round of chemo, which he says has caused him to slur his words a little on occasion, he has no intentions of retiring yet.
In fact, when asked at the Television Critics Association winter press tour who he would like to see replace him when the time comes, Trebek said he figured it would likely be a woman who would take his place behind the podium.
"it's probably going to be a woman and she'll have to be bright, she'll have to have a good sense of humour," he noted, according to The Star. "Let's see, Betty White is my choice."
While few would argue that the soon-to-be 98-year-old White would be fantastic, Ken Jennings noted that Trebek would be leaving some large shoes to fill when he does decide to step away from his hosting duties.
"If anybody is irreplaceable on TV it's this guy here," said Jennings. "You wonder how he's doing and you get there (on set) and he's still Alex Trebek, the last of the great old school broadcasters."
James Holzhauer echoed Jennings' sentiment.
"Can you name someone who's in Hollywood for (decades) and hasn't had any kind of even minor scandal?" he asked, but Trebek was quick to point out jokingly, "There's still time."
For his part, Rutter, who has had the occasional hosting duties on other shows, expressed his admiration for the ease with which Trebek did his job, even after 36 years.
"I know how much work it takes to look effortless," he said.
Ever the humble Canadian, Trebek said he did not feel as though he's been at his best during this Jeopardy! tournament, noting that he's felt as though he's slowed down a little during the ad libbed portion of the show, when he is talking with contestants. He also said that he felt while he appreciated the outpouring of support since the announcement that he had cancer, there was a degree of what he termed a "pity factor" at play in the attention he was receiving.
The contestants, however, would seem to disagree with Trebek, noting how impressed they were with his ongoing skills in spite of the medical challenges he was dealing with. Trebek said he was returning to the doctor and should know in about a week what his prognosis is looking like.
It's impressive that Trebek has no immediate plans to retire.
It would be even more impressive to see Betty White join him, just for one show, as host.