Whiplash (2014)- A benchmark in the history of modern cinema
A benchmark in the history of modern cinema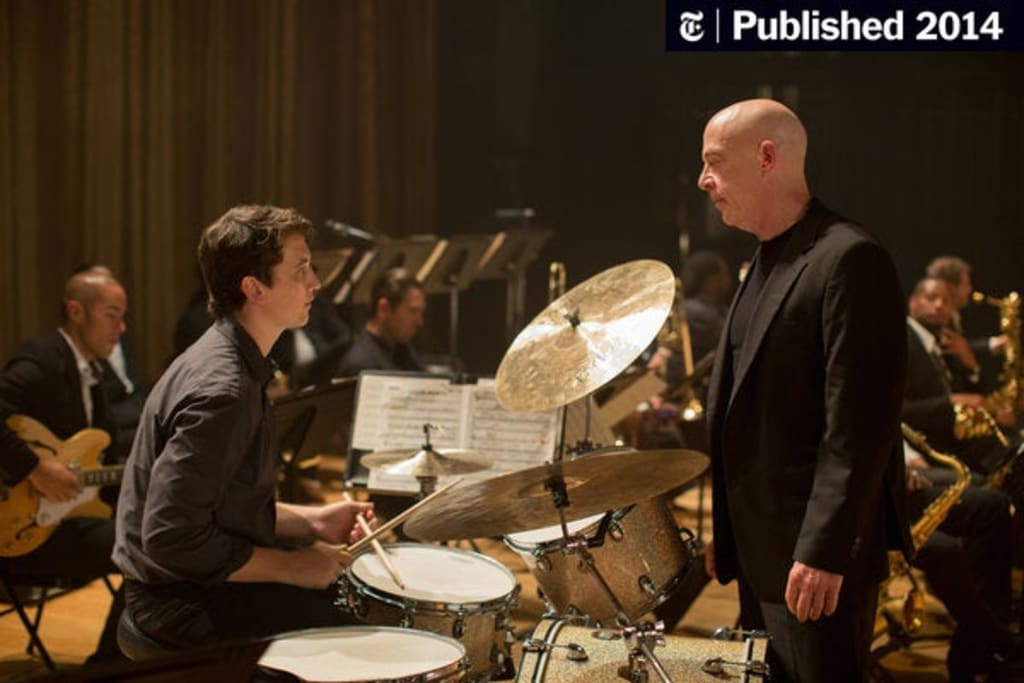 Art requires sacrifices, but to what extent does this saying remain acceptable?
Whiplash is an action drama set in the world of music, more precisely jazz, where a young percussionist who dreams of high performance enrolls in a school run by a teacher with unconventional and excessively brutal methods.
It is a film that puts a huge pressure on the viewer, although it does not belong to the thriller genre and, with few exceptions, it does not have visually shocking elements. That pressure that Terence Fletcher (J.K. Simmons) puts on his student, Andrew Neyman (Miles Teller) is implicitly transferred to the viewer, who cannot remain indifferent to such a recital.
Here you can see the director's art taken to near perfection, because you never have the impression of "counterfeiting".
Young Andrew has only one goal: to become the best in the field, and Fletcher (a teacher at Shaffer, an elite school) to have the best jazz orchestra.
Nothing out of the ordinary so far, only that the relationship between the two becomes electrifying, it is no longer a teacher-student, but it seems, at the same time, a hunter-hunt type.
Damien Chazelle knows how to perfectly introduce the viewer not only to the world of quality jazz, but also to the backstage, which can hide, at least in this case, terrifying truths about teaching methods.
It seems to me one of the most compelling dramas I've ever seen. It keeps you tense, impresses you, makes you curious to see which ending is chosen to convey the right message. The main theme is that everyone has a dream in life and you can't reach a peak without sacrifices and without testing your limits, but at the same time the question arises as far as you can and how far you have to go for it? Because, although the two (teacher and student) finally avoid a tragic outcome, and the end seems appropriate to me, I personally do not believe in fanaticism in art (or in the profession), in the destruction of personal life, in living permanently under terror "what can happen if I make a mistake even once". The extremes are not good, and this suggests (because the teacher's methods are still questioned) and the film, even if it emphasizes the idea that the greatest enemy can be self-satisfaction.
I also appreciated the musical fragments (without being a true jazz connoisseur), but also the performance of the young Miles Teller, who seemed to me (like the character he played, if you will) to pay for the task with a real talent, along with JK Simmons, with a big role as well.
J.K. Simmons well deserves his awards (Oscar, Golden Globe, BAFTA) for Best Supporting Actor, but Miles Teller was a revelation to me as well. In fact, both Teller and the film itself would have deserved similar awards. It simply seemed to me made for this role, of the teenager a little shy, but animated by an ambition and an overwhelming passion. Along the way, he becomes almost a fanatic, rather in the good sense of the word, but also committing some mistakes in his private life.
The film impressed me just as much on second watch, and that says a lot. It's a film made with passion, I would say, and not just "something else" that fills space and brings in revenue.
A benchmark in the history of modern cinema, one of those achievements that will stand the test of time!
Here are some opinions about this movie:
"I never thought I could watch a movie about a musical genre for which I didn't have enough skills to understand it. All the more so, I didn't expect to like it. And in no case to give it such a note.
Yes, it's an absolutely disturbing movie, it's the kind of movie after which you can't see another movie for a week. And you don't even want to do it, you would lose the taste that remains in your mind, in your soul.
The two main actors, although so far have not particularly impressed me, this time showed their class more than enough. I saw Miles Teller in a few videos that didn't tell me anything, while I saw JKS especially in police movies, which I avoid as much as I can. An unmissable movie."
"I like the movie even if I'm not a jazz fan. After all, this is real music from instruments: saxophone, drums, etc. No computer-generated playbacks and instrumentals / negatives like today. We are horrified by the soloists when we hear them 'singing' live (especially the local ones). Returning to the film J.K. Simmons perfectly plays the role of the 'annoying' demanding teacher Terence Fletcher. It can be seen that it is a serious matter for professionals. Most of the time such successes come after sacrifices, after hundreds of hours of practice, a lot of sweat and sometimes even blood."
"Here's a movie that really deserves the ratings on the poster - astounding, exhilerating, electrifying - and more. Everything is at a high level - 10th grade acting from J.K. Simmons (the role suited him like a glove) and Miles Teller, approaching the theme (greatness, and the sacrifices to achieve it), developing the action with twists and superb intensity. It was interesting for me to watch the relationship between Andrew and his mentor, who was like a tightrope, ready to burst .... The movie is wonderful - it inspires you, makes you think, makes you look at certain aspects of life differently. In addition, those with a musical ear will be able to appreciate the jazz in the soundtrack. Note 10 without a doubt."
About the Creator
Communication and public relations student, Moldova
Instagram profile: maria.ostasevici;
mother of two awesome Dobermans.
BEST VERSION OF YOURSELF- THAT'S TRULY EPIC
Reader insights
Be the first to share your insights about this piece.
Add your insights