Where did 'Ant-Man and the Wasp: Quantumania' Go Wrong?
The bar shouldn't be this low for a Marvel film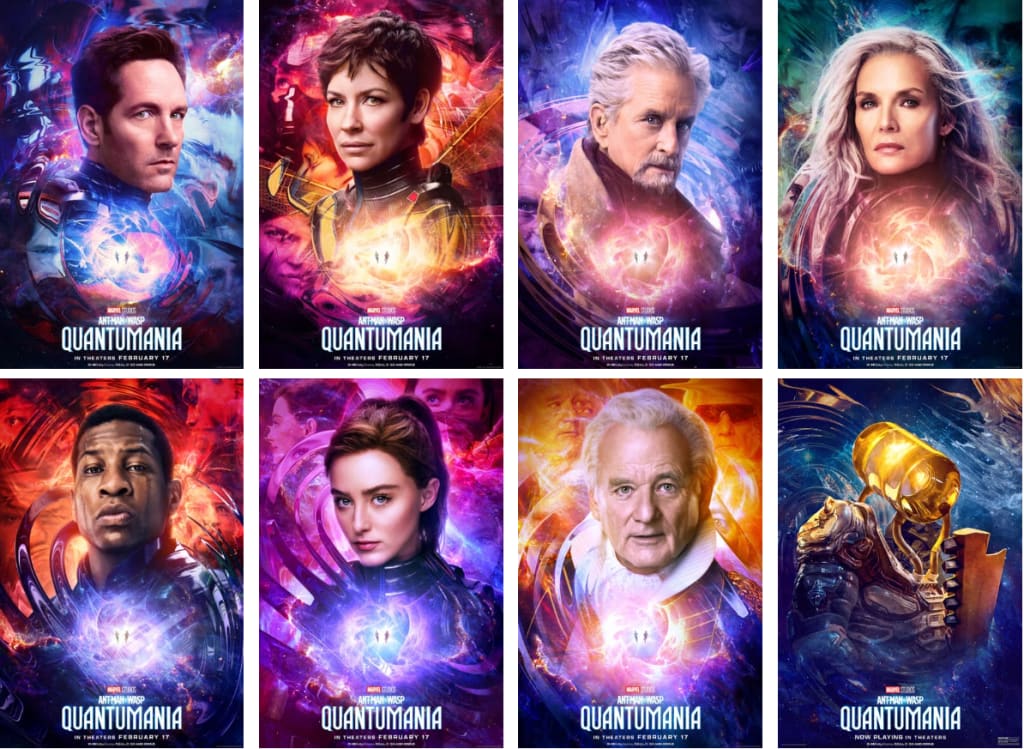 Marvel Studio's 'Ant-Man and the Wasp: Quantumania' posters (Credit: Marvel Studios)
The Marvel Cinematic Universe isn't to everyone's liking. And that's alright—the whole point of a wide variety of entertainment media is that someone will hate one thing, but love something else. There is, however, no denying the appeal of the franchise. After all, Marvel Studios has been delivering films, shows, and specials consistently since 2008. Which is why we're left with the question, what went wrong with 'Ant-Man and the Wasp: Quantumania'?
The first film of Phase 5, 'Ant-Man and the Wasp: Quantumania' has a lot to accomplish, namely, conclude the 'Ant-Man' trilogy, introduce new characters from the comic books, and set up the 'Kang Dynasty' story arc. Marvel films have been able to pull off their multi-layered arcs in the past, but 'Ant-Man and the Wasp: Quantumania' falters every step of the way. Let's break down why.
The Stakes Are Too High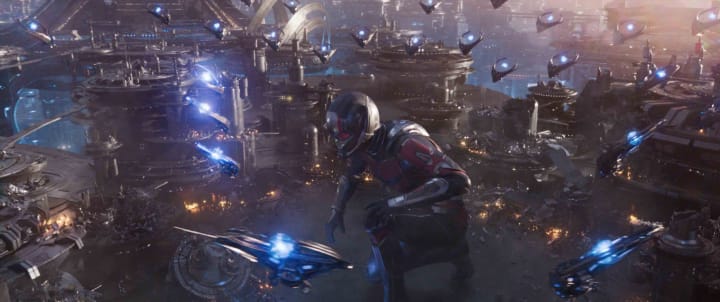 The 'Ant-Man' films are feel-good comfort watches. Scott Lang/Ant-Man (Paul Rudd) is an average joe who happens to fall into the world of superheroing. He scrapes by because he has the support of his mentor, the original Ant-Man, Hank Pym (Michael Douglas), and Hank's daughter, Hope Van Dyne/Wasp (Evangeline Lilly). In the first two 'Ant-Man' films, Scott also leaned on his friends, a version of his 'Warriors Three', led by Luis (Michael Peña). None of that is incorporated in 'Ant-Man and the Wasp: Quantumania'.
In the film, Scott has turned his back on helping anyone—his daughter Cassie (Kathryn Newton) is willing to get arrested to fight for the helpless, but Scott is too busy promoting his memoir. But he sees the errors of his ways when he, Cassie, Hank, Hope, and Hope's mother, the original Wasp, Janet (Michelle Pfeiffer), become stranded in the Quantum Realm. Not only are they taken away from their world, but they're also sucked into a potentially world-ending battle with Kang the Conqueror (Jonathan Majors). Everything that makes an 'Ant-Man' film, well, an 'Ant-Man' film is stripped away in the first act.
Despite the silliness of Ant-Man and the Wasp's powers, the previous films were relatable and the stakes were personal. In 'Ant-Man', Scott just wanted to get his daughter back in his life, and Hank and Hope were trying to keep dangerous technology out of the wrong hands. And in 'Ant-Man and the Wasp', Scott and Hope were comfortably teaming up to help people that had been wronged. In the threequel, the team is suddenly up against a formidable universe-ending opponent, and they're battling for people they know nothing about. Taking the crew out of their comfort zone takes the viewer out as well. And it doesn't help that the world that the characters find themselves in is so poorly rendered.
Complaints about Marvel's visual effects are non-stop, but it's not often that the effects have actually impeded the viewing experience. In 'Ant-Man and the Wasp: Quantumania', it does. The actors don't know where to look or how to react, and the viewer is left confused as a result.
Isn't 'Ant-Man' Supposed to be a Comedy?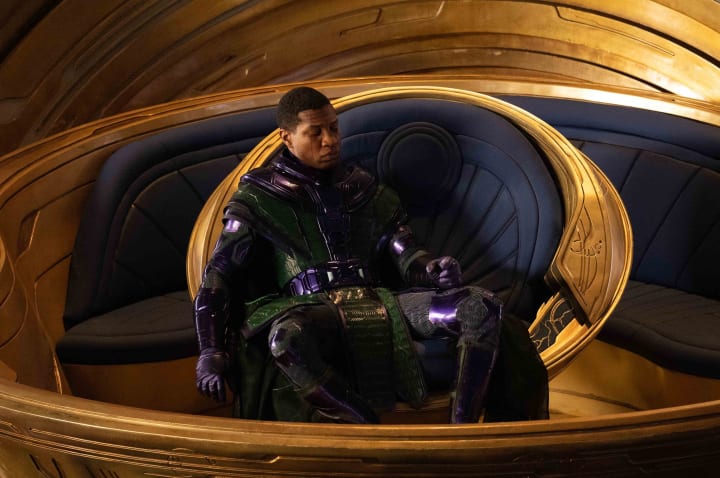 Scott Lang is a joke—that's his raison d'être. It's not a pejorative, it's a compliment. He's a fun and funny character to watch because he doesn't take life, or the bizarre things that keep happening to him, very seriously. That's what 'Ant-Man and the Wasp: Quantumania' completely misses. The film is too serious, it's too grand, and it misses the personality of Ant-Man, the character, and the franchise.
Scott is the protagonist, but he's only as good as his comedic banter with his nearest and dearest. For the majority of the film, Scott and Cassie are separated from Hope, Hank, and Janet. This means Scott—Paul Rudd—isn't able to riff off the characters he already has an established rapport with. There are moments of banter among the cast before the Quantumania of it all begins, and those are the only times the film comes alive.
And the absence of Scott's Warriors Three feels like a particularly egregious misstep. The comedy from the residents of the Quantum Realm is contrived and brief. New cast member William Jackson Harper is memorable, but he's in the film for a scene and a half. David Dastmalchian has a different role in the film—instead of Scott's associate Kurt, he voices Veb. Unfortunately, Veb's arc and dialogue does not invoke the kind of hilarity that Kurt does. We get one wordless scene between Scott and Agent Jimmy Woo (Randall Park), which is another crime given the fantastic chemistry and comedic rapport Rudd and Park had in the second film. Another loss for the threequel.
Though Scott still has his moments, the severity of the situation means that neither he nor we the viewer can take the proceedings lightly. It's hard to laugh when Scott could actually lose his daughter or his life. What's worse is, when writer Jeff Loveness tries to add humour in, it makes the situation worse. People are dead, it's no time to make a joke.
Worst. Acting. Ever.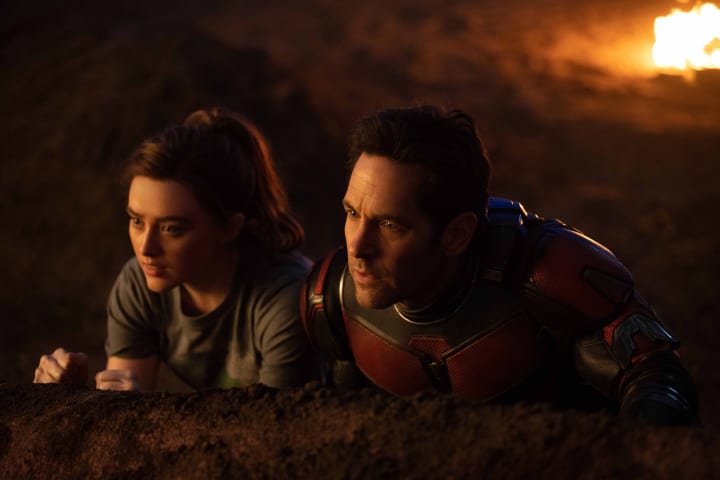 While many people will scoff at the idea that genre films have any memorable performances, the truth is that without committed acting, genre films simply wouldn't work. Everyone has to give it their all especially when you're pretending that you're up against a purple villain or a terrifying robot—if you don't, the audience will not take the characters or the story seriously. Marvel properties have had plenty of good performances, great performances, and some passable ones. 'Ant-Man and the Wasp: Quantumania' has none of that. Paul Rudd tries his best, but none of the other main cast brings their A-game. It's honestly shocking how poor the acting is in this film. The bar for a Marvel property has never been this low.
Despite being a scenery-chewing delight in both of the previous films, Michael Douglas is completely at sea in this film. But can we fault him since it's obvious he has no idea what he's supposed to do or how he should react? Michelle Pfeiffer, on the other hand, tries to do too much, but her emotions are often incongruous with what's happening around her and to her. Then we have Evangeline Lilly who is barely on screen, so whatever performance she puts in can hardly be judged. For a character who has second billing in the film, the Wasp is all but absent from the story. Did Lilly's controversial takes on vaccines have a part to play in her curtailed screen time? Wouldn't a recast have been better, then?
It's bad enough that the veterans struggle to emote in the film, but we can still see they put in some effort. Kathryn Newton, newcomer to the MCU, unfortunately, brings absolutely nothing to her performance. She has a long enough CV at this stage to be considered a bonafide actor, but she has no expression in this film. The whole experience of watching her wooden performance is so jarring, it's genuinely unbelievable that they recast another actor in favour of Newton to play Cassie Lang. And it's not a one-and-done job either. We're stuck with this Cassie Lang. How was director Peyton Reed not able to evoke anything out of Newton? Perhaps the next director will do better.
Among the Quantum Realm characters, Katy O'Brian, who plays Jentorra, isn't too bad but seemed too restrained. William Jackson Harper is good, but he's given so little to do.
And now we come to Kang. Jonathan Majors already debuted as Kang on 'Loki', but this variant of Kang is different, so Majors gives him a few eccentricities that set him apart. Of all the cast members, Majors is the only one who does a substantial job of acting in the film. He is a bit odd, but he emotes correctly, isn't too ham-fisted, and brings a lot of energy to the role. Kang looks like he'll be playing a challenging and varied role, and Majors proves he's up to the task of taking this character on.
It's More an Homage Than Anything Else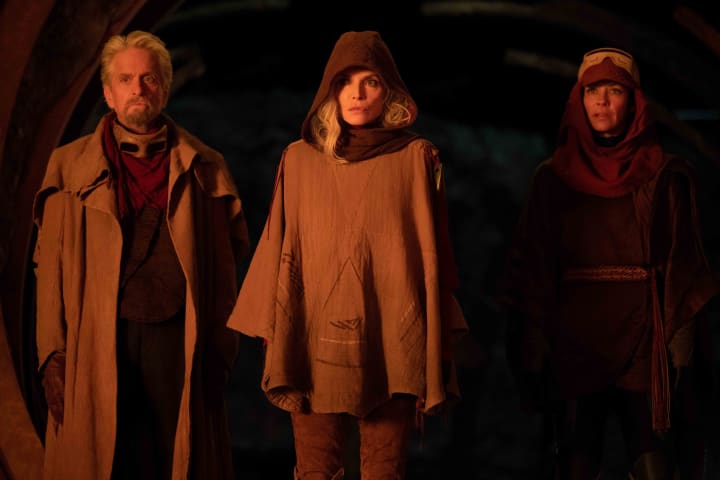 The Marvel Cinematic Universe has always intersected with Star Wars in some ways—be it direct references to the franchise, or Easter Eggs like people losing their limbs in Phase 2. But 'Ant-Man and the Wasp: Quantumania' takes that homage to a whole new derivative level. The film felt like it had copy-pasted 'Star Wars: Return of the Jedi'.
From the moment the characters entered the Quantum Realm, the film turned into a faux version of the classic. Janet is like Princess Leia, navigating a world that accepts her, while her companions are lost puppies. The Quantum Realm folk seem a lot like the Ewoks—I'm surprised someone didn't say 'we're now a part of the tribe'. The entire second act was so reminiscent of 'Star Wars: Return of the Jedi' it was uncanny.
Even the entire M.O.D.O.K. subplot (which was highly disturbing) felt like a nod to so many other body-horror/monster films of yore. The derivative nature of the writing was an added nail in the coffin of an already poorly thought-out film.
This film had a mandate—introduce the Quantum Realm, its people, and the threat of Kang. But none of that works for this particular set of characters. How much more powerful, and relatable, would it have been to have Scott take up his daughter's cause and fight the cops evicting the Blipped homeless people instead of a multiversal war with a cosmic variant? Giant or tiny, Ant-Man should be looking out for the little guy on Earth, not in some imaginary realm.
'Ant-Man and the Wasp: Quantumania' is an unfortunate combination of lacklustre writing, poor performances, and ineffectual direction. It's a trifecta of disasters we couldn't have imagined from the MCU. As much as people complain that the quality of Marvel films has gone down since 'Iron Man', the truth is, the franchise has always had its ups and down. No franchise is perfect, especially not one that's 30-odd films deep. Phase 4 wasn't any worse than its predecessor, it just wasn't what the boring fanboys wanted. Phase 5 may have started with a poor showing in 'Ant-Man and the Wasp: Quantumania', but that doesn't necessarily mean the rest of the phase is doomed. We can hope that this phase is ready to fly higher, further, faster.
Reader insights
Be the first to share your insights about this piece.
Add your insights